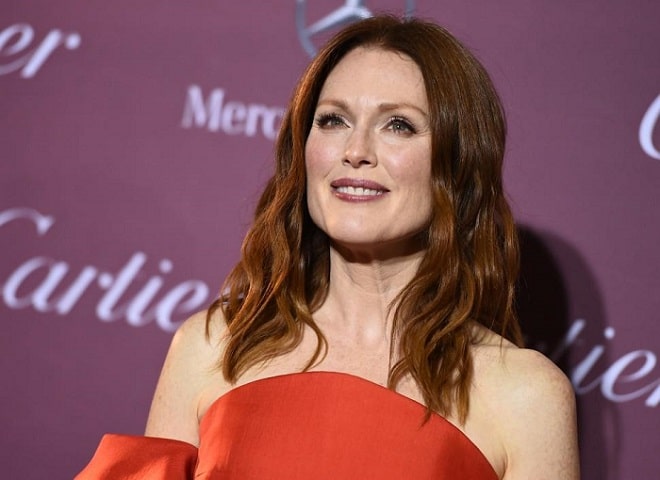 Julianne Moore is one of the most unusual and luxurious Hollywood beauties. Do we know everything about this eccentric actress?
Childhood and youth
Julianne Moore was born on December 3, 1960. Her mother worked as a social psychiatrist, and her father was a military judge. Because of Moore Sr.'s profession, the family had to constantly travel from city to city, and sometimes even live abroad, so changing schools turned into something completely ordinary for the girl. As a child, Julianna changed nine schools.
"I think it made me more flexible. My dad was a military helicopter pilot, a paratrooper, fought in Vietnam. Then he graduated from the military academy and returned to the army: first, he was a lawyer, then a judge. Together with him, we traveled all over America, including Texas and Alaska. We've been to Germany maybe twenty times. And you know what? It helped me to understand that people are similar everywhere. That their hopes, fears, experiences are the same. And this understanding saved me from feeling lonely. And from the feeling of exclusivity, by the way", says the actress.
Julianne Moore considered herself ugly for a long time.
Constant moving did not give Moore the opportunity to make friends: she felt like a beginner in any company. And the other children were not in a hurry to communicate with her.
"You know, in any class, there are children who are lazy: one is unsportsmanlike, the other is wearing glasses, the third is teased by a short man for his small stature. I was three in one: glasses were on my nose, and sports "achievements" left much to be desired. Besides, I was an excellent student and an incorrigibly correct child: I hated it when someone was lying, cheating, and the like, so they didn't like me. And I was not a beauty: pale skin, a bunch of red hair, a face all in freckles… And then I cut my hair and changed my glasses for lenses. And I was surprised: everyone started saying that I was pretty! Even Dad called me a cutie. I still remember my shock", says Moore.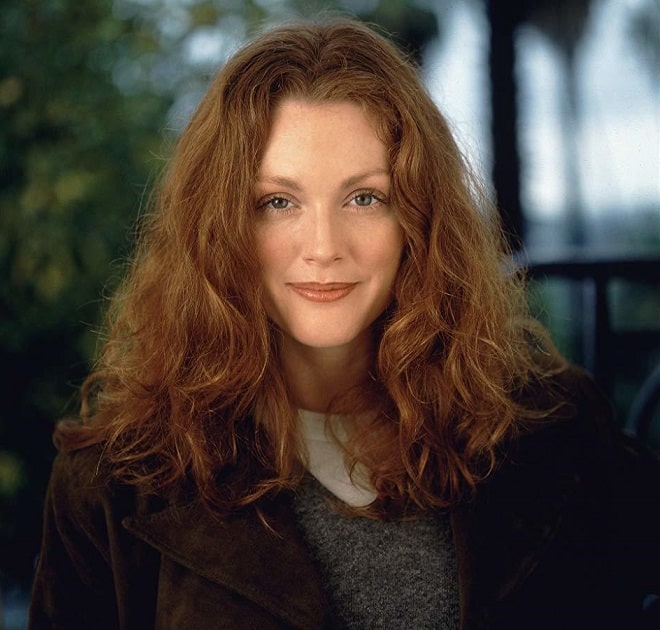 Meryl Streep helped Julianne become an actress.
Julianna has been playing in school plays since childhood, but she did not seriously think about acting. She had a completely different career ahead of her — medical.
"My parents had a clear plan for me: I had to finish school, go to university, get a normal profession, and then live like everyone else. I thought so too, but one night everything changed. My father brought home a magazine with Meryl Streep on the cover, my favorite actress. We started talking about her and, unexpectedly for myself, I said" "I want to do the same as her. I am simply not interested in anything else." My parents were very upset at the time, but they set a condition for me: they give me the opportunity to go to several theater schools, but if they don't take me, I will study at an ordinary college. After the first auditions, it became clear that I was ready to be accepted to all acting faculties at once. I chose the Boston School of Art. And thanks to my parents: they were terrified, but they paid for my training", says Moore.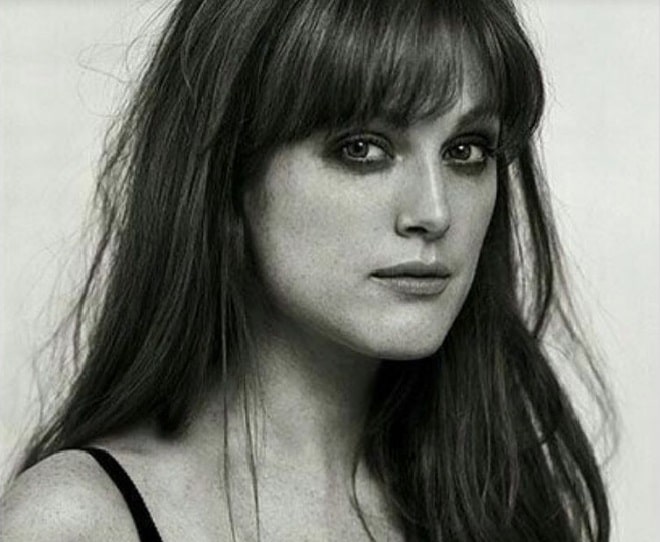 Career
In the early 90s, Moore, who had previously mainly played in serious theatrical productions and on Broadway, unexpectedly began acting a lot. One of the films was "The Fugitive". The project turned out to be quite loud — it received six Oscar nominations.
One of the first notable roles of Julianne Moore was Elena in the movie "Vanya on 42nd Street".
Julianne Moore is often praised for being able to play complex psychological roles. However, the actress herself says that such heroines are not her choice at all.
"What they offer, I play. Of course, I refuse a lot, but here's the thing. Actresses are called for roles within their role, and the role is a random thing. You played convincingly in some movie — and then you are offered something similar all your life", says the actress.
Moore was approved immediately, without casting and audition, for a role in the film "The Lost World: Jurassic Park".
Steven Spielberg called her and asked if she was ready to start in the film. Stunned by the surprise, the actress replied "Yes".
After the release of the film "The Lost World: Jurassic Park", Julianne Moore did not have to worry about her future career: she was very much in demand.
"I received several scripts a week. They were different: good, bad, strange, but one of them really scared me. It was a project "Boogey Nights" of the then-unknown Paul Thomas Anderson. When I started reading the script, I was really shocked. However, the plot seemed worthwhile to me, and the text was written brilliantly, so I thought for a long time — and decided to take a chance", says Moore.
As we know, Julianne did not lose: for the role in the movie "Boogey Nights" she was nominated for an Oscar.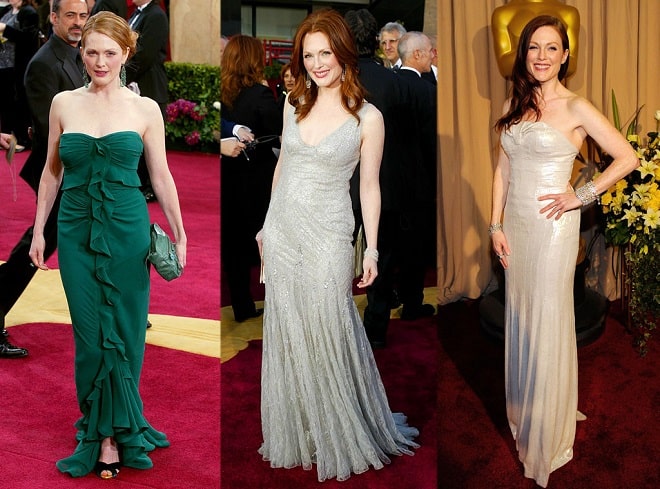 Personal life
Moore got married for the first time when she was 26 years old, but after seven years of marriage, she filed for divorce. And in 1996, she began dating director Bart Freundlich, with whom she went down the aisle in 2003. The couple already had two children at that time: son Caleb and daughter Liv. By the way, the husband is nine years younger than the actress, but neither he nor she is embarrassed by this.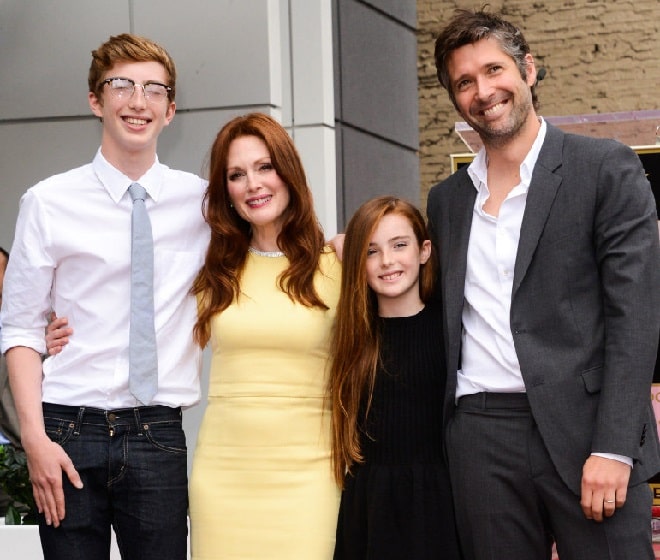 "Many people think that nothing needs to be done for family happiness: it will find you by itself as soon as you meet the right person. But this is not so: you need to invest even more in your personal life than in your career. And just sitting and waiting for a miracle is real stupidity", says the actress.
Julianne Moore's Beauty Secrets
The actress never hides her age, and in an interview, without any hesitation, she says to herself that ".. she has become old …". But looking at a red-haired gorgeous woman, it's hard to say that she's over 60. Julianna has her own beauty secrets.
Proper nutrition
The actress does not sit on any special diets. Once, however, there was a case when Julianne Moore was among the nominees for the Golden Globe Award. The awarding ceremony was to take place immediately after Christmas and New Year's holidays. The actress ordered a designer dress for herself, and what was her surprise when after the holidays she could not put it on herself. And then Moore had no choice but to go on an express diet.
For three days Julianne drank only vegetable juices. She managed to get her form back, but she advises no one to resort to such drastic measures. She says that dieting is very harmful, you need to eat right.
Moore trying to exclude dairy products, sugar, and alcohol from her diet. "I can and love to cook! I am happy to arrange family dinners," the actress likes to repeat.
Her favorite dish is vegetarian lasagna. But there are also small female weaknesses.
"I can't resist the delicious ice cream. I also like good wine. A glass of Chablis is the best way to relax! In general, I eat fresh fish and vegetables. However, sometimes I can't resist French fries."- the actress said.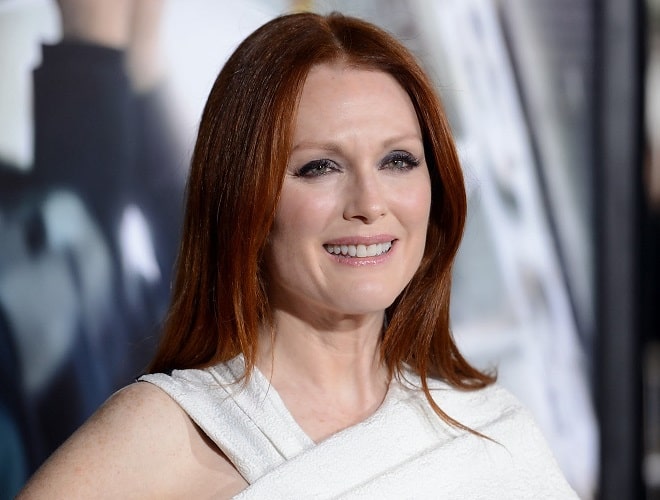 Yoga and cardio
When choosing workouts, Julianne Moore takes into account the peculiarities of her age. After 40, it becomes more and more difficult to keep the body in good physical shape, and more effort is required than before.
Julianne Moore practices yoga twice a week and aerobic training with a personal trainer. And at crucial moments, such as before the Oscar ceremony, he increases the intensity of loads, including cardio training in the list.
"To be honest, in my youth I was more disciplined in terms of sports. Now I realized that life is too short to deny myself small pleasures." – the actress said.
Chinese folk medicine and acupuncture
When the actress starred in the early 1990s, she lost a lot of weight. She started having problems with her cycle, and her blood pressure was greatly lowered. And then Julianne Moore turned to specialists of Chinese folk medicine. Acupuncture brought her back to normal.
"It's just a rescue for back pain. And there was also a period in my life when my mom died and I couldn't sleep. That is, I was really in a state of shock for a long time and did not sleep normally, probably for a whole year. Then I took a fairly intensive course of acupuncture, and it helped my nervous system," – the actress shared.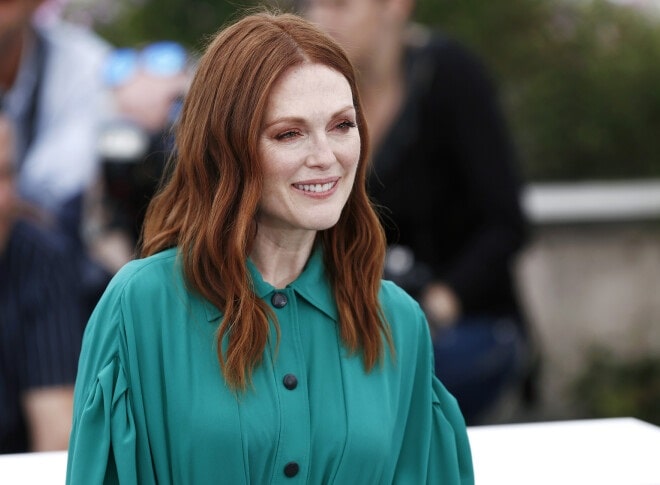 Sun protection
"My mom is from Scotland. She always said to beware of the sun's rays and use SPF cream daily. Now I appreciated how right she was," Julianne Moore said.
And the actress herself now advises all young girls to stay away from the sun.
"I have very fair skin, and the sun can cause significant damage to it. I always use sunscreen and walk only on the shady side of the street," the Hollywood beauty continues.
Julianna advises her teenage daughter, for example, never to pluck her eyebrows on her own. Because when I was a teenager, I made them very thin. And now I regret that they did not become thick and beautiful.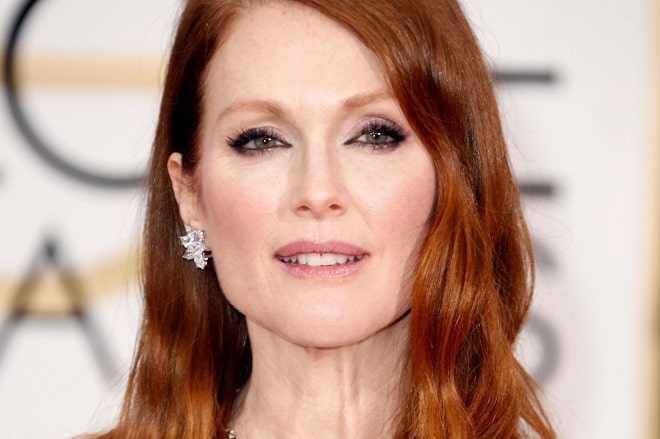 Natural cosmetics
Julianne Moore spends a little time in front of the mirror, considering her green eyes, chiseled cheekbones, and naturally red hair quite self-sufficient.
"When my first child was born, I became more attentive to the choice of cosmetics and body care products," – the actress admitted.
Julianne Moore does not understand those who abuse botox injections and fillers. The actress's motto is: accept yourself as you are!
Makeup
The actress is very often invited to become the face of a particular cosmetic company in the line of anti-aging cosmetics for facial skincare. And she is happy to respond to these suggestions.
Julianne Moore retains her aristocratic pallor with all her might and never uses either self-tanning, bronzing powder or dark blush. She agrees with makeup artists that such products age the skin very much.
The older Moore gets, the less often she uses foundation and eye shadow in makeup. Julianna's favorite products are brown mascara, as well as lip gloss, and blush in delicate pink shades.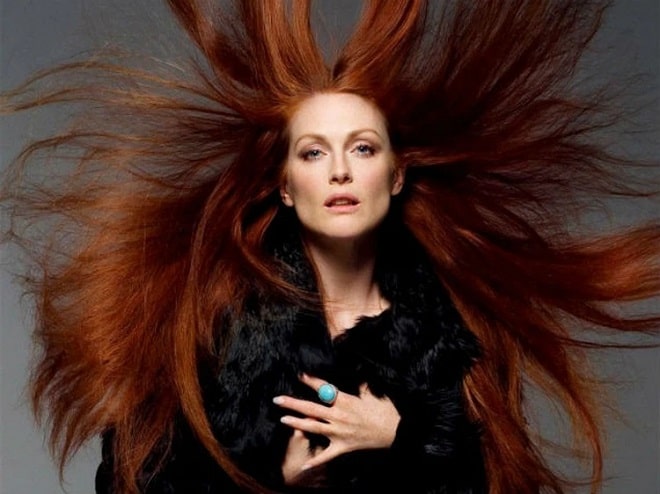 Haircare and care
Juliana Moore is the owner of a natural red hair shade. However, in order for the red color to look more impressive, star stylists often enhance its shade with the help of artificial dyes. Moore's hair has a rich copper hue. The actress admits that sometimes she just needs to let her hair down, and all attention will be drawn to them.
Rest
Of course, what kind of beauty and sexuality can we talk about if you are not resting. For Julianne Moore, rest is the best way to look stunning. And it is desirable that the rest was in loneliness. Her recreation is listening to music and reading books.
"I think sometimes it's worth taking a break from children. The fulfillment of maternal duties in a sense compresses the intimate part of your life. I can feel sexy when we are alone with my husband or when we go on vacation. But routine duties don't make me particularly sexy," the actress admitted.
Did Julianne Moore have plastic surgery?
The actress has always stated that she did not go to specialists in aesthetic medicine. And indeed, we don't notice any signs of plastic surgery. Julianna looks a little younger than her age. She has no violation of the architectonics of the face as a result of sagging soft tissues, deep wrinkles. And only a mesh of fine wrinkles gives the age.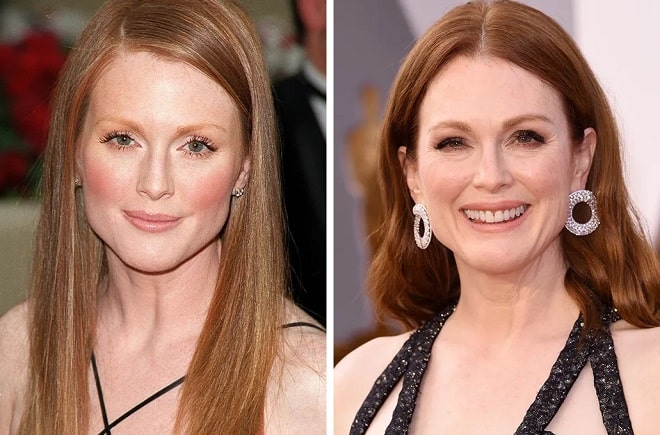 In her 60 years, Julianne has not done a single plastic surgery, a single rejuvenating procedure. The actress is sure that she can afford to grow old naturally, and does not believe that plastic surgeries can help other women become better.
"With a few exceptions after plastic surgeries people don't look younger, they look different," says Moore.