Oprah Winfrey is an American actress, producer, public figure, television presenter.
During her career, Winfrey earned more than three billion dollars, becoming the only black female billionaire in history.
She starred in 20 films and TV series and won an Oscar and a Golden Globe for Best Actress.
"The Oprah Winfrey Show" has received 48 Emmy awards, including in the nomination "Best Presenter".
In the fall of 1986, "The Oprah Winfrey Show" began to be released in the United States, with stars and people with unusual stories becoming guests. The show turned into a cult one, and its hostess was destined to become a TV legend, a close friend of millions of viewers, and the first black billionaire woman in history. But if you look into Oprah's past, into her childhood and youth, full of violence and drama, it will take your breath away…
Childhood and youth
Orpa Winfrey was born on January 29, 1954, in Kosciusko, Mississippi. No, this is not a typo – the girl was really named Orpa, after a biblical character. It is still unknown exactly why the letters in her name have changed places. According to one version, friends and relatives of the girl's name did not fit on the tongue, so her name was Oprah. According to another, the midwife at the maternity hospital made a mistake filling out the documents of the newborn.
The future TV star was an unplanned and unwanted child. Oprah's father served in the army, and her mother, who was barely 18 years old, had neither an education nor a job. Soon after giving birth, she went to work, leaving her daughter to her grandmother.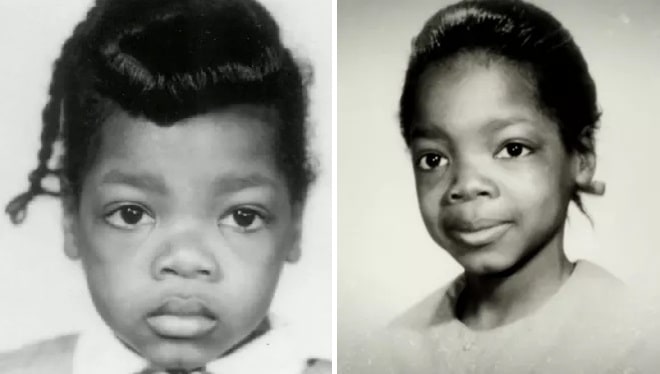 It was thanks to her grandmother (whom Oprah began to call mom) that the girl could read and write at the age of 2.5. Winfrey's first public appearance, by the way, took place even earlier and was a resounding success. She read the Easter speech to the parishioners of the village church in such a touching and expressive way that they dubbed her "the little preacher". But still, the grandmother brought up Oprah in strictness: for the slightest offense, the rod served as a punishment…
When Oprah Winfrey was 6 years old, her mother, who managed to give birth to two more children, finally took her daughter to herself — to the city of Milwaukee in the northern United States. The girl continued to perform at poetry contests, African-American community meetings, and churches. It seems to sound like a happy childhood of a future successful woman, but… Oprah's family lived in a disadvantaged area, and this made its own adjustments to the fate of the girl.
After becoming popular, Oprah Winfrey will tell how at the age of 9 she was raped by her cousin. And so that the girl wouldn't blab, he treated her to ice cream: "He took me to the store — the blood was still running down my leg — and bought me a treat." Then came the violence from the other brothers, their friends, and her own uncle…
Oprah Winfrey admits that she took drugs in her youth and once, stealing money from her mother, ran away from home. At the age of 13, she became pregnant (it is not known from whom) and ran away to her father.
Then the girl tried to commit suicide. As terrible as it may sound, Oprah was relieved when her baby was born prematurely and died immediately after birth. With this dark episode, Winfrey's new life with his father began.
Vernon Winfrey was strict, but tried to support his daughter and believed in her unconditionally. "My father turned my life around—" Winfrey recalls. — He never tired of saying that I'm much better than I think. And he firmly believed that I would certainly become even better." Vernon paid special attention to his daughter's education. At every opportunity, he took her to the library and set her the task of expanding her vocabulary by at least 5 words every day.
Career
Oprah tried to find a job on television several times in her youth and at the age of 19 got a position as an assistant news anchor on CBS.
At the age of 22, Winfrey became a commentator on the ABC evening show in Baltimore. She has heard from colleagues more than once that television is not for her. As a result, Oprah was transferred to a half-hour morning show and suddenly the ratings of the show crept up!
Then the Chicago ABC affiliate invited Winfrey to the local morning program AM Chicago, whose views were falling. A few months later, the program became the most popular in the city. In 1986, AM Chicago went on the air – already as "The Oprah Winfrey Show".
The show was watched in almost every home in the US and in 64 other countries. Within a couple of years, Winfrey became the most popular and richest black woman in America. She is also a successful businesswoman. In 1988, she bought a movie studio in Chicago for $ 20 million and also founded a multimedia production company Harpo Productions. By the way, about 70% of its staff were women.
In 2011, Oprah closed the show and focused on developing her own television channel (The Oprah Winfrey Network). The last, 4561st edition of "The Oprah Winfrey Show" aired on May 25, 2011.
There are no taboo topics for Oprah Winfrey. Her studio was visited by different people. Oprah loves to surprise and pamper her viewers. Special issues of "Oprah's Favorite Things" were periodically aired, where the TV presenter made generous gifts to fans. So, at one of the shows, everyone sitting in the studio (which is almost 300 people) received a Pontiac car. And in the last season, Oprah gave each viewer a ticket to Australia!
Oprah's generosity is measured not so much by money as by personal participation in the fate of the interlocutor. She is able not only to call for a frank conversation but also to help a person understand internal problems and start working on them.
In terms of the number of outspoken "star" confessions, it is unlikely that any other show will be able to compete with the "Oprah Show". In 2003, A.J. McLean of the Backstreet Boys, for example, spoke for the first time about his drug addiction. And Tom Cruise in 2005 told the world that he was crazy about the aspiring actress Katie Holmes, and jumped on the couch!
Another format launched by Oprah is meetings of separated relatives, friends, and loved ones. In 1989, Oprah herself met with her school teachers.
For ordinary Americans, Oprah Winfrey is an authority on any issue – from choosing shoes to choosing the president (many experts believe that George W. Bush and Barack Obama won the election thanks to Ms. Winfrey's sympathy). The "Oprah factor" is also known: any product or service recommended by her immediately becomes a hit.
Personal life
Winfrey's popularity, of course, gives free rein to evil tongues. She was accused that all these "truthful shows" were staged, and Oprah invented the rape story to earn more trust.
Winfrey was suspected of having a romantic relationship with her best friend and colleague Gayle King, and her common-law husband Stedman Graham (the couple has been together for more than 30 years!) was called a cover. When Winfrey became a guest on the Barbara Walters show on ABC in 2011, she burst into tears when answering a question about her personal life. According to Oprah, many do not believe her words, but she does not know how to convince the public that she is not a lesbian.
"You can't control others, you're only responsible for yourself."
By the way, the story of early pregnancy and a dead child was sold to journalists by Oprah's cousin, after which the TV presenter had to reveal details of her past. Winfrey does not hide the fact that she has been infertile ever since. However, by her own admission, she never aspired to become a mother.
How to learn to be yourself
Oprah is not afraid to be natural, not afraid to be real. Winfrey is the antipode of Hollywood stars who cause an inferiority complex in "ordinary" women. She is earthly, does not erect barriers between herself and the audience, she also has problems, and sometimes she does not know how to solve them.
The epic called "Oprah is losing weight" lasted for more than one year, but it never ended with a happy ending. When Winfrey worked in Baltimore, the channel's management tried to change her hairstyle. The hair was etched with a chemical agent, after which they fell out. Usually, people don't talk about this, but not Winfrey.
"Don't get hung up on who you were"
Winfrey knows how to turn his failures into springboards for new achievements. In situations where another would have given up long ago, she draws strength and inspiration.
Oprah was able to accept and love herself, with her difficult past and imperfect appearance. And she taught it to thousands of her viewers.
Did Oprah Winfrey have plastic surgery?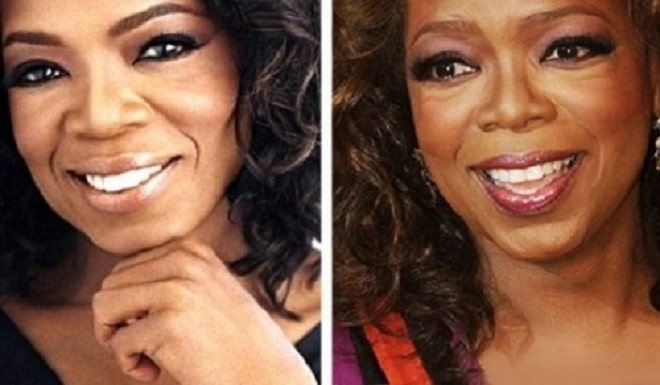 At first glance, it seems as if Winfrey did not have any plastic surgery, but it is worth looking at the photo, and it immediately becomes clear that it was not without the nose job.