Jennifer Garner is a role model: she is a successful actress, a caring mother, and one of the most stylish women in Hollywood. How did she look in her youth and how has her appearance changed now? Did Jennifer Garner have plastic surgery?
Childhood and youth
Jennifer Ann Garner was born on April 17, 1972 in Houston (Texas, USA) in the family of a teacher and a chemical engineer. She also has two sisters.
At the age of three, Garner began taking ballet lessons, which she did throughout her childhood. According to her, although she liked to dance, she never thought about becoming a classical ballerina.
At school, Jennifer was a very shy and sweet touchy, who was always not her own among her peers. She wore thick glasses, worked in a men's clothing store. At school, the actress played the saxophone and was terribly proud of it.
Jennifer has a theater degree, which she received at Denison University in Ohio. However, before that, she also studied chemistry there.
Garner worked as a waitress at Isabella's restaurant for a while. Until she realized that acting was her path, Jennifer dreamed of becoming a lawyer, doctor, librarian or writer.
Career and personal life
In 1995, she visited New York for the first time and decided to try herself in the theater there. And she started as an understudy of leading actresses, receiving $ 150 for it.
On the set of the series "Felicity" Jennifer met her first husband, actor Scott Foley.
In 2000, her first famous role was Wanda in the comedy "Dude, Where's My Car?". Then she played a nurse in the big-budget drama "Pearl Harbor", which also starred her future second husband, actor Ben Affleck.
But a huge success came to her after the series "Alias". During the five years of the show's release, Garner was nominated for the Golden Globe and Emmy Awards four times, and in 2005 she received the Screen Actors Guild Award.
Since June 29, 2005, Jennifer has been married to actor Ben Affleck. The couple has three children – two daughters and a son.
In June 2015, Garner and Affleck announced their separation. The divorce process was completed on November 7, 2018.
After People magazine recognized Jennifer Garner as the most beautiful woman on the planet in April 2019, disputes about the fairness of this assessment do not cease on the Internet.
Some consider her just cute and feminine, nothing more and are outraged how it was possible to assign such a loud title to a 47-year-old actress with three children.
Their opinion is to some extent confirmed by the actress herself, saying in an interview with the magazine that she never attached much importance to her appearance, and in her youth she considered herself ugly at all.
Plastic surgery
Jennifer Garner is not a supporter of radical experiments on appearance. She is periodically credited with rhinoplasty, breast augmentation, lip surgery, use of botox injections and fillers but the actress herself claims that she has never applied to plastic surgeons.
Did Jennifer Garner have a nose job?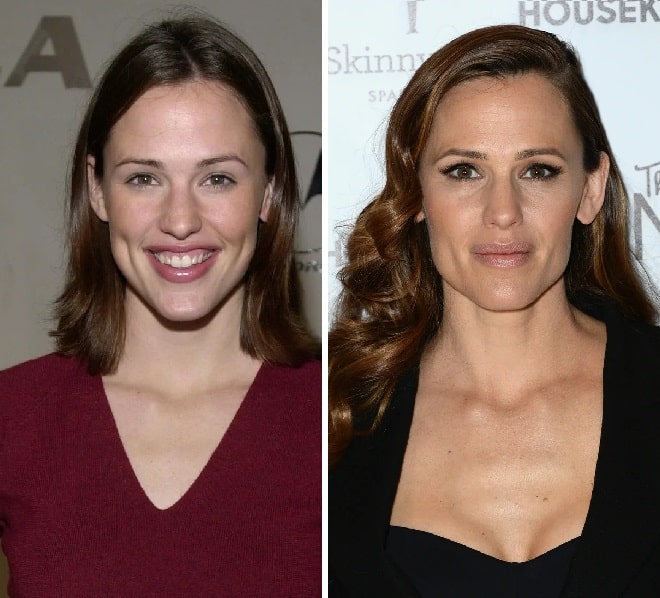 The surgeon's opinion: "In both photos, the nose of the star is the same. In the second photo, Jennifer is older, there are age-related manifestations: wrinkles appeared, but the nose remained intact."
Did Jennifer Garner do lip augmentation?
This actress, who has always been loved for her grace and style, having reached a certain age, could not escape the general trends. After she made lip augmentation with the help of injections of fillers, many noted a violation of the harmony of the face. Fans noted that Jennifer Garner looks good, but the actress still overdid it with her lips. The star's smile looks strained…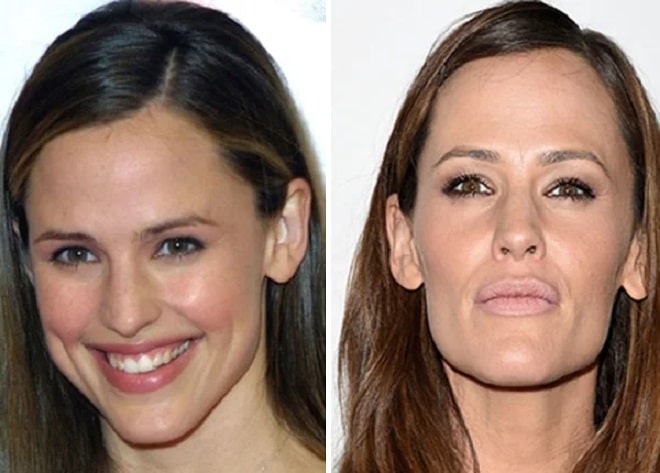 Specialists in the field of plastic surgery immediately confirmed that the correction of the volume of the lips of this star was carried out, although the difference between the photo "Before and After" will be noticeable, not even to a specialist. In the early photos, with a wide smile, the celebrity's upper lip was smaller, and when the lips became larger in volume, this drawback was eliminated.
Did Jennifer Garner have a boob job?
It is noteworthy that after the birth of children, the actress did not do plastic surgery on the body: she did not apply breast correction and a tummy tuck, but independently engaged in recovery and putting herself in order. In an interview, Garner admitted that she exercises daily and carefully monitors what she eats.
Teeth
Dental specialists did a great job on the beauty's smile, relieved her of the gingival smile and improved aesthetics with the help of correction of the front teeth. After such dramatic changes, Garner's smile looks great.
Ears
The actress admits that she was often hinted at unnecessarily large ears. For a long time, Jennifer did not pay attention to criticism, because the shape of her ears did not prevent her from getting the desired roles in any way.
Toes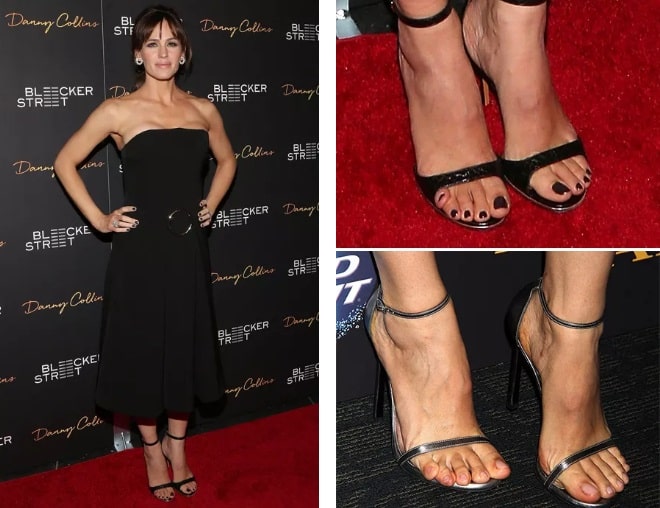 By the way, Jennifer has brachymetatarsia: due to a hitherto unknown genetic anomaly, the toes grow asymmetrically, becoming longer or shorter than they should. This does not prevent the actress from walking in sandals at all!
The Beauty Evolution of Jennifer Garner