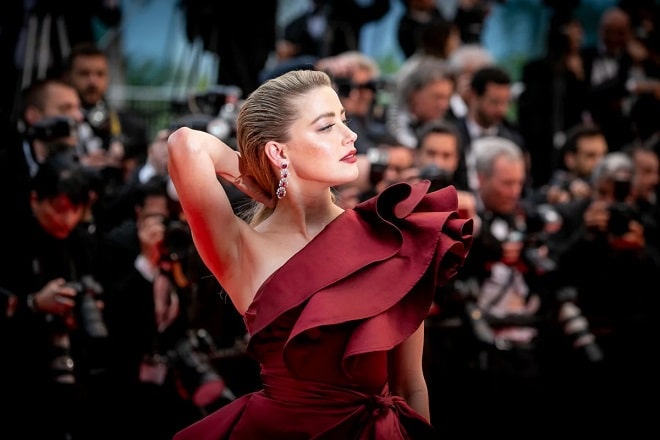 Amber Heard is from Texas. At the age of 17, she went to conquer New York, and after a while moved to Los Angeles.
How did a simple girl from Texas become a Hollywood star?
Childhood and youth
Amber Heard, whose biography became the object of close attention after the scandalous divorce from Johnny Depp, hails from Austin, Texas. She was born in April 1986 in the family of a businessman and a civil servant.
In an interview, Amber said that her father dreamed of a son and raised her as a boy. Since childhood, she has learned to ride horses, understand cars and handle weapons. The actress recalled that her father hired Mexicans to work in construction. As a child, she repeatedly crossed the border and saw how her peers live in Mexico.
According to her, dad brought her up so that she understood the internal structure of cars and did not expect help from strangers on the side of the road in case of a car breakdown.
Amber also recalled that at the age of eight she realized that social expectations have gender differences. She was surprised that society expects different things from men and women. According to Heard, since childhood, it was unpleasant for her to look at princesses, who were described in books as beautiful. After becoming an actress, she ordered agents not to send her scripts in which the words "beautiful" or "mysterious" are used to describe the heroines.
In adolescence, Amber's problems with society worsened. She recalled that she had difficulty making friends at school. At the age of 16, the future actress Amber Heard radically changes her life.
First, she becomes an atheist. Raised in a religious family, a Catholic school student announces a break with religion and begins reading books by Ayn Rand, George Orwell, and Ray Bradbury – authors who describe the struggle of individuals with society and the prevailing ideology.
A number of sources say that the disappointment in religion is connected with the tragic death of a friend. Whether a friend was Amber's first love, biographers are silent.
Secondly, Amber started having problems at school. In an interview, the actress said that at the age of 16 she publicly opposed the ban on same-sex couples participating in school graduation. During the same period, Hurd goes to homeschooling.
Career
Amber Heard decided to become a model in her youth and moved to New York at the age of 17. Soon she decided to try acting and went to conquer Hollywood.
For several years, Amber starred in episodic roles in popular television series, and then she was invited to work in full-length films. In 2008, Heard received the Young Hollywood Award.
Films with Amber Heard were not always successful at the box office, but invariably attracted the attention of fans.
In 2011, on the set of the film "The Rum Diary", the actress worked with Johnny Depp. The film received average critical acclaim and did not pay off at the box office, but it became an important stage in Amber's career and personal life.
Since 2017, Amber has joined the DC film universe.
Now Amber Heard is quite a sought-after actress, and her filmography is quite extensive.
Plastic surgery
Let's compare how Amber Heard looked in her youth and how her appearance has changed now.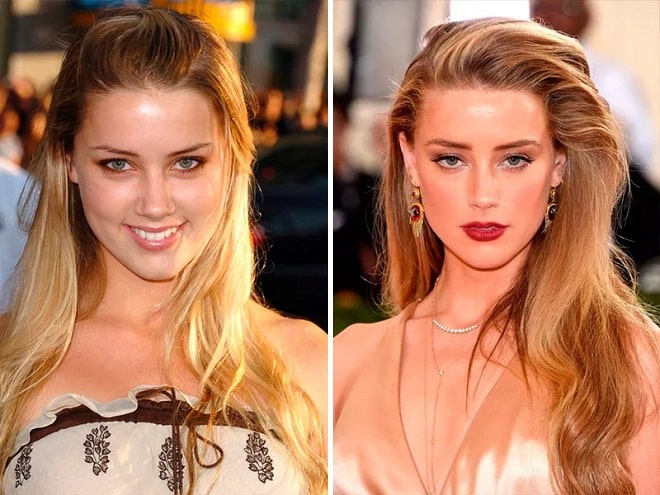 Is it possible to recognize today's Amber Heard in this chubby-cheeked girl? Her face has since become completely different, and it seems to us that, in particular, the actress's nose has undergone significant changes over the past few years.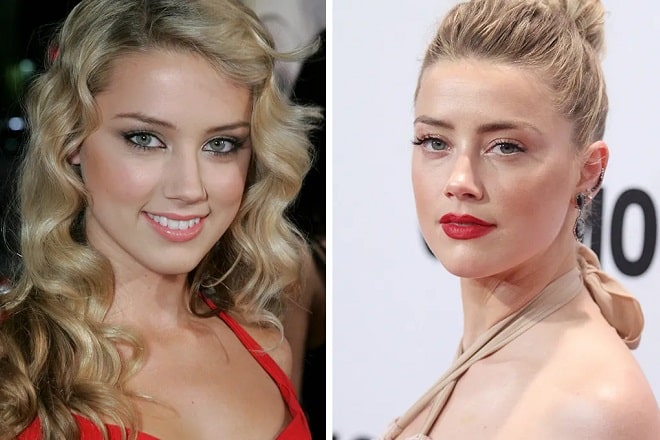 The surgeon confirmed our guesses: "If you look closely, the bridge of the nose was still corrected. Now in the photos, the actress has an unexpressed, almost absent hump on the nose, and in earlier photos, it is very noticeable. It seems to me that if there was rhinoplasty, then only the bridge of the nose was corrected."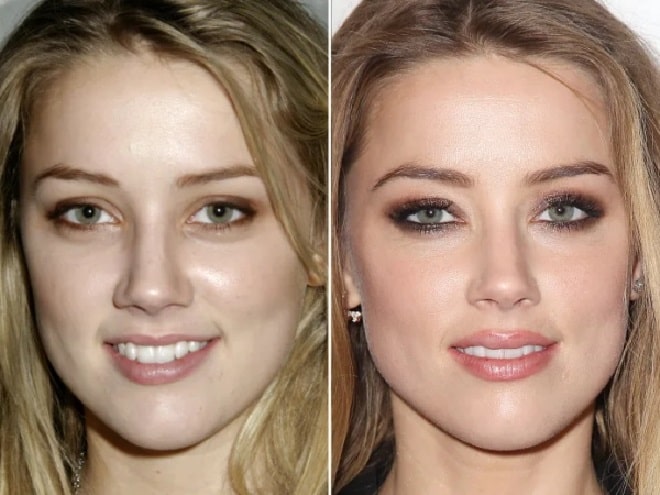 Comparing the photos of Amber Heard then and now it is noticeable that she had a nose job, made an increase in the upper lip with the help of injections of fillers, and installed veneers on her teeth.
In addition, fans suspect the star of using Botox injections.
Personal life
In April 2021, Amber Heard became a mother. "On her own terms" — that is, without a ring on your finger and a man next to her. However, the actress's personal life has always been intense. We suggest remembering her novels.
Amber Heard's personal life has been in plain sight since the actress became famous. Among her partners, there are both men and women.
Alejandro Monteverde
The future actress met with the Mexican director at that time when she lived in her native state of Texas. It is known that their relationship began in 2004 and lasted no more than a year. Monteverde helped Hurd decide on a career and move to Los Angeles. The director seems to have exceptionally good memories of this novel. At least in 2016, when the actress accused Johnny Depp of domestic violence, Alejandro spoke out in support of her. "I don't think she made it all up," he told the Daily Mail.
After Monteverde, Hurd had short-lived relationships with Valentino Lanus, Mark Lynch, and Sean Faris, about whom almost nothing is known. Her life became the focus of tabloid attention a little later.
Tasya Van Ree
Amber Heard's relationship with photographer Tasya Van Ree began in 2008 and lasted about four years. Only in 2010, did the actress publicly declare her bisexuality. At an event of the GLAAD organization, she said that she had relationships with men, and now she is happy with a woman, but in this regard, she does not want to use any terms in relation to herself. "I am not bisexual, not heterosexual. I am a person, I am happy with who I am" — her motto.
But the hardest part was not this confession. In a 2019 interview, Heard described how hard it was for her to tell her parents, people, with a very traditional worldview about Tasya Van Ree. "They couldn't put up with it, because in our family they don't know how to be tolerant, how to accept," the actress admitted.
There were also scandalous twists in this relationship between the actress and the photographer. In 2009, the actress was arrested at the Seattle airport for assault against Tasya Van Ree. Subsequently, the photographer said that the incident that occurred between them was misinterpreted, the media inflated the sensation, unfairly accused her friend of violence.
Johnny Depp
The story of Amber Heard and Johnny Depp's relationship may one day be filmed. The plot will turn out to be too twisted and contradictory.
The actors met in 2009, on the set of the film "The Rum Diary" when both were in a long-term serious relationship. Depp – with Vanessa Paradis, Heard – with Tasya Van Ree. And both of these stories ended almost synchronously – shortly after the world promo tour of the "The Rum Diary" in 2011. The love between colleagues on the set was noticed even then, but Depp's parting with Vanessa Paradis was officially confirmed only the following year.
Amber and Johnny's relationship was unstable before marriage. According to rumors, in 2013, Heard abandoned her lover and started a fleeting affair. But in 2014, the media confirmed the engagement. The couple organized a wedding in the Bahamas in 2015 and soon after plunged into a stream of scandals.
Information about violent quarrels that did not fit into the framework of verbal sparring regularly surfaced in the press. During one of these Depp injured his hand. All this was recorded in photos and videos, so that, as we see now, it could be used on occasion.
In addition, the couple had problems with the Australian authorities due to the illegal importation of dogs. Hurd faced up to 10 years in prison, but the lawyers managed to settle the conflict.
In the spring of 2016, the actors broke up and began to fill out divorce papers. In June, People magazine published photos of Amber with abrasions on her face. An information war began, in which Depp repeatedly lost more and more – videos in which he, drunk, aggressive, quarrels with his wife, were severely beaten on his reputation.
Amber Heard obtained through the court that Johnny Depp was forbidden to approach her.
Elon Musk
Amber Heard got together with the founder of SpaceX and Tesla almost immediately after parting with Johnny Depp — in 2016. At least, this was the official version of events for a long time, although the actor insisted that his wife had been cheating on him for about a year. Subsequently, according to him, indirect evidence was even found — a video dated 2015 leaked to the Network, in which Heard and Musk take the elevator to Johnny's penthouse.
After becoming free, Amber no longer hid her relationship with the billionaire. In the tabloids, the couple even predicted an engagement when in August 2017 it became known that they had broken up, and at the initiative of the actress. A few months later, Heard and Musk tried to get back together, but nothing came of it.
Vito Schnabel
They met for a short time, there is almost no information about it. It is known that the relationship began around May 2018. Schnabel and Heard were seen together by paparazzi several times, but they did not seek to confirm anything — both were pretty tired of the attention of the tabloids. And in March 2019, Vito was spotted with model Denise Schaefer, which was regarded as the end of his affair with Heard.
Andres Muschietti
The couple was seen on several dates in Los Angeles. On this, however, the love adventure ended — this novel Hurd did not move into a serious relationship.
Bianca Butti
Since January 2020, Amber Heard has been dating cinematographer Bianca Butti. The couple does not comment on the relationship in the press but also does not hide.
In April 2021, the actress became a mother for the first time — her daughter Una was born from a surrogate mother.