Khloe Kardashian is a media personality, actress, and entrepreneur, who became famous thanks to the TV show "The Kardashian Family".
Childhood and youth
The future celebrity was born on June 27, 1984, in Los Angeles in the family of socialite Kris Jenner and lawyer, Doctor of Law, Rob Kardashian. Her ancestors on her father's side were of Armenian descent, and on her mother's side – English and, to a lesser extent, Scottish, Irish, Dutch, and German. Khloe has a younger brother Rob and two older sisters, Kourtney and Kim.
It is worth noting that Khloe was called "ugly" in childhood and youth, which is why, growing up, she tried to cure complexes with plastic surgery.
In 1991, their parents divorced, and mom remarried – to the winner of the 1976 Olympic Decathlon Bruce Jenner (after a sex change in 2015, he became Caitlyn Jenner). Later, sisters, Kendall and Kylie appeared.
The childhood years of the future celebrity were held in the fashionable Beverly Hills area. For a while, together with her sisters, she attended a Catholic secondary school for girls. But after the older sisters graduated from school, she decided that she had no reason to stay there alone, and switched to homeschooling.
Then the girl began to pursue health problems. In 2001, she was involved in a car accident. Effects: serious traumatic brain injury and memory loss. In 2003, after the death of her father from cancer, Khloe suffered stress, which caused temporary hair loss, and was forced to wear wigs. In addition, she was soon diagnosed with skin cancer. She first told about her terrible illness only in 2008, when she fully recovered.
The Path to Glory
Since 2003, the youngest of the Kardashian sisters has appeared on TV screens in the project of supermodel Tyra Banks "American Top Model", and also played roles in TV series.
Since the start of the reality show "The Kardashian Family" in 2007, the girl's life has changed dramatically. The show became surprisingly successful.
After her marriage in 2009, in addition to the main reality show, she got her own "Khloe and Lamar", where she and her husband, basketball player Lamar Odom, chatted, met with friends, read, and discussed newspaper articles.
Gradually, together with other members of the Kardashian-Jenner clan, she turned into a real star, businesswoman, and style icon. In collaboration with them, she ran a DASH clothing store in the town of Calabasas. Then they opened new boutiques. They have released several collections of clothing, jewelry, cosmetics and in 2010 published the book "Kardashian Konfidential".
The reality TV star appeared with enviable constancy in entertainment TV shows, played in movies.
The number of subscribers and likes on her social media pages grew rapidly, and she began to promote various products by placing ads in posts.
In 2017, she became the host of the project "Fighting the body with Khloe Kardashian", dedicated to the problem of overweight that is relevant for many women.
Personal life
From July 2008 to January 2009, Kardashian dated basketball player Rashad McCants.
In 2009, at a party, she met basketball player Lamar Odom, a two-time NBA champion and drug addict. After a month of romantic relationships, they got married. In December 2013, they filed for divorce. The divorce process lasted until 2016.
In 2015, Lamar was found lying on the floor in a brothel near Las Vegas, with traces of drug and alcohol poisoning. On the way to the hospital, the athlete fell into a coma allegedly due to an overdose of Viagra. Khloe did not leave her ex-spouse's hospital bed, withdrew her divorce application from the court. Fortunately, he recovered, but in November they decided to part ways.
In 2014, she had a brief affair with rapper French Montana.
From 2015 to 2016, she had a relationship with another basketball player, James Harden.
In 2016-2019, the star met with another basketball player, Tristan Thompson. They confessed their love to each other, were going to get married. But when Khloe was expecting a baby (daughter Tru, born in April 2018), pictures of her boyfriend kissing two stripper girls in a nightclub got on the Internet. He spent the night at a hotel with one of them. Then he cheated on her with her sister's friend Kylie, and Khloe kicked him out of the house. However, at the celebration of their daughter's first birthday, the young people forgot about their grievances and reunited.
Plastic surgery
The fact that the beautiful faces and figures of the Kardashian sisters are the result of the efforts of plastic surgeons has long been no secret to anyone. But none of the sisters has changed as radically as Khloe Kardashian.
Khloe literally transformed over the course of several years thanks to a variety of procedures: she radically changed her face through surgical operations and fillers. In addition, she repeatedly visited the dentist to get beautiful, white, and even teeth, she installed veneers.
It is immediately noticeable that the shape of Khloe's nose has changed over the years. It's obvious that Kardashian had a nose job. The tip has sharpened, the bridge of the nose has become narrower, and all this is thanks to rhinoplasty.
For the sake of getting a new appearance, she had to turn to a plastic surgeon more than once. To make Khloe's face more sculptural, fillers were injected into her cheekbones, chin, and lower jaw. Also, the girl obviously enlarges her lips with injections, does botox in the area around the eyes, and on the forehead.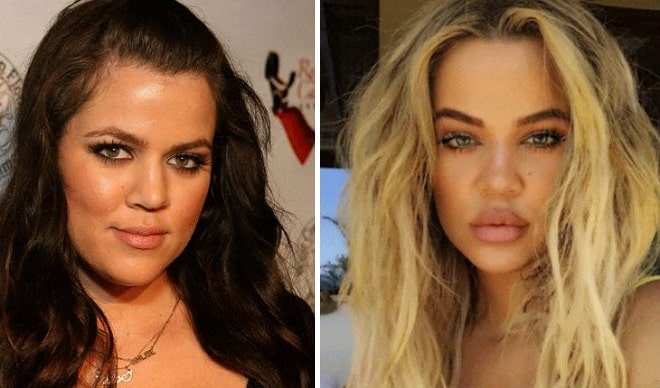 Socialite Khloe Kardashian used to have problems with being overweight, and she was the most complete in the family. The star struggled with excess weight for a long time and she succeeded.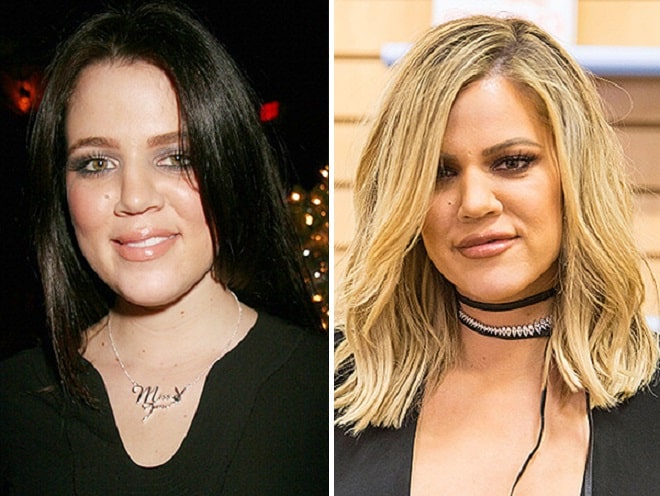 But that's not all: 8 months after giving birth, Khloe showed an absolutely flat stomach. Fans suspect that it was not without liposuction and a tummy tuck (abdominoplasty). Kardashian herself insists that she just sat on a strict diet, giving up sugar, and trained a lot.
In addition, Kardashian had a breast augmentation, by inserting implants. Although she denies that she did a boob job and other plastic surgeries.
After a radical transformation, Khloe Kardashian became much younger and became a sex symbol. Compare her pictures "before" and "after".