A man with the appearance of a Ken doll Rodrigo Alves, who turned into a woman and called himself Jessica Alves, decided to have a uterus transplant and have a baby.
Rodrigo Alves before and after plastic surgeries
Photos of Rodrigo often appear on the Web as an illustration of the phenomenon of "victim of plastic surgery" or the consequences of bodily dysmorphia. The man has spent more than half a million dollars on numerous plastic surgeries and, although he admits to mental illness, is not going to stop.
Brazilian by nationality, Rodrigo Alves was born in 1984.
Rodrigo's life before the operations was quite ordinary: he lived in the suburbs of London and worked as a steward for a British airline. The only thing that distinguished him from his peers and friends was that he was always obsessed with appearance. However, judging by the photos of Rodrigo before and after the operations, the complexes were far-fetched. The old pictures show that in his youth he had an interesting male appearance.
Working as a steward did not give Rodrigo the opportunity to change his appearance, and he did not have the willpower to constantly exercise and take care of himself. Gradually, the young man gained a dozen extra pounds and became the owner of a swollen face and an untidy appearance. But the main thing that caused the man's discontent was a massive and wide nose.
Suddenly, 20-year-old Rodrigo received an impressive inheritance from his grandfather and became a very wealthy man. It is from this moment that the story of Alves's transformations begins.
"I hated the way I looked with my nose all over my face. It all started with rhinoplasty, but I did not become happier after it, so I returned to the clinic for new operations." – explained his actions, Rodrigo.
Alves before and after are almost impossible to recognize. He changed outwardly, but internally he remained a little complexed boy. Doctors recommended undergoing a course of therapy for dysmorphic phobia, but Rodrigo was in no hurry.
He became a media personality and enjoyed talking about himself on Instagram, attending talk shows, and earning money from fame for the next appearance changes.
The living Ken Rodrigo Alves never talked about his personal life. Perhaps there was no time for a relationship because of a series of plastic surgeries, rehabilitation periods, and health problems. But tabloids reported that Sofia Vegas, a German Barbie who was fond of plastic surgery, became the second half of Alves.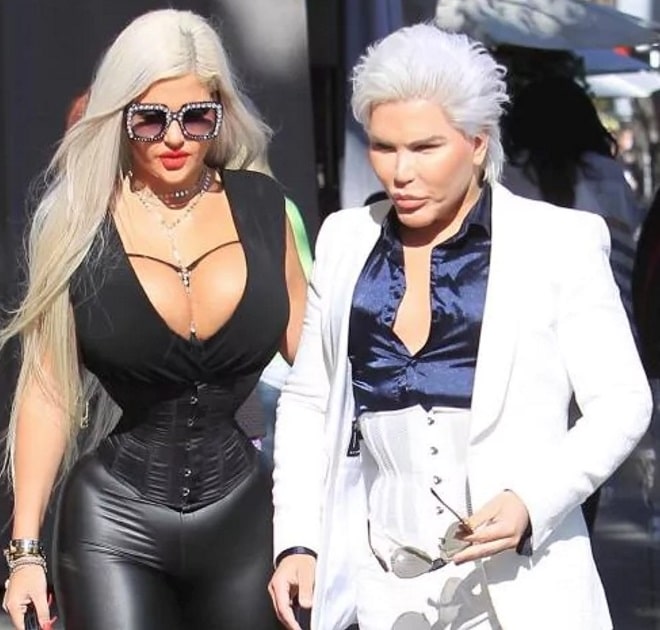 Young people together decided to have an operation to remove ribs to make their waists thinner.
However, Rodrigo Alves and Sophia Vegas, who are linked by their views, denied a romantic relationship.
It is impossible to list absolutely all the manipulations of Alves with his face and body. It is known that among numerous plastic surgeries there were botox injections and fillers, 8 rhinoplasty, chin implants, fillers in the hands, fat transplantation in the buttocks, liposuction of the legs, hair transplantation, facelift, eyes and neck, breast implants, fake 6 cubes of the press, laser liposuction, correction of calf muscles, eye color change.
At a certain stage, many responsible doctors refused to perform operations on Alves, but he persisted. And such persistence almost cost the man his life. Sometime after the eighth rhinoplasty, it turned out that the implants did not take root and caused necrosis of the nasal tissues.
The man was hospitalized with difficulty breathing and a hole in his nose. Specialists performed a 10-hour operation for Alves, during which the cartilage was removed and a new nose was formed.
The whole face of Rodrigo Alves is completely transformed but he did not stop there and decided to give the "perfect" shape to the figure.
To do this, Alves performed liposuction, lipophilic of the buttocks, installed artificial "cubes" in the press area, and removed the ribs.
Before the operations, Rodrigo Alves clearly had extra pounds, but the figure created by plastic surgeons did not add health to the man.
During an operation to increase the volume of the biceps, the Brazilian almost died: the chemical composition took root incorrectly and got into the blood. Rodrigo Alves' arms and shoulders were monstrously swollen, and infection threatened at least amputation of the arm. Doctors saved the man's life by instantly pumping out the substance. Curiously, even this incident did not stop the Living Ken.
Transformation Rodrigo Alves into Jessica Alves
In January 2020, Rodrigo turned into a "living Barbie doll" and showed fans his body in a swimsuit.
More than a million dollars were spent on the new appearance, in particular, on breast and buttock augmentation, as well as the removal of the adam's apple.
In February 2021, a man who looked like Ken officially changed his gender and called himself Jessica.
Due to hormonal medications, Jessica has gained weight noticeably.
"I feel constant hunger and a craving for chocolate and good food. It is difficult for me to control this because of the high dose of injections of female hormones that I take weekly. I was diagnosed with obesity. I'm really struggling to find clothes that fit me, and it greatly affects my confidence," Alves does not hide.
Jessica decided to have stomach reduction surgery. According to her, it promotes weight loss.
Alves explained that she now has only 20 percent of her stomach left after surgery. She took such a bold step after it became difficult for her to lose weight after countless plastic surgeries and hormone therapy.
The socialite has undergone more than 75 plastic surgeries in the process of her transformation and is now happy with her appearance.
Alves turned to doctors for a uterus transplant in Brazil. The 38-year-old celebrity hopes that after the operation she will be able to get pregnant and give birth to a healthy baby. Before that, doctors had never performed such surgical interventions for transgender women.
"To get pregnant, I need to undergo in vitro fertilization (IVF) after surgery. To be honest, I do not undertake to judge the percentage of success, since there are very few studies on this topic," Alves added.