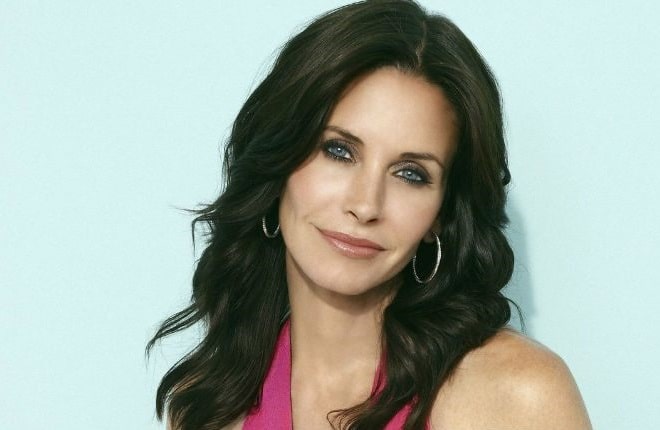 Courteney Cox is a Hollywood actress, producer, director, and screenwriter. She became famous as the performer of the role of Monica Geller in the television series "Friends", the filming of which lasted a whole decade.
Childhood and youth
The family of businessman Richard L. Cox and housewife Courtney Bass already had three children when another girl was born in the summer of 1964, was named Courteney. Older sisters Dottie and Virginia, as well as brother Richard, took care of the younger girl and helped her mother. The Cox family didn't need anything, and Courteney grew up in an atmosphere of love and mutual support. That is why the divorce of her parents and the departure of her father to Florida were very strong blows for Courteney.
For the second time, the girl's mother married a widower, entrepreneur Hunter Copland from New York. For a long time, Courteney did not understand why she should consider his nine children from his first wife as brothers and sisters. It wasn't until she grew up that she realized how different her parents were and stopped blaming her mom for the divorce. And the stepfather was not only well-off but also a sensitive person, he tried to establish relations with all the children.
Courteney was an exemplary schoolgirl: she not only studied science but also actively engaged in the swimming section, played tennis, was the ringleader in the cheerleader team. Also, during her studies, she managed to earn a part-time job as a salesman, and already at 16, she bought her first car.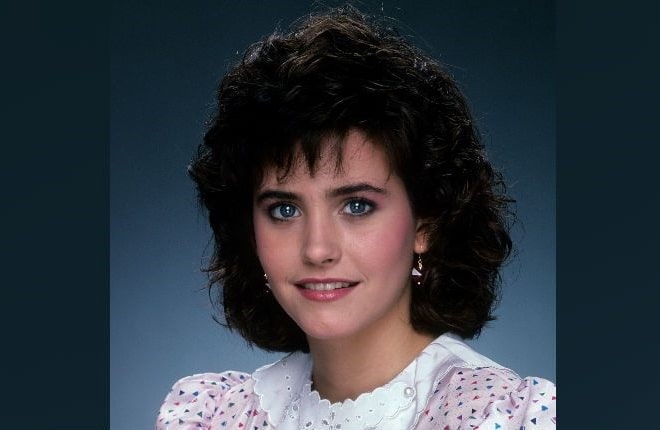 At that time, Courteney did not even think about an acting career — she was interested in working as an interior designer, for which, in the early 80s, Courteney entered Vernon College in Washington for the Faculty of Architecture.
At the same time, a rather tall and thin Cox took a fancy to her stepfather's nephew, Miles, whose friends worked in the modeling business. The girl gave up on persuasion and decided to try her hand as a model. Less than six months later, she was accepted into the Ford modeling agency.
Career
Courteney left college and became the face of the Maybelline brand, regularly appearing in glossy magazines. In order to correctly deliver a speech and act in advertising, she began to attend acting courses.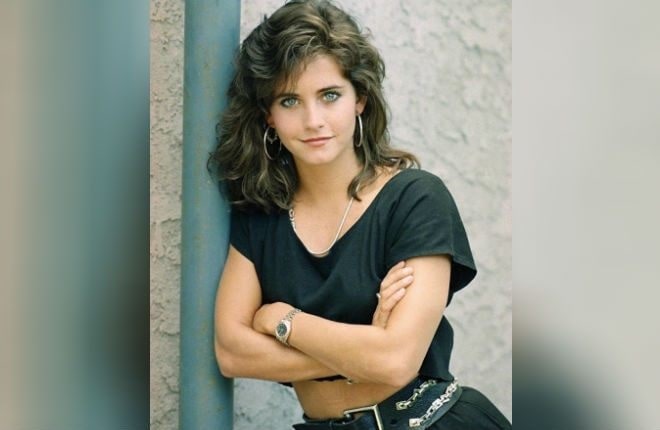 In the mid-80s, Bruce Springsteen noticed the bright and bold Courteney and invited the model to shoot the video "Dancing in the Dark". It was then that everyone noticed Cox's amazing look and inimitable charm. So it was these shootings that can be considered the beginning of her acting career. Even though Courteney got only three hundred and fifty dollars for her first acting job, the girl was invited to the place of the leading music program and began to offer roles in TV series and films.
The actress became really famous after the role of Monica Geller in the TV series "Friends".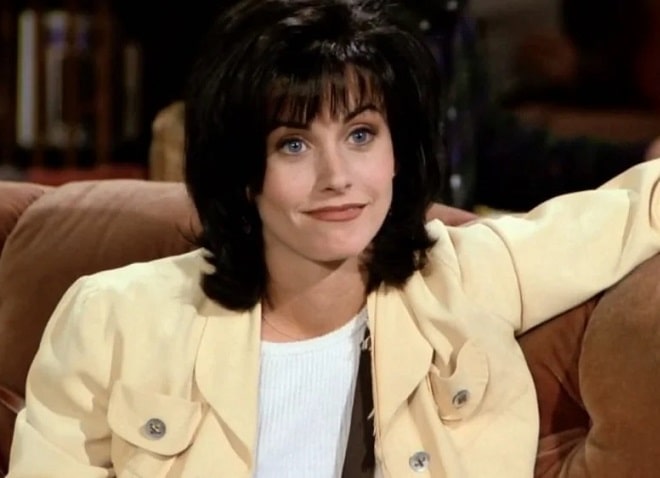 In 2005, Cox, as well as her colleagues Jennifer Aniston and Lisa Kudrow got into the Guinness Book of Records. The three of them were named the highest-paid actresses of television, receiving a fee of almost one and a half million dollars per episode in the last two seasons.
Personal life
On the set of the horror film "Scream", Cox met David Arquette, they married in 1999. The first attempts to have a child for David and Courteney ended rather lamentably — in 2001 Cox had a miscarriage. In 2004, after many attempts, the couple had a daughter, Coco Riley, whose godmother was Cox's friend and partner on the series, Jennifer Aniston.
The relationship in the marriage of Cox and Arquette developed in different ways. The couple often starred together in the same films. But David's desire to have many children became a stumbling block in the family — Courteney's nerves could not stand the test of miscarriages, of which, according to various sources, she had eight.
In 2010, when the actress had her last miscarriage, the actors decided to break up, but they did not file for divorce until 2013. Separation according to Cox, was very difficult for the couple:
"When you love someone, you wish the personal happiness, even if he is not with you. Of course, after a long marriage, it is impossible to part without regrets. But for fourteen years we have repeatedly tried to save our family, we have nothing to reproach."
However, Cox decided to move on, and in 2013 she began dating Irish-born musician Johnny McDaid. In 2014 Courteney announced that she was engaged to Johnny. However, by the end of the year, the media reported that the couple broke up.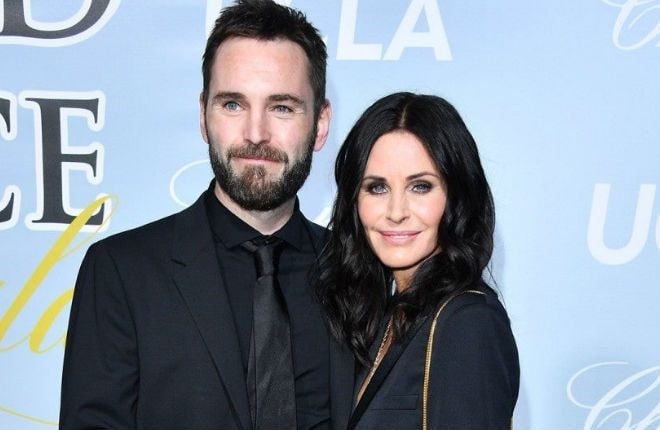 Three years after the breakup, Cox reconciled with McDade again and even moved with her daughter to London to him.
Plastic surgery
Fans are surprised how Courteney Cox manages to maintain a spectacular appearance at her age. She is credited with a facelift and a passion for injection techniques.
In addition, there are rumors that the actress has had a boob job. But Cox denies that she did breast augmentation with implants.
Let's see how Courteney Cox looked then and how she looks now.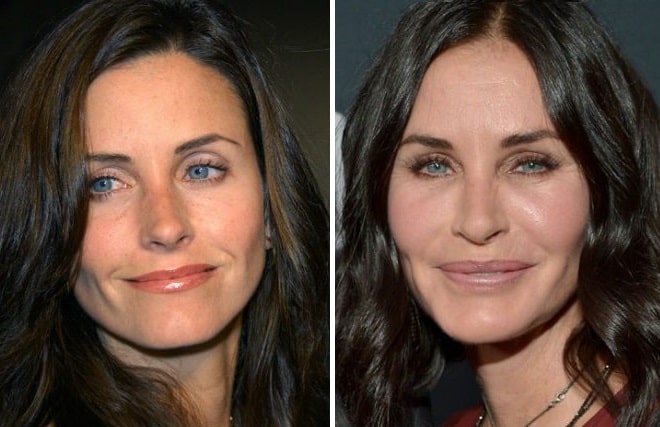 Cox wanted to keep her youth as long as possible and, according to her, she made herself four plastic surgeries, in her opinion, unsuccessful. Later, the actress said that she had completely decided to give up rejuvenating surgical procedures.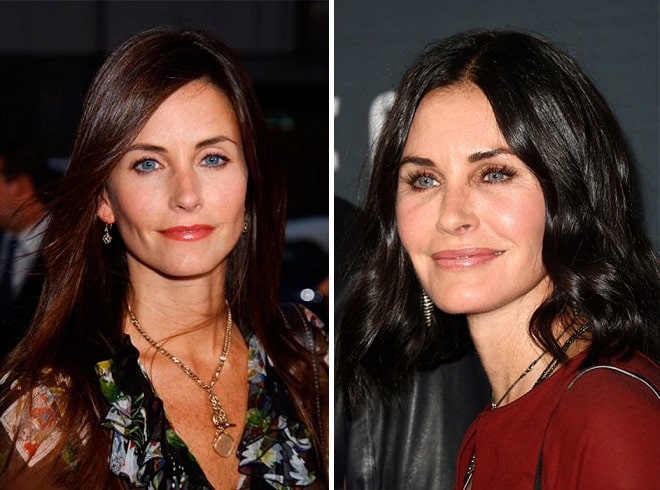 Courteney Cox admits that she really regrets the operations performed. For a long time, the actress trusted only botox injections and fillers, but changed her principles and had plastic surgery.
After surgery, the changes that took place had a negative impact on her career. Courteney believes that she has learned an important life lesson: do not interfere with the natural aging process.
The TV star openly expressed regret about plastic surgery:
"In Hollywood, looks are important, so the system puts pressure on you. And I succumbed. When you go to the doctor for the first time, it seems to you that he will do everything right, you will look like a queen. It turned out that this was not the case, I lost my face. I've been waiting a long time for all these fillers and Botox to resolve. And now, when I see in the mirror how my face is gradually returning to me, this is the greatest happiness. It is better not to try to overtake time, but to keep up with it. That's my motto now. I grew up thinking that appearance was the most important thing. It's a little sad because this worldview got me into trouble. I tried so hard to keep up, but in fact, only made things worse," she said in an interview.