Brittany Murphy is a popular actress of the 1990s-2000s. Date of birth and death: 10.11.1977 – 20.12.2009. During her short career, she starred in many popular films, gained fame and the love of the public. Let's see how she looked in her youth and how her appearance changed after.
Brittany Murphy in her youth
Brittany Ann Bertolotti was born on November 10, 1977 to Sharon Murphy (half Irish, half Eastern European Jewish) and Angelo Bertolotti (of Italian-American descent) in Atlanta, Georgia and grew up in the vicinity of New Jersey.
After Brittany's parents divorced when she was two years old, the future actress took her mother's last name. Already at the age of 9, she began acting in a local theater, and at 13 she signed her first contract with an acting agency and began acting in television commercials. At the same age, Brittany moved to California with her mother, where she got a role in the television show "Blossom".
Later, after a series of roles on television, Brittany Murphy begins a very successful film career, acting in both dramas and comedies. In addition to her dramatic talent, Brittany Murphy had a wonderful voice. Back in the early 1990s, she performed as a soloist of her own rock band Blessed Soul.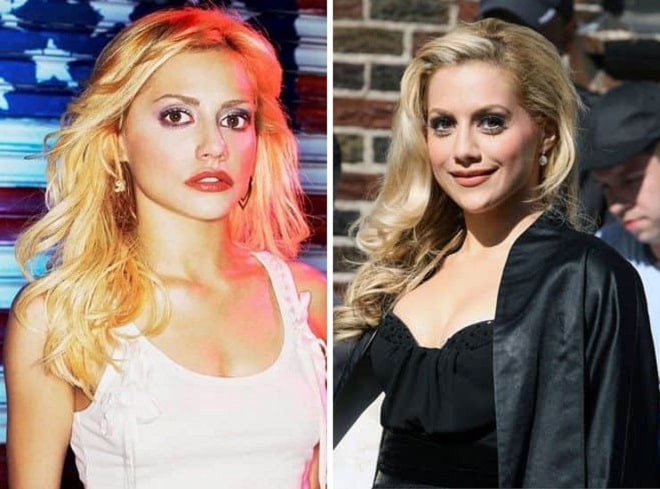 Plastic surgery
In February 2008, at New York Fashion Week, Brittany Murphy began to receive increased attention from reporters due to obvious changes in her appearance.
Hollywood star Brittany Murphy impressed the audience with her new image. The actress appeared at the party with too plump lips. Journalists and fans immediately suggested that the actress had undergone a cosmetic procedure to increase the volume of her lips with filler injections.
Journalist: "Obviously, the girl has done lip augmentation. And I can't say that it turned out beautifully. Perhaps, however, the photo was taken shortly after the procedure, and her swelling just hasn't subsided yet. Edema is also visible in the nasolabial folds. Maybe this is how the swelling spread when the filler was inserted into the lips, or maybe it was some injections made in a bad way. Most likely, Botox injections were injected into the skin of the forehead. The eyebrows look unnaturally high, the skin is perfectly smooth. In her natural form, I like Brittany much more."
After the appearance of the Hollywood star at a social event, all the tabloids in one voice started talking about the fact that Brittany disfigured herself. 30-year-old Murphy, concerned about her beauty, stood on a par with the victims of unsuccessful plastic surgeries.
This is not the first time that information about Brittany Murphy's appearance correction has appeared in the press. There are rumors that she had a nose job. But Brittany Murphy came out with a rebuttal: "It's not true. Although I broke my nose three times, I did not have surgery on my nose. This does not mean that I condemn those who resort to plastic surgery. If someone thinks that they will feel better after the operation, then let them do as they see fit."
The actress tirelessly repeated that she did not apply to plastic surgeons, although the result of their inept work is clearly visible on the face of the "Sin City" star.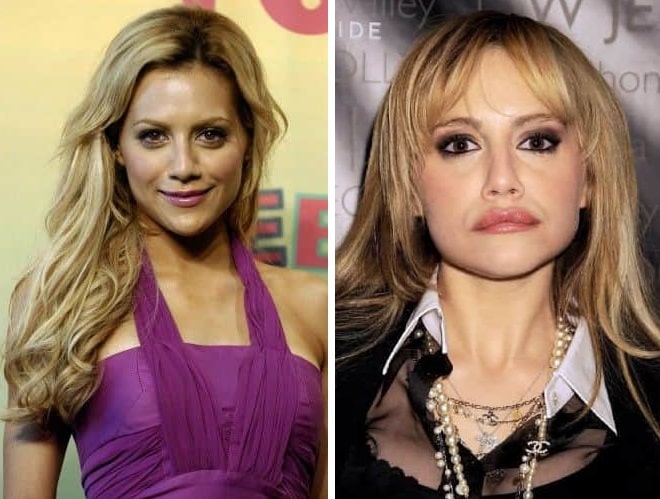 Personal life
Back in high school, Brittany dated Jonathan Brandis (1976-2003), the young star of a teen television series. The guy committed suicide in 2003 at the age of 27.
In 2002, Murphy began dating actor Ashton Kutcher. They looked quite a happy couple, and their mutual friends believed that things were moving towards a wedding. But in 2003, the couple broke up. Unexpectedly for many, Ashton suddenly found himself in the grooms of Demi Moore. Brittany was having a hard time breaking up with Kutcher.
In 2004, the actress announced her engagement to producer Jeff Kvatinets, but it did not come to the wedding.
In May 2007, Brittany married producer and screenwriter Simon Monjack. There were no children in this marriage.
Cause of death
Brittany Murphy died on December 20, 2009 at the age of 32 at her home in Los Angeles. The girl's body was found by her mother in the bathroom. The doctors who arrived at the scene tried to resuscitate the girl, but all efforts were in vain. The official cause of death was called a heart attack.