Famous men are almost more scrupulous about their appearance than many girls. So Steven Tyler turned to plastic surgery to erase the traces of a stormy youth from his face. The singer was so carried away that fans began to forget how the idol looked in his youth.
Steven Tyler as a young man
At birth, the future leader of Aerosmith was named Steven Victor Tallarico, and Tyler took the pseudonym only at the beginning of his musical activity. The guy was not an exemplary student: he was interested only in guitar and drums, skipped school, and abused alcohol and drugs, for which he was expelled from college.
Together with his beloved, Steven moved to Boston, but happy family life did not happen. The girl had an abortion, and Steven fell into depression. After parting with his girlfriend, Tyler went to the resort for new emotions. Here, the history of the legendary rock band began with the acquaintance of Joe Perry.
Once at a Rolling Stones concert, friends noticed a striking resemblance between 17-year-old Tyler and frontman Mick Jagger. Both musicians were of low height, slim build, and angular features, but at the same time, they drove the girls crazy with charisma and a bold image of a rocker.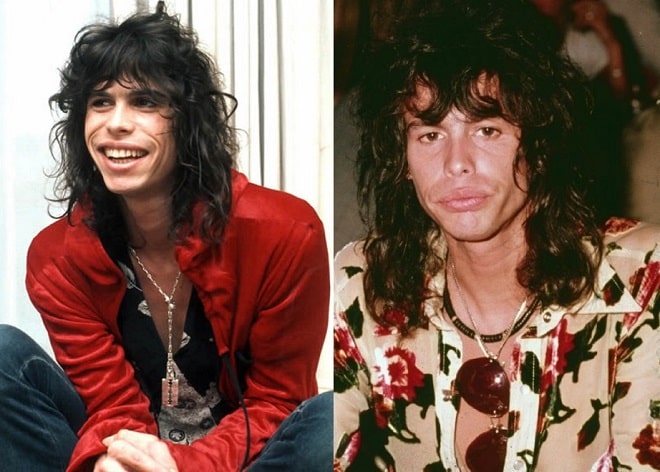 After recording the first album in 1973 and the rapid success of the band Aerosmith, Steven's addictions only worsened. The brilliant talent of the musician, possession of several instruments, and a charming deep voice allowed him to start stadiums in any state.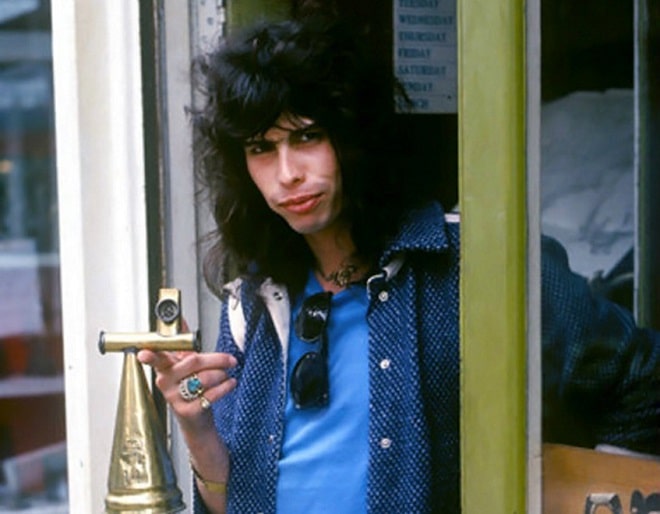 Bad habits did not affect his appearance in the best way: a shock of thick hair no longer hid the early deep wrinkles, flabby skin, and permanent bags under the eyes. For the sake of matching the image of the eternally young rockstar, the singer decided to have plastic surgery, which he was pretty fond of.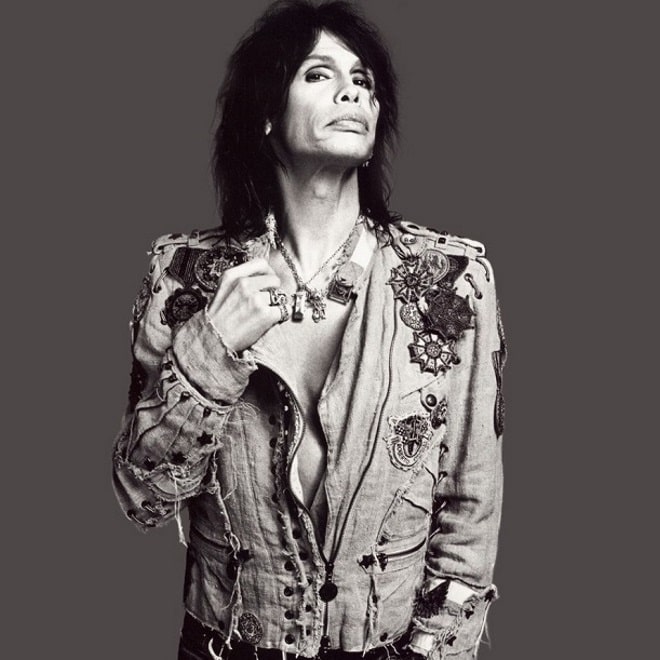 Before and after plastic surgeries
The musician significantly reshaped his appearance and did a lot of work on himself. Tyler's most serious surgical intervention was rhinoplasty, which was supposed to hide the traces of several falls from the stage. After the nose job, the bridge of the nose became narrower.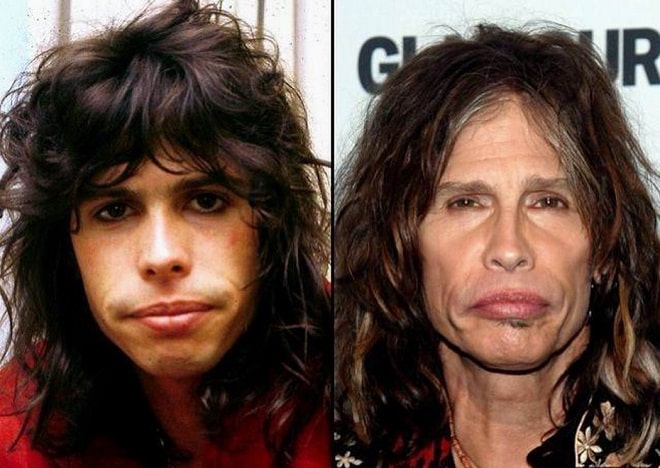 To hide the traces of stormy sleepless nights, prematurely aged Tyler resorted to a circular facelift. According to rumors, he has performed this operation several times.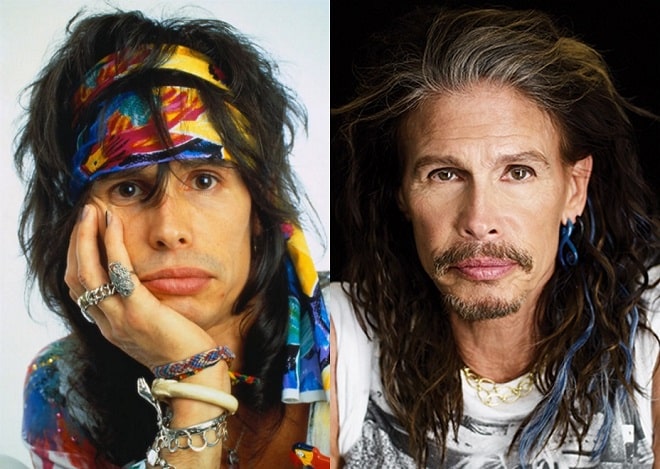 The singer's naturally plump lips have lost volume over the years, and he turned to injections of hyaluronic acid. In addition, the Aerosmith leader used fillers to add additional volume to the cheekbones, fill in the nasolabial furrows, and correct wrinkles.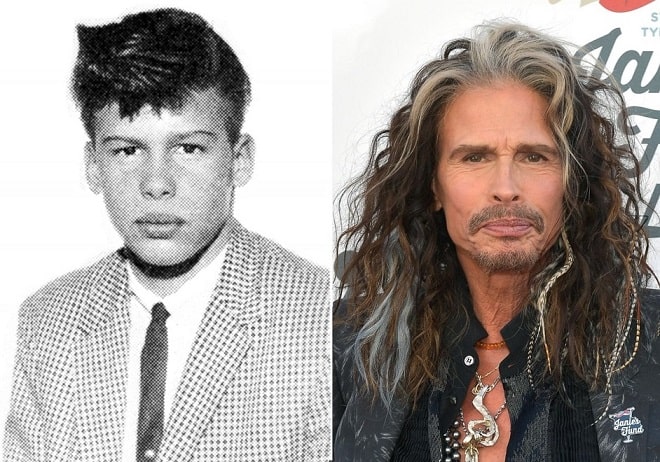 Tyler is an experimenter by nature, so he was one of the first to experience all the novelties of cosmetology, for example, botox injections and laser peeling.
Steven has never hidden either his lifestyle or numerous plastic surgeries. During press conferences and interviews, he often jokes about this topic and calls himself a freak by nature.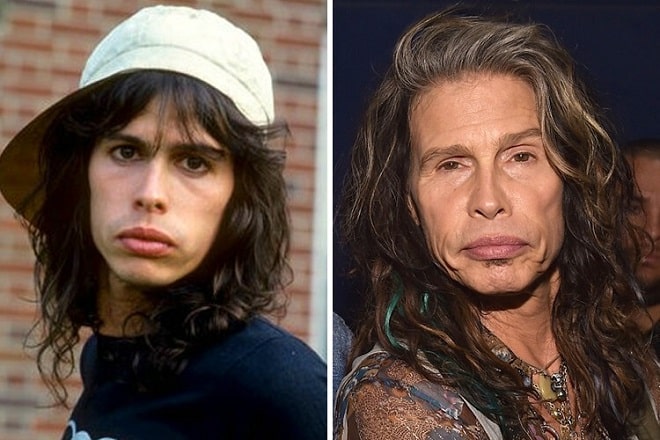 Fans are ambivalent about the idol's passion for plastic surgery. They note that the singer, although he looks younger than his peers, with each operation he loses some of his individuality and becomes more and more like an elderly woman.
What Steven Tyler looks like now?
It seems that the rocker still feels young not only in his soul but also in his body. He appears in public with his beloved, who is almost 40 years younger than him and spends time surfing.
Steven is still struggling with addictions and periodically takes rehabilitation courses, and often conducts charity events to help those suffering from drug and alcohol addiction.
The rocker actively maintains an "Instagram", in which he shares pictures from his performances and public appearances, as well as shares photos of children and grandchildren.
Of course, the image of Steven Tyler in his youth is very different from the image of a 70-year-old rocker. With age, the musician lost his interesting appearance, but he retained charisma, talent, and a magical voice for the rest of his life.