The daughter of Hollywood actors Angelina Jolie and Brad Pitt has been the focus of special attention of journalists since birth. Firstly, she is their first biological child, and secondly, the baby said at the age of three that she feels not like a girl, but a boy.
She became the object of close attention from the press and the public, even before she was born. After the birth of Shiloh Nouvel became almost the most popular child in the United States.
This girl seemed to have everything a child could ever dream of. But over time, she became like a boy and shared her dream of changing her gender.
Why did Angelina Jolie and Brad Pitt's daughter decide to become a boy?
The most popular child
Fans of Jolie and Pitt began to follow the fate of Shiloh when she was still in her mother's stomach. At the end of 2005, the actress announced her pregnancy and did not expect that her words would cause such a resonance. The star was pursued by paparazzi, journalists closely followed her from the first reports of pregnancy.
Public attention to the upcoming event was so intrusive that the couple had to leave for Namibia. But the ubiquitous journalists and paparazzi have also reached Namibia. The media tried by all means to get photos of a pregnant Angelina.
Jolie and Pitt turned to the services of government officials to ensure the safety of the family. The part of the hospital where Shiloh was born was completely closed, and only those who had written permission were allowed there. On May 27, 2006, Angelina Jolie gave birth to a daughter.
Young parents Angelina Jolie and Brad Pitt with baby Shiloh settled in a hotel, the area around which was guarded. Despite all the precautions taken, the media did not give up their attempts to get photos of the child.
Due to the hype around the birth of their first child, the couple sold the first photos of their newborn daughter for a record sum of ten million dollars. After the photos of the girl appeared in the press, the public's interest in her seems to have only increased.
Girl or boy
The metamorphoses of Jolie and Pitt's daughter, or how the girl decided to become a guy, and then changed her mind.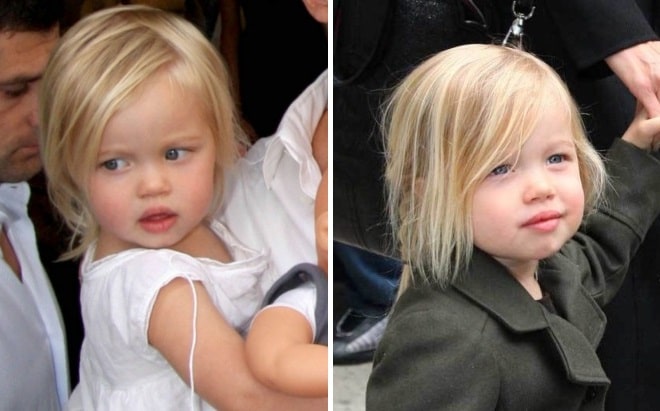 In early childhood, parents dressed their daughter, as girls of this age should be dressed. However, as soon as Shiloh grew up, she began to choose outfits on her own. And they weren't dresses at all. Her costumes were exceptionally boyish, as was her hairstyle.
Brad Pitt reported in 2008 that his daughter demands to be called John, and dreams of changing her gender. Two years later, Angelina Jolie confirmed the words of her husband and said: Shiloh dreams of changing gender and becoming a boy.
According to Jolie, Shiloh wanted to be a boy and considered herself one of the brothers. She liked the sporty style, as well as the classic: jackets, suspenders, vests, trousers, butterflies and so on. Moreover, in those years there was a stricter gender division in clothing than in our days. Even as a guest of the red carpets, where the star parents took their children with them repeatedly, Shiloh did not change her masculine style. At social events, Shiloh appeared in the image of a teenage boy, which is why she was often confused with her brother.
In 2020, information appeared on the Network that Shiloh was taking hormonal drugs and preparing for surgery, but the situation resolved itself. Suddenly, the girl began to appear in public in dresses more and more often, grew her hair, learned how to do makeup and turned into a real beauty. However, the "princess period" turned out to be short-lived for Jolie's daughter.
In 2023, Angelina Jolie's 17-year-old daughter returned to a rebellious image. The change in the image of Shiloh was noted by fans during the visit of the star mom and daughter to Jamaica. Shiloh completely shaved her head and chose the most brutal image.
Perhaps she will still change her mind about changing the gender and give preference to girlish outfits. After all, in fact, she grew up to be a real beauty. However, Angelina Jolie promised: whatever Shiloh's decision, she will always support him and do everything to make her daughter's life comfortable and safe.
How did Shiloh turn from Jolie's beloved daughter into a problematic one, but in fact just repeated her fate?
Shiloh, who gave mom a lot of trouble, is called a rebel by many. However, Angelina Jolie did worse things at the same age.
The first biological daughter of Angelina Jolie and Brad Pitt – Shiloh, who has always been the pride of mom and dad, first shocked the world by admitting that she really wants to be a boy, and a few years later she experienced a serious psychological trauma associated with her parents' divorce.
It all started because of Brad Pitt's confession. In an interview, he said that his daughter asks to be called John and refuses to acknowledge the fact that she was born a girl. Jolie noted that she supports her daughter in the struggle for self—determination, and since she wants to change her gender, she will provide her with all the opportunities for this.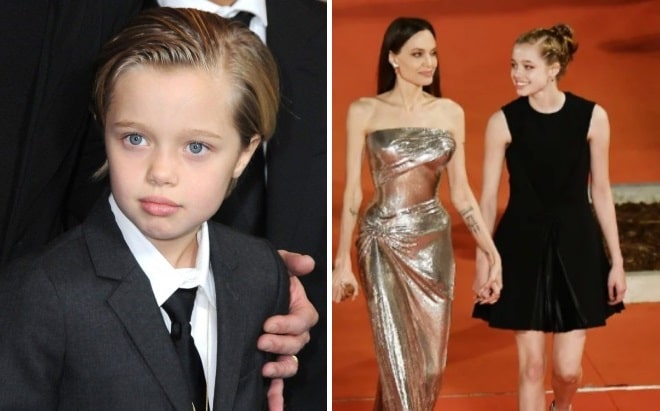 Because of the desire to separate from the star mom, Shiloh is called "ungrateful", and also compared to Jolie herself, who in her youth was even more rebellious.
The fact is that Angelina Jolie herself was a troubled daughter. Her parents are popular actors Jon Voight (in the 1970s he was the main sex symbol of Hollywood) and Marcheline Bertrand. The family of the future star was considered famous and very wealthy, but there was practically no happiness in it.
John constantly cheated on his wife, and she, burning with jealousy, arranged scandals for him — often in front of children who still did not understand anything, but were very scared. Everyone around was sure that this marriage would not last long — and so it turned out. In the end, Marcheline filed for divorce, took her son and daughter and moved to New York.
Jolie was 11 years old when they moved back to Los Angeles. Angelina started working as a model and acting in commercials. She quickly matured, felt independent, and this almost led to disastrous consequences.
Later, the actress said that she also caused her mother a lot of problems. At a fairly early age, she became addicted to illegal substances and, due to addiction, several times found herself on the verge of life and death. Angelina ran away from home, met with bad guys, disrupted filming and argued with the directors. At first, she was forgiven for such audacity: in Hollywood, Jolie was considered almost a rock star and, thanks to scandalous antics, attracted attention to films. However, everyone quickly got tired of the obstinate behavior of the star.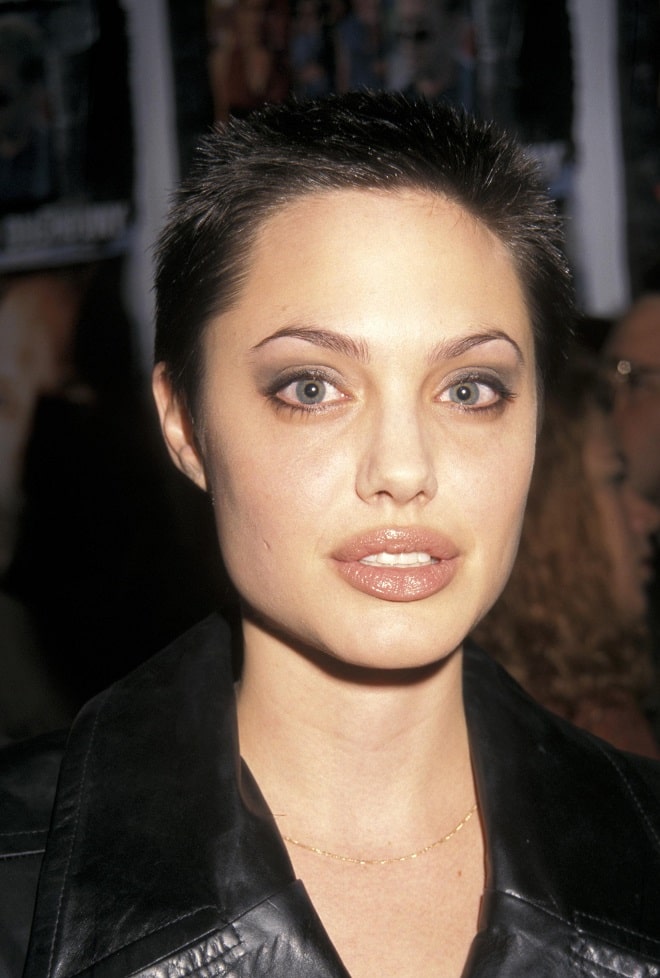 Realizing that she risked ruining her career, Angelina gave up drugs and then took up charity work. The dark period is behind us, but Jolie's turbulent youth is still remembered. Compared to this, all of Shiloh's antics seem like light pranks: a couple of frank confessions and experiments with style.