Carmen Electra is a famous model, actress, dancer and singer from Ohio. Her real name is Tara Leigh Patrick. Let's see how she looked in her youth and how her appearance changed after plastic surgery.
Then and now
Tara Leigh Patrick was born on April 20, 1972 in Sharonville, Ohio. At the age of 9, she began studying dance art. Tara Leigh Patrick began her professional career in 1990 as a dancer in an amusement park. A year later, the future star moved to California. At the same time, she took her famous pseudonym.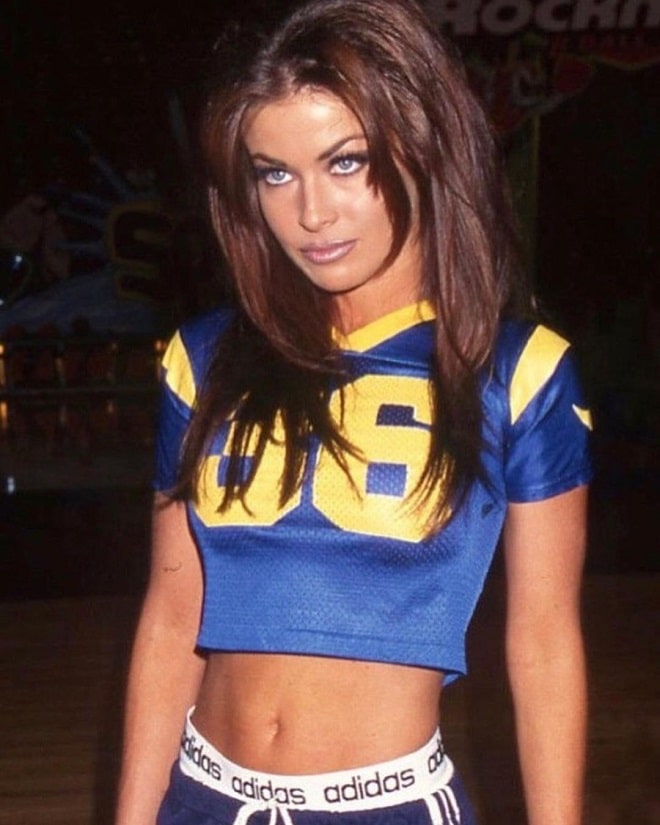 For several years, the charming blonde sang in a female rap group, simultaneously working as a dancer in a club, and then recorded several solo singles.
In 1995, Electra began appearing in various TV shows. In May 1996, the first Playboy magazine with her photos was published. Then the photo of Carmen Electra in Playboy gave a significant boost to her career and put her in the first position in the rankings of the sexiest women on the planet.
Incredibly beautiful actress Carmen Electra broke into show business with stunning success. She replaced her idol Pamela Anderson in the series "Baywatch" in 1997.
Now Carmen Electra continues to show a slim body. How does the star of the series "Baywatch" manage to keep her body in good shape? What does Carmen Electra do to make a splash with her nude pictures?
Plastic surgery
Carmen Electra: "My breasts, eyelashes and hair are not real"
Model, actress, singer and dancer Carmen Electra has always wanted to be like her idol – Pamela Anderson. This desire has led Carmen to the plastic surgery clinic more than once.
First, Carmen Electra had breast augmentation surgery. The Hollywood beauty put breast implants quite a long time ago – at the age of 23.
The next step was lip augmentation surgery. After plastic surgery on the lips, they became more voluminous.
Plastic surgeons talk about a possible correction of the nose. The actress probably had a nose job. After rhinoplasty, her nose became thinner and more elegant.
In addition to plastic surgery, Carmen Electra actively uses cosmetology techniques to maintain youth and beauty. In particular, she gave injections of Botox and fillers.
During her career, she has repeatedly adjusted her appearance. This is an example of a well-done plastic surgery. Naturally beautiful, Electra did not shine with any special talent as an actress. It was thanks to her appearance that she made her way to the Hollywood Olympus, imitating her idol with big tits Pamela Anderson.
According to her, since she was given breast implants, she has been achieving success in show business. The new breasts brought good luck to Carmen. She was offered to act for Playboy. That photo shoot changed her life. Now Electra is a real sex bomb: she has a perfect face and an amazing body.
In one of the interviews, Electra said: "I've had good breasts before. Small, but good. Although most of my friends tell me that I look much more attractive with big tits, I'm still sad. I could very well leave my own boobs unchanged."
Beauty Secrets
Fans of the actress and model do not cease to admire her figure. How does she manage to keep her body in great shape?
Carmen doesn't follow any diets. This is explained by the fact that the star of the series "Baywatch" can not stand strict restrictions. She tries to eat right. Her every morning starts with healthy fruit or vegetable smoothies. Electra does not eat foods with a high carbohydrate content.
The star's body remains taut thanks to regular cardio workouts. "Carmen loves to dance. She always finds time to work out on a treadmill or exercise bike. Electra is very lucky with genetics, so she doesn't have to sweat for hours in the gym.
Carmen Electra in her youth released DVDs with strip aerobics workouts. The classes included a warm-up, the main part with seductive dance elements and stretching.
Carmen Electra's aerobics is not just a dance, but a complex and full—fledged work on the body. Each lesson begins with a simple warm—up, then the main part is spent on working out certain muscle groups and the training ends with a simple stretch. Video tutorials with exercises by Carmen Electra are easy to find on the Internet.
Do not think that such dances with a low cardio load are not an assistant in building a dream figure. Strip aerobics helps to strengthen muscles and tighten the body. In addition, an additional bonus from such activities is incredible grace.