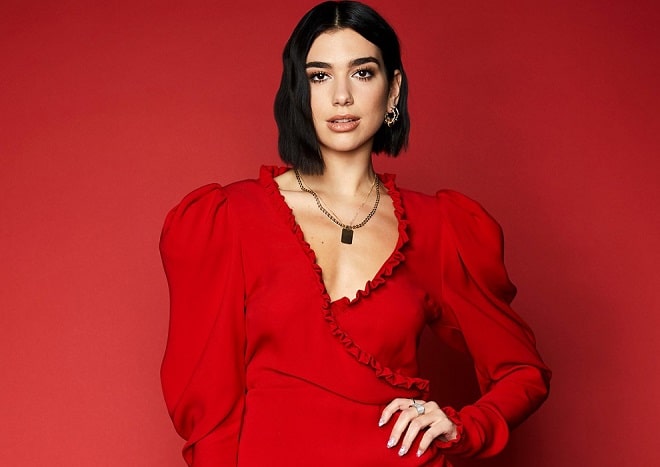 Today, this talented girl is one of the highest-paid and famous singers in the world. However, to achieve this, she had to put in a lot of effort. This also applies to the appearance, which plastic surgeons have worked on, and so beautifully that many still doubt she did have cosmetic operations. Let's take a look at the photo and find out exactly what Dua Lipa has done to herself and how she has changed over the past few years.
Before and after plastic surgeries
The British singer is of Albanian origin. The star's parents are musicians, so it is not surprising that from early childhood she was engaged in creativity: singing and dancing.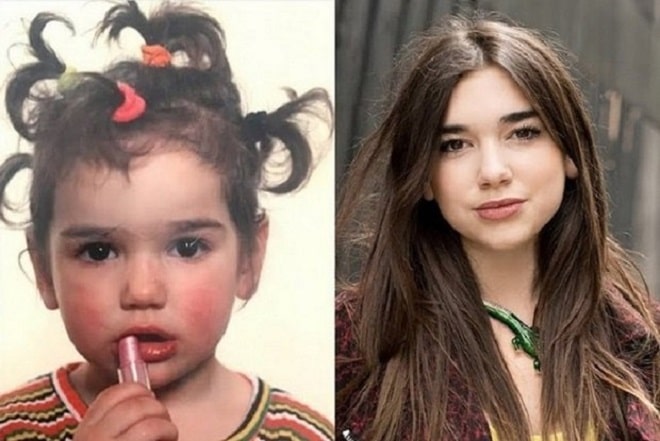 Already at the age of 13, Lipa began to make attempts to become famous. She started her own YouTube channel, where she posted covers of famous songs. At the age of 15, she moved to London and continued her vocal studies.
In parallel, the aspiring celebrity worked as a waitress and was an unremarkable girl.
Everything started to change only in 2015 when Dua signed a contract with Warner Music Group and released several hits. In just a couple of years, worldwide fame came to her. Today she is a multiple winner of Grammy Awards and MTV Video Music Awards. And 71.4 million people follow her life on Instagram.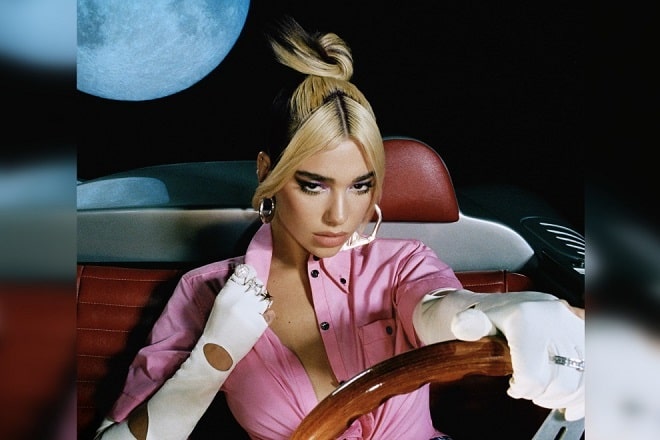 Now Dua Lipa cooperates with many fashion brands and regularly participates in promotional photoshoots. She became the face of Versace, YSL, H&M, and many others.
At the same time, the star continues to actively develop a musical career. So Dua Lipa became the most popular among women on Spotify. She gained 65.5 million listeners. But the star is not going to stop there, either in music or in self-improvement. We continue to follow new successes and beauty transformations.
What kind of plastic surgeries did Dua Lipa have?
It is very difficult to talk reliably about plastic surgery and radical cosmetic procedures in the case of this girl.
Firstly, because she is still very young, and by nature, a spectacular appearance does not require any serious correction.
Secondly, the star is the face of international beauty companies and brands, as a result of which she does not talk much about her beauty transformations.
The official version is that all her beauty is exclusively natural, and is only slightly emphasized by successful makeup.
But is this really the case?
There are many contradictory assumptions, the main of which are about nose surgery and using injection fillers.
Let's look at the photos and draw our own conclusions:
Rhinoplasty
Let's make a reservation right away, the singer herself has never confessed to the rhinoplasty done. However, many experts believe that first of all she did the nose job. If earlier her nose was quite large with a round wide tip, now it looks thin and elegant.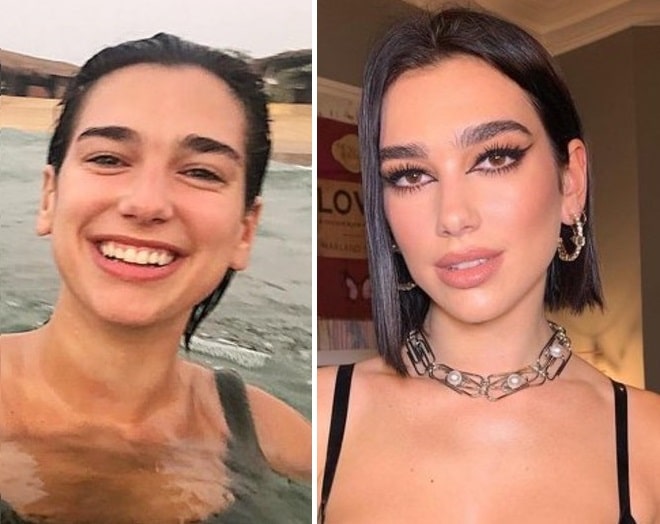 Face contour
In childhood and youth, the oval face of Dua Lipa looked rather vague. By nature, the girl has plump cheeks, a massive lower third of the face. However, if a professional makeup artist and photographer takes up the job, then cheekbones instantly stand out, and the shape of the chin changes.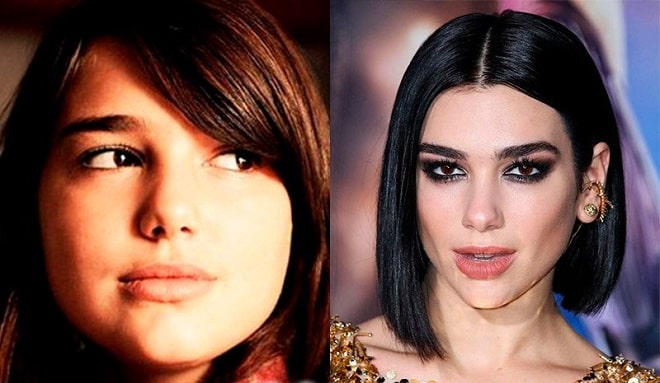 So, the sunken cheeks in recent photos are most likely not the result of removing lumps of Bich, but the effect of a little weight loss and the accents made by the make-up on the zygomatic area.
Dua Lipa is the owner of the swarthy skin of the southern type. The first wrinkles in the star are probably already appearing, but a serious fight with them is still far away. Of course, cosmetologists are working on the appearance of the star, using professional cosmetics and non-radical procedures.
Dua Lipa is still young, so talking about facelifts is still very early.
In many photos, the girl has a hint of a nasolabial fold, which now does not look "age-related", but rather the opposite – gives the appearance of charm. However, in 10 years it will become much deeper and will probably require correction with fillers. And also attract the attention of greatly enlarged pores, clearly visible under a layer of foundation.
Eyes
The cut of the eyes – it is not to be confused!
Dua Lipa did not do an endoscopic eyebrow lift.
One of the most attractive features of Dua Lipa is its deep, penetrating look. The brunette got a characteristic cut of the eyes, thanks to her Balkan roots. She definitely did not do blepharoplasty or endoscopy of the upper third of the face. But on studio shoots and for performances on stage, she always picks up successful makeup, with which he lifts the outer corners of the eyes. This makes the features even more vivid.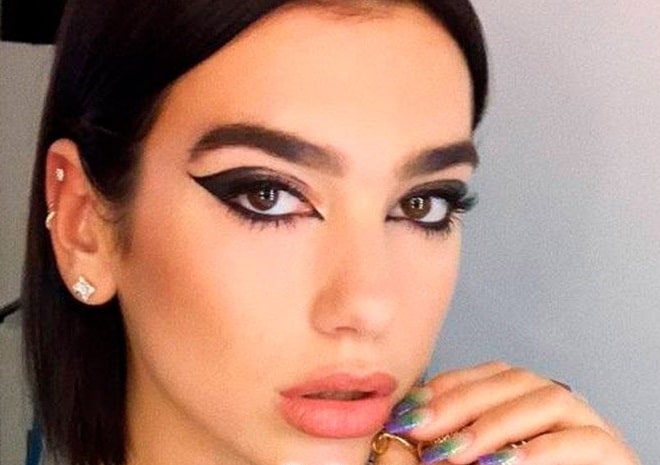 Lips
Voluminous lips of Dua Lipa from nature or from injection fillers?
The singer was really lucky with genetics. Not everyone gets such plump lips at birth, but many are still sure that such a volume is the result of the presence of fillers in the lips.
To dispel doubts, Dua Lipa posted her picture and an angry rebuttal: "This is to those people who say that I will edit children's photos so that my lips look bigger on them, this is just crazy madness! I can't believe I have to defend myself. You guys are crazy."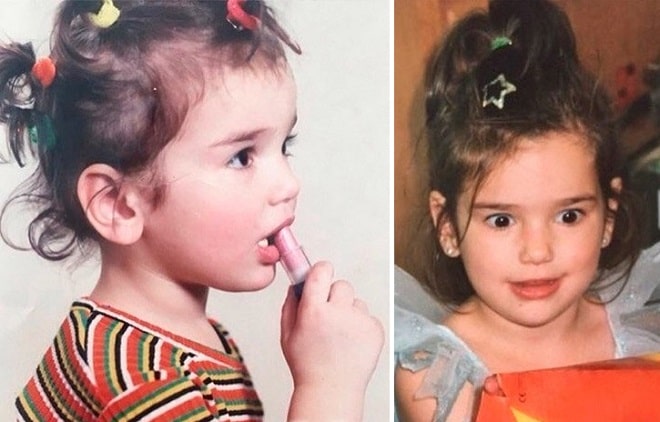 Eyebrows and eyelashes
A voluminous arch with thick hair is the feature eyebrow of Dua Lipa. It can be assumed that this is certainly the merit of artificial hair extensions. However, upon closer examination, it looks much more like the result of proper makeup and permanent styling (lamination) with the help of professional tools, when each hair is highlighted as much as possible. It is rumored that the eyebrow stylist personally accompanies the singer on tour.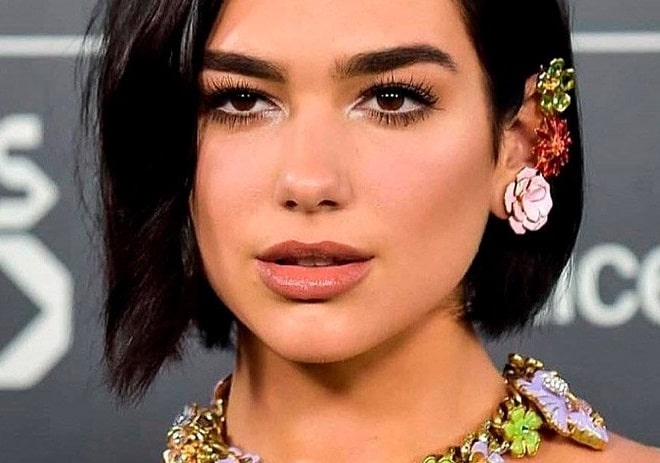 Skincare
The Balkan of appearance type has many advantages: this is pleasant-looking tan skin, thick hair, and wide eyebrows, and long eyelashes. But there is a nuance that is not acceptable to talk about. Such girls always have abundant vegetation on their bodies. Dua Lipa does not tell exactly how she solves this issue, but there is every reason to believe that regular epilation and depilation are included in the mandatory top of her care procedures. Otherwise, how to explain the absolutely smooth skin, not only in retouched clips and promotional videos but also on the singer's personal photos.
By the way, in her interview with one of the international publications, Dua Lipa revealed several of her beauty habits:
Falling asleep with make-up in front of your eyes is the most terrible nightmare for a singer. In the evening and in the morning, she always cleanses the skin with oils and then applies a nourishing or moisturizing cream. In winter, it uses denser textures to protect the skin from external negative factors.
She loves perfumes and experimenting with fragrances. The favorites are fruit and flower compositions. In winter, he says "yes" to complex quintessence, including those with oriental notes.
In ordinary life, she practically does not use cosmetics. Makeup is very simple: lip gloss, a little mascara on the eyelashes, shadows of natural tones, highlighter, eyebrow gel.
Personal SOS products for a brunette are lip gloss with a dense texture and hand cream, something that always lies in her cosmetic bag.
Teeth
It seems that here, too, the singer has everything of her own. The dentist's intervention is not excluded, but not cardinal (in the form of veneers or prosthetics), but only cosmetic, to adjust the size and shape of the edges of the teeth. And, quite logically, the enamel whitening procedure could be performed – the girl loves contrasting dark lipsticks, which, as you know, especially focus on the shade of teeth.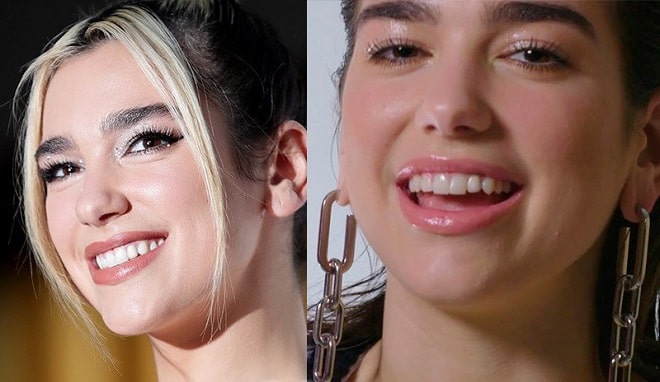 Breast
As for the breasts, the singer has a rather modest size, but a beautiful shape. Therefore, she does not plan to do breast augmentation, at least at the moment.
Dua Lipa is not at all shy about small breasts and happily wears tight tops and dresses with deep cutouts.
"Dua, go put on a bra", "And where did you lose your underwear" – such comments are often seen under the photo of a star who is not averse to showing subscribers a boob under the translucent blouse.
Body
Dua Lipa is regularly ranked among the sexiest singers in the world. At the same time, journalists often note her style of clothing. The star does not have a very proportional figure: "heavy hips" combined with a small boob. However, properly selected outfits help her find balance and visually achieve the perfect hourglass body shape.
The star has a special relationship with its own body. In an interview, she told how she tried to lose weight in her early youth: "When I worked as a model, I tried to lose extra pounds, but diets only spoiled my mood, ruined my health, and caused problems with self-esteem."
The singer stands for body-positive. Of course!
"Each of us should have the privilege to love our body and feel sexy" – the star is sure, "I am glad that I can promote this idea to the masses and support all the girls who need to understand that they are already damn sexy and should not change to please others."
Hair
Bold experiments with hair color and length are a permanent feature of Dua Lipa. It seems that she has already experimented with all possible colors and shapes: from neon to ash blonde, from bright feathers to contrasting ombre, from a short square with an even cut to a curly tail on top. Today, the singer's hair color is a deep and rich chestnut. But, knowing the love of the star for constant changes and transformations, it is quite realistic that something extravagant will soon replace the classics.