Let's see what the model Claudia Schiffer looks like now, who in the 1990s was one of the most beautiful women in the world.
Then and now
In the 1990s, no social event was complete without the blonde, fair-skinned model Claudia Schiffer. She went out on the carpet in modest elegant dresses, but at the same time she always attracted a lot of enthusiastic glances.
Claudia Schiffer has always had a controversial appearance and she cannot be called a classic beauty.
But in her youth, this unusual appearance played only to her advantage. Claudia was unusual, but beautiful.
She was often compared to the young Brigitte Bardot. Despite the fact that Schiffer is German and Bardot is French, the women were really similar in appearance.
Over the years, the supermodel has moved away from the image of the German Barbie, changed tight skirts for comfortable jeans and spent more time with her family.
Unfortunately, years and age have fatally spoiled Claudia's appearance – everything that was "highlights" in her face has become a disadvantage.
The overhanging eyelids became even more overhanging, the face with sharp cheekbones, the structure of which many girls envied, became too masculine.
Claudia's face has acquired rough masculine features, and looking at her now, it seems that this is a man "remade" with the help of plastic surgery.
However, Claudia herself does not seem to be at all worried about her current appearance. Judging by the serious wrinkles on the model's forehead, she doesn't even use botox injections. The presence of nasolabial folds and slightly lowered corners of the mouth indicate that Claudia avoids injections with fillers.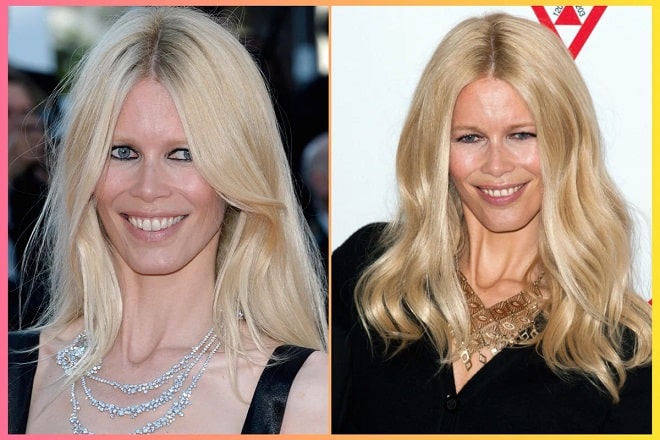 Beauty is gone, old age has come. However, Schiffer herself, despite all the noticeable wrinkles, is still very smiling.
Plastic surgery
In September 2017, Claudia Schiffer appeared at the Versace show and captivated the audience with her radiant appearance and youth. The muse of famous designers and a role model for many girls of the 1990s, at the age of 47, still retained her beauty and slimness.
Claudia Schiffer's flawless appearance raised questions about plastic surgery, but the model refuted such assumptions.
According to Schiffer, the secret of eternal youth is deep sleep, a strong family, a favorite business and a competent cosmetologist.
She always spoke unflatteringly about plastic surgery and said that she would never turn to the services of the creators of artificial beauty. But time goes by, and a woman's desire to stay young and beautiful for longer and longer grows even more.
Luxurious Claudia has been promoting natural beauty and self-love all her life. More than once Claudia was offered to do blepharoplasty of the upper eyelid. Because of the slightly overhanging skin, the beauty's face looks asymmetrical. But Claudia sent all the "well-wishers" and connoisseurs of beauty to hell in her native German.
The famous German woman was even somewhat afraid of plastic surgeons, especially seeing the unsuccessful results of her colleagues. Schiffer preferred less radical methods and believed that a monthly visit to a cosmetologist and proper home care was enough.
But up to a certain age. According to Claudia's colleagues, she hides that she did a facelift. When asked about her stunning oval and clear facial contours, she answers one thing: "Good genetics and daily facial care." But there are many skeptics who question the supermodel's words. Although no one condemns her.
There was talk that after the birth of three children, Schiffer had a breast lift. But Claudia claimed that she had never gone under the surgeon's knife. However, even if the German beauty resorted to the services of plastic surgeons and did a boob job, it is obvious that she is satisfied with the results. The model does not suffer from a special passion for experimenting with appearance, so she probably will not turn into one of the victims of unsuccessful plastic surgery.
The evolution of beauty by Claudia Schiffer
Supermodel, actress, mother of three children managed to realize almost all their dreams. Let's remember how the well-known model has changed over time.
Claudia Schiffer was born on August 25, 1970 in Rheinberg. The success story of the model began in one of the nightclubs of Dusseldorf in October 1987. There she was noticed by the director of a modeling agency, who saw a future star in a tall, thin blonde. From that day, Claudia's dizzying career began. At the age of 17, Schiffer moved to Paris and starred in her first photo shoot.
Years later, the model said that in her youth she was terribly shy and insecure because of the complexes that were instilled in her at school: classmates made fun of the future star, calling her too long and skinny.
But it took Schiffer quite a bit of time to turn her shortcomings into advantages. In front of the photographer's camera, Claudia turned into a different person – self-confident.
Already in 1992, Claudia had everything that almost every girl dreams of: money, success and the best contracts with world brands.
No social event was complete without the participation of the rapidly becoming popular model Schiffer. But, according to critics, the evening images of the girl did not always turn out to be perfect. Claudia sometimes unsuccessfully applied makeup to her drooping eyelids, which further narrowed her eyes, not allowing her gaze to be more open.
Claudia did not change her hairstyle for a long time, she always wore a light shade of hair.
"I like to walk with my hair down, but I don't like perfect styling. Therefore, I do not dry my hair to the end, letting the wind give the necessary sloppiness. So the hair becomes more lively," the model revealed her secret.
In 1998, Claudia decided to change her appearance a little and grew bangs.
Everyone knows the "surprised smile" of the German Barbie, in addition, Schiffer is famous for her fair skin. Several times in the early 2000s, Claudia appeared in front of photographers tanned, but fans, and Claudia herself, realized that a tan was clearly not her face.
After marrying British producer and film director Matthew Vaughn in 2002, Claudia decided to make a change: the star cut off her shoulder-length hair. And she began to look even more spectacular!
False hair was also part of the model's image for a short time: she used them to give her hairstyle even more volume.
On the red carpet, the supermodel of the 1990s always appeared in rather modest and elegant outfits, but they perfectly emphasized her slender figure.
To any questions about plastic surgery, Claudia answers unequivocally: No, and no again. The supermodel has always stated that she never went under the surgeon's knife.
Schiffer not only does not hide his age, but is even proud of it. She believes that mature women have a certain charm that young and inexperienced girls do not have.