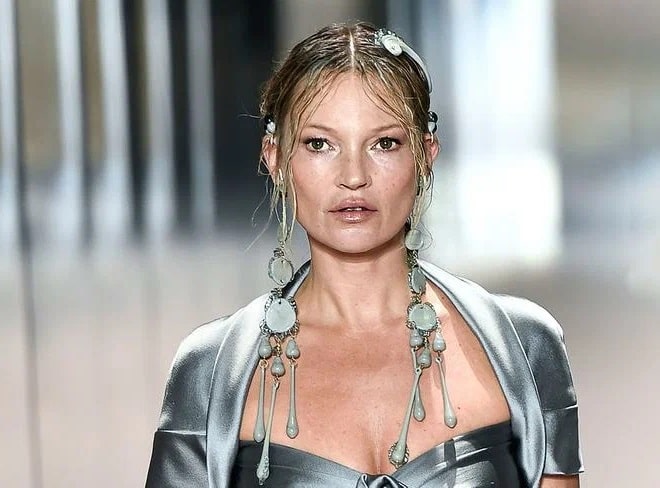 Kate Moss was one of the most popular and sought-after models in the 1990s. Now the star has gone a little into the shadows, but is rightfully considered the cult supermodel of all time.
How does a 1990s supermodel try to preserve her beauty? Botox, fillers, plastic surgery? Let's see how she looked in her youth and how her appearance changed after.
Then and now
The famous model Kate Moss was born in the suburbs of London on January 16, 1974. When Kate was 14 years old, she was noticed by agent Sarah Doukas, who invited her to try herself in the modeling business.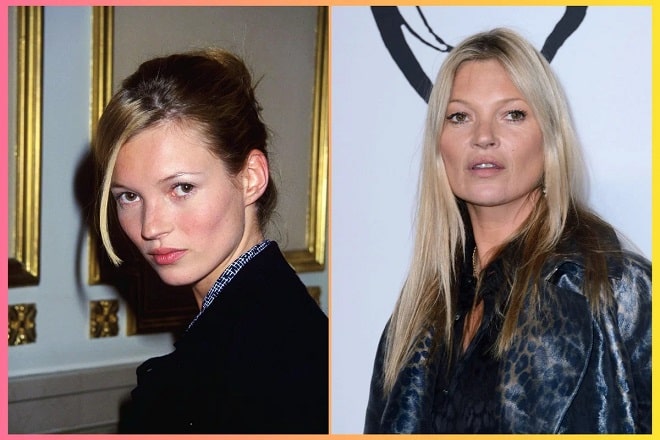 The heyday of Moss' career came in the 1990s. It was at this time that she signed a contract with Calvin Klein, which made her famous. The press started talking about a slender model with slanted eyes, high cheekbones and a predatory grin, and her androgynous figure became the standard for fans. Moss earned her first million at the age of 20.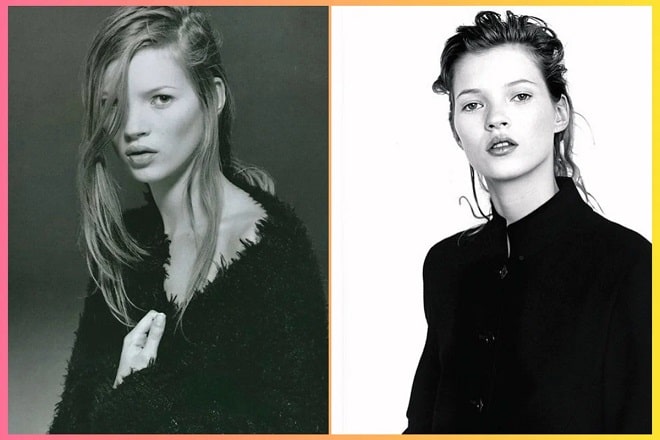 Kate Moss has gained worldwide fame in the modeling business due to her unique appearance: slanted almond-shaped eyes combined with neat European facial features.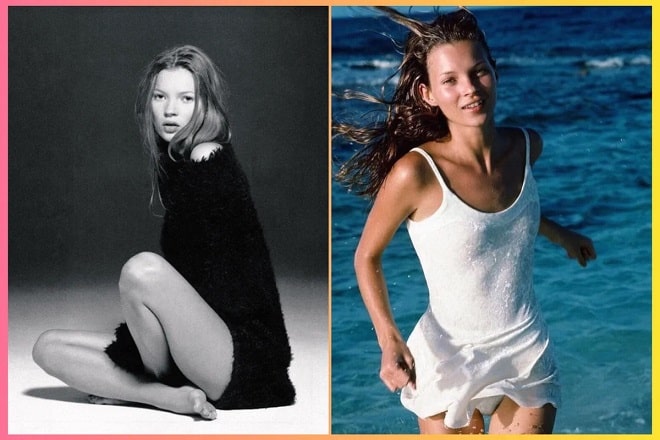 Many people remember Kate as a long-haired blonde. However, the star often experimented with the image. She was brown-haired and even a burning brunette. Kate often changed her hair length and haircut.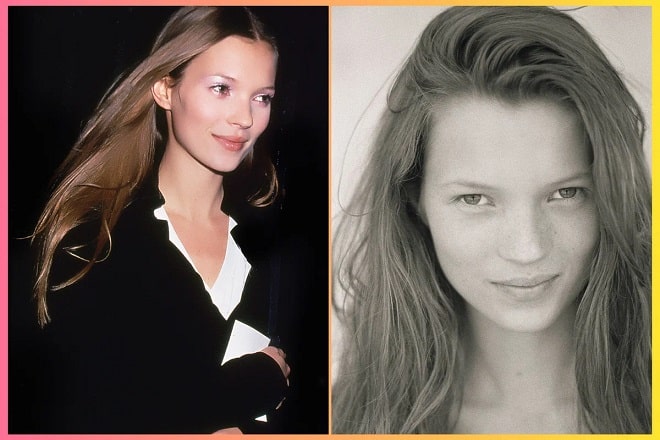 Kate became a style icon not only for English youth, but for the whole world – she was a kind of antipode of feminine Naomi, Claudia, Crawford, Heidi. So unlike the others, but at the same time incredibly charismatic and bright!
Kate Moss is one of the most popular models of the late 20th century, who could not maintain her good looks until old age. By the age of 35, the traces of the model's rampant lifestyle were clearly reflected on her face. By the age of 50, her face began to look even worse.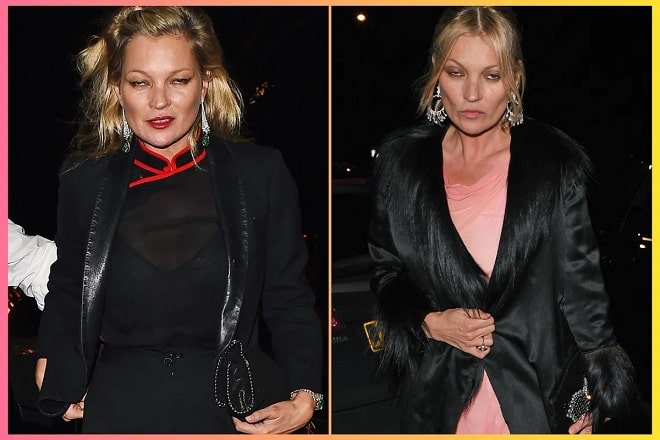 Because of this, Kate Moss has not looked like a supermodel for a long time. Wrinkles can be removed by Botox injections, but there is no way to get rid of traces of turbulent youth on the face.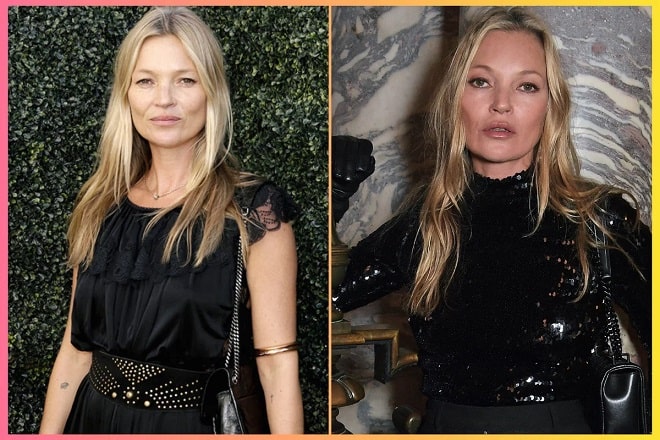 Kate Moss has not yet fallen out of the glamorous life and is actively appearing in magazines despite her decent age. But all these photos are very photoshopped.
Kate Moss is still criticized for her unkempt appearance. But we still adore her, because this is Kate Moss, the one and only!
Plastic surgery
Kate Moss is a phenomenon in the fashion business. She didn't have the looks ideal for the fashion industry, but her originality and uniqueness, along with incredible charisma, made her one of the most popular models of the 1990s, and even now she is still in demand.
Despite the turbulent and not always healthy lifestyle, Moss always looked good, and even small wrinkles did not spoil her. However, at Milan Fashion Week 2021, the supermodel looked, to put it mildly, strange and preferred not to take off her sunglasses. What happened to Kate Moss' face?
Blepharoplasty
Like most popular models of the past, Kate Moss chose natural aging. She managed to delay a visit to plastic surgery specialists for a long time. Although the turbulent youth has made itself felt over the years.
It was often possible to meet the opinion of plastic surgery specialists that blepharoplasty (eyelid lift) of a top model would obviously not hurt. Experts also recommended Botox injections to Kate Moss in the area of facial wrinkles of the forehead and between the eyebrows, cosmetic procedures to improve skin tone, injections of fillers to replenish volume in the area of cheekbones and nasolabial folds.
At some point, she apparently gave up and decided on blepharoplasty (eyelid lift). And judging by the photos of Kate Moss, the result of plastic surgery exceeded expectations — unfortunately, not in a good sense of the expression.
Most likely, Moss resorted to the so-called circular blepharoplasty. One of the risks of this plastic surgery is getting the effect of "round eyes", which we are now seeing in the model. Taking into account the fact that the unusual cut of the eyes has always been a feature of Kate's appearance and gave her a special charm, due to plastic surgery, her personality was lost. But the operation can be considered successful. The model's eyes became as open as possible.
Perhaps, in this case, the specialist should carry out the correction of the eyelids in stages — first do the upper blepharoplasty, and then, after the full recovery of the patient, after at least six months, already resort to lower blepharoplasty to remove bags under the eyes. Then the effect of plastic surgery would be completely different, and it would be possible to preserve the unique eye section of the world-famous model.
Apparently, on the eve of Milan and Paris Fashion Week, maybe a month before these events, Kate Moss did not only blepharoplasty, but also an endoscopic forehead lift. When comparing her before and after photos, it is noticeable that, firstly, her eyebrows were much lower than they are now. Secondly, she had an overhanging upper eyelid over her eyelashes. Now this is not the case, and her gaze has become more open.
Why does it seem that it has changed and looks a little strange? That's because her eyes have changed shape. In the early postoperative period, this can really happen, and then, when rehabilitation takes place, the form can recover.
Why did this happen? Because there is tension of the skin on the lower eyelid, and it seems to be pulled down a little, and it seems that the eye is rounded. This is a normal phenomenon, the operation went as it should, it's just that at that time Kate Moss was going through an early postoperative period. She should not have made a correction on the eve of the show, so as not to become a victim of paparazzi stares.
Lips
The world-famous model can often be seen with a cigarette in her hands. As we know, smokers are characterized by wrinkles above the upper lip. Also, this habit leads to faster destruction and slowing down of collagen synthesis. However, Kate's lips look good now: they are filled, the shape and contour are preserved. Therefore, it can be assumed that the star is periodically undergoing a delicate correction with fillers.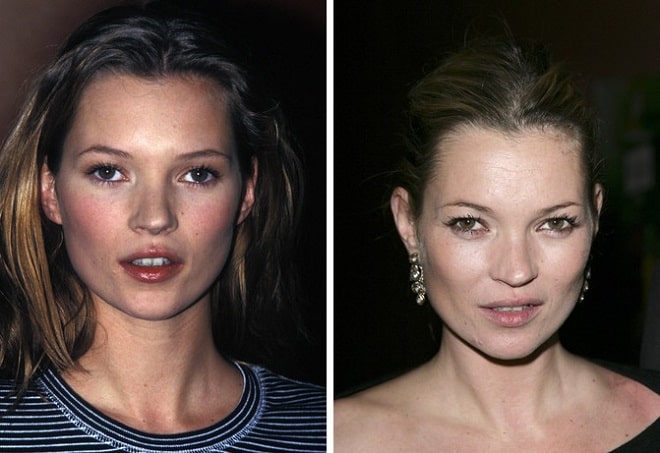 Beauty secrets
The model's life consisted of endless parties, shows and photo shoots. With such a busy schedule, Kate Moss rarely had time for traditional facial care, so she resorted to emergency measures. To refresh her face after a sleepless night, the model dials a sink of cold water with ice, adds cucumbers and lowers her face into this mixture. According to Kate, such a procedure instantly awakens and prepares a person for a social event.
In an interview, Moss talked about her beauty secrets and lifestyle, which is now radically different from the one she led many years ago.
The model now prefers a healthy sound sleep to noisy parties.
Moss does yoga, which she says helps her cope with stress. She works out in her home gym.
"In the morning I do yoga with my instructor, who comes to my house. At home I have a gym with an exercise bike, which, however, I do not use so often. It's pretty hard," says Kate.
Moss admitted that she likes to do massages and facials. Well, the star called forgetfulness her worst habit. She admitted that she doesn't always take off her makeup at night.
"I forget to do it when I'm very tired. And I hate how it looks in the morning," she concluded.
Diet
The model starts her day with a glass of hot water and lemon and only then drinks coffee.
Now Kate eats only healthy foods and adheres to a low-carb diet. Moss has long refused fat, flour and sweet.
The product that the star always has in the refrigerator is celery. She makes juice out of it.
Sample menu for the day:
In the morning, Kate eats 100 grams of low-fat cottage cheese with berries and drinks a cup of coffee. Lunch consists of seafood soup and vegetable salad. At lunch, she drinks a glass of freshly squeezed juice and eats one orange. For dinner, steamed cutlets and fresh vegetables.
Breakfast consists of an omelette with spinach and one orange. For lunch, no more than 300 grams of vegetables and 100 grams of boiled lean meat. Dinner consists of fish and vegetables. During a snack, she consumes a small amount of berries, fruits or nuts.