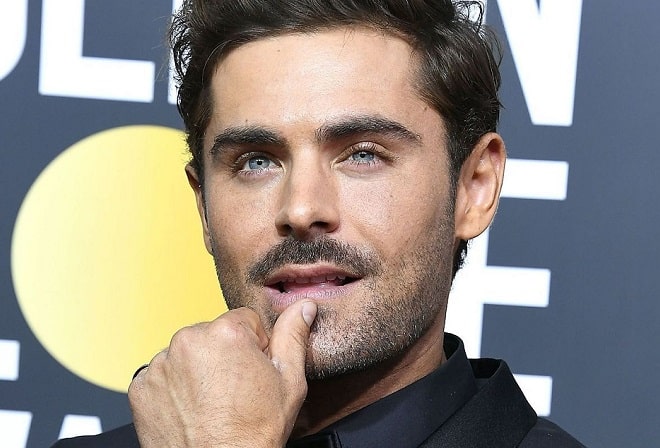 Zac Efron is a Hollywood actor who became famous for his role as Troy Bolton in "High School Musical". Efron is spoken of as a diverse actor with good vocal skills and the main heartthrob of the American film factory.
Childhood and youth
Zac Efron was born in 1987 in the family of electrical engineer David Efron and secretary Starla Baskett from California. Shortly after the birth of their second child, Dylan (five years younger than Zac), the parents decided to move from San Luis Obispo, where they lived and worked at a local power plant, to another town – Arroyo Grande. It was possible to get to Hollywood in just three hours from it, but no one thought about show business in the family at that time.
Parents, paying attention to the singing talent of the eldest son, gave the boy vocal lessons and piano playing. Since 1991, Zac began to show his acting talents on the stage of the theater of the School of Performing Arts, operating at Alan Hancock College.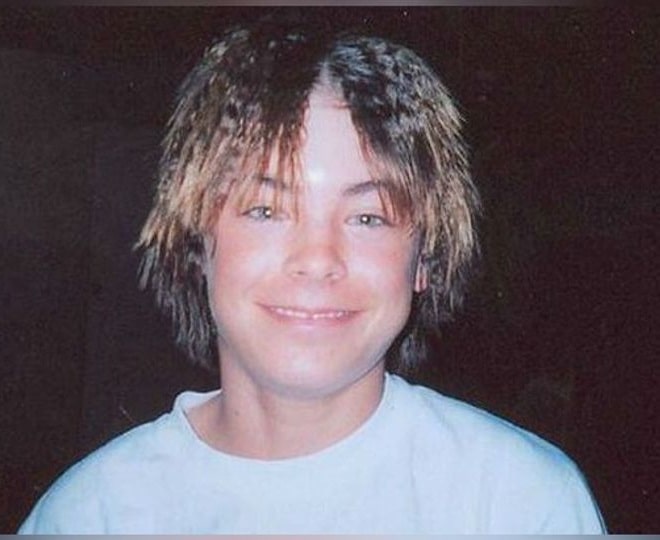 When Zac turned 13, a drama teacher at a theater school suggested that the boy goes to Los Angeles to meet her agent. Zac's mother took a day off from work and took her son to Hollywood.
Career
Since then, as Zac later admitted, his family's life has become "crazy". Throughout the year, together with his mother, he came to auditions several times a month. However, the efforts were not in vain — in the early 2000s Efron managed to appear in several episodes of the TV series "Emergency Room", "Firefly" and "The Guardian".
In 2004, Zac's filmography was supplemented by the role in the melodrama "Summerland". Since filming often took place on the beach, the boy quickly became addicted to surfing.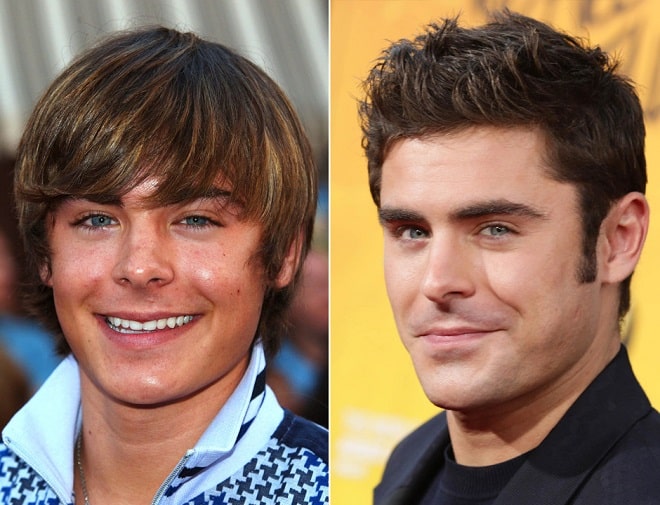 In one of the interviews, Zac recalled what his life was like before the start of filming in the cinema and what it became after. He called himself an ordinary boy who studied well at school, played sports, although playing baseball was difficult for him. Neither did Zac have any worries about his small stature. The guy was going to become a college student and even enrolled at the University of Southern California, but his mother's efforts and his own desire to achieve something significant in cinema forced Zac to postpone his studies and go to another casting.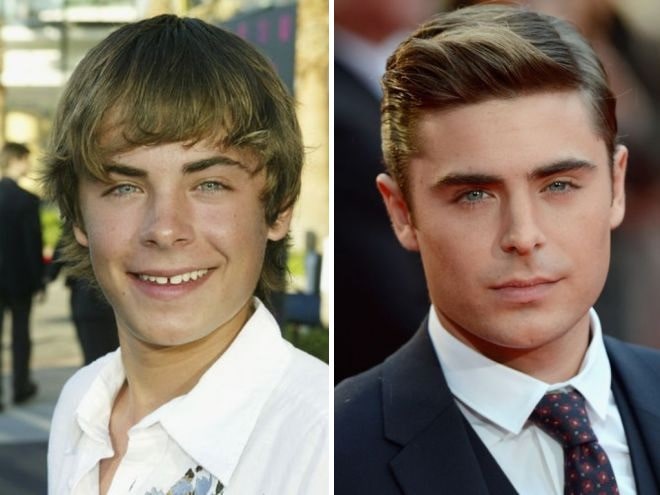 About the fateful casting in the "High School Musical" in 2005, Zac Efron later recalled this:
"I went to another audition – a small such Disney project "High School Musical". Oh, those auditions were a real hassle. One day they arranged a kind of marathon for us. We sang and danced all night. Moreover, when I wasn't being filmed, I wasn't allowed to rest anyway. It was necessary to leave the studio and dance right on the street! In order not to lose the mood, as they explained to us."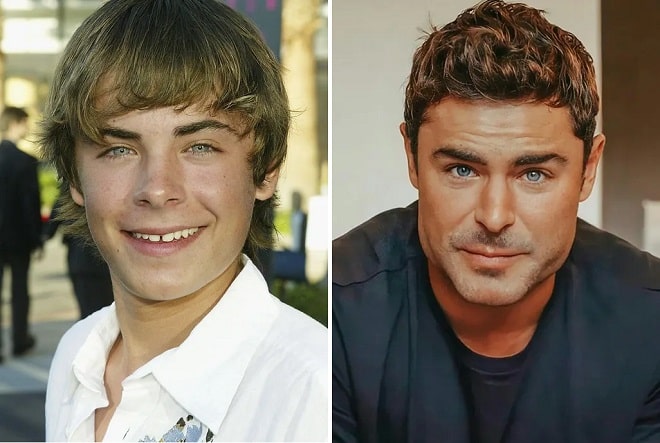 Efron passed all the tests with honor and was approved for the main role of Troy Bolton, the school basketball star.
The success of the musical among teenagers was stunning, so 2006 was a generous year for Zac for recognition and awards. Efron was recognized as the "breakthrough of the year" at the Teen Choice Awards.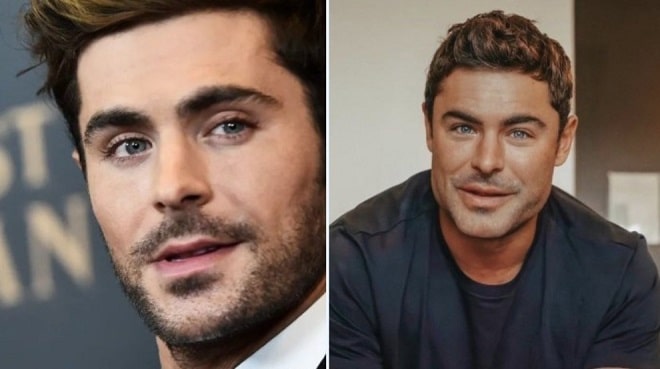 This was followed by endless filming in films and TV series with almost no interruptions.
Now Zac Efron has an impressive filmography, is the official face of the HUGO BOSS brand, and is the winner of many awards.
Plastic surgery
You don't need to be a great expert to catch Zac Efron in rhinoplasty. In order to break into a big movie, the actor definitely had a nose job. Otherwise, how to explain the fact that over the years, Zac's nose has become much narrower? They say that his sharp cheekbones and chiseled chin are also the work of plastic surgeons. If so, then it's worth paying tribute to the doctors, because today Zac is considered one of the most beautiful and highly paid Hollywood stars.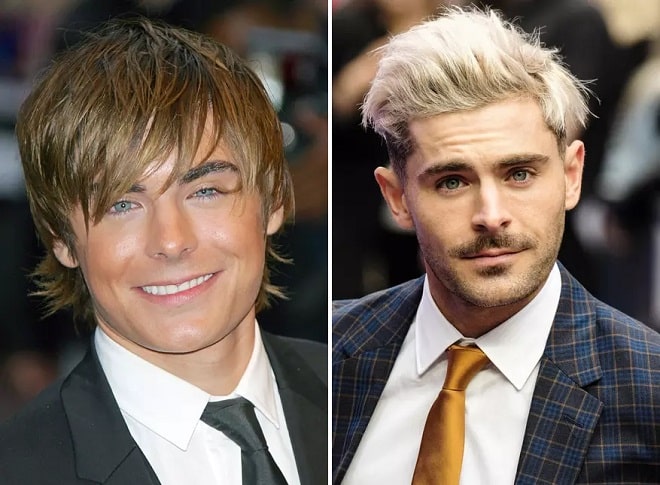 In addition, there are rumors that Efron uses botox injections and lip fillers.
Hollywood Smile
Zac Efron "before" and "after" a visit to the dentist.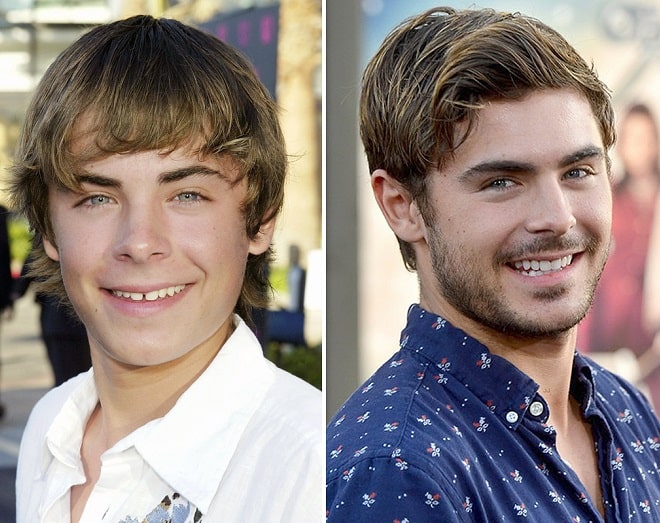 Before:
Despite the huge potential and voice data of Zac Efron, the actor seemed to the producers too low-key and rustic to participate in serious projects. And, as it usually happens in the world of show business, Efron turned to the best image makers for help and, of course, decided to find a dentist.
After:
Zac's efforts were not in vain: in 2005, Efron was approved for the main role in the film "High School Musical", which became a cult among teenagers of that time. After that, Zac's career went uphill, and after a couple of years, Efron got on the list of the richest people under the age of 25. To date, the actor has literally torn apart – and not only producers who want to invite him to the main role in films, but also numerous female fans, among whom there are many celebrities.