In the age of plastic surgery, it is often difficult to believe in the naturalness of the appearance, even if there are no visible signs of specialists in aesthetic medicine and cosmetology intervention. A vivid example of this is the young American Taylor Hill, who has been going on the catwalk for several years together with recognized top models as part of the enchanting Victoria's Secret shows.
Did Taylor Hill do plastic surgery?
The girl was born in Colorado in 1996 and since childhood dreamed of becoming a model.
Photos of Taylor Hill as a child are proof that she got her "angelic" appearance from nature.
The girl has Irish, Scottish, Turkish and Cherokee-Indian roots. Hence the wide eyebrows, large light eyes and piercing gaze, thick hair, and thin waist.
Already at the age of 14, Hill worked as a model in her hometown. Despite the fact that the girl always studied well, she did not see herself as anyone other than a model.
After graduating from school at the age of 17, she concentrated on developing a career in the fashion industry.
Taylor Hill's career went uphill very quickly thanks to a beautiful face and an ideal figure. At first, Hill became famous in America, and in 2015, after signing a contract with Victoria's Secret brand, the whole world learned about her.
Perfect appearance explains the huge amount of gossip about how Taylor Hill looked before plastic surgery.
Under many posts on Taylor Hill's Instagram, fans talk about what cosmetic surgeries the model could have undergone.
The question of the naturalness of the volume of Taylor's lips has become particularly controversial. At first glance, there really were lip injections, but the children's photos of Hill indicate rather good genetics. The absence of contouring with fillers is also indicated by the clear contour of the upper lip – usually, fillers blur this area and give a swelling.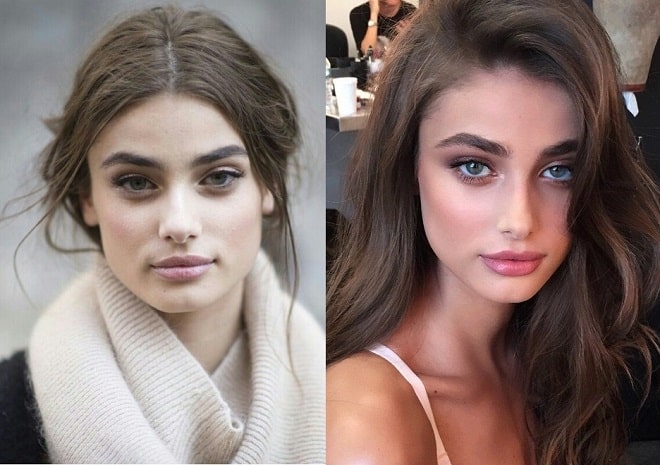 The maximum that was done is moisturizing procedures that keep the lips in good condition.
Conclusion
Despite the constant suspicions of plastic surgery, Taylor Hill is an example of the fact that an "angelic" appearance can come from nature, but still requires self-discipline, constant care, and attention.
Summing up, we can say that there are no signs that Taylor has done cosmetic surgery, lip injections, or used botox.
She has a great smile and even teeth.
She has never done the nose job.
Cheeks, cheekbones, and chin look natural and there are no signs of using fillers.
She has beautiful eyes and eyebrows and there are no signs of blepharoplasty.
Her body looks natural, she did not have breast augmentation and did not insert implants in the buttocks.