Sharon Stone is a supporter of natural beauty. She claims that she has never had plastic surgery in her life because she was always happy with herself.
Sharon Stone in her youth
For long years, no red carpet has been complete without Sharon Stone. The actress has firmly entered Hollywood life and has set a high bar for the next generations.
But this was not always the case. Sharon, a modest girl from a large family, stubbornly studied lessons and according to her parents ' plans, she was supposed to become a chemist. But ugly, with an ugly scar on her neck, teenage acne, Sharon dreamed of a film career. To fulfill her dream, she took up appearance and suddenly felt an interest in her person. Stone was invited to shoot commercials, and then beauty contests.
Having conquered all the local peaks, Stone took a regular bus to Hollywood. It seems that they were just waiting for her here. First Woody Allen invited the beauty to a silent scene, then Jay Lee Thompson, and then Paul Verhoeven.
The latter's films brought Sharon real fame and the opportunity to independently choose roles and directors.
However, not everything in the life of the actress was smooth. In 2002, she found herself in a hospital bed with a cerebral hemorrhage. This moment changed Sharon's views, and she tried on the image of a wise woman with a deep inner world.
She admitted that her true life began for her only at 40.
Sharon Stone now
In 2018, Sharon Stone celebrated her 60th birthday in a big way, she starred in a racy photoshoot for The New York Times and proved to the whole world that even at a respectable age, she triggers the "basic instinct" in men.
For ten years, Sharon Stone has been advertising the Dior line for mature skin. But cosmetologists doubt that the eternal youth of the actress is the merit of creams and serums.
At the age of 40, the Hollywood star experienced a crisis due to an aged face and firmly decided to take care of herself. From that moment on, Sharon's day is scheduled every minute: yoga, strength training, jogging, dancing, and professional skincare.
In an interview with Shape magazine, the actress expressed her position,
"I want to be a woman who looks great for her age. We already have 400 thousand blonde girls with the same noses and huge lips."
But what does Sharon do to be different from them and make fans doubt her real age?
Experts in the field of aesthetic medicine believe that the actress can not do without cosmetic procedures, massages, and hardware rejuvenation.
Upon a detailed examination of the photos of Sharon Stone, it is now noticeable that her skin is moisturized, elastic, and taut – this is how preparations based on hyaluronic acid work.
Hardware procedures remove deep wrinkles on the neck and in the decollete area.
A perfectly smooth forehead and raised eyebrows are the results of botox injections, and volume cheekbones are the effect of fillers.
Sharon denies any plastic surgery and insists that her beautiful appearance is the result of proper nutrition and regular exercise.
Smile
Sharon Stone is not worried about age-related changes, but her smile is always in perfect condition.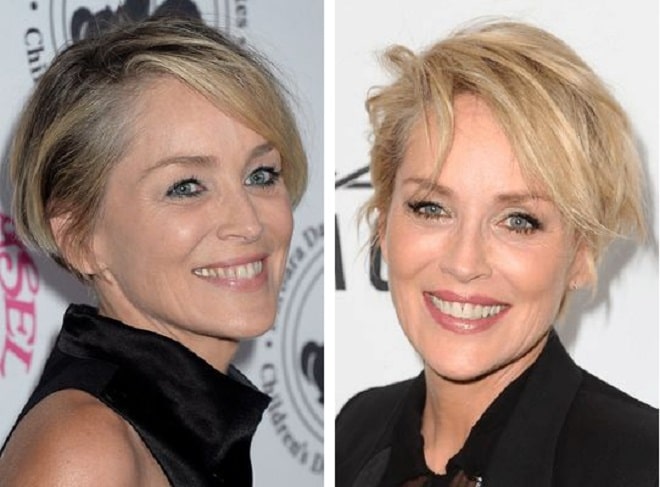 Before:
In cinema, the name Sharon Stone has become a symbol of beauty and sexuality: she almost never tried on the image of a neighbor girl, but it was the aura of inaccessibility that the actress managed to masterfully maintain that brought Stone such popularity. Often she got the roles of cold and calculating women, but those few moments when her heroine smiled were remembered by the audience for a long time, because Sharon Stone's smile was always just amazing.
After:
Only statues do not age, and human beauty always experiences flowering and withering. Everyone understands this, but not everyone can come to terms with this course of things, and this is especially true for women. But not Sharon Stone: one of the most beautiful and desirable actresses of her time treats aging philosophically.
"I don't want to be an ageless beauty. I want to be a woman who would look her best at her age," the star said in an interview.
Over the years, the snow-white smile of the actress faded and required restoration of the front teeth. Sharon's new smile looks as natural as possible.