The eccentric and bright wife of no less extraordinary rock musician Ozzy Osbourne, Sharon Osbourne, in addition to her other talents, is a brilliant music producer, as well as an example of a wife to whom the expression "there is a woman behind any successful man" is absolutely applicable.
Sharon Osbourne in her youth
The wife of the legendary soloist of the rock band "Black Sabbath" who was born in a remote suburb of London, was plump and ugly. But Sharon defied fate and became one of the most beautiful and popular residents of the UK.
Residents of the small town of Brixton, where nee Sharon Arden was born, led a quiet, measured life. But she was not destined to settle in her native places: her family was too unusual, they always stood out. Sharon's father, Don Arden, was a powerhouse in the world of show business. He "promoted" fashionable performers of that time, and produced such superstars as Bo Diddley and Chuck Berry. He was a tough and unrestrained man, he preferred to get his way by shouting and physical abuse. And there were legends about Don's scams with the money of the groups. He was nicknamed the English Godfather. So, baby Sharon grew up idolizing her dad and believed that a real man should be just like that – tough, scary in anger, clever in business. She dreamed of following in his footsteps. The mother, Hope Arden, was always cold to her daughter.
By the age of 17, Sharon was an energetic, plump blonde. "Home education" was not in vain for her: all her life afterward she suffered from bulimia, pathological gluttony.
"I tried to "jam" experiences that I couldn't cope with." — Sharon confessed.
After becoming a student, she moved to London and lived carefreely: now she could walk with her friends until morning without fear of scandals. By that time, her father was actively working with the band Black Sabbath, and it was one of his most successful projects. Sharon adored the band, and she really liked the lead singer, Ozzy Osbourne.
The rocker was already known at that time as a man "without brakes". His actions on stage and in everyday life were shocking.
Don Arden repeatedly told his daughter about the quirks of his wards and uncomprehendingly spread his hands when she retorted:
"I think he's funny! Why should everyone be the same? It's boring."
Sharon, too, was not like everyone else, she felt like an outcast among classmates. Something was wrong in her soul, not like them, and there was no person who would understand her. This continued until she met Ozzy.
He was just kicked out of the group for addiction to drugs. It was 1978. The singer lived in a hotel in Los Angeles, was in a prolonged depression, did not get out of binge drinking and drug dreams, and the only thing he sometimes thought about was suicide. The break with the team was a real tragedy for him.
At a country party, Sharon noticed a man lying in a hammock with a joint in his teeth. She came closer and couldn't believe her eyes: it's Ozzy!
"Come here, baby!" – the musician wheezed in a drunken voice.
Sharon was also drunk and in a second made a decision: "Why not?" In the end, there was a man of her dreams in front of her. The next morning, Ozzy didn't immediately remember her name, but Sharon didn't care. She started taking care of the star and decided to become the musician's new producer and make him even more famous than he was with Black Sabbath.
To match the image of her boyfriend, Sharon decided to completely change her appearance. To begin with, she dyed her hair blue-black and underwent treatment for bulimia.
The family life of Sharon and Ozzy Osbourne
On July 4, 1982, in Hawaii a wedding ceremony of Ozzy and Sharon took place.
The honeymoon was quickly replaced by working days. A few months after the beginning of their romance, Ozzy came to his senses, assembled a new team, and recorded an exceptionally successful album. And he was going on another tour. Sharon was his right-hand man. It was she who advised Osborne to consolidate the image of a "madman" and a "black magician" interesting to the public. Together they came up with the details of the show and the band quickly became more popular than Black Sabbath.
Despite his busy schedule, the extravagant rocker wanted to have children. And the couple got down to business.
"Ozzy could have sex several times a day before, and now he's completely off the chain. He's even crazier in bed than he is on stage. And it turned me on a lot!", – Sharon confided in an interview with World magazine.
Osbourne's first daughter was born in 1983. After 13 months, Kelly was born, and after another 13 months, son Jack Joseph was born. Getting fat after giving birth, Sharon had her first plastic surgery: liposuction.
Subsequently, the wife of Ozzy spent more than two million dollars on operations for her transformation. She corrected everything in herself that she didn't think was perfect. There was breast surgery, facelift, and tummy tuck (abdominoplasty), and botox injections.
The most difficult operation for her was gastric banding. With this serious step, she decided to put an end to excess weight once and for all. After the operation, she lost weight!
Ozzy started drinking a lot, and constant worries about her husband kept the woman in good shape and did not let her relax. The singer was treated more than once in the most expensive clinics, but then he returned to addictions again. And his character did not improve at all from this. They fought every now and then, once Ozzy almost strangled her in an alcoholic frenzy.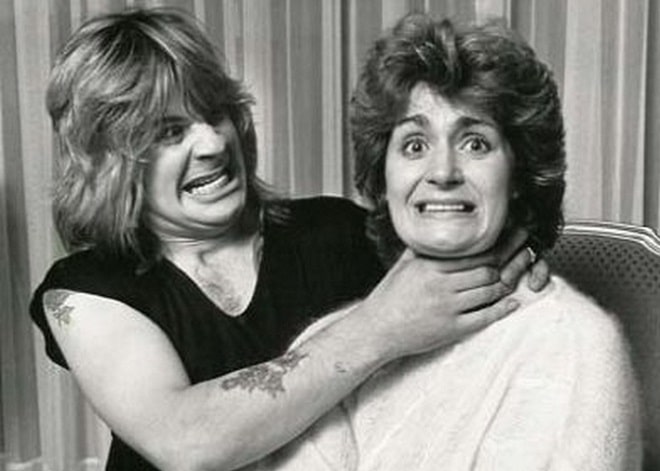 Were added to problems with children. Aimee preferred to hang out with "bad boys", Kelly started using drugs at the age of 16, and Jack was often brought to the police station for petty theft and hooliganism. It seemed that the best times were behind us.
A financial crisis was also brewing. "Terrible Ozzy" was simply going out of fashion. Marilyn Manson seemed much more terrifying and interesting to teenagers.
Bad habits left an imprint on the musician's face, which once looked so mysterious on posters. He aged early, his skin sagged. At the beginning of the new millennium, at the insistence of his wife, Ozzy decided to resort to the help of plastic surgeons. The best specialists in Scotland removed the bags under the musician's eyes, did rhinoplasty, and tightened the skin on his neck.
Only after that, in 2002, the singer agreed to take part in the reality show "The Osbournes". TV crews have placed cameras everywhere in the house, and from now on all members of the scandalous family, except Aimee, who has already moved away from her parents, have become the most popular TV personalities.
The show had fantastic ratings. The Osbournes instantly became one of the most popular people in England and America. They earned more than 11 million dollars on the TV show.
Two years later the program finally exhausted itself and was closed.
In 2003, the family moved to a luxurious mansion in the English county of Buckinghamshire. The housewarming was a real celebration not only for the Osbournes, their friends, but also neighbors. Celebrities threw a noisy party with fireworks and danced for the whole neighborhood.
And who would have thought then that very soon a new misfortune would befall the musician's family?
"When the doctor called and told me that I had cancer, I fell to the floor and started crying. At that moment I was sure that it was over, that I was going to die. But then I realized: I need to be strong. Not for myself — for the kids and for Ozzy. And I started the treatment. I was treated for a long nine months. All my life I was late everywhere, but every time I came to chemotherapy sessions ahead of time." – Recalls Sharon.
Fortunately, the disease is now in the past.
Since then, Sharon has been included in the list of the most beautiful people in the world according to People magazine and received the English title of "Star Mom of the Year".
"I think I deserve to receive titles and awards," Sharon said in an interview with the BBC. — Over the years, I had to go through a lot to become what I am now. I do not regret any plastic surgery, I am not ashamed of them. I wanted to get the upper hand over nature. And I took it!"
In May 2016, it became known about the discord in the family of the leader of the band The Black Sabbath. Sharon Osbourne began the divorce process, and the reason for the separation after 33 years of marriage was another treason of the musician.
Osborne accidentally sent his wife a letter that was intended for his mistress, after which Sharon kicked her husband out of the house. However, then she found the strength to forgive him.
Sharon and Ozzy visited a therapist together to work on their relationship. According to her, now there is another love between them — deeper. In addition, despite the betrayal, the spouse respects Ozzy for the fact that he worked hard on himself to keep the family together.