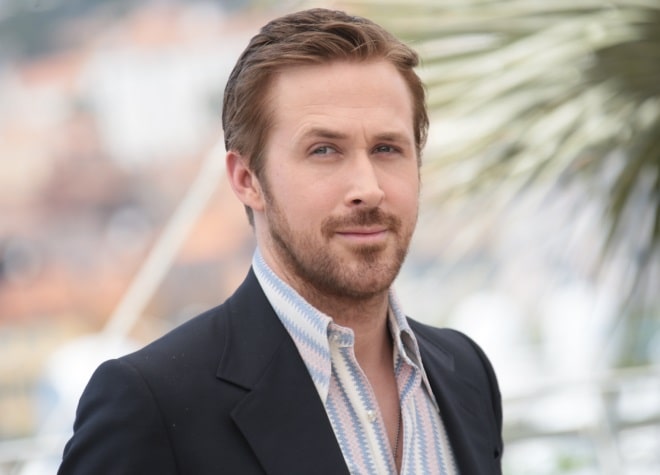 Ryan Thomas Gosling (born November 12, 1980) is a famous Canadian film actor and musician. Oscar and Golden Globe nominee. He gained the greatest fame for his roles in the films "Half Nelson", "The Believer", "The United States of Leland", "The Notebook", "Fracture", "Crazy, Stupid, Love", "The Ides of March", "Drive" and "Gangster Squad".
Childhood and youth
Ryan Gosling was born in London, Canada, and grew up in a Mormon family. His parents were very religious, especially his mother:
"I wasn't really a Mormon, but my parents were. I just couldn't count myself among them. Going to church has its advantages: Mormonism helped me to socialize at a young age. We were taught to be quite religious. Mom says I was raised by a religious fanatic. Now it has changed, but at that time religion was part of everything", Ryan said.
He didn't have many friends. Gosling's father was a traveling salesman, which is why the family of the future actor often moved. When they lived in the Canadian city of Ontario, Gosling felt lonely because of a sense of instability. At the age of 10, they stopped taking him to school, after which Ryan's mom taught him at home for a while. Then he was returned to a regular school, but it was already difficult for Gosling to join the team — because of this, he didn't really have friends until he was 15.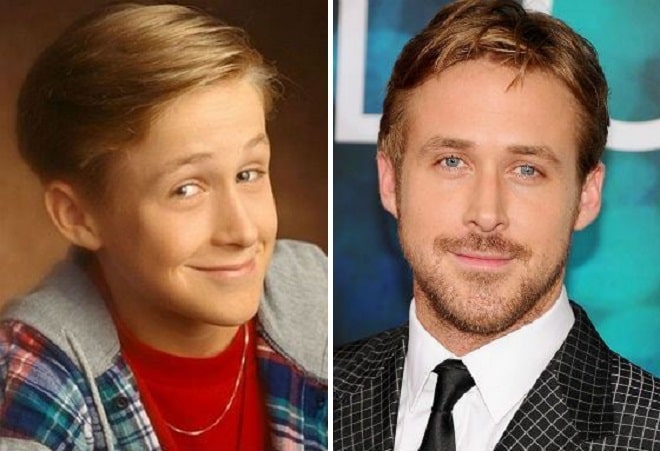 Ryan Gosling dropped out of high school. At the age of 17, he sacrificed his studies for the dream of becoming a real actor — and the following year he moved to New Zealand to star in the TV series.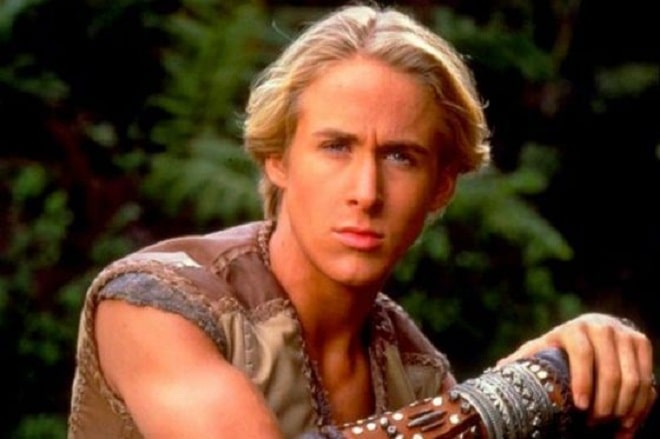 Career
Gosling was invited to play a neo-Nazi in the big movie "The Believer". Ryan's character is a Jewish guy who is recruited by neo-Nazis. The drama won an award at the 2001 Sundance Festival, and Ryan became a star thanks to it. Three years later, he consolidated his status as a "serious adult actor" by starring in the film "The Notebook".
One of the distinctive professional traits of Ryan Gosling is his approach to studying his characters. For the role of a heartthrob in the movie "Crazy, Stupid, Love", he learned the skills of a bartender, for the film "Lars and the Real Girl" he sincerely loved knitting. And to better play in the film "The Notebook", Gosling studied with a real carpenter in South Carolina.
"We made all the chairs standing in front of the house. We often sat in them and also filmed a scene where Rachel and I make love on a table that I made. I couldn't keep it for myself: we used special wood, and by agreement, the table went to the carpenter. Only he doesn't know what happened on it", Ryan said.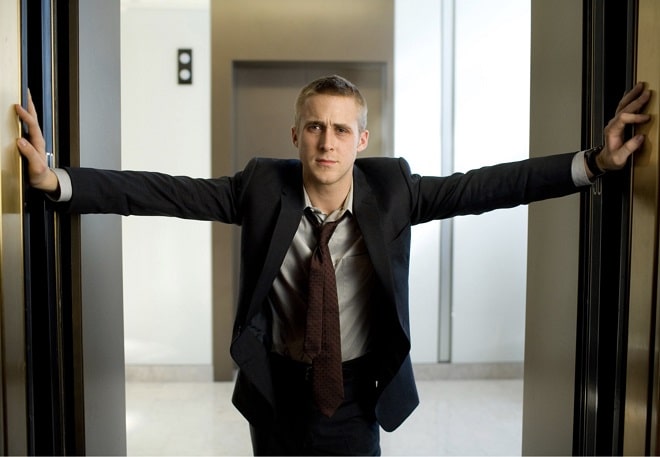 Gosling is the owner of a Moroccan restaurant.
Ryan Gosling now owns the Moroccan restaurant "Tagine", located in Beverly Hills. This is a rather prestigious institution where, according to Morocco World News, "big celebrities gather to meet for a plate of Moroccan delicacies." Gosling and the co-owner of the restaurant, chef Abdessamad Beamer, began planning the establishment back in 2004.
Since then, it has been visited by stars like Richard Gere, Salma Hayek, and Keanu Reeves. Gosling personally worked at "Tagine" for a year when his acting career got bogged down in a quagmire:
"I never really wanted to own it, but one day one of my best friends called me and said that his cousin was leaving town and wanted to sell his business. My friend wanted to buy it but said that it should be done the same night. I wasn't too busy at the time, so I spent all my savings on this restaurant. I worked there for a year and fell in love with this place. I think it's one of the best restaurants in Los Angeles", Ryan said.
Plastic surgery
Ryan Gosling had a nose job.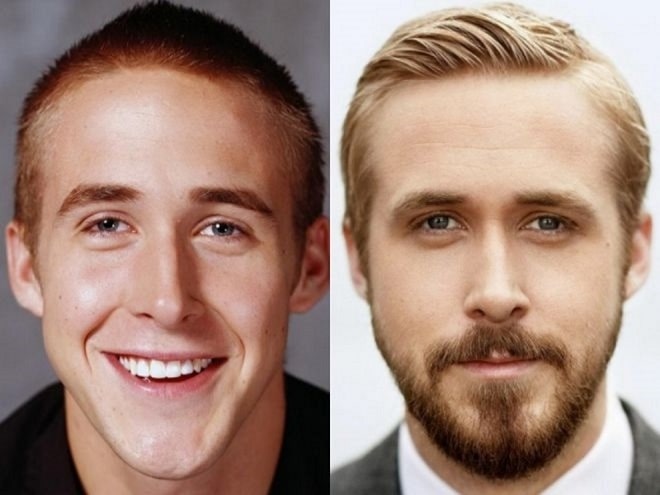 Rhinoplasty turned one of the main sex symbols of Hollywood into a real handsome man. Just look at the photos before and after the operation. It's hard to believe that the same person is on them. Ryan himself does not really like to expand on the topic of his surgical interventions. But the result of the brilliant work of plastic surgeons on the face.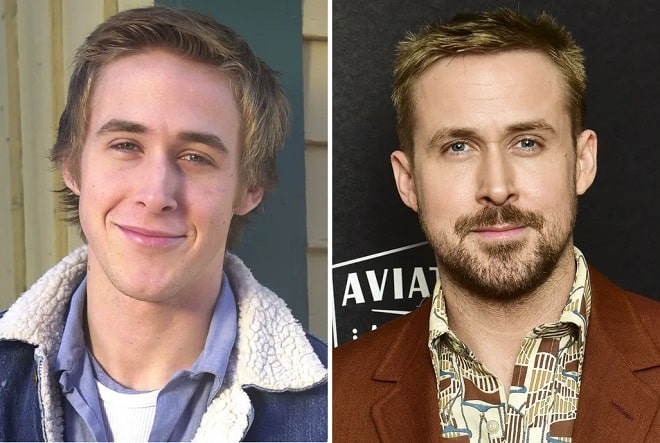 Tattoos
He accidentally got himself a "cactus" tattoo. Ryan told one day he decided to make himself a unique tattoo with his own hands. By design, it was a monster's hand that holds a bloody heart. That's just when he stuffed the picture on his left hand, due to lack of skill, the result turned out to be more like a cactus.
The failure, however, did not cool Gosling's interest in tattoos. Later, he did a few more.
Smile
Ryan Gosling's gorgeous smile is driving millions of fans around the world crazy.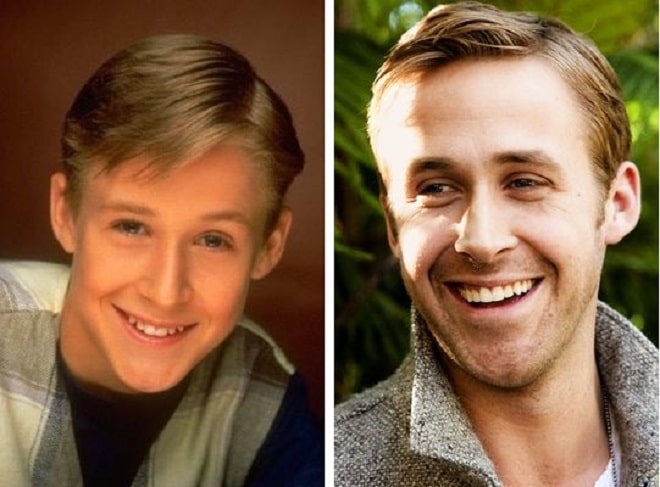 Before:
Having practically no experience of participating in filming and theatrical productions, at the age of 12, Ryan Gosling was chosen by Disney for the role of the Musketeer. As a child, the future hero of girlish dreams had a very ordinary appearance, plus he had several crooked teeth, but among the 17 thousand children who came to the casting, the producers saw the talent in him. The famous "Mickey Mouse Club", where Ryan honed his acting skills with Justin Timberlake, Britney Spears and Christina Aguilera, became a happy ticket to a big movie for him.
After:
Soon after the first big successes in Hollywood, a trip to the dentist took place. I must say that Gosling's attending physician turned out to be a professional with a capital letter: he managed to give the actor an irresistible, snow-white and at the same time natural smile, which is now his feature. It is possible that there was not without the installation of a bracket system, restoration of teeth and ceramic veneers. After a little work on the image, Ryan became one of the most sought-after actors in Hollywood, almost annually topping the lists of the most desirable and sexy men in the world.
Personal life
The actor, who played in the films "La La Land", "Drive", "The Big Short", used to be one of the most enviable Hollywood bachelors — and formally remains one today. Let's recall his most famous novels.
Sandra Bullock (2002-2003)
The stormy romance of the actors lasted almost two years and began on the set of the movie "Murder by Numbers". Sandra is 16 years older than Ryan, but it didn't bother them at all. It was rumored that they were going to get engaged, but both were not ready for a serious relationship and therefore eventually broke up.
Rachel McAdams (2004-2008)
They met in 2004 on the set of the film "The Notebook" by Nick Cassavetes, where both played the main roles. Feelings flared up instantly, and for almost three years nothing darkened their lives.
At the end of 2007, the couple unexpectedly broke up. At this time, Gosling had a short-lived affair with actress Famke Janssen. In 2008, he and Rachel got back together for a short time – to break up for good in a couple of months.
In addition to a fairly long relationship, Gosling is credited with several fleeting affairs after breaking up with Rachel. Among his favorites are Olivia Wilde, Blake Lively, Jamie Murray, and Kate Jennings.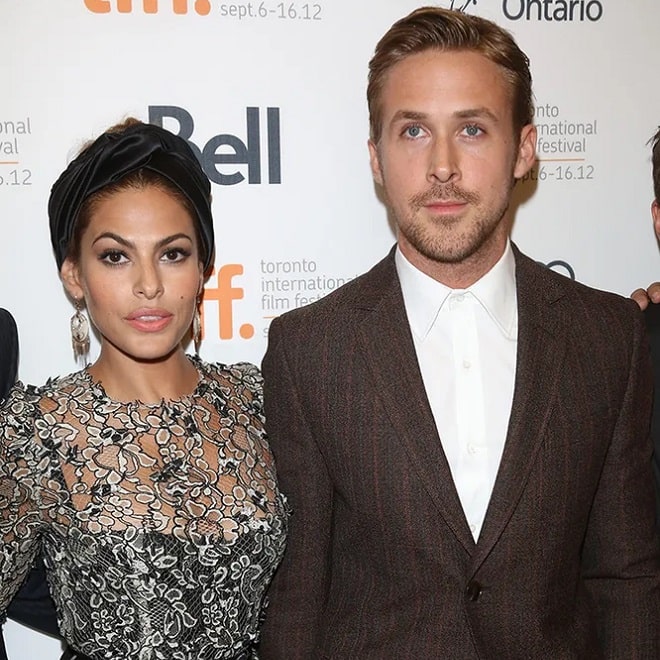 Eva Mendes (since 2011)
In September 2011, he confessed his love to actress Eva Mendes, who is six years older than him.
Some say that Ryan Gosling and Eva Mendes met on the set of "The Place under the Pines", but this is not true. They had already known each other for several years, but the spark between the actors is only after the filming process began.
"We've known each other for a while, so the opportunity to work together was inspiring", Ryan said.
Little is known to the public about how Gosling and Mendes's romance flowed — the couple does not like to share details of their personal lives. But we know that the couple has two daughters – Esmeralda and Amanda.