Rupert Everett is a talented British actor. Let's see how he looked in his youth and how his appearance changed after.
Rupert Everett then and now
The future actor was born on May 29, 1959 in the county of Norfolk, Great Britain. At birth, the boy was given the name Rupert James Hector. His mother, Sarah McLean, came from an aristocratic family of Vivian Baronets. His father, Anthony Michael Everett, was an officer in the British Army. Rupert has a brother named Anthony.
The boys' grandfather was an admiral, and also an avid collector of paintings, who was very proud of the fact that in his collection there were several works by Michelangelo himself. Since the father of the family was a military man, the family was forced to move frequently. So, they lived in Malta and Cyprus. When it was time for Rupert to go to school, he was sent to the Farley Educational institution, located in the British county of Hampshire. He then transferred to the prestigious Benedictine Monks' College in Ampleforth.
Everett has always been distinguished by extravagance and a tendency to rebellion. So, at the age of 15, he dropped out of school and went to London to study at the Central School of Diction and Drama. However, he failed to finish it due to numerous disagreements with the teachers. After that, he moved to Glasgow (Scotland), where he joined the company of the Citizens Theater.
Everett in 1980, he performed as a pop singer and even released two albums. However, this activity did not bring Rupert much fame.
Rupert Everett first appeared on the screens in 1982. This was an episodic, but very noticeable role. The film was a great success, and Everett became considered a rising star of British cinema.
In 1989, Rupert Everett made a truly sensational statement, openly admitting his unconventional sexual orientation. However, to the surprise of many, this did not hurt his career, and he continued to actively act in a variety of projects.
It is not surprising that after the actor's confession of his homosexuality, journalists began to pursue Rupert in order to find out the details of his personal life.
In 1991, Everett decided to try himself as a writer. Since 2003, Rupert began producing.
Plastic surgery
As he got older, Rupert started taking pills to strengthen his hair and had a facelift. After plastic surgery, Everett appeared on the TV show noticeably rejuvenated.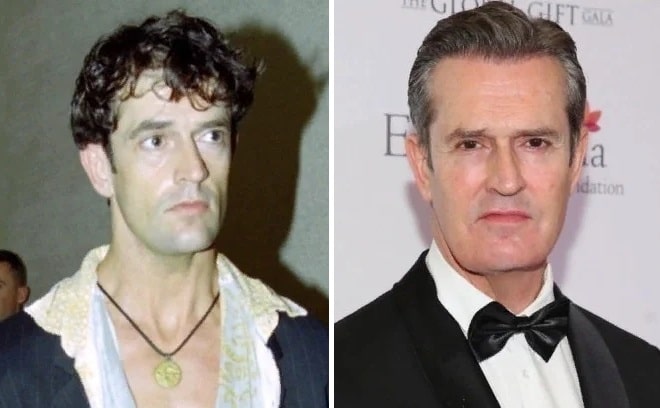 The changes affected the neck and chin line. In addition, his cheekbones have become smoother. The wrinkles on his forehead disappeared. The latter is most likely due to the use of botox injections.
But some fans do not believe that Rupert resorted to the services of plastic surgery. They assumed that this was just the merit of incredibly talented makeup artists. However, there are doubts that the makeup could mask the deep wrinkles on the forehead or correct the oval of the face.