British singer Pete Burns was one of the most famous victims of plastic surgery. He died at the age of 57 after 300 operations. Let's see how he looked in his youth and how his appearance changed after.
Pete Burns in his youth
Peter Jozzeppi Burns was born in 1959. Its popularity peaked in the 1980s and 1990s. The singer and composer became famous thanks to the single "You Spin Me Round". In 1985, more than 500 thousand copies were sold worldwide, and the composition became gold.
The shocking appearance of Pete Burns attracted special attention to him, the musician acquired a large army of fans.
In addition, the young man had a very attractive appearance.
The invariable attributes of the image of Pete Burns in those years were bright eyes and thick long hair.
The musician did not hide his unconventional sexual orientation, so he tried in every possible way to make his appearance more feminine: bright makeup, long hair.
The shocking image made his appearance more vivid and recognizable.
He dressed emphatically feminine, did bright makeup, wore long hair. At the beginning of his career and at its peak, he looked unusual, provocative, sometimes on the verge of decency, but no one could call him scary or ugly.
Plastic surgery
"If you're asking me about the number of plastic surgeries, I think it's approaching 300," Pete Burns told British journalists in his last interview.
Burns performed the first operation, deciding to fix a nose broken in his youth.
"It all started about two dozen years ago, when I decided to fix a broken nose that I inherited after a stormy youth in Liverpool.", – said Pete.
The first rhinoplasty was unsuccessful. Burns almost bled to death on the operating table. But that didn't stop him. A second operation was performed, which turned out to be more successful.
In an attempt to become younger and more attractive, Pete made himself four rhinoplastics, two cheek implant surgeries and numerous lip injections.
Lip augmentation surgery led to serious complications. Due to numerous surgeries and injections of fillers, it was painful for Burns to open his mouth. The singer could not work and eat solid food. He even had to drink through a straw.
"Holes began to appear on my skin, and as soon as I barely touched my face, there was a hissing sound and yellow liquid splashed out on the mirror," the musician recalls.
The problem has reached a critical point. Many doctors advised Burns to amputate his lips. But Pete managed to find a specialist who promised to bring his appearance back to normal.
"I have traveled all over the world in search of the best surgeons. It was already about lip amputation, but I found a specialist in Italy who puts my face in order," Burns said in an interview after another operation to save his lips.
"Of course I look unnatural. But I will never do any operations again, except for the one that I need for medical reasons," Pete said.
Stating that he would no longer go under the surgeon's knife, Burns soon went to the clinic again, trying to improve his appearance.
Burns has performed more than 300 plastic surgeries. He couldn't stop in time and disfigured his own face. Health problems have joined the constant surgical interventions.
Pete regretted unsuccessful operations more than once. In one of his many interviews, Pete Burns admitted that he almost went bankrupt, constantly changing his appearance.
Pete admitted that he expected that his face might change for the worse. But that didn't stop him. As a result, his disfigured appearance made him think of suicide. For the last two years of his life, the idol of the 1980s practically did not appear in public and plunged into depression.
Personal life
Pete Burns has always attracted attention with his outrageous appearance. He has never hidden his bisexuality.
"People are constantly asking me about my orientation. I do not know what to answer them. I'm just Pete." – said the singer.
Pete Burns and Lynn Corlett
Burns met his future wife, Lynn Corlett, at the barber shop where they both worked. On August 8, 1980, the couple got married.
The couple lived together for a quarter of a century. However, in 2006, Pete Burns' family broke up.
In an interview, Pete talked about how Lynn helps him. They've been through a lot together, and according to Burns' wife, she's never been jealous of his success.
Lynn Corlett recalls that they had a good life together. The man was an understanding and caring husband, he always consulted with Lynn and never hid his problems from her. Although the couple often quarreled and even fought.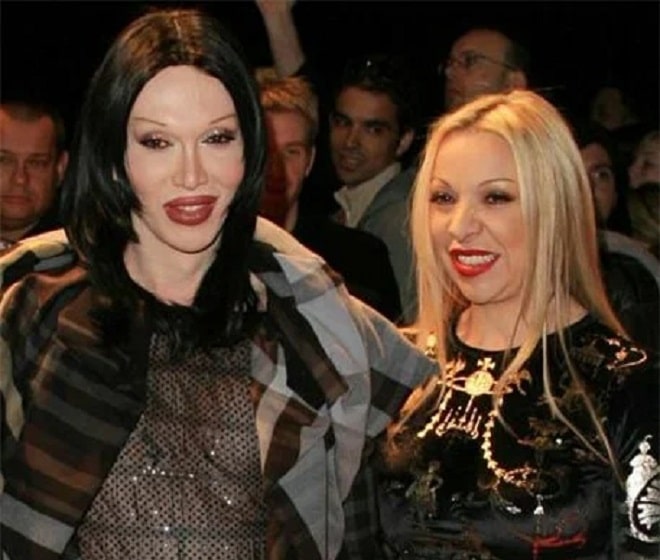 There were no children in the couple. In one of his early interviews, the musician admitted that he thinks about it a lot. But he has no idea what kind of father he will be and what kind of future he will be able to offer them.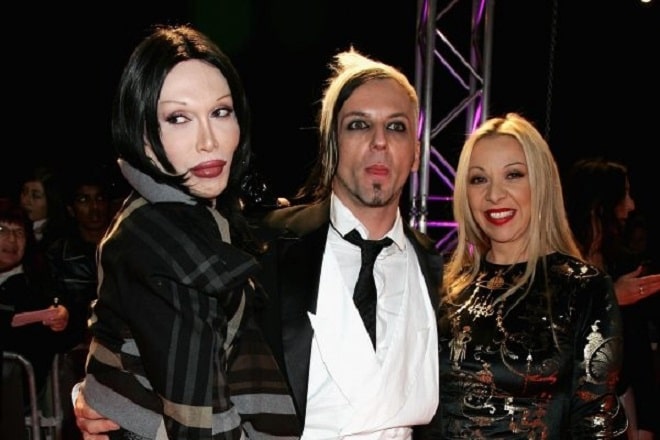 After the divorce, Pete Burns' ex-wife did not stop communicating with him.
Pete Burns and Michael Simpson
A year after the divorce, he started a relationship with Michael. Simpson was younger than his chosen one, besides, before the relationship with Burns, he was married to a woman and raised a daughter.
Pete Burns and his partner Michael Simpson registered their relationship in 2007.
"A wedding is a sacred ceremony. However, men are predators by nature, so I don't think our relationship will last long," the musician said at the time.
Shortly after the wedding celebration, the couple broke up, and then resumed their relationship again.
Cause of death
Pop star of the 1980s, British musician Pete Burns died on October 23, 2016. He was 57 years old. The death of the lead singer of the band "Dead or Alive" was announced on Twitter by his manager.
The author of the hit "You Spin Me Round" died of sudden cardiac arrest. The reason was an excessive fascination with plastic surgery. At the end of his life, he no longer looked like himself at all.