The decision to make an impressive appearance even more spectacular came to Pamela's mind immediately after shooting for the famous Playboy magazine. The gorgeous blonde perfected her look and instantly won the hearts of men in every corner of the planet.
Pamela Anderson in her youth
The girl's family did not stand out among the others living in Ladysmith. Her father repaired fireplaces, and her mother worked as a waitress.
In school, Pamela was interested in sports and played for the volleyball team in the amateur league, and three years after graduation, she got a job as a fitness instructor.
In 1989, at a football match, a blonde in a short T-shirt was noticed by agents of a brewing company and invited as a model for advertising.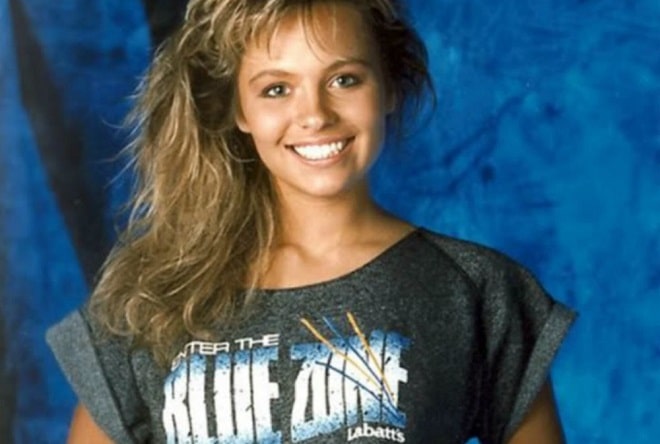 So the love for sports went to the girl's benefit and became the starting point of her worldwide fame.
And in October 1989, a photo of Pamela Anderson appeared on the cover of a men's magazine.
Before and after plastic surgery
Success turned the girl's head, and she tried to do everything to secure the status of the main beauty. Then Pamela Anderson, for the first time did a breast augmentation.
After the boob job, she said:
"I don't think I really needed it. But I haven't operated on anything else, and I don't plan to. I hope to age gracefully."
So began the path to the status of the "lifeguard of Malibu" and the sex symbol of America. In 1992, the blonde Pamela in a red swimsuit, running on the waves, riveted millions of men to the screens TV. She became very popular.
Then the star increased the volume of lips. The photo shows that the lips are very different, they have become plumper and more sensual.
Then she did the breast augmentation again. After changing the shape of her bust Pamela turned a show, shocking the public with the sale of her breast implants at auction.
"My breasts have made a career. I just follow her."
It is impossible not to agree with this statement because it was the big tits that elevated Pamela's popularity.
After the birth of children, Pamela's belly looks toned. She may have had liposuction and abdominoplasty.
For a long time, Pamela Anderson was an ardent opponent of facial plastic surgery.
But for her 48th birthday, the buxom blonde transformed beyond recognition. She cut off her famous locks. The face has acquired a clearer oval and smoothness without a grid of facial wrinkles. Probably radical changes of Pamela Anderson are due to the facelift and botox injections.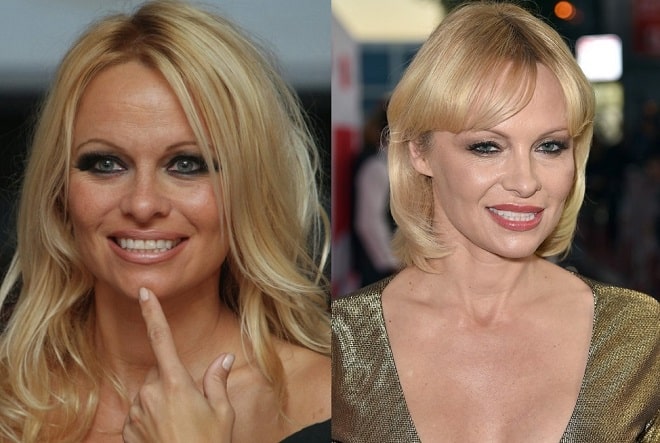 Now the star is engaged in public activities and advocates for animal rights.
But in the hearts of fans, she is still the owner of appetizing forms of incredible sizes. Pamela does not forget about this and shows a magnificent bust.