Today Mila Kunis is a famous Hollywood actress, whose popularity was brought by the TV series "That '70s Show" and the films "The Book of Eli" and "Black Swan". Her story is a rare example of the American dream realized because emigrants rarely manage to achieve recognition in Hollywood.
Childhood and youth
Her real name is Milena Markovna Kunis. She was born in 1983 in Chernivtsi (Ukraine) in a Jewish family. Her father was a mechanical engineer, and her mother was a physics teacher. After the collapse of the USSR, the family decided to emigrate to the USA.
After moving to Los Angeles, Mila went to school, not knowing a word of English. She still remembers this period with a shudder: "My memories of the second grade were completely repressed. I don't remember that. I always talk to my mom and grandma about it. It was because I cried every day. I didn't understand the culture. I didn't understand people. I didn't understand the language. My first sentence in my college application essay was, "Imagine being deaf and blind at seven." That's about how I felt when I moved to the States."
After moving, the family also faced financial difficulties, but this was not a serious problem for the girl. "I never thought about money, it was not customary for us to discuss these issues. I didn't know we were poor until I met rich peers. It came as a shock to me. But I had everything I needed-friends, wonderful parents. I grew up in an atmosphere of love and care, and this outweighed any negativity," Mila said.
Despite the fact that it was very difficult for her to get used to the new conditions, Mila Kunis learned the language quite quickly and entered acting school a year later – her parents believed that this would help her adapt faster and start communicating with her peers.
Career
Her acting career began on television. At the age of 9, she began to participate in the filming of commercials for children's goods, various TV shows, and TV series, and her first popularity came at the age of 14 when Mila appeared in the "That '70s Show" – a very popular TV project in the United States in the late 1990s. At the same time, according to the rules, actors over the age of 19 could participate in it, but Mila hid her real age. And when the truth became known, she had already managed to appear in several episodes of the series, and an exception was made for her. Mila Kunis stayed in this sitcom for 8 years.
All this time she continued to study with a tutor to get rid of the accent and bring her English to perfection. The best confirmation that she succeeded was an invitation to voice the daughter of the main characters in the animated series "Family Guy". For this work in 2007, the actress was even nominated for an Emmy Award.
World popularity came to Mila Kunis in 2010 when the films "The Book of Eli" and "Black Swan" were released.
In preparation for the film "Black Swan", she had to sit on a strict diet and practice ballet for 4 hours every day. The efforts were not in vain: "Black Swan" was nominated for 5 Academy Awards, and Mila Kunis was awarded the Saturn Award for Best Supporting Actress and the Venice Film Festival Award for Best Young Actress.
After that, she continued to act, and in 2017, Mila Kunis became one of the 5 highest-paid Hollywood stars.
Personal life
Mila Kunis's personal life has always attracted no less attention than her work. In 2002, she began an affair with the star of the movie "Home Alone" Macaulay Kalkin. Their relationship lasted 8 years, the actor proposed to her, but it never came to the wedding. The reason was the bad habits of the actor, who abused alcohol and illegal drugs. Their separation was so hard for Culkin that he even tried to commit suicide.
Ever since the filming of the "That '70s Show", Mila Kunis was familiar with actor Ashton Kutcher, then their first kiss took place in the frame, although the relationship between them did not go beyond friendly.
The actor said: "I was 19, and she was about 14. Yes, I even did her chemistry homework for her. That kiss on the set was probably the first for her in her life. Imagine, our first kiss is documented on television!".
Mila confessed: "I was frozen with fear, imagining how I would hug this handsome man. To give me confidence, I poured a bottle of perfume on myself." However, after the "That '70s Show", their paths diverged for a long time.
It was only in 2012 that feelings flared up between them. In 2015 Mila Kunis and Ashton Kutcher officially got married and had two children.
Plastic surgery
Mila Kunis is proud of her natural beauty and categorically refutes rumors about plastic surgery. To understand her natural beauty or fake, you need to compare photos of Mila in different life periods.
There are rumors that Mila Kunis had a nose job. But the changes in the shape of the nose are insignificant, so it is difficult to say whether there was rhinoplasty.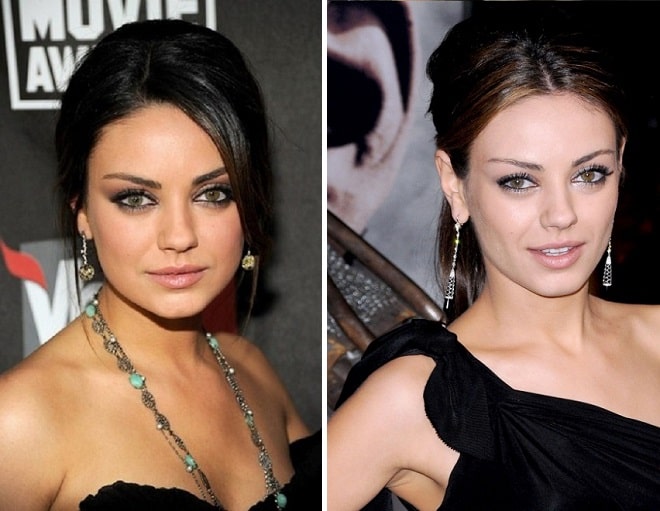 Fans suspect that Mila Kunis has had a breast augmentation. But the breast size is slightly different, so the rumors that she had a boob job are most likely fiction.