Meryl Streep is a woman who has never put her career above love but still achieved incredible success.
Meryl Streep is a famous American film actress and producer, who became famous for her talent and refined beauty. She is called the greatest representative of cinema, who has gathered all the wonderful qualities of a modern actress.
Meryl Streep is the record holder for the number of Oscar nominations, the actress had more than 20 of them. In addition, she is a caring mother and a loving wife who has lived with her husband for more than 40 years. It seems that Meryl is an ideal role model, because there are no dark spots in her biography, and her brilliant game has been pleasing fans for almost half a century.
Meryl Streep in her youth
Mary Louise Streep, or Meryl, as her family called her, was born in 1949 in a small town in New Jersey. Her father was a manager of a pharmaceutical company, and her mother was an artist. By the way, Meryl has Swiss, Irish, and German roots.
It was her mother who introduced her daughter to the world of art and always encouraged the girl's creative endeavors, instilling confidence in her from an early age. She said, "Meryl, you're capable of anything. You're great. You can do anything you want if you're not lazy."
And despite the fact that the future star was at first quite reserved and shy, she believed in herself thanks to her mother's instructions.
After graduating from school, the question of Mary's future profession was resolved — she perfectly copied her classmates and teachers, so she chose an actress career without hesitation.
Streep graduated with honors from college with a degree in drama, and then won a grant and received a Master of Arts degree from Yale University. During her studies, she played in a theater circle and transformed into a variety of characters: from young beauties to old ladies of 80 years.
Soon the girl changed her name to Meryl and went to conquer Broadway.
Film career
When Meryl moved to New York, she was immediately noticed by several theater directors — the actress was distinguished by a deep immersion in each role. She did not just memorize words, but completely changed her manner of conversation, gait, and facial expressions. Streep played the main roles in classical and modern plays, breaking the audience's ovation and receiving positive reviews from critics.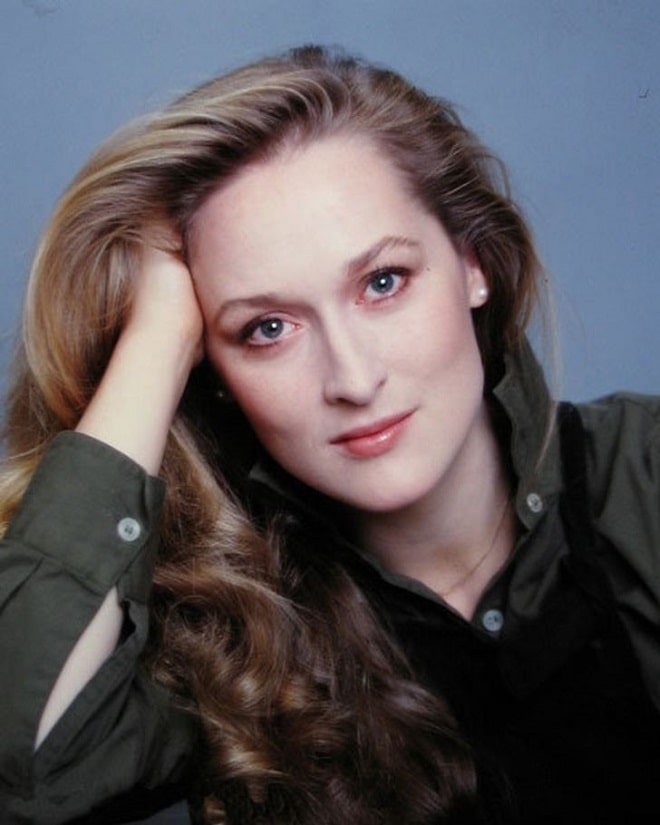 The girl also dreamed of a career in cinema, but it turned out to be very difficult to break into this world. She was forced to accept cameo roles, which were most often cut out of films altogether.
In 1975, Streep participated in the casting for the main female role in the film "King Kong". The film's producer, discussing Meryl's candidacy, said in Italian: "She's so ugly. Since the actress knew Italian, she replied: "I'm very sorry that I disappointed you."
Meryl Streep appeared on the screens only 2 years later in a small role in the melodrama "Julia". From that moment on, the career of the future star went uphill.
At the age of 28, she played in the war drama "The Deer Hunter" together with Robert De Niro and Christopher Walken. The film won 5 Oscars, and Streep was nominated for Best Supporting Actress. She did not receive a statuette, but her performance was highly appreciated by critics: "Streep is the best actress of all time. Forever."
In the same year, the girl got a role in the mini-series "Holocaust", where she played a German woman who married a Jewish artist. For this work, she received her first Emmy Award.
Soon Streep appeared in Woody Allen's comedy "Manhattan".
This was followed by roles in the thriller "The Seduction of Joe Tynan" and in the drama "Kramer vs Kramer", where she played alongside Dustin Hoffman.
The role of Joanna Kramer brought the actress the long-awaited Oscar statuette.
At the age of 33, Streep again receives an Oscar for the drama "Sophie's Choice" and becomes one of the most sought-after actresses in Hollywood.
This is followed by a series of bright works, where Streep tries himself in new roles: the comedies "She-Devil" and "Death Becomes Her", the drama "The Bridges of Madison County", the thriller "The River Wild".
Despite the success, Meryl admitted that she was afraid of the acting future because every year new talented actresses appear in Hollywood: "I was afraid that after the age of 40 I would not get a single movie role", Streep told Woman's Weekly magazine.
However, her fears were in vain. Every new year was marked by brilliant works. Soon she becomes the youngest woman in the history of the American Film Institute to be awarded the Lifetime Achievement Award.
In 2006, the comedy-drama "The Devil Wears Prada" was released, where Streep played an indomitable businesswoman. The film became the 2nd most profitable film in the career of the actress. And 1st place went to the musical "Mamma Mia!". For the actress, who was engaged in singing as a child and loved ABBA songs from her youth, this role became a real gift.
Streep received her 3rd Oscar for the role of British Prime Minister Margaret Thatcher in the film "The Iron Lady" and became the only modern actress who can boast of 3 statuettes.
After the age of 70, Streep is still in demand in Hollywood — she has been called one of the best actresses of our time more than once.
Personal life
At the time when Streep's career began to take shape, she met actor John Casale. They played together in a play, and soon feelings flared up between them. The audience knew John from the role of Don Corleone's middle son in "The Godfather". For many, this relationship between a not very famous and shy 40-year-old actor and a young actress who was gaining popularity was a mystery, but it was true love.
It was John who brought Meryl to the cinema, persuading her to come to the audition for the film "Julia". Moreover, as Streep later admitted, she agreed to play in her triumphant film "The Deer Hunter" only because Casale was filmed there. At that time, he was diagnosed with terminal lung cancer. Despite his illness, the actor managed to play all his scenes in this film.
John also persuaded his beloved to go to the filming of the series "Holocaust" in Austria — he simply could not allow the young actress to turn into a nurse. But when the girl found out that John was getting worse, she immediately returned home and spent the rest of the time with her beloved. John Casale died in 1978 in the arms of Meryl, who told herself that she would never put her career above family and loved ones again.
Meryl was simply crushed by the death of her lover, but fate can be unpredictable. Already 6 months after Casale's death, a new man appeared in her life — a friend of her brother, the sculptor Don Gummer.
At that time, the girl found herself in a difficult situation: after John's death, she had nowhere to live, so the man offered her his apartment — he was going on a trip around the world for several months. She agreed. A correspondence ensued between them, which brought them so close that it soon turned into a romance in letters.
When Gummer returned to America, the lovers had no doubt that they were made for each other. Don proposed to Meryl, and in the fall of 1978, they had a quiet wedding.
Meryl and Don have been together for 41 years. During this time, they raised 4 children: son Henry and daughters Mary, Grace, and Louise.
At the 2012 Oscar ceremony, Meryl Streep began her speech like this: "First I want to thank my husband. Because when you thank your husband at the end of the speech, the words are drowned out by the music, and my husband did not deserve this. I want him to know that I owe everything that is valuable to me in life to him."
Did Meryl Streep have plastic surgeries?
In her youth, Meryl was insecure, considered herself unattractive. But over time, she believed in her radiant beauty and does well without plastic surgery.
Even after crossing the 70-year milestone, she looks great, largely due to her impeccable style and beautiful hairstyles. She regularly gets on the lists of Hollywood stars who know how to age beautifully.
"I was once told that the secret of life is to enjoy every moment. And that's what I do: I'm just glad that I'm living here now, doing what I love – acting in a movie," says Meryl modestly.
Now Streep has an Instagram page where she posts photos from filming and various events.
Smile
Thanks to her natural charm, Meryl Streep has become one of the most successful actresses in the history of cinema.
Before:
Meryl Streep from the very beginning of her career managed to play equally brilliantly both in the theater and in the cinema. She did not have the most spectacular appearance, but she was offered roles by the most famous directors of her time, and critics enthusiastically spoke about almost every one of her works. By the beginning of the XXI century, Meryl Streep had collected almost all the notable awards from the field of cinema and received the status of a living legend. Meanwhile, many believe that the formula for the success of the actress is very simple: talent, great performance and a charming smile.
After:
Despite the resounding success, Meryl Streep does not reduce the demands on herself and continues to delight the audience with her magnificent performance. By the way, she is one of the few Hollywood actresses of her generation who did not resort to plastic surgery to try to hide the traces of age. Moreover, Meryl actively encourages her colleagues to follow her example and "not freeze their faces." The only changes that the star allows herself are related to her teeth. Throughout her career, a smile has been her feature, so Meryl tries to keep her teeth in the best shape. As you can see, she quite succeeds.