Mena Suvari has aged, got fat and does not look at all like her heroine from "American Beauty". Let's compare how did she look in her youth and how has her appearance changed now?
Mena Suvari in her youth
American actress Mena Suvari got her unusual surname from her father, who was Estonian. The mother of the future star was half Greek, so Mena absorbed the flavor of two different cultures from childhood.
Since childhood, the girl was distinguished by a gentle, characteristic beauty. At the age of 12, she signed her first contract, becoming a promising model. When it became clear that the podium for the girl was closed due to her low height and a large head with shortened torso proportions, which makes her visually even lower, the girl decided to try herself in the cinema.
As often happens in the film industry, the career of the model smoothly flowed into the acting channel: barely reaching adulthood, Suvari has already managed to star in one film with the famous Morgan Freeman. In her early works, the actress alternately embodied the images of a neighbor girl and a cheerleader.
In 1999, Mena Suvari played in two high-profile films at once: the luxurious drama of Sam Mendes "American Beauty" and the teen comedy "American Pie".
The role of Angela Hayes made the aspiring actress a star. "American Beauty" won five Academy Awards, and Mena was also nominated for a BAFTA. "American Pie", despite its ambiguity, has become a cult, and the performers of more or less prominent roles have become famous.
However, the big-eyed debutante could not repeat the success of the first bright roles. The actress has played more than fifty different roles in films and TV series of various genres during her career. Nevertheless, more often she was offered the roles of blonde beauties not too burdened with intelligence. And out of all this variety of main roles, she did not have so many.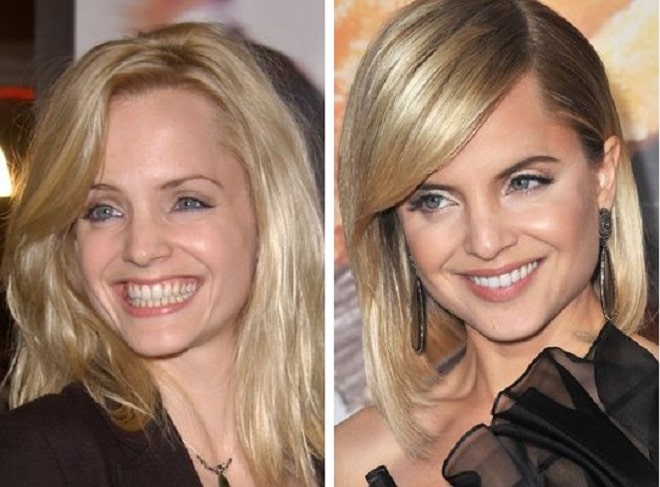 Mena Suvari now
Obviously, Suvari is not fond of plastic surgery — her face has aged noticeably. Fans of the talent of the star actress accused her of getting fat and not following the figure.
And what do you think: can an actress afford to age without plastic surgery?