Mandy Moore (full name – Amanda Leigh Moore), American movie star, singer. Let's remember the bright moments in her biography and see how she looked in her youth and how has her appearance changed now. Let's find out if Mandy has had plastic surgeries on her face and body.
Childhood and youth
Mandy's date of birth is April 10, 1984. Moore was born into an ordinary American family in New Hampshire, but after a few months, her family moved to Orlando, Florida. Mandy's mother was a reporter and her father was a pilot. At the age of nine, Mandy Moore began singing and acting on stage, participating in summer camp productions. And after watching the musical "Oklahoma", she firmly decided to build a career as a singer.
In Orlando, Moore often sang the national anthem at various sporting events, and soon she began to be recognized in her hometown.
At the age of 13, Mandy began to study music on her own in one of Orlando's studios. One day, an employee of the "FedEx" courier company was passing by and heard Mandy recording a song. The man had a good friend at the record company "Epic Records". The courier sent his friend a recording of Mandy Moore's song, and a couple of months later she already signed a contract with the company.
At the age of 15, her first song "Candy" was released. The single was an unexpected success in many countries. Music critics put Mandy on a par with such famous pop singers as Britney Spears and Christina Aguilera. A little later, in 1999, Moore released her first solo album "So Real" and began touring with popular bands "N Sync" and "Backstreet Boys".
In parallel with singing, Mandy began to build a career in cinema. In 2001, she received a minor role in the film "The Princess Diaries", and a year later she played her first major role in the romantic film "A Walk to Remember".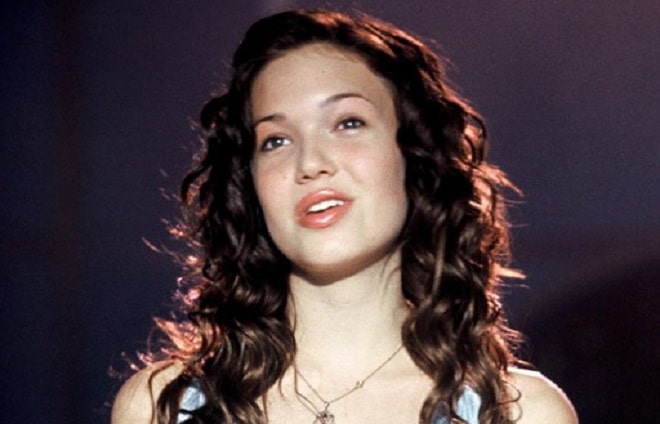 In 2003, Moore released her fourth album "Coverage", consisting of cover versions of popular songs from the 1970s and 80s. This album was positively received by critics, who called it a "leap to musical maturity".
At the same time, Mandy starred in two teen films "How to Deal" and "Chasing Liberty", which failed at the box office. Despite the setbacks, Moore was not going to leave her acting career. A year later, the film "Saved!" was released, which was named the best picture by film critics with the participation of Mandy Moore. The films "American Dreamz", "License to Wed" and "Because I Said So" were also called successful.
In 2006, Moore admitted that she had completely abandoned her musical career because of the cinema, and announced the imminent release of a new album "Wild Hope", which was ambiguously received by critics. Mandy Moore's greatest success came from her album "Amanda Leigh", on which she worked for almost three years. It was presented to the public in 2009. Time magazine called it flawless.
Throughout her creative career, Moore has also been engaged in the voice acting of cartoon characters.
Personal life
Since 2009, Mandy Moore has been married to the famous American singer and songwriter Ryan Adams.
Plastic surgery
Mandy says she doesn't have any beauty secrets. Standard set: she goes in for sports, tries to get enough sleep, drinks vitamins, and is aware of the importance of mental and emotional health.
Moore is suspected of using the services of plastic surgeons. There are rumors that Mandy had a nose job and the rhinoplasty of the star was successful. There are also rumors about the use of botox injections and fillers.
Back at the age of 28, Mandy Moore was spotted at the party of the star stylist Rachel Zoe with a "new" face, which clearly bore traces of cosmetic correction. The signs of youth and freshness disappeared from the face, giving way to more "correct" proportions and unnatural smoothness. The famous plastic surgeon Dr. Anthony Yun gave his comments on this.
"It's very possible that Mandy Moore has done some work on herself. I suspect that she went through Botox injections in the forehead area, which led to a change in the shape of the eyebrows and the effect of "smoothness" of the skin. Mandy also most likely put an implant in her chin, as her jaw has acquired a well-marked square, regular shape." Dr. Yun said.
Moore herself does not hide that she used the services of plastic surgeons.