American TV presenter, actress, businesswoman and socialite Lisa Rinna has been working on television since she was 22 years old. In addition to filming TV series, she organized a reality show about her family. After the "Melrose Place", the actress woke up famous and decided to take advantage of the media in her own interests. In 2002, she launched her own show, for which she was nominated for the prestigious Emmy Award 4 times.
Today, the actress still looks impressive, these are the results of plastic surgery on her face. The unreal size of the lips of the once popular actress and TV presenter is now more popular than herself. Not wanting to lose her beauty and youth, Rinna often resorted to anti-aging injections.
Plastic surgery
Lisa Rinna does not hide the fact that she has done plastic surgery more than once. Lisa admitted that she did not regret it at all, but she was in control of the situation and would stop in time. However, as we can see, she has not been able to "slow down" with plastic surgery yet.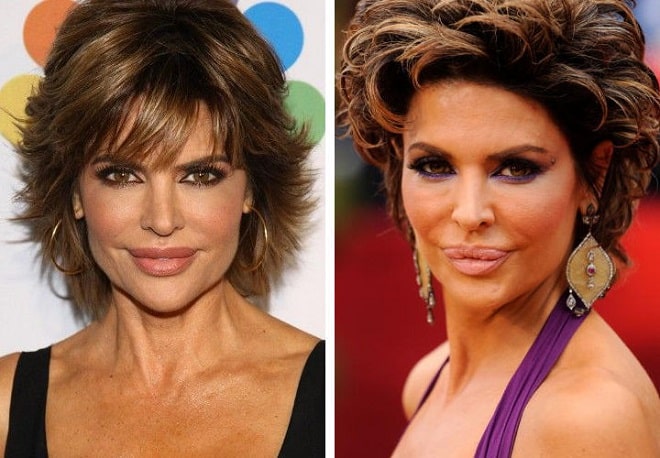 Lips
Who in Hollywood introduced the fashion for lip augmentation? And for an increase in the upper lip? And on the upper lip with thickened corners? Lisa Rinna!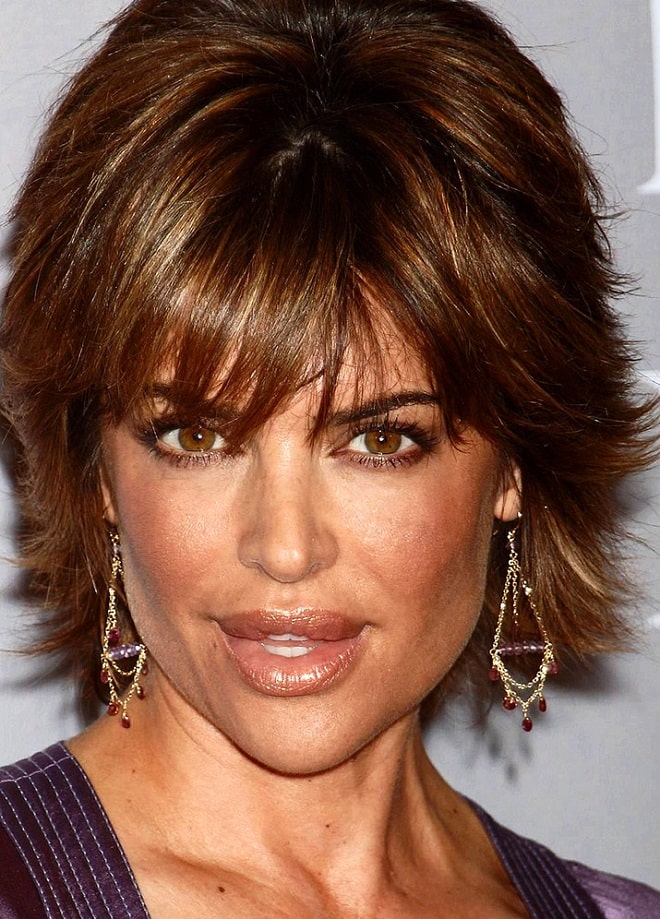 "Kylie Jenner should thank me for the success that lip augmentation has brought her. I'm a pioneer of lips, I brought it into fashion. Kylie Jenner can thank me. You're welcome, Kylie," says Lisa Rinna.
The star started using fillers a long time ago. Lisa actually built a career on the shape of her lips, so memorable was the face after lip augmentation.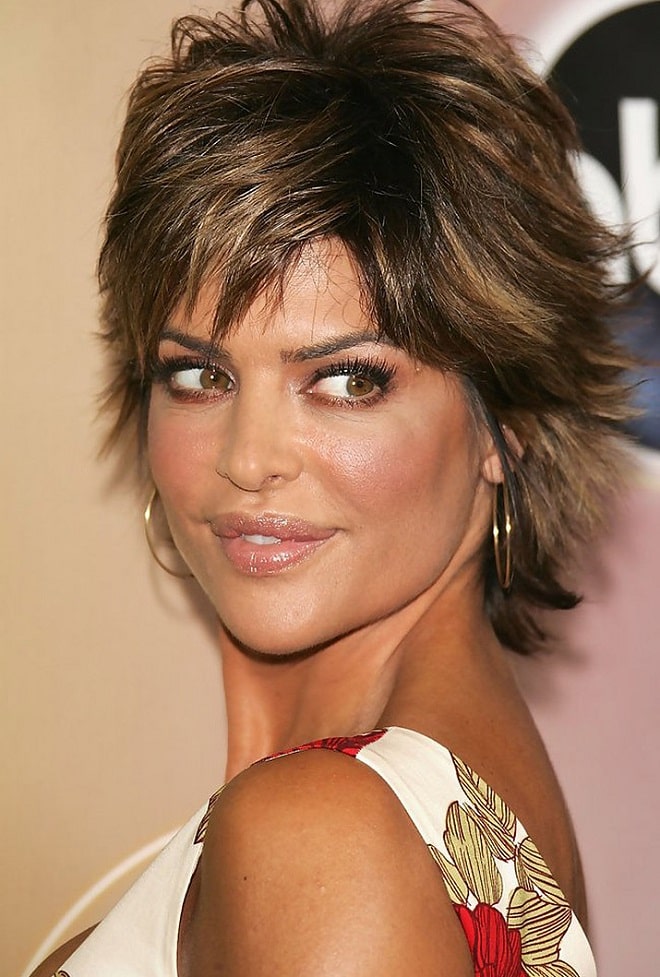 "I did it with my best friend. We decided that everyone is doing and we decided. And that's how my lips have been throughout my career," says Lisa Rinna.
The official version says that over the years the non-absorbable gel migrated, and the scarring that arose around the foreign substance led to the appearance of lumps and irregularities.
Or maybe new lip enlargements have also been layered.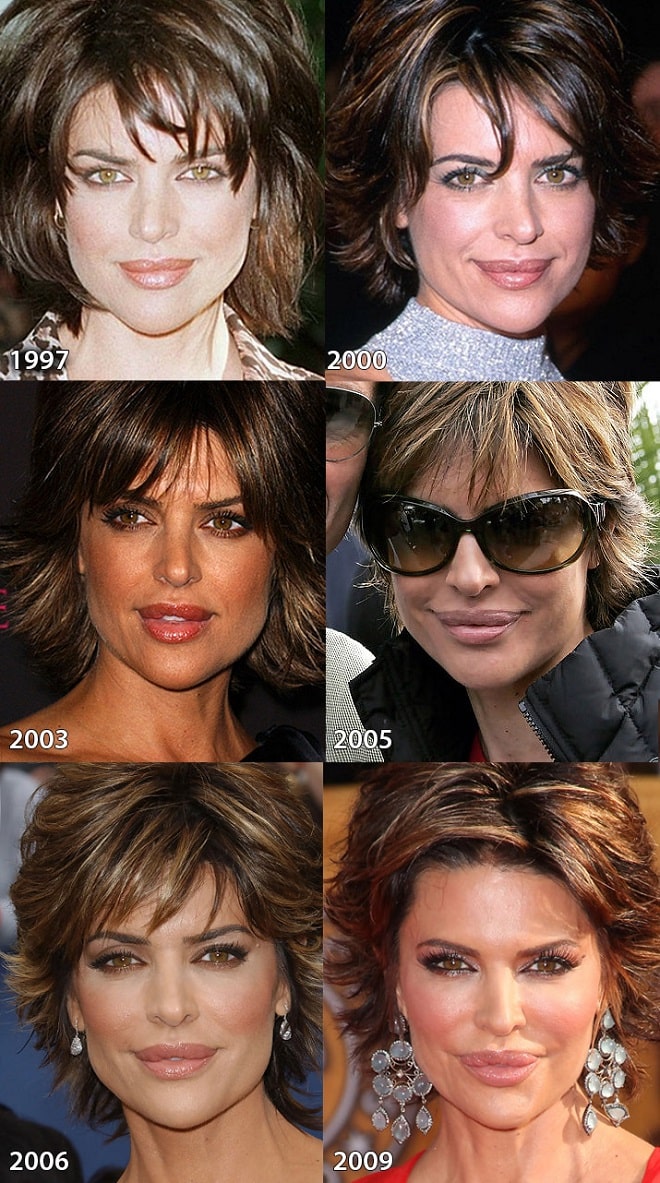 In 2005, the upper lip became much larger, and by 2009 Lisa realized that she was turning into a freak.
"My lips began to define me. It was disturbing. The lips reached the point after which they were already crossing the line with disgusting. They have become firmer."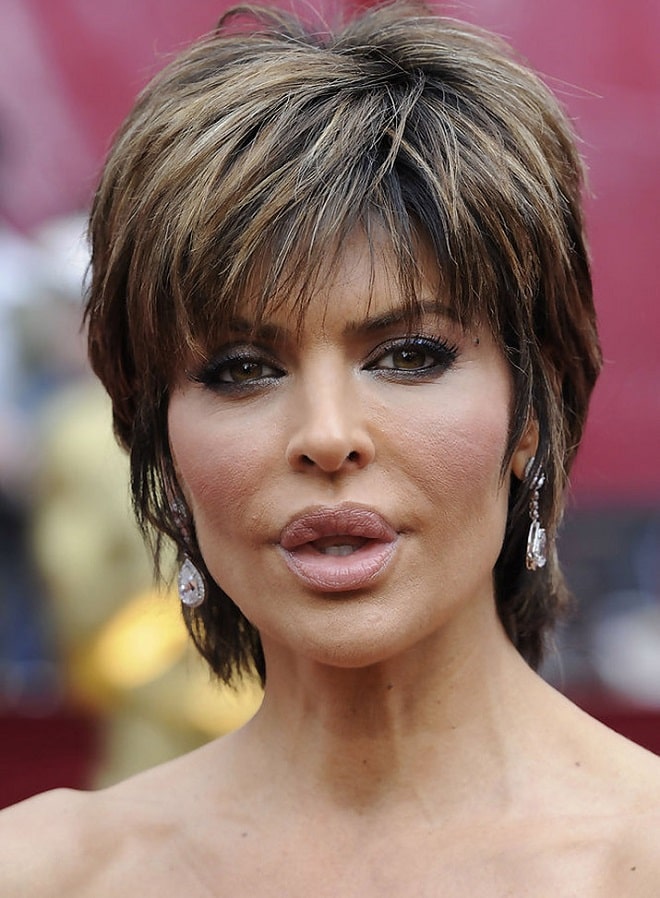 And in 2010, the actress underwent a procedure to extract a non-absorbable gel from her lips to stop the pathological process. Beverly Hills surgeon Garth Fisher removed some of the tissue containing the filler and changed the contour, reducing the lips by 30% — as he says.
Before and after removing the filler from the upper lip:
"The difference is huge. The doctor removed as much as possible. My lips are healthy now, I don't have to suffer with makeup anymore."
But, judging by further photos, very soon she decided to align her upper lip first, and then return it to its usual volume.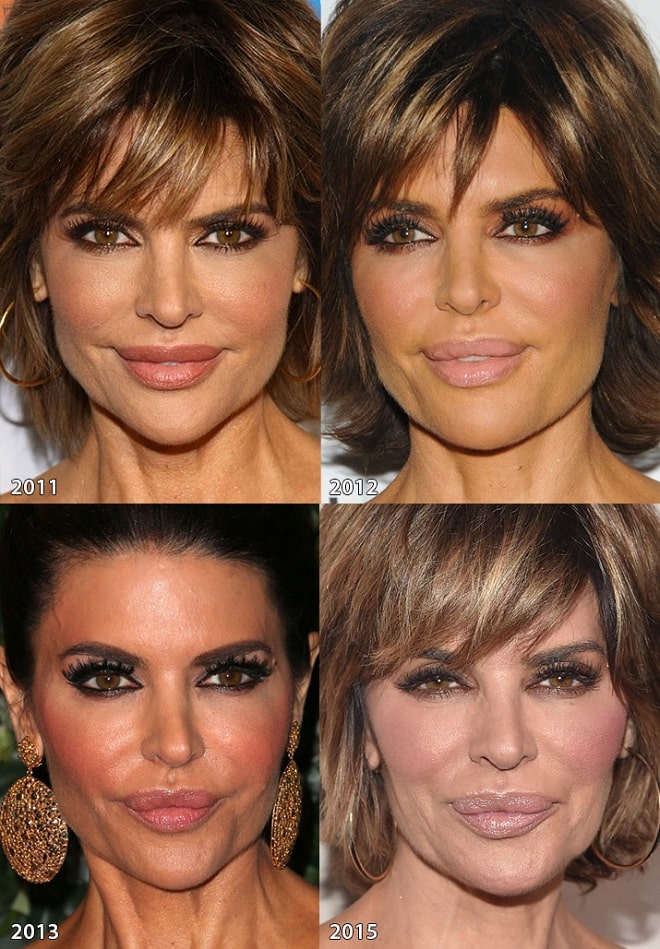 The man who was completely not interested in either increasing or decreasing Lisa's lips was the husband of the actress Harry Hamlin, with whom they have been together for 20 years.
"I fell in love with Lisa's eyes, not her lips. And most of the time I look into them. The lip changes were so gradual that I didn't notice them. In my opinion, surgery is always a dubious idea. But I love Lisa regardless of whether she does plastic surgery or becomes gray and saggy," says Harry.
Harry's opinion is very comforting, but in show business no one leaves themselves alone. Although, it should be noted, Lisa was lucky with genetics. And after 50, she remains slim, and her facial features have not changed too much.
Did Lisa Rinna have a boob job?
Rinna confirms that she has had a breast augmentation.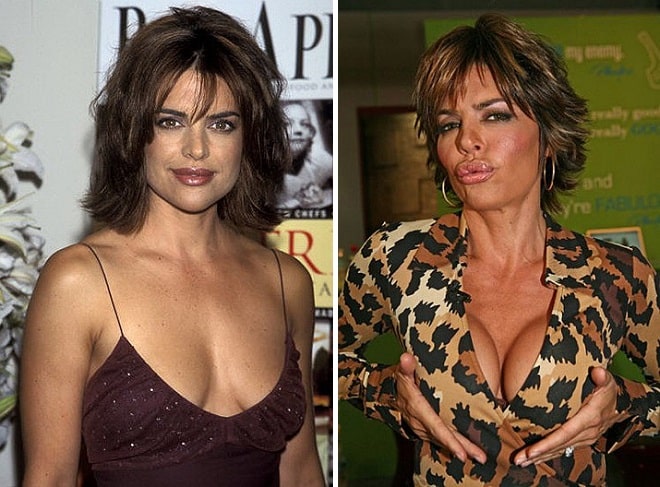 Perhaps a breast correction was performed – in the photo of later years, the contours of the implants seem to have smoothed out.
Alas, slimness does not guarantee absolute smoothness of the body skin after 50.
Botox and fillers
But the skin of the face is easier to maintain. Competent botox therapy for many years gives excellent results. Fillers – of course.
"At my age, I need to look good if I'm going to keep working. Sometimes it is necessary to correct something, and I do it. I tried Botox, then fillers came into the world of plastic surgery, and it seemed like a good solution," says Rinna.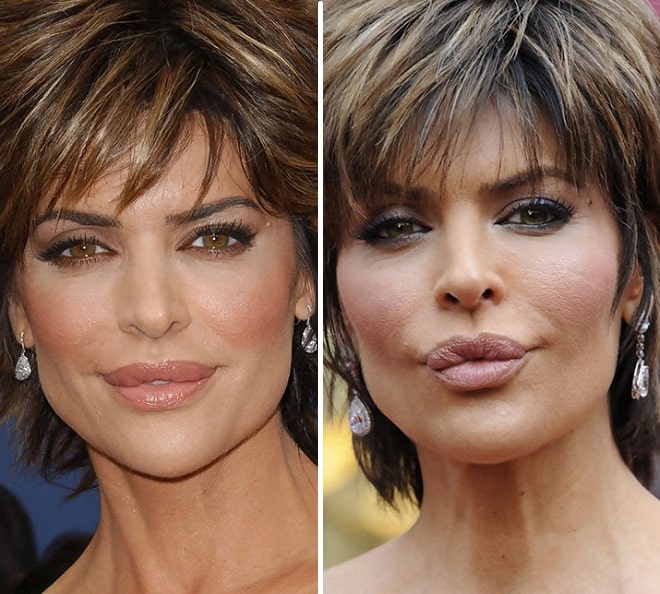 But over time, Lisa regretted going overboard with injections.
"I had fillers in my cheeks, and I overdid it. I tried it because all my friends did it. But when I saw myself in the photo, I thought: "God. It's not pretty at all. When you change features with fillers, you lose your face. Looking fresher is something else entirely. And I looked like a freak!", says Lisa Rinna.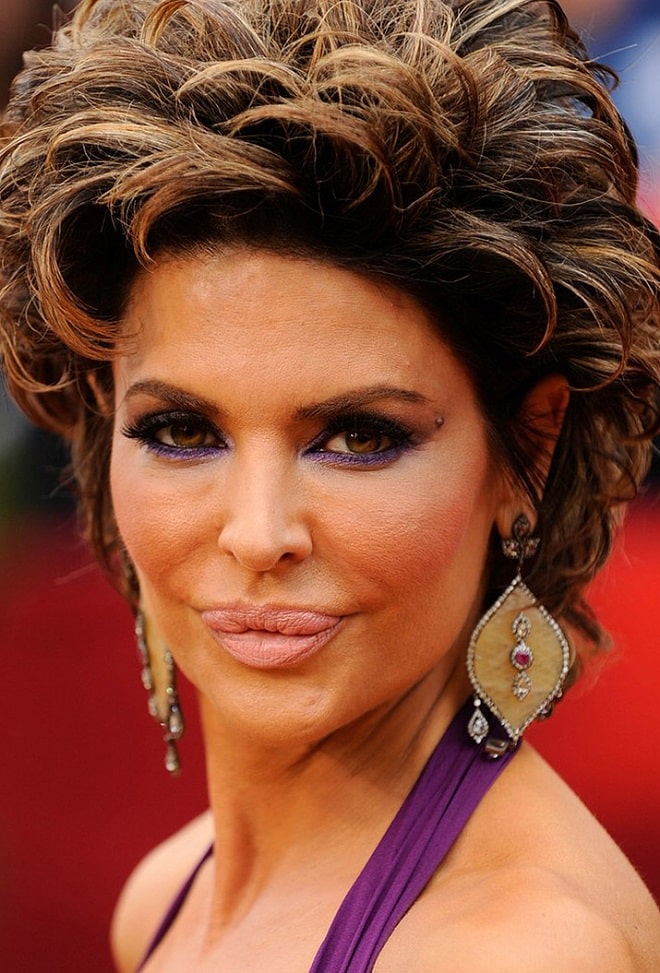 Hypercorrection of nasolabial folds makes the face unnatural. And in combination with the constant addition of volume to the cheekbones, the facial features are erased.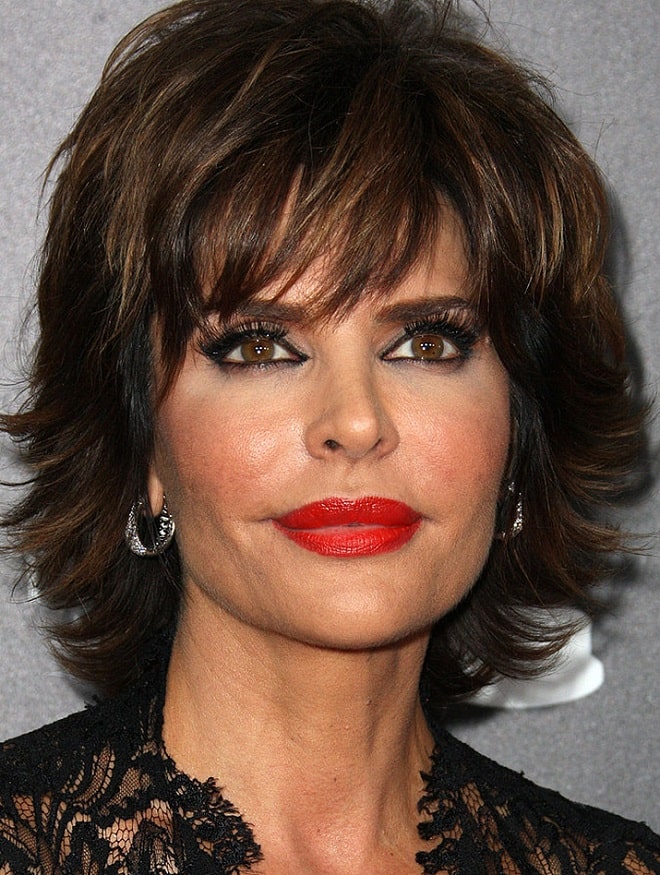 "I realized that I didn't really need it. I'm getting older, I'm losing confidence in myself and I think I can fix it, but no. I realized that everything is fine in moderation. Although I still like Botox, it's a great drug! He does not change facial features and takes care of the skin," says Lisa.
So, Rinna says she's given up fillers. But the gel in the face, of course, remains. Or it's already fibrosis.