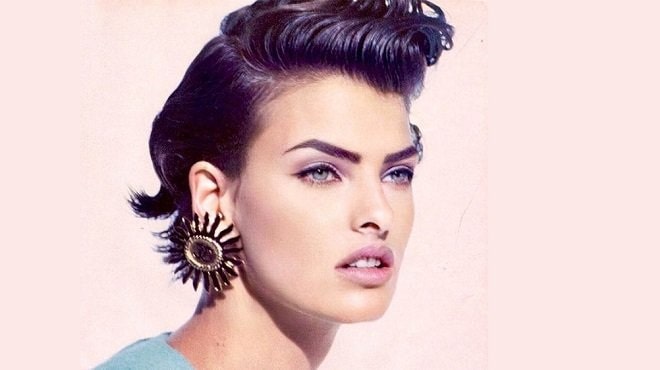 Linda Evangelista is a catwalk star. People magazine included her in the TOP 50 most beautiful people on the planet. Her photos have graced more than 700 fashionable glossy publications. The annual income of the supermodel exceeded $ 1 million.
Now the supermodel has not shone on the catwalks for a long time. Everyone thought that the star just decided to devote herself to her family. But, as it turned out, the legend of the nineties became a victim of a cosmetologist.
How did an unsuccessful cosmetic intervention disfigure a supermodel and why did it happen?
Linda Evangelista in her youth
Once upon a time, Linda literally burst into the fashion world, thanks to her resourcefulness, drive, and recklessness. She began her career by secretly sneaking into the room of a representative of a modeling agency and threatening to accuse him of rape if he refused to sign a contract with her. To the manager's credit, it is worth noting that he only laughed and forced the girl to walk around the room all night. But Linda got her first contract in her life.
From that moment on, Linda's career begins to rapidly gain momentum. She poses for the iconic magazines ELLE, Harper's BAZAAR, and Marie Claire.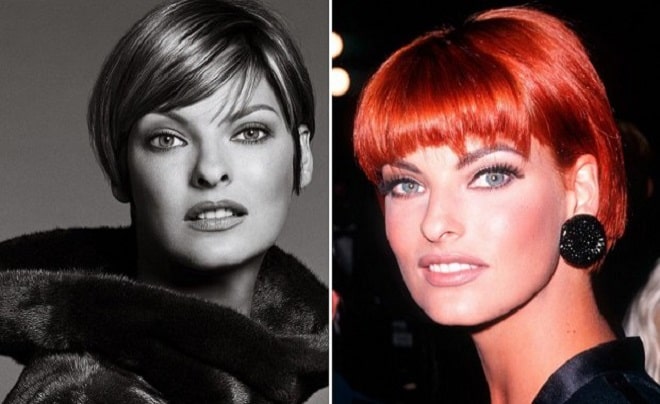 Designers immediately appreciated Linda's lack of fear of drastic changes in appearance. Within one year, Linda could change her hairstyle and hair color up to 20 times, for which she even received the nickname "chameleon"! And along with the nickname came millions of dollars.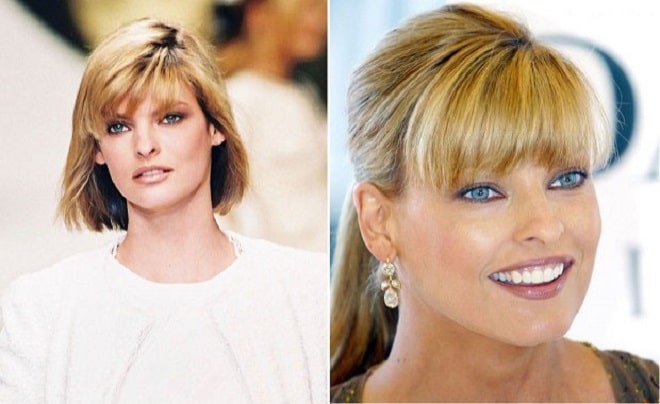 In the early 90s, Evangelista was among the top three models in the world. She conquered fans by presenting clothes from Chanel, Ralph Lauren, and DOLCE & GABBANA. The quintessence of her career came when Karl Lagerfeld himself called Linda "A Stradivarius violin in the hands of a maestro."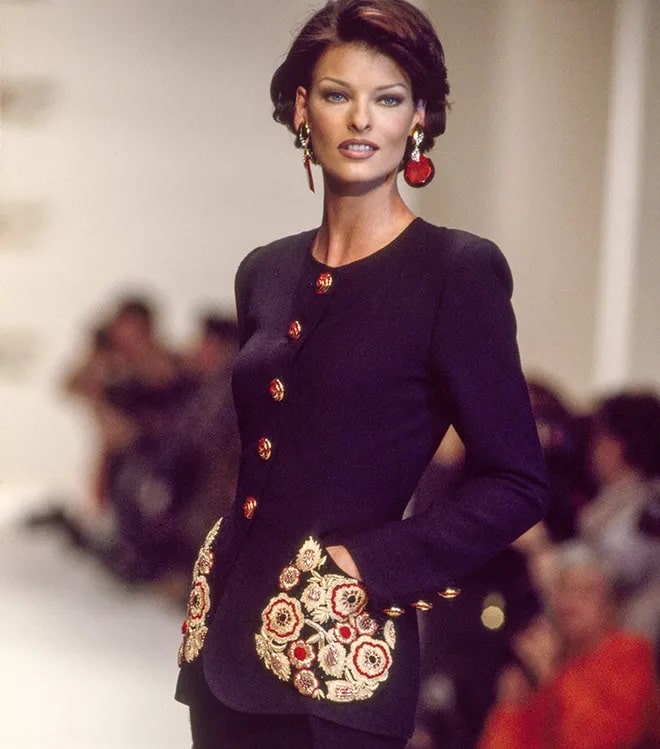 Fashion designers, photographers, and editors of glossy magazines lined up, and she chose who to work with.
"I won't get out of bed for less than $10,000," Linda Evangelista, the most sought–after supermodel of the 90s, once said.
In her youth, Linda Evangelista said that the main thing for a woman at any age is to look good, wear elegant clothes and not be afraid of wrinkles.
Did Linda Evangelista have plastic surgeries?
Linda Evangelista is one of the very few stars who openly promotes the achievements of plastic surgery. The top model does not hesitate to tell that she does botox injections as often as she "uses her favorite shampoo for colored hair." In addition to the "beauty injections", Evangelista performed a non-surgical facelift, canthopexy (surgery to tighten the corners of the eyes and eliminate wrinkles), contour plastic surgery (correction of the shape of the cheekbones with fillers) several times.
"Supermodel – does not mean superman. We're getting old too. I'm not trying to be young. I don't argue with the process and accept all the changes that happen to me. But, of course, I want to look good at the same time. That's right – not young, but GOOD! These are different things…"
What happened to Linda Evangelista?
Time passes, decades replace each other, and the main supermodels of the world, who became famous in the 1990s, are still at the top. 52-year-old Helena Christensen has become the new "angel" of Victoria's Secret. 47-year-old Kate Moss not only continues to go on the catwalk but also opened her own modeling agency. And 51-year-old Naomi Campbell manages to combine caring for her daughter with the next major advertising contracts. And 48-year-old Heidi Klum flashes in many projects around the world at once!
And what about Linda Evangelista? The one who used to famously declare that "for less than 10 thousand dollars she won't even get out of bed"? By today's standards, 56 is not at all the age for the end of a modeling career. Rather, her new heyday!
Nevertheless, the star has not appeared in public at all for a long time. And the reason seems to be known to everyone.
In 2015, the supermodel gained a lot of weight due to thyroid disease. She changed her couturier outfits for shapeless clothes.
In 2017, journalists noticed that Linda had moved away from her beauty principles and changed a lot in appearance: the 52-year-old model became very fat and appeared in society in shapeless outfits. Linda hardly attends social events and hides from the paparazzi. Some fans associate such behavior and a new appearance with health problems, others with an unwillingness to take care of themselves and meet the set standards.
In 2017, the paparazzi ambushed a supermodel at the airport — and revealed an unexpected truth to the world. Linda was out of shape.
And although the press shouted about the "unrecognizable appearance" of Evangelista, the model herself did not comment on her new look in any way. But nothing prevented her from becoming a new icon of the body positive!
In addition, in 2017, Linda became a grandmother for the first time — her stepdaughter had a daughter. Considering that then the star's own son was only 11 years old, everyone naively decided that Evangelista had simply decided to leave the modeling world and focus on her family. The benefit of the millions earned earlier, for which the model still got out of bed, should have been enough for everything, even more than enough.
And yet the fans were waiting for at least some news from the celebrity. However, then had to be content with only rare paparazzi photos, which proved that Linda was still out of shape.
Evangelista posted her photos on social networks in 2019. But almost completely hiding both the face and the body on them. Well, fans had to put up with it!
But in 2021, the supermodel suddenly became more active. And she frankly told the public that all these years she has been living in the shadows not of her own free will, but because of an unsuccessful medical intervention.
As it turned out, in 2017 Evangelista made a popular cosmetic procedure for weight loss – CoolSculpting. That's just it didn't go as promised by advertising…
In a post on her Instagram, Evangelista assures that this procedure left her "cruelly disfigured." In her case, the procedure gave the exact opposite of the promised effect. The body of the star began to gain weight by leaps and bounds.
Linda also mentioned two corrective operations that were carried out in an attempt to return to the previous forms.
Of course, the star was instantly surrounded by rays of support from famous friends and colleagues, as well as the attention of fans.
However, numerous haters have also become more active. Well, how could a cosmetic procedure give the opposite result if it was created specifically for weight loss? And couldn't Evangelista have chosen another excuse for her changed appearance and not hype in such a dubious way?
Of course, some cosmetologists working with Fat Freezing (Cryolipolysis) machines really doubted Linda Evangelista's words. And they hurried to declare it on social networks. And in vain: most likely, they simply did not face the negative consequences, which occur quite rarely.
That is why experts advise not to get carried away with non-surgical methods of weight loss and give preference to the good old liposuction. Apparently, it was eventually made by Linda Evangelista.
Then and now
Linda Evangelista is the same girl who once said her famous phrase about work: "I won't get out of bed for less than $ 10,000."
And this phrase was not accidental – Linda Evangelista was really very popular at that time.
Needless to say, but young Linda was really very beautiful.
In the fashion world, she was called a chameleon – because of her love for a constant change of image.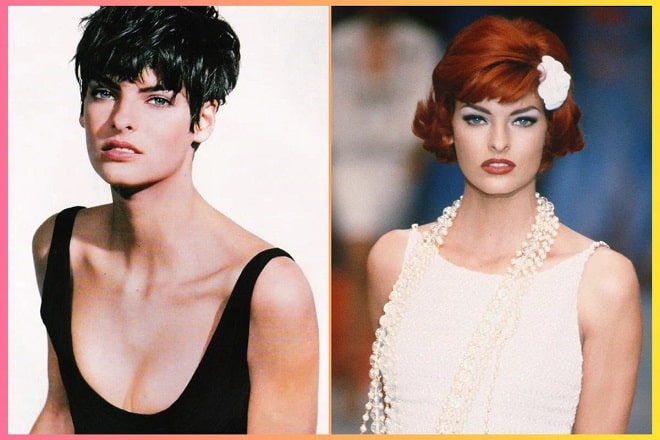 Linda was blonde, brunette, red, with short hair and with long. And all these images suited her very well.
Looking at the young Linda Evangelista, many thought that she would be a real beauty in her old age. After all, her external data were disposed to this.
Now Linda Evangelista will not be recognized even by her most ardent fans.
Now Linda looks like an ordinary housewife, tortured by everyday life – overweight, a "floated" face and an imperfect figure.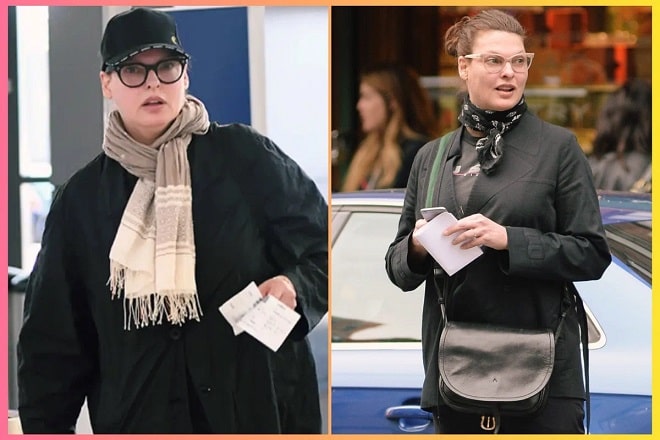 There was no trace of the former slender beauty with expressive eyes.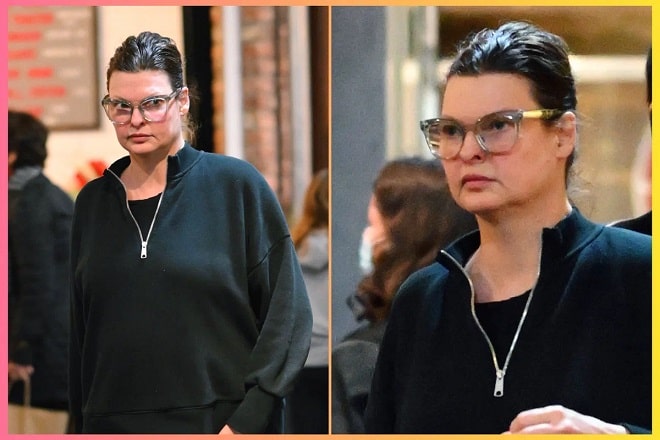 The model herself stated that her drastic external changes were due to unsuccessful liposuction. But this version of it has been criticized by many – because it is impossible to get so fat because of liposuction.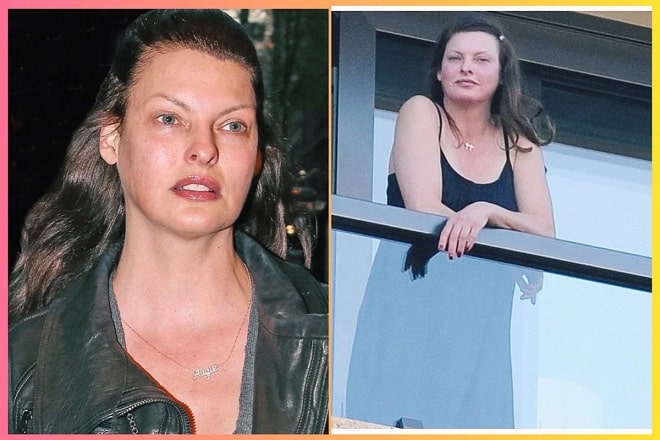 For a long time, Evangelista did not appear in public, but now she has started acting in magazines again.