The Jackson family – Michael and his numerous brothers and sisters – has been shining like a bright constellation in the sky of world pop music for decades. Unfortunately, Michael Jackson passed away at the age of 50 in 2009, but his memory lives not only in the hearts of millions of fans around the world but also in the appearance of his older sister La Toya. Fans are sure that the once-popular singer, model, and writer has become an exact copy of her legendary brother. Excessive fascination with plastic surgery deprived Michael Jackson's sister of natural beauty.
From a cute girl to a copy of Michael: how did La Toya Jackson look before plastic surgery?
Childhood and youth
La Toya Yvonne Jackson was born on May 29, 1956, and became the fifth child in the family of Joe and Catherine Jackson. The girl grew up a shy child, dreamed of a lawyer's career, but the domineering father insisted that her daughter continue the family business and go into show business.
At a young age, La Toya, along with her sisters Rebbie and Janet, organized a musical group under the guidance of their father, but the collective quickly broke up, and the girl began a solo career.
For fifteen years on the stage, La Toya Jackson has released nine studio albums, but the singer failed to achieve the success of her famous brother. According to rumors, it was because of this that a scandal broke out in 1993 — his sister publicly accused Michael of pedophilia.
A special influence on the style of the singer was exerted by her husband – her agent Jack Gordon, whom she married in 1989 (the marriage broke up eight years later). In the same year, La Toya's photo graced the cover of Playboy, which shocked fans a lot.
Michael Jackson's sister later admitted, "I did it to show my parents that they can no longer dictate to me that I control my life."
Plastic surgery
The appearance of the young La Toya Jackson was characterized by typical African-American features — a wide nose, large facial features, a lush shock of coarse black curls. Just like Michael, his sister started experimenting with skin color.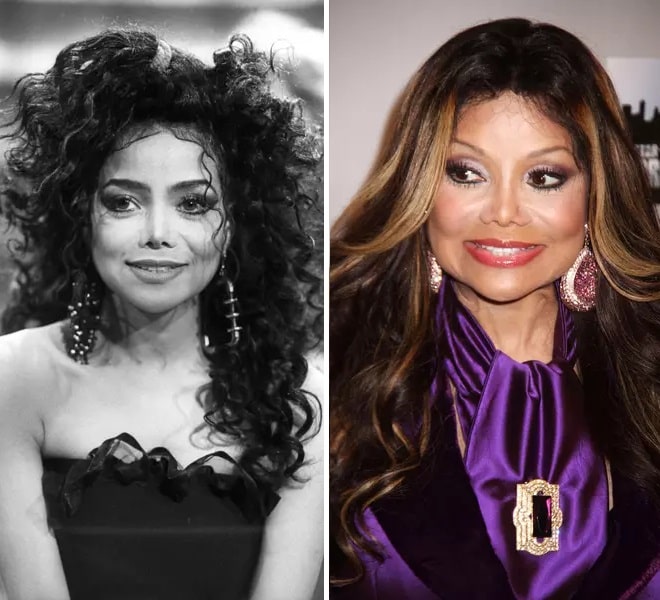 La Toya Jackson had a nose job several times. Her nose seemed to be a huge disadvantage to the singer and she performed several operations to correct its shape. Plastic surgeons even suggest that the bridge of La Toya Jackson's nose may not stand up and break.
"La Toya's nostrils are too narrowed, because of this, the face looks disproportionate. The result was a "clothespin" effect. The nose of the star seems to be constantly changing — it becomes smaller and smaller every year. I suspect that she had several rhinoplastic, "- the quote of the specialist.
One of the most noticeable changes in La Toya's appearance is a sharp chin and pronounced cheekbones — just like Michael, his sister did mentoplasty and inserted implants. This affected the shape of Jackson's sister's face, making it unnaturally wide.
Numerous facelifts, blepharoplasty, nose surgery – it is impossible to count the number of surgical interventions in her appearance. Long and lush false eyelashes attract even more attention to Jackson's wide-open eyes. After another lip augmentation, La Toya Jackson was compared to the Joker.
Nature did not reward Michael Jackson's sister with magnificent breasts, so La Toya decided to fix it in the plastic surgeon's office and did a boob job. It is worth noting that after breast augmentation, the new forms look very harmonious, even despite their active demonstration in revealing outfits.