Kylie Jenner is one of those girls whose activities can be talked about endlessly. She appears at star parties, actively leads Instagram, appears in TV shows and commercials, produces clothes and cosmetics under her own name, and travels a lot. She became the youngest billionaire according to Forbes. She has had a large number of plastic surgeries on her face and body. She enlarged lips, narrowed nose and changed the shape of her chin. The cheekbones were clearer, the teeth were even and white, and the eyebrows were arched expressively. Significantly increased the size of the chest and buttocks, and the waist became thin.
Biography
Glory came to the young Kylie after filming in the American reality show "The Kardashian Family", which started in 2007. Accustomed to the attention of the girl, it seems, could not without cameras and went into the modeling business.
She shot for many fashion brands and later launched her own brand of clothing and cosmetics. Kylie Cosmetics has become one of the most popular products in the US market in just 3 years thanks to advertising on Kylie's own Instagram, which has 152 million subscribers. According to analysts from Time, one advertising post on her page is worth $ 1 million. Thanks to such income, the brunette overtook her sister Kim Kardashian in earnings and graced the cover of Forbes.
In 2018, Kylie Jenner and rapper Travis Scott had a daughter, Stormy. Pregnancy celebrities tried not to advertise. However, the first picture of the baby, posted on Instagram, gained 14 million likes. However, the Union did not last long, and in the fall of 2019, the couple broke up.
Motherhood did not make Kylie less active, on the contrary, she signed new advertising contracts with Adidas and Calvin Klein. In addition, the young mother hosts her own reality show Life of Kylie on E!. It seems that Kylie is able to benefit from everything and in many ways thanks to her bright appearance.
Beauty transformation
Looking through her childhood photos, it's hard to recognize that cute little girl is the current Kylie. The young celebrity has always admitted that as a teenager, she was not happy with her own appearance. What she looked like before plastic surgery can be seen in pictures taken during her first public appearances. She was an inconspicuous teenage girl with a broad, freckled face, thin lips, and an expressionless waist.
She was compared to older sisters who constantly improved themselves with plastic surgery. No wonder Kylie wanted to follow their example even then. But at first, the changes were not so radical. The girl just experimented with hair and makeup, masking flaws and creating her own style. However, as soon as she turned 17, she decided to radically change her appearance.
Face
Using contouring, Kylie Jenner adjusted the shape of her face, increased her cheekbones with cheek fillers, and made her chin narrower. Botox injections helped to change the shape of the eyebrows and make them higher, as well as prevent the appearance of facial wrinkles. After freckle removal, the skin looks well-groomed and has a light tan.
The model explains this face transformation with sculptural makeup that darkens the areas between the cheekbones and chin, making the face visually narrower and the cheekbones more prominent.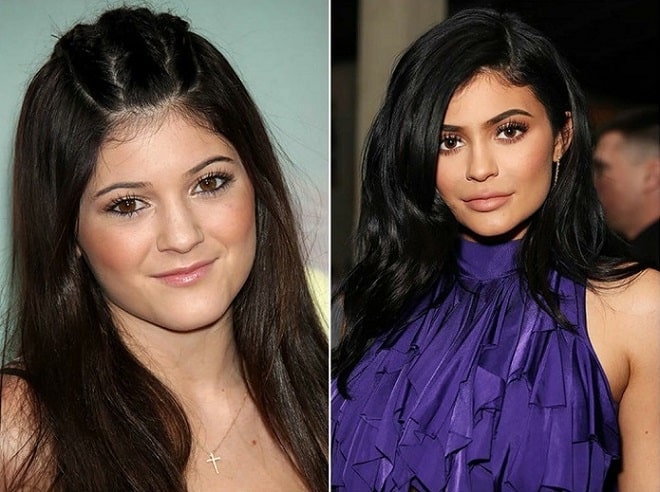 Lips
In 2014, Kylie Jenner made lip enhancements. After surgery, subscribers in the comments criticized this transformation and noted that Kylie looks like she was bitten by bees.
Later, the star said that she refused injections of lip fillers, explaining that she wants to promote more natural beauty.
Teeth
It's hard to say whether a girl wore braces or not. Now she has snow-white even teeth. After installing the veneers, Kylie Jenner's smile looks excellent.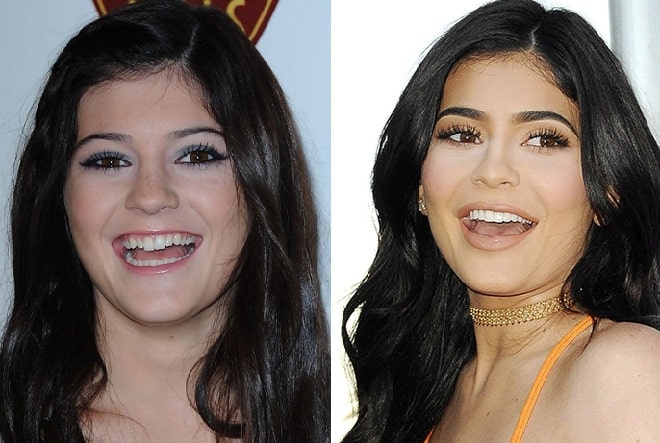 Nose
The photo before and after shows that Kylie Jenner got a nose job. Armenian roots were revealed and in the appearance of the youngest daughter of the star family. Like many of her relatives, she improved the shape of her nose with rhinoplasty.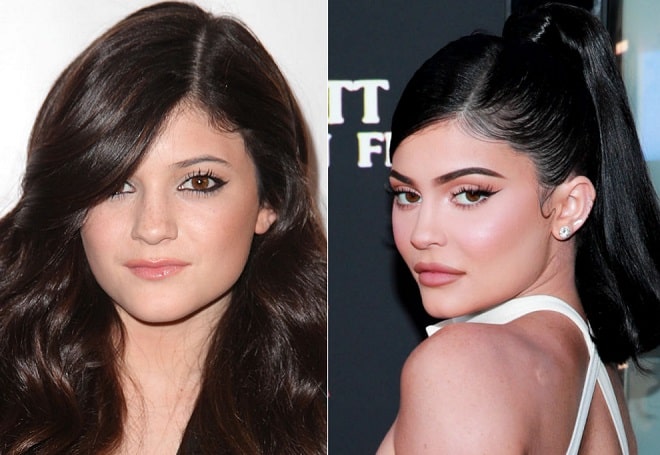 Eyes
The photos show that Kylie has changed the shape of her eyes. It is unlikely that this effect can be achieved only with the help of makeup and extended eyelashes. It was probably eye surgery. After eyelid lift, the gaze became more open and expressive.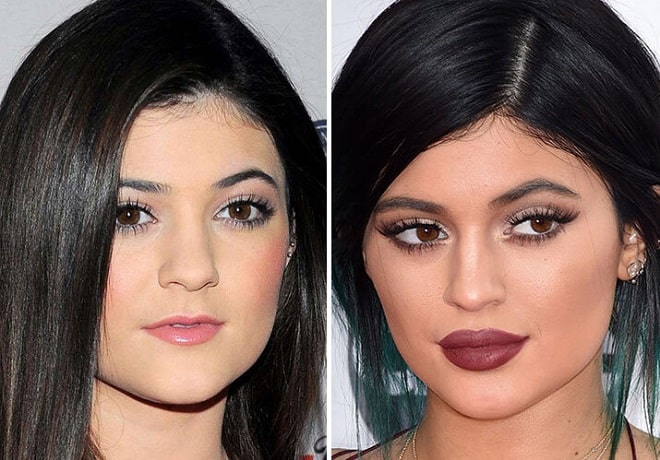 Body
Kylie Jenner's body Shape has a classic hourglass shape. Big bust, flat stomach, slim waist and voluminous buttocks. The star still claims that her body shape is natural. But this is not true! Her figure changed after breast augmentation and butt surgery. To achieve perfect body proportions, she removed fat from her waist and stomach using liposuction.
A beautiful figure can be associated with diet and sports. But, it is clear that the girl has butt implants.
Chest
Kylie Jenner regularly shows off her lush Breasts in almost all photo shoots. Tits in tight outfits with cleavage look amazing.
The shape of the boobs and its elasticity, which is not typical of a bust of this size, indicates the presence of breast implants.
But the star denies got a boob job and explains everything with weight gain, as well as the use of special underwear with a push-up effect.