Kelly Rowland was born on February 11, 1981 in the American city of Atlanta. She became famous in the late 1990s as a member of the Destiny's Child, one of the brightest female groups of that time. After the breakup of the trio, Kelly continued to pursue solo musical creativity. Let's see how she looked in her youth and how her appearance changed after.
Plastic surgery
The American singer and actress admits that she dreamed of breast augmentation from the age of 18, but rejected plastic surgery at the request of her mother. When she performed as part of Destiny's Child. Tina Knowles, Beyonce's mom, her colleagues in the musical trio, advised Kelly to think carefully about this decision.
"I wanted to insert breast implants when I was 18 years old, but my mom and Beyonce's mom advised me to think about everything carefully first," the former Destiny's Child lead singer said in an interview.
Kelly thought for a long time and often tried on special push-up bras to see how she would look with big tits. After 10 years of waiting and fitting push-up underwear, Kelly still went to the doctor and fulfilled a long-standing wish. At the age of 28, Rowland finally realized her dream and went under the knife of a plastic surgeon.
The fact that she had breast augmentation surgery, Kelly happily announced to the public almost immediately after the operation. "I've been going for this for a long ten years, this idea came to my mind at 18, but then my relatives managed to dissuade me. What do I want to say? If you want to change something in your appearance, listen only to yourself and be in harmony with your body," the singer admitted.
"My breasts have never been particularly beautiful and lush, so I wanted to have plastic surgery at the age of 18. But my mom and Beyonce's mother, Tina, advised me to take my time. I listened to them and waited 10 years. The operation has become a balanced decision, so I am calmly talking about it. I did it not for the sake of work, not for the sake of a man, but only for myself, and I am very pleased with the result. I like my new breasts!", – said Kelly.
The boobs of ex-Destiny's Child singer Kelly Rowland before the operation really wasn't the most outstanding. After plastic surgery, her breasts look quite natural. The long-awaited mammoplasty gave Kelly amazing breasts. She looks very seductive and sexy in a low-cut outfit.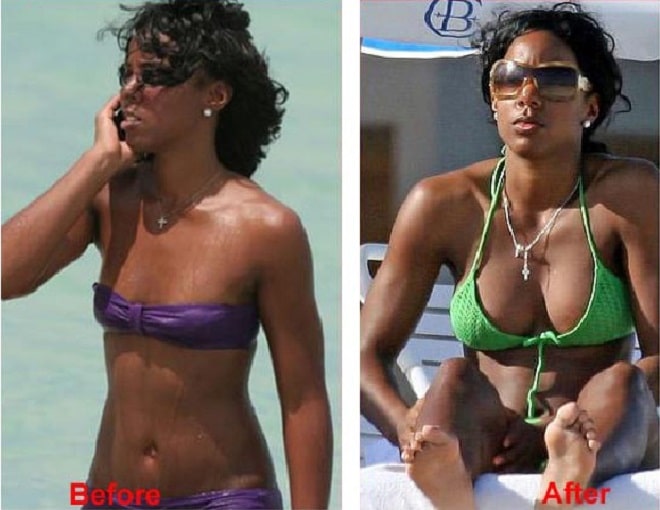 Many celebrities often say in interviews that they do not resort to the services of plastic surgeons. Their skin is naturally smooth, their nose is perfectly even, and their breasts and buttocks have been like this since their youth. Former Destiny's Child band member Kelly Rowland admitted that she initially did not want to talk openly about plastic surgery, but decided to be honest with her fans and admitted that she had undergone breast augmentation surgery.
"I decided to have a breast plastic surgery. I like it, and that's all that matters," Rowland said.