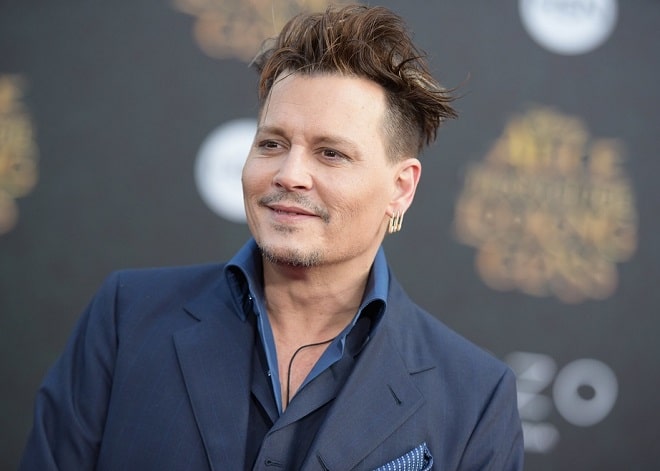 Johnny Depp is an actor, musician, director, producer, screenwriter. The real fame came to him after the release of the film "Pirates of the Caribbean".
Did Johnny Depp have plastic surgery? How did he look in his youth and how has his appearance changed now?
Childhood and youth
John Christopher Depp II was born on June 9, 1963, in Owensboro, Kentucky. His father worked as a civil engineer, his mother was Betty-Sue Wills Palmer, a simple waitress.
At the age of 16, Depp left his house, moved to Los Angeles, where he lived in his friend's car.
To somehow survive, the guy gets a job. He worked at a construction site, then worked as a courier and even started selling fountain pens. But he devoted all his free time to music. At the age of 20, Johnny had already managed to get married. His legal spouse was makeup artist Lori Ann Ellison, who was five years older than him. She really did not like the constant lack of money and turmoil, so two years later a divorce followed.
However, thanks to Lori, the biography of the young musician has changed dramatically. It was she who brought him together with actor Nicolas Cage, who saw in him an extraordinary talent. Nicholas introduced Depp to his agent, and soon the young man was already on the set.
Career
In 1983, Johnny made his film debut. He appeared in the TV series "Hotel", in the cameo role.
Then he has played roles in many films and received many prestigious awards. But the real deafening fame and the title of a Hollywood star of the first magnitude came in 2003, when the adventure film "Pirates of the Caribbean: The Curse of The Black Pearl" was released.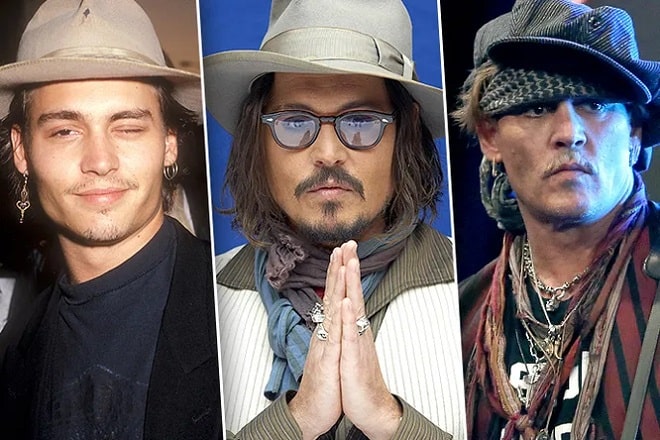 Now Johnny Depp has his own personal star on the Hollywood Walk of Fame.
Personal life
Johnny Depp has always had a millions of fans who follow his personal life with great interest. The actor divorced his first wife Lori Ann in 1985.
Then in his biography there was a numerous series of romantic relationships that never developed into marriage. Long-term relationships did not work out because of the complex nature of Depp, his irrepressible temperament and unwillingness to part with freedom. Over the years, his heart belonged to Kate Moss, Sherilyn Fenn, Winona Ryder.
Johnny Depp is a notable heartthrob with an impressive list of love relationships. Every woman left a mark on Johnny's soul, but Winona Ryder went further and left a memory on the actor's body.
Johnny, who fell in love with the fragile girl, at first sight, made a tattoo "Winona forever" and proudly flaunted her. Constancy turned out to be unusual for Depp, and Winona disappeared from his life, as did the tattoo, but alcohol remained and he asked the tattoo artist to change the inscription to "Wine forever".
In 1998, he still met a woman who aroused in him such a strong feeling that he went down the aisle with her. It was the model, singer and actress Vanessa Paradis. The newlyweds moved to France, the bride's homeland, and there they became parents of two children. In 1999, they had a daughter, Lily-Rose Melody, and in 2002, a son, John Christopher.
Family life was going on happily, it seemed that Johnny had finally calmed down and settled down. But in 2012, the couple announced to everyone that they were filing for divorce. The reason was Depp's affair with Amber Heard, which began in 2011.
In February 2015, their marriage took place, and in May 2016, the spouse began the divorce process. The couple finally divorced only in early 2017. The divorce was accompanied by a real scandal.
Plastic surgery
Eyebrow lifting, blepharoplasty, facelift and rhinoplasty … they say that the handsome Depp resorted to the services of plastic surgeons– but there are different points of view on this.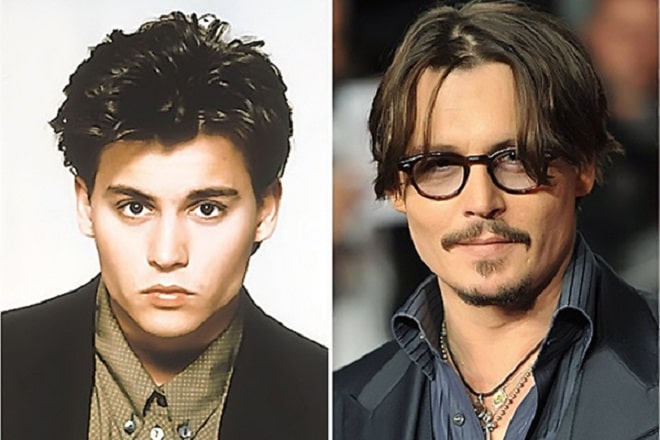 There are rumors that Johnny Depp had a nose job in his youth.
There are opinions of experts who claim that everything is Johnny's own, native, and he did not do any operations. Someone, on the contrary, is convinced that it is impossible to look so young and sexy at the age of far over 50 without the help of plastic surgeons!
Johnny Depp himself did not comment on the rumors about plastic surgery.
Did Johnny Depp do a hair transplant?
No, Johnny Depp did not do a hair transplant (at least, I could not find any information about it on the Internet). The actor clearly does not suffer from androgenic alopecia, but takes care of his hair, and although his lifestyle cannot be called healthy, he has not yet appeared bald.
Why? Who knows. There can be many reasons. Maybe he doesn't have a genetic predisposition. And, perhaps, the actor has a normal or even low testosterone level in the body (Depp does not suffer from increased body hairiness). Perhaps the lack of a genetic predisposition and normal or low testosterone together gave him such a gorgeous head of hair. We can only assume, but as a result, the answer is the same: Depp's hair is his own, real.
Johnny Depp's Beauty Evolution