Joan Rivers was born on June 8, 1933, in Brooklyn, USA. Joan is one of the most famous actresses and TV presenters in America. Joan Rivers decided to grow old alternatively, so she told reporters in detail and truthfully about each of her plastic surgeries and cosmetic procedures. In total, she underwent 739 appearance interventions by cosmetologists and plastic surgeons.
Plastic surgery
Joan Rivers said about her appearance: "I was not one of the pretty girls of the class. I was very ordinary. Sometimes, Mom keeps saying that you are the most attractive, the most beautiful, and you realize on the way to school that you are a pig."
The struggle with the inner complexes of the bright actress was long and fierce.
Eyelift
The first plastic surgery for the star was the procedure for removing bags under the eyes. Joan Rivers looked tired and sleepy before the operation. The blonde herself says that she has not yet met a single cute comic actress. After the plastic surgery, the eye area of the star person tightened, but the eyelids themselves noticeably narrowed.
Rhinoplasty
Joan Rivers decided in her youth that she would look the way she wanted. So she decided to have a nose job to fix her naturally wide nose. The plastic surgery was successful, but after a while, due to age-related changes, the woman repeatedly "altered her nose".
As a result, Joan Rivers looks unnatural after a nose job. The nose rose, thinned, and its tip lost all possible human outlines.
Facelift and chin surgery
The actress said: "I noticed what was happening to my skin and chin. I don't want to become a turkey that the president will generously pardon on Thanksgiving."
Joan Rivers, after a facelift and a neck lift, looked younger than her years, but due to aging, she had to systematically carry out repeated facelifts.
The TV presenter performed another operation on the air, demonstrating her frankness and real face without makeup.
Mammoplasty
Photos of Joan Rivers in her youth show her small breasts. Lady Rivers herself comments: "When I was young, I was so flat that I had to hang a sign on my chest saying "I am here" and wear angora things so that guys would want to pet her like a pet."
Joan Rivers's breast correction plastic surgeries are so numerous that it is not possible to count their exact number. The actress herself told about the reason as follows: "My breasts have sagged so much with age that I could have a mammogram and a pedicure at the same time."
Rivers has repeatedly accused Hollywood actresses of plastic, surgeries saying: "American mothers do not breastfeed children, because babies are allergic to implants."
Buttock plastic surgery
Numerous operations could not help her overcome her internal complexes. Speaking about her appearance, the star put her above everything.
She said: "Education? Hmm.. the main thing is appearance. I have not seen a single man who would climb under a woman's skirt in search of a reading ticket."
Therefore, surgeons have been working on the figure of the star for a long time. The flabby skin was tightened and removed. Joan Rivers said before the plastic surgery that she was going to spend every last cent of her money on herself.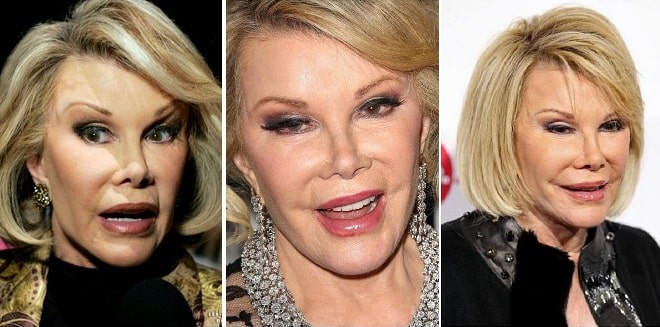 Botox and filler injections
For Joan, botox injections are something like a morning cup of coffee. Botox injections did not save the situation, but Rivers herself liked her appearance more after injections.
Joan Rivers gave good advice to American women all her life: "Take care of yourself, do not wash, do not cook. I haven't seen a single man who would want a woman because she rubbed the floor."
According to such principles, the comedian has spent her whole life-transforming her appearance and slowing down the aging process. "Look good at 50! Especially if you're 60" – that's the whole Joan Rivers. The bright person died on September 4, 2014, at the age of 82.