Actress Joan Collins has not left the image of a fatal beauty, stylish and well-groomed, and for some reason seems invulnerable – either thanks to the classic British upbringing and the ability to behave flawlessly in public, or because the actress used to identify with one of the heroines, Alexis Colby from "Dynasty", and there was little that could unsettle this lady.
Joan Collins in her youth and now
Joan Henrietta Collins – the actress lives under this name all her life, despite numerous marriages – was born on May 23, 1933 in London. Her mother, Elsa Bessant, taught dance art, and her father, Joseph William Collins, worked as a theatrical agent, or rather, a talent manager.
It was thanks to her father and his stories about the underside of cinema, theater and show business in general that Joan remembered what helped her build a career as an actress, not counting on fleeting success, but betting on skill and hard work. The glory and brilliance of youth are transient, and true professionalism is always appreciated, at any age, so Joan did not consider herself a star, preferring to be called an actress.
At the age of nine, she played her first role, performing on the theater stage in the play. After graduating from a private school for girls, Joan entered the Royal Academy of Dramatic Art in London, and at the age of seventeen she already received her first offers to shoot in films.
Of course, this was facilitated by the connections of her parents – first of all her father, but Joan's success was caused by her serious attitude to acting, and – not least of all – by her stunning appearance. Collins was deservedly considered the most beautiful girl in the UK at that time. Later, in an interview, the actress recalled that she owed her feminine and impeccably elegant style to her mother and her numerous sisters, who were brought up in the old traditions, sewed dresses from dressmakers, divided the wardrobe into day and evening clothes, and generally became a fashion reference point for Joan. For a while she even thought about a career as a designer.
At the age of twenty-two, Joan came to Hollywood. In the fifties and sixties, the actress' career was going uphill, it was the time of filming in English and American films, and besides – roles in the theater.
Of course, Joan Collins was not deprived of male attention. Already at nineteen, she got married for the first time – the Irish actor Maxwell Reed became the chosen one. Four years later, the couple broke up.
In 1963, Collins married for the second time, to Anthony Newley, an actor and singer. A son and a daughter were born in the marriage. After taking a time out in her career for a while to devote time to her family and children, Joan still continued filming in films. But by the age of forty, Collins' career seemed to be on the decline, in any case, there was no such resounding success in commercially successful films as in her youth. But in 1981, Joan was invited to a role in the TV series "Dynasty".
With her appearance on the screen, the ratings of the series crept up, and in 1985 it was already the leader among American soap operas. For her role in each episode, Collins received more than $ 120,000.
"Dynasty" was perhaps the most important event in Collins' career. But after the end of the project, the actress did not succumb to the temptation to lead an idle life of a TV star, but continued to do what she considered her profession. She focused on the theater for a while, performed in Broadway productions, and also – following her younger sister Jackie – turned to literary activity.
Joan Collins married five times, the last one in 2002, when Percy Gibson, younger than his wife by more than 20 years, became the chosen actress.
In 2015 Collins received the Order of the British Empire for services to charity.
The actress, as before, cannot be seen with a careless hairstyle, and constantly impeccable style and elegance have long been part of the image of Joan Collins.
Plastic surgery
Joan Collins claims she has never had plastic surgery. It is extremely difficult to believe in this, because the makeup that the actress loves so much does not save from the natural signs of aging.
Joan says: "Only a few people have seen me unpainted: my three children, five husbands and a gardener."
But not only makeup helps her maintain her beauty. The use of wigs is usually hidden– but not by Joan Collins.
"I love wigs. It's funny that many models and actresses wear hairpieces, and then speak negatively about them. I'm not one of those people. I openly declare that I adore wigs and will wear them for the rest of my life.
People think I wear wigs all the time. No. But I wear them when I go to events, because it takes 2.5 hours to style my own hair like that, and usually I don't have enough patience.
Wigs save time, not to mention they take care of my own hair. There is nothing worse than when the hair is exposed to hot air during drying. They get damaged. I have very thin hair, I let it dry naturally. Because I like lush hair and hairstyles, I wear hairpieces and wigs," says Joan.
Make-up and wigs – yes, plastic surgery – no. Joan says she's never had surgery, never, ever. And no injections.
"I did Botox once, but then I never repeated it. Firstly, it hurts, and secondly, I don't like injections. In addition, I have seen so many examples of catastrophically unsuccessful plastic surgery among my friends that it turned me away from the idea of visiting beauty clinics forever," says Joan.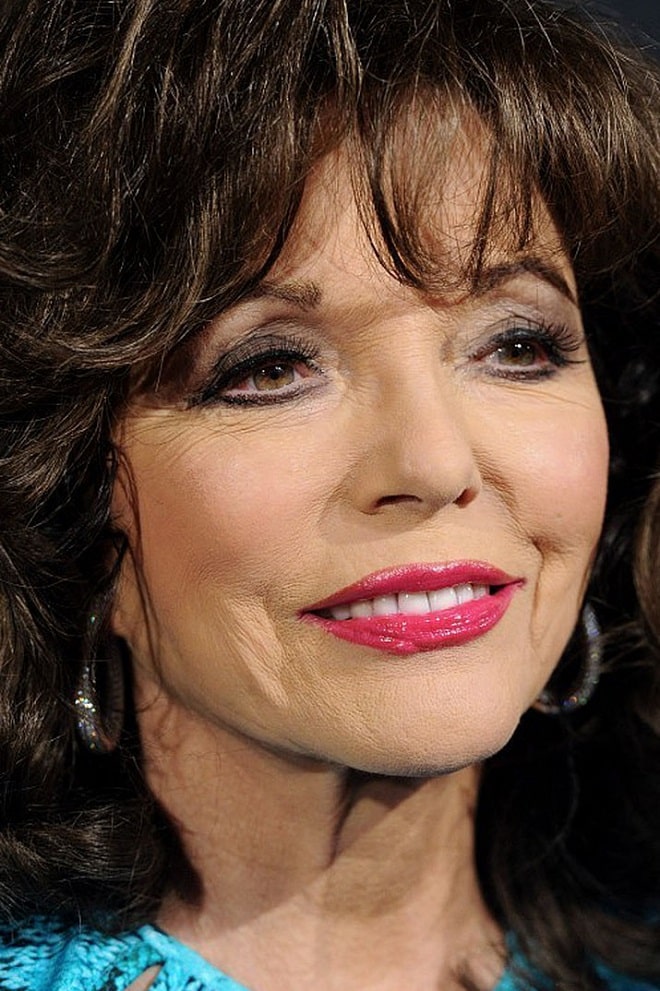 However, smooth cheeks and forehead, as well as the absence of skin folds on the upper eyelids and perfect lower eyelids in 80 years make one strongly doubt her words. For some, it just does not give rest. For example, Judy Parfitt. The British actress crossed paths with Joan more than once and claims that she undoubtedly did plastic surgery:
"There is one woman, Joan Collins, who has had surgery many times, but completely denies plastic surgery. It just looks silly. Absolutely idiotic. What really annoys me is her "never done anything" attitude."
But Joan stands her ground serenely. Did not do, was not, did not participate.
"The truth is that I've always taken very good care of my skin, and I always do makeup. I have been using sunscreen for the last 60 years and I don't let the rays of the sun get on my face. You should see me when I wake up in the morning: my face is white as paper."
"Do you know what they say about plastic surgery? That this is a revenge of ugly girls over nature. I'm not one of them. I have always taken care of myself very carefully, took care of my skin and did makeup! I wear false eyelashes, and I consider lipstick my best friend. Every woman should do makeup, it makes us younger."
"After a certain age, you get the face you deserve," Joan paraphrases Coco Chanel's words.
"A huge plus of the fact that I'm no longer acting – now I'm not on a diet. After all, your hips should always look leaner, and your face is thinner than it really is. When I was an actress, I was on diets continuously. Our Hollywood casting directors always told me that if I didn't lose weight, I wouldn't get any roles. I was sitting on tomatoes and cottage cheese, salads and cottage cheese, and then more on cottage cheese, and more on cottage cheese, and again on cottage cheese."
"I don't believe in dieting. I have written many times in my books that health depends on nutrition. I'm from a generation that didn't have a lot of food. There is not a lot of food — no problem."
"I'm not worried about my weight, but I can't afford to increase by two sizes with a relatively small height. Therefore, I do not lean on chocolate and do not finish all the portions to the last piece. I don't eat toast for breakfast and refuse puddings if my trousers get tight."
"The body is like a machine: the older you get, the more carefully you have to take care of it. I do stretching exercises, use free weights, do 100 twists and squats every day. If I'm in London or Los Angeles, I work out with a personal trainer 3 times a week," says Joan.