Hilary Duff is a famous Hollywood actress. Many people know Hilary as a pop singer, as well as a model, producer, writer, and TV presenter.
Childhood and youth
Hilary was born in Houston into a wealthy family. The mother of the future actress was a housewife and was engaged in raising children, later she became a producer and manager of her daughters.
Her father was in business. The eldest daughter Hayley was also growing up in the family and was interested in art from an early age. Unfortunately, in 2007 Hilary's parents broke up, because of which she was very worried.
"When it happened, I felt as if my forehead was slammed against a brick wall. After all, parents usually get divorced when the children are still young, but mine were together while I was growing up, so I could not imagine that this would ever happen. I was just shocked when I realized that I didn't have a perfect family and that another woman had destroyed it. I still don't talk to my father, I don't want to see him. To understand that I don't know him at all, it was just creepy …" the girl complained in an interview.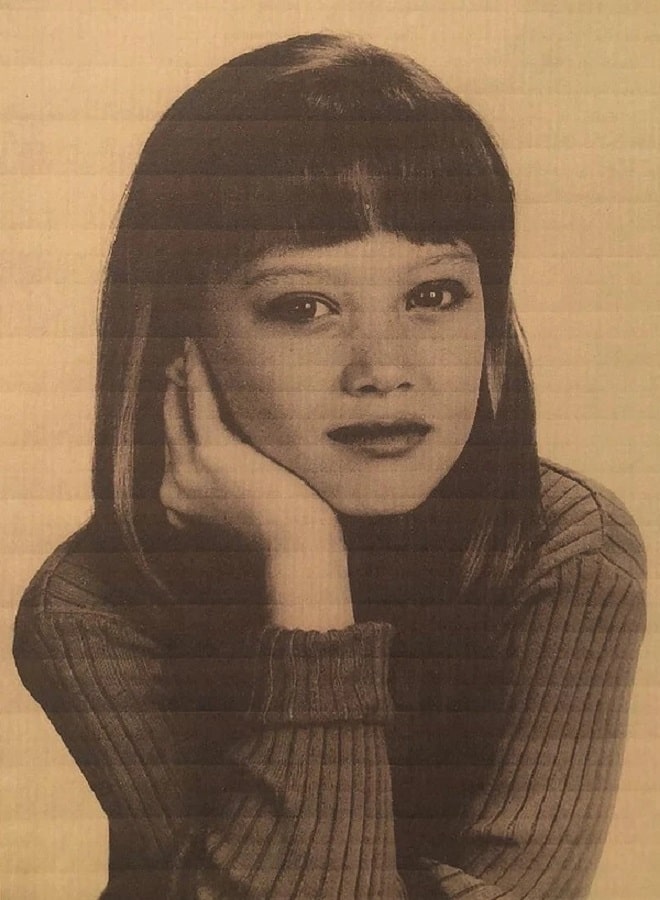 But Hilary was always close to her mother. It was she who insisted that the youngest daughter, like the eldest, was engaged in dancing and singing, and also attended acting courses. At the age of six, Duff first appeared on the theater stage, performing a role in the ballet "The Nutcracker".
The girls' mother understood that they would not reveal their talent in their hometown, so she decided to move to California. Here Hilary and Hayley went to auditions and various castings. The sisters made their debut in a television commercial.
By the way, due to frequent filming, Hilary had to leave school and transfer to homeschooling. Duff was not upset at all because of this, because soon she was invited to film shoots.
Career
Hilary's film debut took place in 1997 when she starred in an episode of the western "True Women". After participating in the film "The Soul Collector", where the girl got a minor role, everyone started talking about her, and even being awarded the "Young Actor" award.
After Duff was approved for the main role of the Disney Channel series "The Lizzie McGuire Movie". The premiere of the series took place in 2001. Hilary starred in the sitcom for three years.
At the same time, the girl became seriously interested in music. Duff recorded soundtracks for the series, performing cover versions of the songs. In 2002, the singer released a CD "Santa Claus Lane" with Christmas songs.
During her career, Hilary presented five records, and also starred in other popular films. Hilary is also the author of four books.
Personal life
A pretty girl has never been deprived of the attention of the opposite sex, but because of men, she had to worry more than once. In 2001, Hilary dated singer Aaron Carter, because of whom she even got into a fight with Lindsay Lohan.
"We quarreled when we were 13 years old. We dated the same guy, singer Aaron Carter. First I dated him, then Lindsay started dating him, but then we got back together, and, as it turned out, he was dating both of us at the same time. How was I supposed to know about this? But Lindsay got mad, she thought I stole her boyfriend. She was always talking about it in public, saying she would never forgive me for it. It's so stupid! Whenever we ran into her at a club or at a party, I diligently walked around her, and she did the same. Now everything is fine, we communicate, but our interests are different," Duff said.
However, the novel ended in 2003. The new love of the actress was singer Joel Madden, with whom she also dated for only two years. Duff was very worried about breaking up with him.
In 2007, she began dating hockey player Mike Comrie, whom she married three years later. A son, Luke, was born in this union, but in 2014 Duff filed for divorce. It turned out that her husband cheated on her, and at first she turned a blind eye to betrayal, wanting to save the family. The divorce process lasted two years.
Later, the actress began dating musician and producer Matthew Koma, from whom she gave birth to daughter Banks in 2018, and daughter May in the spring of 2021. In December 2019, Hilary and Matthew got married.
"He gave me a book and said that he had been working on it for a long time. It was the story of our love, our relationship, which we will then leave to our children and grandchildren. I started reading what he had written. When I reached the end, I saw a ring on the last page… It was so romantic!" – the actress said about how her lover proposed to her.
According to Hilary, Matthew became her great love and strong support. She feels really happy with him.
Plastic surgery
The star of youth comedies Hilary Duff proved that natural data is not a sentence. Until the age of 25, Hilary was a crumpet and received the appropriate roles. She played ordinary schoolgirls who were worried about being overweight.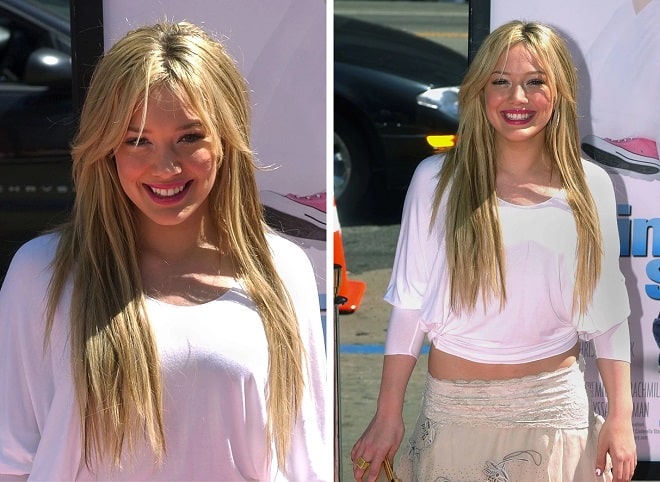 At the age of 25, Hilary goes on a strict diet, visits a gym and a plastic surgeon's office.
During the year, the actress lost weight, changed her hair color, and had a nose job. Plastic surgeons did a great job on Hilary's nose. After rhinoplasty, the shape changed and the size of the nose decreased.
By tradition, the actress denied the fact of plastic surgery. She claimed that she had not visited an aesthetic medicine clinic, and the changes in her appearance were the result of the efforts of a makeup artist.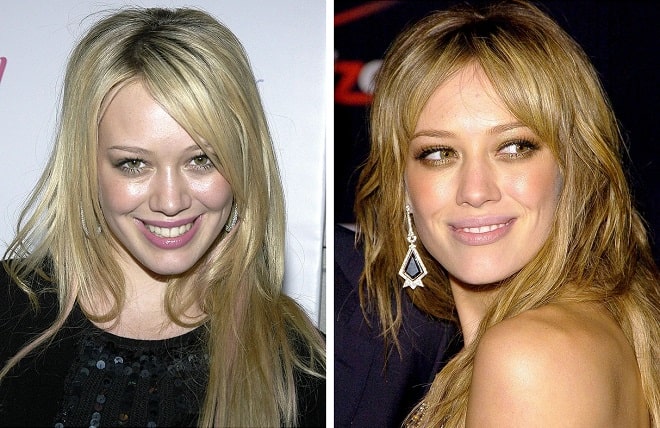 Later, journalists noticed that Hilary had made a lip augmentation. In particular, the upper lip has become a little fuller. But the actress said that the shape of her lips depends on their position and there is no question of any lip surgery.
The only operation that Hilary did not deny was breast augmentation. She decided on the procedure a boob job in 2008.
The operation did Hilary good. The breast, enlarged by two sizes, made the figure of the star more feminine and distracted attention from the main shortcomings of the body – an unexpressed waist and massive shoulders.
"With a new breast, I feel more attractive. I see that at last, my figure has acquired a smooth outline. I am happy with the result of the operation," the star admitted.
Hilary decided on a new operation after the wedding, in 2012. It was a forced measure. The actress planned to breastfeed the baby. She had breast implants removed.
After the birth of the baby – Luke – the actress gained weight again. Hilary made the decision to cope with the weight on her own. She attended a Pilates class, swam for 1.5 hours every day, and restricted her carbohydrate intake.
The star got rid of excess weight in 1,5 years. "After giving birth, I completely accepted my body. Now I understand that with the help of nutrition and physical activity, you can achieve excellent results," Duff said.
As for repeated breast augmentation, Hilary is categorically against this measure. "After giving birth, my breasts increased by a size. I'm happy. I am not planning an operation to correct the shape and size of the breast," the star shared with fans.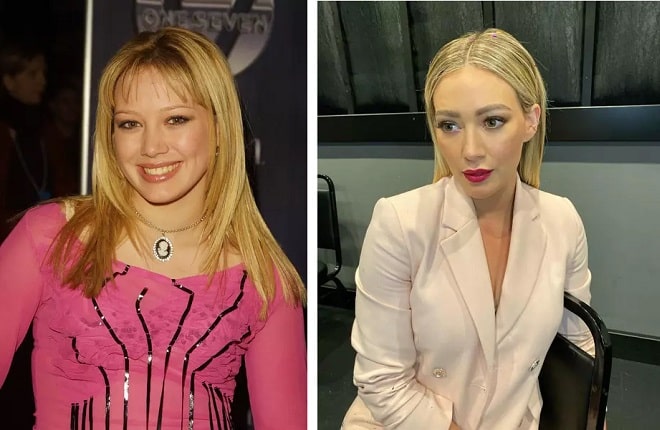 The image of an eternally young girl is firmly entrenched for Hillary. To maintain beauty and youth, the actress carefully takes care of her skin. Many are sure that she uses injections of fillers and botox.
Hollywood Smile
It was impossible not to notice a transformation in her smile.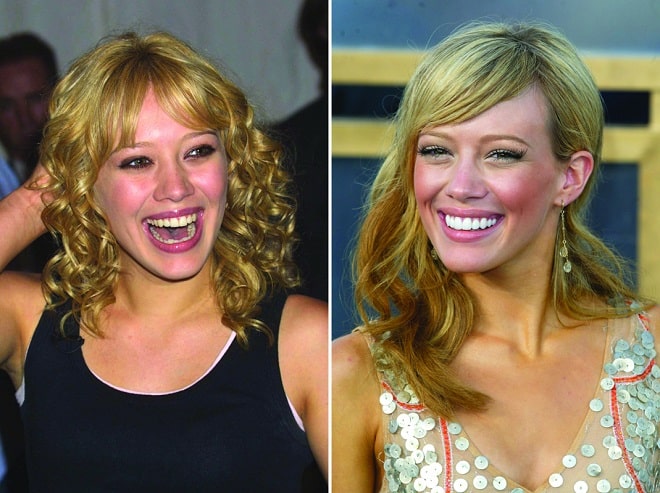 In 2003, Hilary Duff obviously needed the services of a dentist. At the same time, the crowding of her lower teeth and the yellowness of her smile did not prevent her from smiling all over her mouth, recording successful albums, and acting for movies.
But the general zeal of Hollywood stars in correcting aesthetic defects of teeth did not leave Hilary indifferent. Ceramic veneers have done their job – a snow-white charming smile has become a feature of the actress.
However, Hilary Duff's decision to fix her smile did not have the best effect on her career. When she first inserted veneers that were lighter than her natural teeth, the press took it negatively and called the new acquisition of the actress "horse teeth". Duff later fixed her teeth to an acceptable size, but she never managed to regain her former career success.