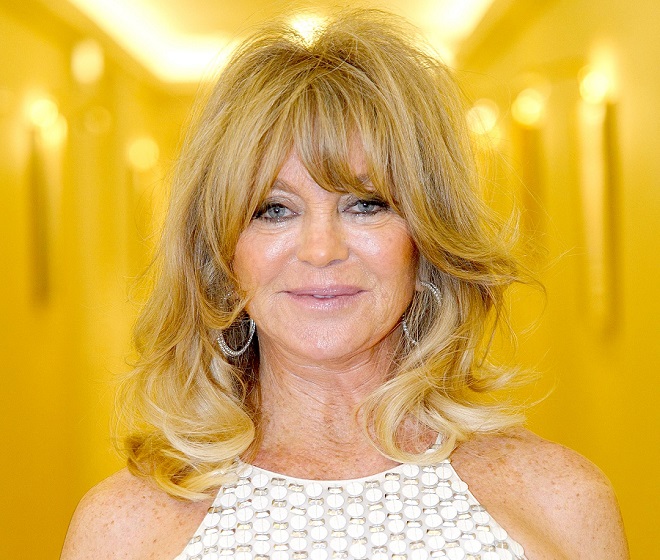 Goldie Hawn is a famous American actress, producer, singer, and director, whose biography is very rich and filled with very interesting twists of fate. A good mother, a faithful wife, a beauty, and an amazing artist are the epithets that underlie the description of this woman who devoted her whole life to her beloved profession. The path to a successful career was quite thorny, thanks to her undeniable talent and strength of spirit, Goldie, along with her loved ones, went through many obstacles.
Goldie Hawn in her youth
Goldie Hawn was born on November 21, 1945, in a talented creative family. Her father was a capable musician, and her mother worked as a professional dancer and was a co-founder of a jewelry boutique. The parents decided to name their daughter after their mom's aunt Laura. She was of Jewish nationality, whose ancestors emigrated from Hungary because of difficult times.
The famous actress also had a sister, Patti, who has engaged in journalism all her life and published her works in publications dedicated to the fields of entertainment. Before Goldie was born, her parents lost a young son named Edward Jr.
Goldie Hawn herself grew up in a loving and caring family that supported the young lady in all her creative endeavors. The girl was engaged in dancing from early childhood and even performed on stage at the age of five, the girl charmed the audience with her ballet skills and charm.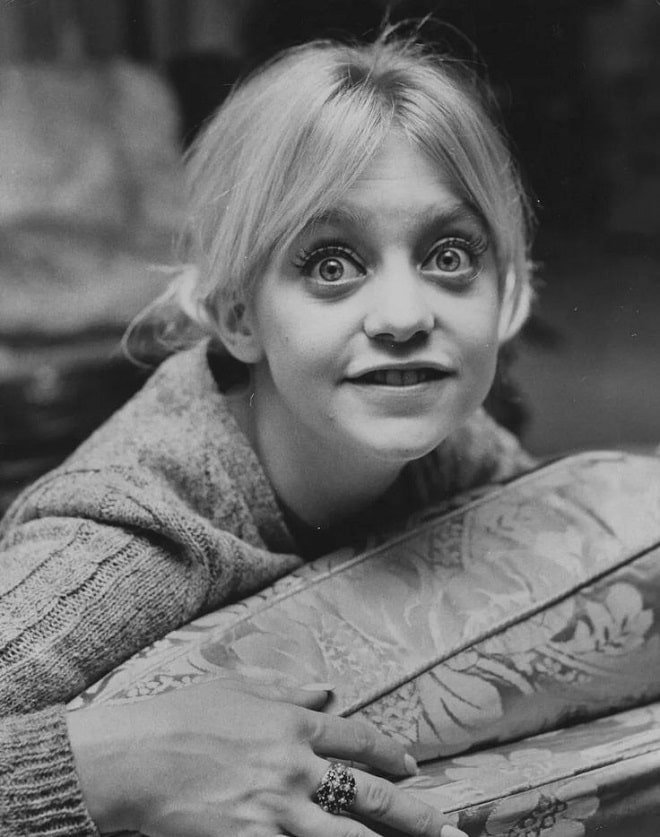 A few years later, the young girl actively participated in various theatrical and dance productions. But the most striking thing is that already in 1961 she demonstrated her acting talent on stage in the play "Romeo and Juliet".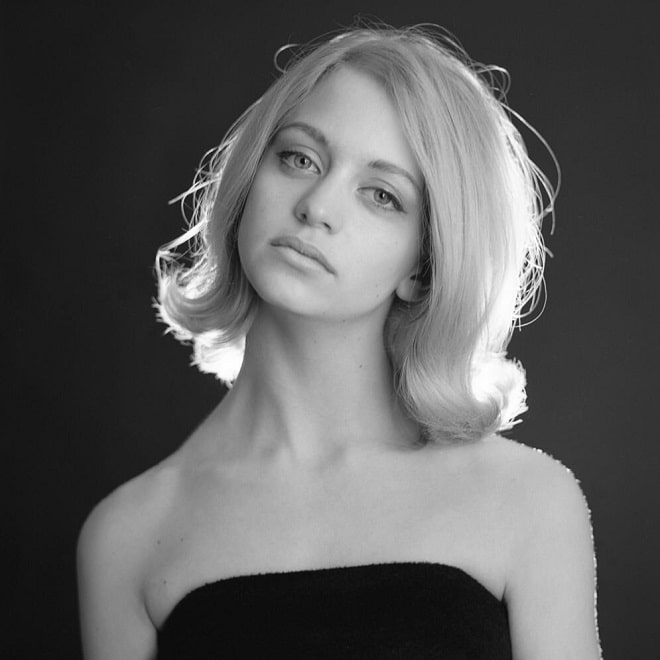 Goldie Hawn at the age of 16 was able to enroll in a local university at the faculty of acting and drama. However, constant absenteeism due to conducting their own lessons in a dance club led to expulsion from the university. But the girl did not give up and directed all her efforts to creative activity.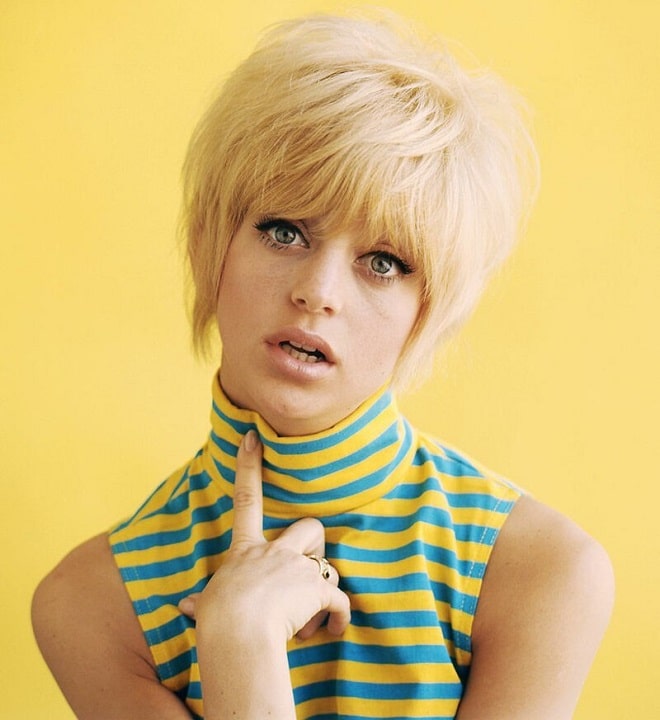 The girl has always maintained family relations with her parents and sister. So, in the early nineties, Goldie had to take a four-year break and devote time to her sister, who was suffering from severe oncology.
Film career
Goldie became a great actress by chance. At one of her dance performances, she was noticed by a well-known agent who discovered acting talent in her, after which he invited her to the cinema, and since then she has started a new interesting and bright acting life.
Her exquisite appearance charmed many viewers, no one doubted her success and talent. Thus, the television series "Good Morning, World" and the musical "The One and Only, Genuine, Original Family Band" enjoyed great success among the public and were highly appreciated by respected film critics. Goldie herself did not notice how she was becoming more and more popular and popular.
However, the peak of her stellar career came at the time of the release of the masterpiece film "Cactus Flower". After filming in this movie, she was lucky enough to receive such prestigious film awards as the Academy Awards and the Golden Globe. Until now, the woman is proud of her work in this amazing project.
After the actress appeared in such films as "Private Benjamin", "Butterflies Are Free" and "Foul Play". Then she continued to conquer the audience in American comedies. So, in the adventure film "Bird on a Wire", her partner was the famous Mel Gibson. And in the fantastic comedy "Death Becomes Her", Hawn got into the acting ensemble along with Meryl Streep and Bruce Willis. The film was duly noted by American film critics: its directors received Academy Awards for visual effects.
After many successful films, she was invited more and more often, but Goldie always put her family first, she dreamed of becoming a happy mom than a Hollywood star.
But the famous Hollywood actress continued to appear on the big screen. Hawn can afford to choose those cinematic works in which she is really interested in acting. In 2017, a non-trivial film "Snatched" was released, in which Amy Schumer played along with Goldie.
In 2020, the actress participated in the filming of the second film "The Christmas Chronicles 2", in which, as in 2018, she performed one of the title roles – Mrs. Claus.
Goldie leads an active life on social networks. So, she often dedicates publications on her Instagram to her family. Photos of her children and numerous grandchildren are posted here.
Personal life
According to the actress herself, the turning point in her life was a fateful acquaintance with the talented actor Kurt Russell. For many years now, they have been living a happy family life without formalizing the union. This is based on many life situations that have affected the mental state of the actress.
In her younger years, the girl had a chance to meet with Mark Goddard and Kruger Spiro Vendors.
First marriage
In 1975, at the peak of her creative career, the famous actress met her future first husband Gus Trikonis.
He was the first who disappointed the girl and broke her heart to pieces and in the divorce process sued her for a tidy sum of money – over 75 thousand dollars, which at that time was a huge amount of money.
Second marriage
Moving away from the horrors of her first marriage, the actress meets her second betrothed Bill Hudson, who was also a popular actor and an unfaithful husband. Bill and Goldie had two children in their marriage: eldest son Oliver Hudson and daughter Kate Hudson. The children followed in the footsteps of their parents and became quite famous actors. The second spouse, after four years of marriage, filed for divorce, again sued Gold for a considerable sum of money and a mansion in Malibu.
After the divorce, the woman was practically left with nothing with two small children. She tried to start a romantic relationship with the French actor Yves Rainier, the star of the TV series Tom Selleck and even with the Moroccan entrepreneur Kiktor Drey. However, all these relationships did not work out well and brought only disappointment.
Goldie Hawn and Kurt Russell
It is noteworthy that romantic relationships began to emerge back in 1968 on the set of the American concert film "The One and Only, Genuine, Original Family Band". At that time, young people still had no idea what passions would flare-up in their hearts.
The actors were connected exclusively by working relationships, and their communication was limited only to greeting phrases and clarifying working nuances. Most likely, they were destined to get burned with other people in order to see each other as true lovers.
Several times journalists tried to write about their upcoming engagement and wedding, but the couple did not dare to take such a serious step and legitimize their relationship.
By the way, the couple also has a son together, Wyatt Hawn Russell, who also became an actor.
Even the decision to live together was given to Goldie and Kurt quite difficult. In many interviews, they admitted that not in all cases love should lead to the conclusion of an official union.
Goldie often drew a parallel and compared marriage with a prison cell, and she calls only romantic ties with Kurt "a cage with an open door." As the Hollywood star notes, an official marriage is not a guarantee of a wonderful relationship, and the absence of a stamp in the passport only strengthens love and confidence in her lover.
Despite the fact that the talented actress is no longer engaged in an acting career, she can constantly be seen on the covers of the top glossy magazines, where her busy personal life is actively discussed. During the time spent with actor Kurt Russell, the woman has healed her mental wounds and is enjoying life with her lover.
Did Goldie Hawn have plastic surgery?
With the help of her exquisite appearance, Goldie always looked younger than her years, and the original haircut with elongated bangs made Hawn an icon of the style of the 90s.
She is naturally blonde, but only changed color a couple of times in her life – once she dyed it red for a bet with her friends.
Hawn has always paid a lot of attention to her appearance. She goes to a manicure master, visits a cosmetologist and a masseur.
As before, she constantly defiles in front of the paparazzi in a swimsuit, showing off her perfect figure. Her beach photos periodically become public.
Goldie has done plastic surgery more than once and does not hide it.
"My soul is always young, and you have to fight for the beauty of the body," Goldie said more than once. "I'm not afraid to go under the knife. I trust only proven plastic surgeons. And I know that the result will be what I need!"
After the second birth, the star decided on liposuction and a boob job. Bill Hudson did not approve of plastic surgeries, which his wife did about once a year. He believed that age-related changes were natural. Goldie didn't even want to listen to her husband. And the irritated Bill at every opportunity pointed out the poor-quality work of plastic surgeons, bringing his wife to hysterics. The only one who approved of everything Goldie does is Kurt Russell.
Goldie Hawn plans to write an autobiographical book, where she will openly talk about her life. A special place will be given to how to remain attractive even at an elderly age.
"I want to share my little secrets with women and tell them how to stay desirable for a man I've loved for several decades," — Hawn shared.
"Yes, I inject Botox once every three months and did injections filler into the lips. Yes, I do a facelift periodically. Yes, I have done breast plastic surgery more than once. Yes, I'm on a strict diet and eat spinach alone, washed down with cucumber juice. But that's not my main secret! The most valuable thing is that I love and am loved. We have sex once a day, and it gives me strength and energizes me. I feel like a girl, and no plastic surgery will give me this feeling. Believe in my tremendous experience!" — Hawn said.
Smile
Goldie Hawn rightfully has the status of one of the most smiling actresses in Hollywood.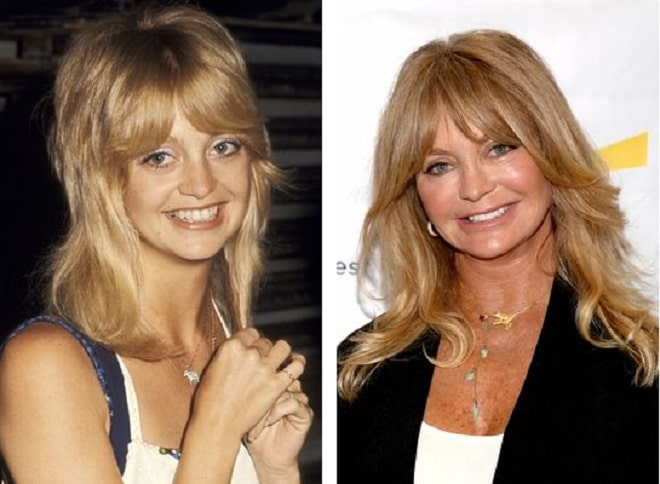 Before:
What does it take to become a popular comedic actress? Talent, charisma and, of course, an attractive smile. Goldie had all these qualities, so she became a cult actress for the generation of the 80s and 90s.
After:
Hawn has always been one of the brightest stars in Hollywood, even though she has rarely starred in films since the early 2000s. Colleagues and viewers appreciate Hawn not only for her talent, but also for her kindness and positive attitude. At almost every event at which Goldie appears, she manages to give photographers and all the guests present her magnificent smile. Of course, a lot of dentists worked on the teeth of the star, but this only helped her maintain the status of one of the most smiling movie stars.