The rise of Emma Stone's career began back in 2008. Today she is a successful, highly paid actress who has conquered Hollywood. How did Emma Stone's appearance change on the way to success? Did the beauty's fees affect her appearance? Let's take a look!
Childhood and youth
The actress Emma Stone is actually called Emily Jean, but since she never used her middle name, and there is already Emily Stone in Hollywood, the girl had to become Emma. By the way, the surname Stone was coined by her great-grandfather, who emigrated to the United States from Sweden: they were known there as Stan.
In her childhood, which was spent in the town of Scottsdale in Arizona, Emma became interested in theater art. During her school years, she often performed on stage and dreamed of becoming an actress. For this, her mother agreed to move to Los Angeles (this happened in 2003 when Emma was 14 years old) and take her daughter to homeschool.
Career
Thanks to her Swedish roots, Emma Stone is a natural blonde. However, almost no one remembers about it: she dyes her hair red!
"When I arrived in Los Angeles, the agent said that blondes only play cheerleaders… So it was: I wasn't given any decent roles. I'm sure it was an agent's problem, but one day I painted myself a brunette, and a week later I got a good role! I came to the audition for the movie "Superbad" as a brunette, but I was offered to repaint myself in red – since then I have been going like this."
Emma's career took off after the release of the film "Easy A" (2010). The actress was noticed and began to be invited to more and more box-office films.
After the release of "Easy A" and especially "The Amazing Spider-Man" (2012), Emma Stone became a very popular actress. She was invited to various film projects, and she could choose the most interesting ones. I must say, she has a great flair!
Sam's role in Alejandro Inarritu's "Birdman or (The Unexpected Virtue of Ignorance)" (2014) earned her nominations for all major awards and several smaller statuettes. Shooting this black comedy was a big adventure, but the film thundered around the world and has a high audience rating.
Emma Stone's acting and singing talents were fully revealed in the film "La La Land" (2016), for the main role in which she collected a whole crop of statuettes, including an Oscar and a Golden Globe.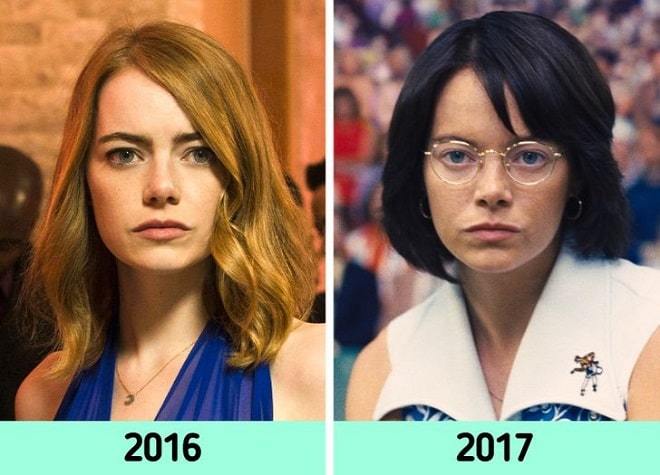 In 2017, Emma was recognized as the highest-paid actress in Hollywood.
By the way, her husky voice is a consequence of nodules on the vocal cords. It is believed that they formed in the first six months of her life when Emma had colic and she screamed around the clock. The actress' mother still remembers that period with a shudder!
In the movie, "Cruella" (2021) Emma Stone also not only plays the main role but also sings.
Stone has repeatedly occupied the top ranks of the ratings of the most desirable and sexy women on the planet.
Emma has an unusual appearance and great popularity, which could not be overlooked by such global cosmetic giants as Revlon. The actress became the face of the company together with Halle Berry and Olivia Wilde.
Today, the actress is the face of Louis Vuitton, so she can often be seen in the outfits of this fashion house.
Personal life
In 2020, Emma married television director Dave McQueary, and on March 31, 2021, they became the parents of a girl named Louise Jean.
Plastic surgery
Emma didn't always have a charming Hollywood smile. As a child, she had her teeth fixed with braces.
Emma Stone's lips have a normal volume, but in some photos, the upper lip looks bulkier. Emma probably experimented with injections of fillers.
It's hard to believe, but the red-haired Stone is actually a natural blonde by nature. At the beginning of acting, natural hair color did not play in favor of a career.
Emma Stone has naturally small breasts and is proud of the parameters of the figure. She dispels the myth that only girls with big tits can wear open dresses, and with enviable regularity appears in dresses with a neckline.
Small boob did not prevent Stone from succeeding, so she thinks about the figure last of all. Emma declares that she is not tempted by model standards, but – natural beauty. But who knows, maybe the actress will follow the example of Kate Hudson and still make a breast augmentation?
There are rumors that Emma Stone had a nose job. The actress decided to undergo rhinoplasty, which allowed her to narrow and correct her slightly snub nose a little.
For a long time, the already popular actress, who has been refusing further changes in appearance, admitted on the threshold of her thirtieth birthday that she was simply horrified by how she launched herself. Emma told reporters that as a child she was often teased by a frog because of her big eyes, but she did not attach any importance to this, and now she believes that in vain.
In addition to the large eyes, the actress was very concerned about the bags under her eyes, which appeared due to an excess of adipose tissue placed in this area and giving her face, tired, and more adult appearance.
Having stopped ignoring plastic surgery, Emma did an eyelid lift. Blepharoplasty made it possible to remove excess skin near the eyes and adjust their size, and also gave the movie star a young, beautiful, and fresh look.
Stone remains a beauty, even when she runs out of the house in a hurry without makeup and cute freckles are visible on her face.