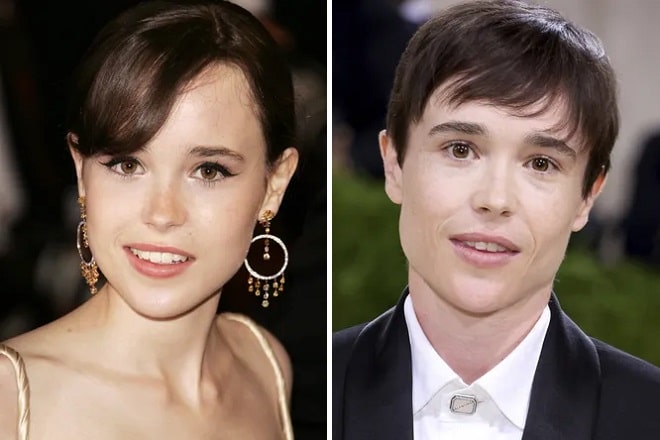 Actor Elliot Page, who used to be known as the star of the movie "Juno" Ellen Page, declared himself a transgender man. The actor also spoke about the discrimination that transgender people face on a daily basis and thanked everyone who supported him on the difficult path to gender reassignment.
The evolution of the beauty of transgender actor Elliot Page
Page became widely known in 2007, when a film with his participation called "Juno" was released.
In 2014, Ellen publicly spoke about her homosexuality, but until 2019 she continued to live in a female body. She appeared with makeup on red carpets and went in feminine dresses.
Let's see how transgender actor Elliot Page has changed. This is a truly unique and thorny path of transformation from a pretty girl into a real brutal man.
Ellen Page's film career began a few years before the release of the film "Juno", which made her a world star. Up to this point, the girl managed to appear in several films, including one of the parts of the film "X-Men: The Last Stand". At the premiere of this superhero movie in Cannes, Paige looked very gentle and feminine.
In 2007, Ellen Page decided on a bold experiment: she first appeared with a rather bright lipstick on her lips. With this makeup, she became a real fatal beauty!
In 2008, Ellen's makeup changed a little. She began to draw her eyes more boldly along the lower eyelid and use dark shadows. Paige chose to keep her lips a natural color.
In 2009, Ellen Page's makeup has not changed significantly: she still did the accent on her eyes, bringing them up with black eyeliner in the style of the teen idol of that time Avril Lavigne.
If earlier Ellen Page preferred to wear her hair loose, then in 2010 she began experimenting with high hairstyles. In makeup, the actress was quite conservative: the most natural lips and dark eyes.
In 2011, Ellen briefly left the dark color and began to emphasize brown eyes with light shimmering shadows. Paige's makeup was usually complemented by a translucent lip gloss. So Ellen looked very gentle and romantic.
In 2012, Ellen Page turned from a natural brown-haired woman into a brunette. The beauty transformation also required small changes in makeup. For example, the actress started applying peach blush on her cheekbones to give her face more freshness.
With dark hair, Ellen did not last very long and gradually began to return to the natural dark brown shade of her hair. Paige refused the eye-catching makeup. The actress painted the upper and lower rows of eyelashes well. The emphasis shifted to the lips. Ellen started experimenting with bright lipstick again.
Ellen used dark shadows and eyeliner again, and also returned her favorite peach-colored blush to her makeup bag.
In 2015, Ellen rarely went out in public with her hair down, preferring to collect it in a low ponytail. Makeup has also become as natural as possible: a little mascara and lip gloss of a natural shade.
2016 was marked by big changes in the appearance of the star. First she cut her long hair. And secondly, she completely abandoned decorative cosmetics.
In 2017, the actress is not yet ready to finally give up makeup. She continued to appear in public with makeup in natural shades. However, Ellen switched from feminine dresses to strict suits in a masculine style.
In 2018, Ellen still only slightly emphasizes the depth of her brown eyes with the help of shadows and mascara.
In 2019, Ellen Page was already barely recognized by devoted fans. The actress stopped wearing makeup and turning to stylists before going on the red carpet.
2020 was a turning point in the fate of Ellen Page. During the pandemic, the actress was left alone with her thoughts and realized that she needed a sex change for inner harmony.
At the end of 2020, the "Juno" star made a transgender transition and asked to call herself Elliot from that moment on. In his interviews later, Page admitted that from early childhood he felt uncomfortable in a woman's body.
"I never recognized myself. For a long time I couldn't even look at my photos," Elliot said about the absolute rejection of himself in a female image.
In the spring of 2021, Elliot Page admitted that he underwent surgery to remove breast tissue, which helped him look more masculine and radically changed his life. Elliot proudly posted photos of his naked torso on social networks.
In September 2022, the actor appeared on the red carpet for the first time after a sex change. Old photos of Elliot in feminine images have disappeared from social networks. He proudly began to emphasize his brutality by posting photos with elastic abs.