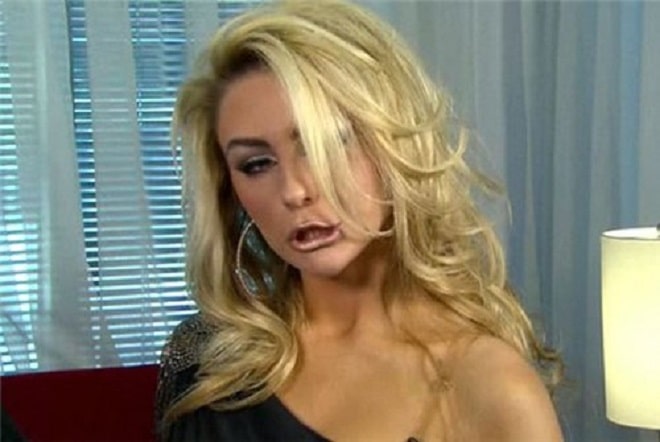 Courtney Stodden became one of the famous women who was a victim of plastic surgery. After marrying 51-year-old Doug Hutchinson (TV series actor) when she was just 16 years old, Courtney Stodden became a sensation.
Plastic surgery
To the delight of her over-aged spouse, Courtney Stodden went to a plastic surgeon for the first time at the age of 16. However, it was not limited to one visit.
After breast augmentation surgery, she decided to perfect the whole body. Three years later, Stodden turned from a nondescript blonde into a copy of Pamela Anderson.
Courtney Stodden got married at the age of 16 to actor Doug Hutchison, who, by the way, is three times older than the girl. To the delight of her beloved, the young beauty began to adjust her appearance to look more "adult".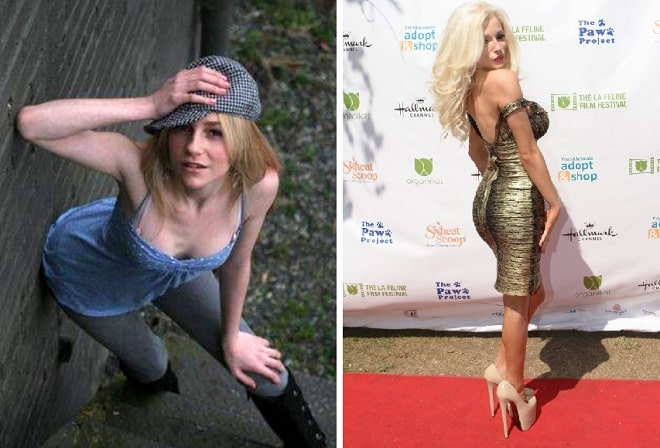 Courtney has already had a boob job several times, had a nose job, had lip augmentation, changed the shape of the chin, had liposuction in the hip area, had buttock augmentation, and increased her hair. In general, she has done about ten plastic surgeries and a number of cosmetic procedures.
After the husband spent generously on the transformation of appearance, Stodden decided that it was time for them to part. However, now she can easily earn money on her appearance because the girl has turned into a "Malibu Lifeguard", who cannot be distinguished from Pamela Anderson from afar.
In confirmation that the 20-year-old Stodden really looks like a famous actress, the girl starred in a photoshoot in Pamela's iconic red swimsuit.
The pictures show that the swimsuit is unable to hold Courtney's big tits. In the beach photoshoot, Stodden tried to demonstrate the result of many years of transformation in all its glory: posing, the girl bent to demonstrate incredible breasts and slender legs.
Do you think Courtney looks like Pamela?
But, unfortunately, plastic surgery and experiments with her own appearance made the once beautiful Courtney on the list of women with the ugliest and even scary breast implants. Her size D looks not like an attractive female breast, but like balls fixed in the chest area. During the celebrity's stay at parties, the purple shade of artificial breasts is often visible. This is explained by the fact that the size of the implants limits the normal functioning of the blood flow.