Cindy Crawford is one of the most famous supermodels in the world. She still continues to appear on the covers of glossy publications, time does not seem to have power over her.
Her family is also called an exception to the rule: despite constant rumors of divorce, she has been married to businessman Randy Gerber for more than 20 years. The model surprised journalists by talking about, what family grief made her go to success.
Cindy Crawford in her youth
John Crawford married 16-year-old Jennifer when he found out that she was pregnant. He dreamed of a son, but the couple had a daughter, who was named Chris. She was followed by two more daughters, Cynthia Ann (known in the future as Cindy) and Danielle. And when Jeffrey's son was finally born, there was no limit to his father's happiness.
But this happiness did not last very long: at the age of 2, the baby was diagnosed with leukemia. Cynthia was 8 years old at the time, she still did not understand what this word meant. They went to the hospital to see Jeff every day for a year, but, unfortunately, the efforts of the doctors were in vain. 4 years after the boy died, the father left the family.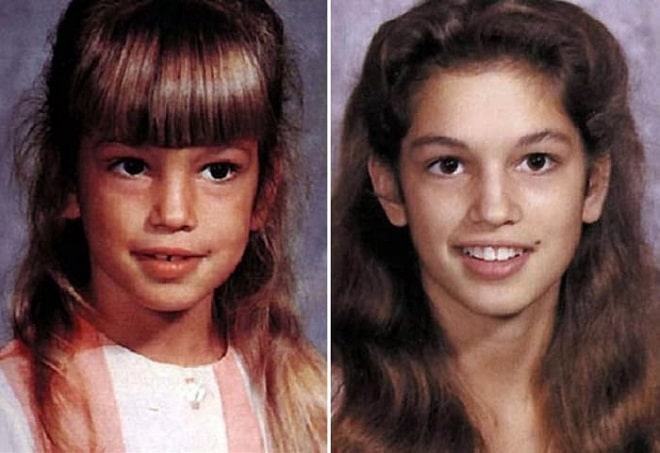 Cindy told about this family secret only a few years ago. It is for this reason that she did not change her last name either in her first marriage with the famous actor Richard Gere or in her second marriage with businessman Randy Gerber – Cindy made such a promise to her father.
"I replaced his son, whom he lost when my brother Jeff died. He loves me for being true to myself and for not changing my last surname."
In memory of her brother, the supermodel took up charity work and transferred a considerable part of her income to the fund for helping children with leukemia, as well as abandoned and needy children.
This grief destroyed their family, but united the sisters – they saw how their parents were going through, and tried to do everything possible so that they could be proud of them.
In the autobiographical book "To Live and Delight", which Cindy released, she said: "Mom never showed her pain, she continued to move forward all the time, helping my sisters and me to appreciate the joy of life. As a result, I came to the idea that Jeff's energy has become a kind of rocket booster for my life and success."
Modeling career
Their family has always lived very modestly – his father worked as a machinist, electrician, and glazier, his mother was a housewife, and after the divorce, she got a job in a hospital as a nurse. While still at school, Cindy helped her as much as she could: she cleaned her aunt's house, sat with the children, worked in a clothing store, after the 8th grade she worked in the field every summer, picking corn.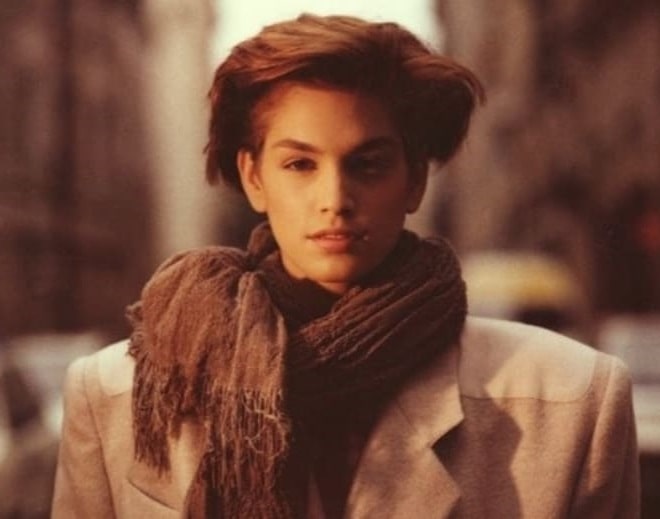 Later, one publication wrote that it was there that she was photographed by a journalist who was preparing a report on the harvest, and later the picture caught the eye of a famous photographer – and this began Crawford's modeling career. This legend was picked up by other media, but Cindy refuted it in her book.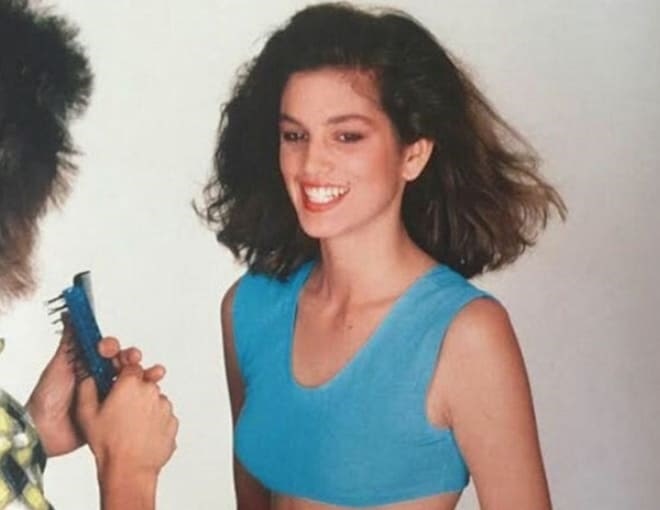 In her youth, Cindy did not even dream of a modeling career, but she came to her first casting because of an unsuccessful joke of her classmates. One day a stranger called her, posing as an employee of a boutique, and offered to star in an advertisement. When the girl came to this boutique, it turned out that no one was waiting for her there.
To the annoyance of the classmates, their prank turned out to be prophetic: a year later, Cindy received her first fee for an advertising photoshoot and a fashion show in a new clothing store. And at the age of 17, she won the "Look of the Year" contest and signed a contract with a modeling agency.
During the day she went to classes at the university, and in the evenings she worked as a model, but after the first semester, she realized that she did not have time to study and work at the same time, and decided to leave the university. This decision was very difficult for her because she put so much effort into getting there, but her modeling career was developing very successfully, and it was impossible to waste time.
Cindy moved to New York, and soon her photos graced the covers of all the most famous fashion publications, she became the face of a cosmetics brand and began participating in shows of world-famous designers.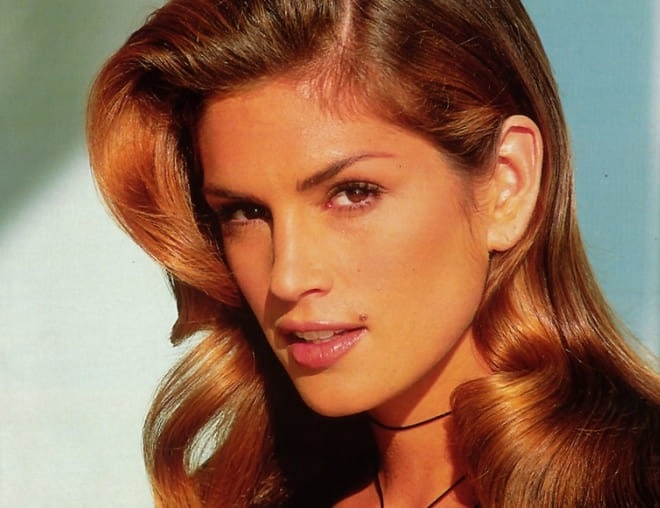 Everything was going very well, but there was one problem: Cindy had been worried since childhood about a mole above her lip, which she considered a serious flaw in her appearance, and these worries worsened when her agent suggested that she remove this mole. Cindy was ready to have surgery, but her mother dissuaded her from this step.
Later, the model was very grateful to her, because it was this feature that made her recognizable. At first, the mole was retouched in the photo, but soon everything changed. After her photo appeared on the cover of American Vogue, she never worried about it again.
"If she suits Vogue, then everyone else shouldn't care either. Isn't it ironic that my main feature was what I was worried about the most?", – said, Cindy.
She became one of the most successful and highly-paid supermodels of the 1990s, she was repeatedly included in the lists of the most beautiful women on the planet.
Personal life
Of course, Cindy Crawford has always had a lot of fans, but, unlike many of her colleagues, she did not rush into novels, did not hunt wealthy bachelors, and was not involved in scandals. There were 2 marriages in her life, and if the first of them, with the famous actor Richard Gere, did not stand the test of time and broke up due to the excessive employment of the spouses and the difference in their hobbies and worldviews, then the second marriage has lasted for more than 20 years.
The model met the restaurateur and entrepreneur Randy Gerber while still married to Richard Gere. Their relationship began with a friendship. In 1997 they got married and haven't been apart since. In this marriage, the model also did not change her last name, but their children Kaye and Presley took their father's last name.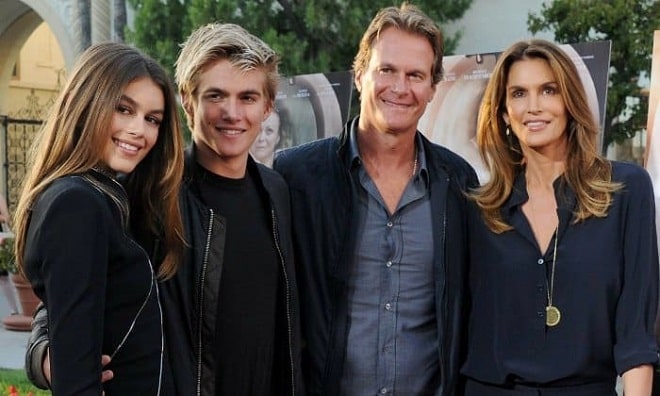 News about their divorce has appeared in the press more than once, but contrary to these rumors, the couple still appears together in public and does not hesitate to show tender feelings.
Did Cindy Crawford have plastic surgeries?
Now Cindy Crawford is still slim and attractive.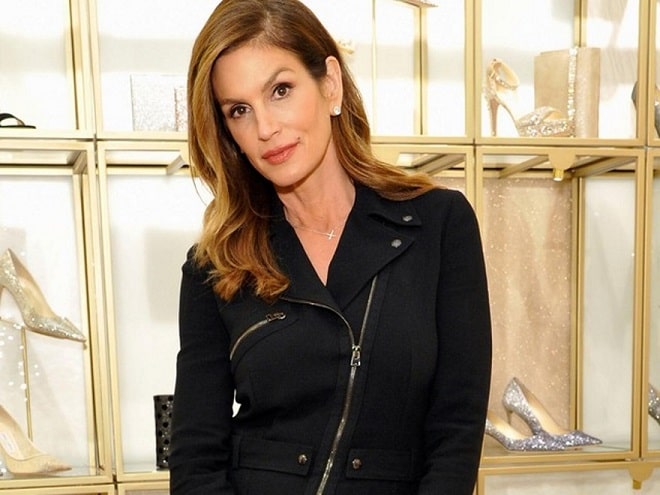 The secret to a supermodel's perfect body is proper nutrition and regular exercise.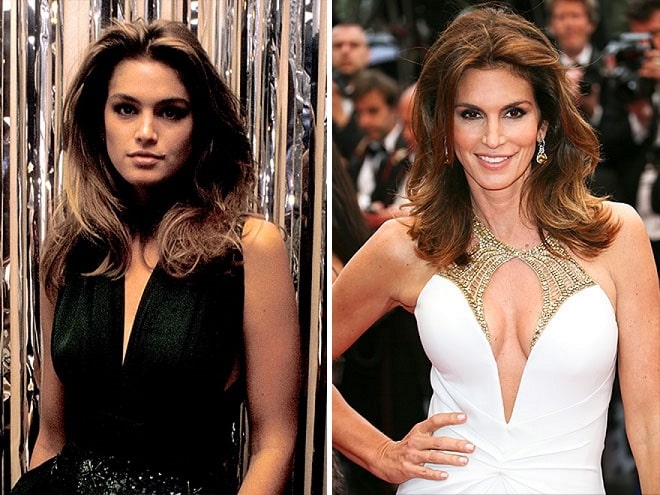 Cindy is sober about the inevitable aging process and calmly accepts new wrinkles. Crawford says she did not go to a plastic surgeon to preserve her youth. She is afraid of losing individual facial features due to plastic surgery.
But the model regularly visits aesthetic medicine professionals and openly talks about it.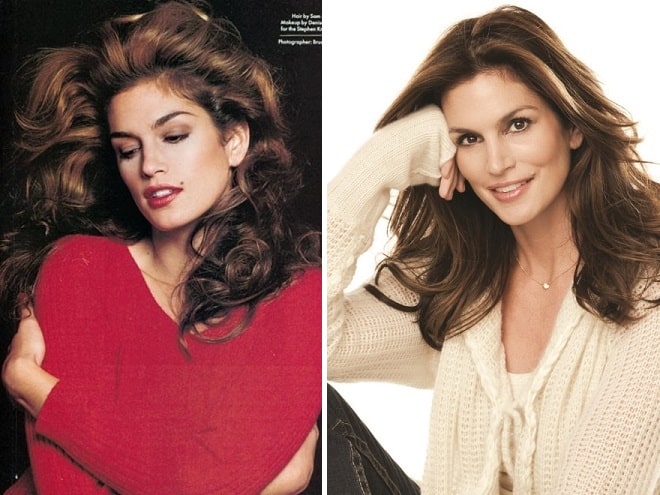 Cindy Crawford does not rely only on good genetics and has been taking care of her skin since her youth. She uses deep peels, a lymphatic drainage massage, and visits an infrared sauna.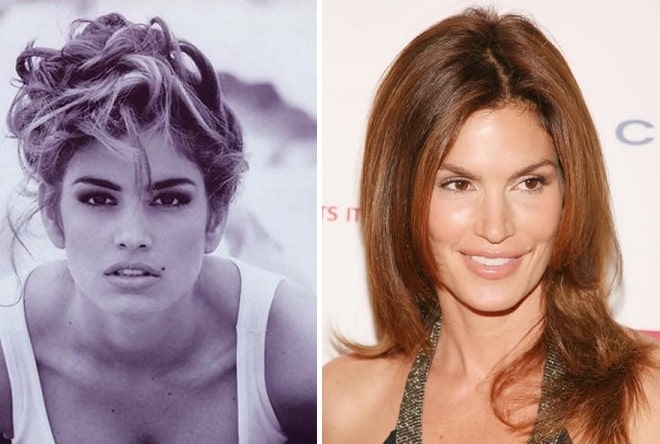 Cindy gives Botox injections, but carefully, so as to keep her facial expressions.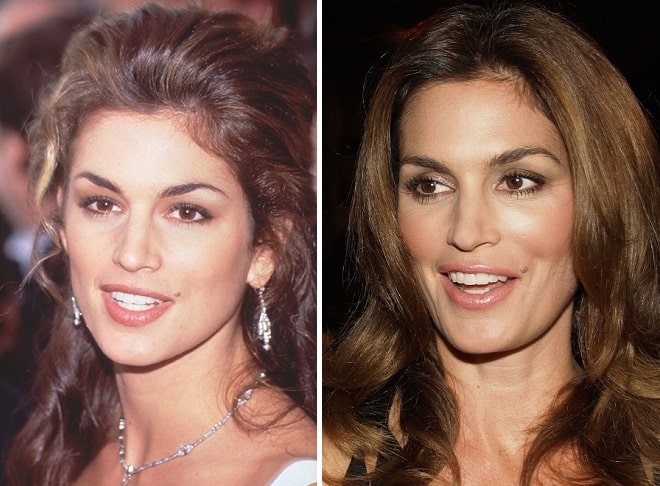 Crawford uses contouring with fillers. If we compare the photographs of the supermodel in her youth and now, it is clear that the cheekbone area looks more voluminous than in her youth, this indicates injections of fillers.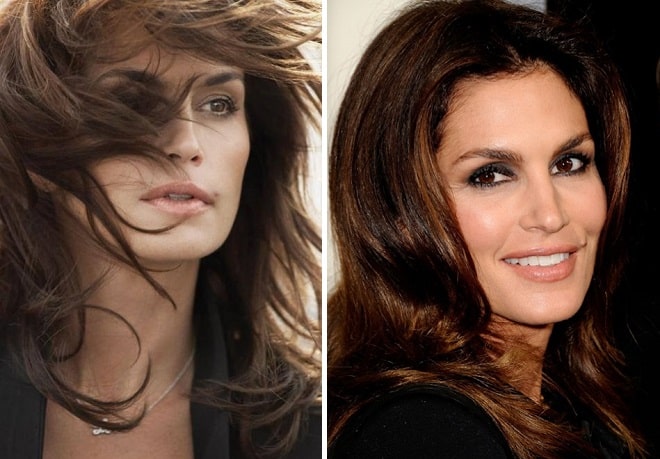 Fortunately, Cindy knows the measure and does not disfigure her face, like Carla Bruni.
Smile
Cindy Crawford wore braces on her teeth in her youth and thanks to them became a model with the most beautiful smile.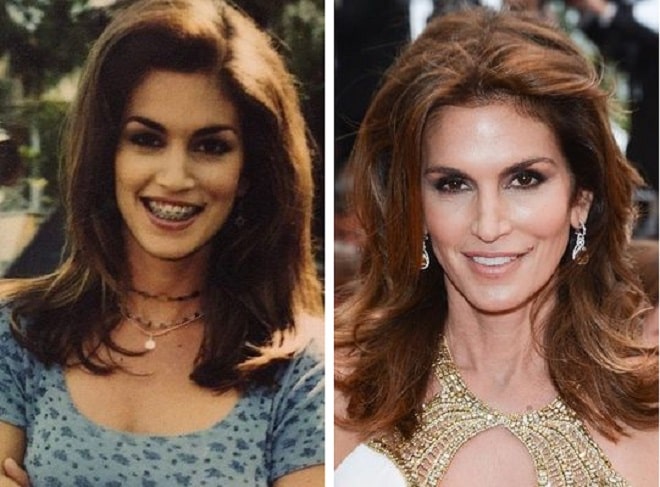 Before:
It cannot be said that Cindy Crawford had some serious dental problems in her youth, but the fashion world is inexorable: here you need to be not just attractive, but meet ideal standards. Some stylists and image makers did not like her mole next to her upper lip, someone tried to find figure flaws, and Crawford was also advised to consult an orthodontist. Cindy did not pay attention to the criticism, but she accepted the offer to wear braces and, as it turned out later, did not regret it.
After:
If someone thinks that braces on her teeth slowed down her career during that period, then they are mistaken. It was with them that she starred in the famous Pepsi advertising company, where special emphasis was placed on her smile in braces, and also with enviable regularity she appeared on the catwalk and social events. When Cindy finished orthodontic treatment and showed the world her teeth without braces, she instantly became one of the celebrities with the most beautiful smile. Looking at the famous model today, it becomes obvious that this status is still relevant.