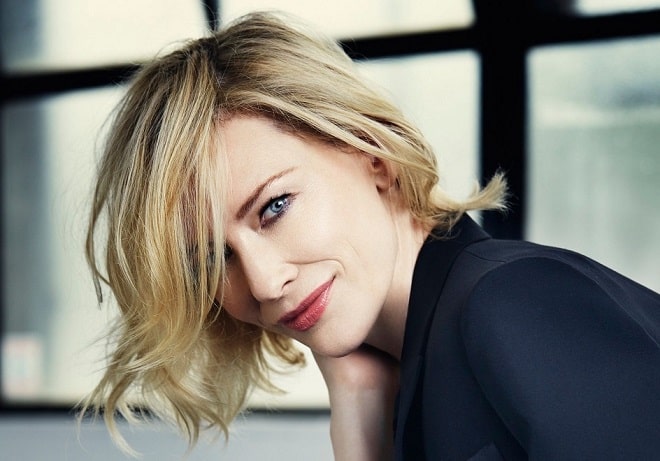 Twice winner of the "Oscar", one of the highest-paid and most beautiful actresses in the world strongly opposes plastic surgery and anti-aging injections, preferring to preserve beauty through proper nutrition, sports, and skincare. And she does it perfectly! Looking at the photos of Cate Blanchett in her youth, it is sometimes difficult to believe that they were taken many years ago.
Cate Blanchett in her youth
The actress owes her porcelain skin, blonde hair, and freckles to her Australian origin — she was born in a suburb of Melbourne in 1969 and lived in Australia for a long time, starting her acting career there.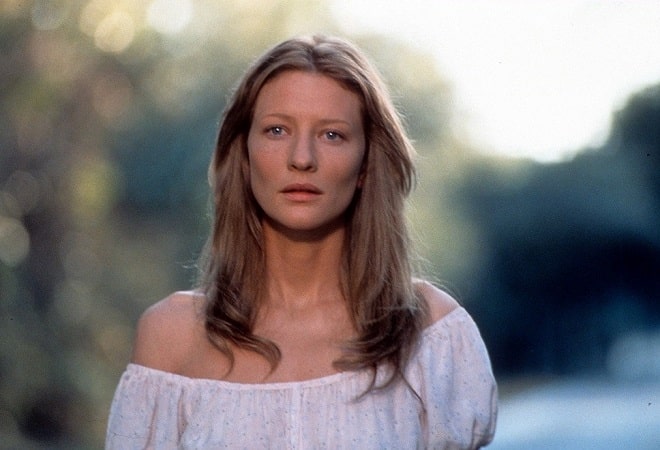 Since her youth, Cate has been careful with sunbathing, knowing that they do not affect the skin in the best way. According to the actress, the last time she sunbathed was at the age of 14.
Perhaps it was thanks to her aristocratic pallor that the little-known artist was invited to play the main role in the film "Elizabeth", which brought her worldwide fame in 1998.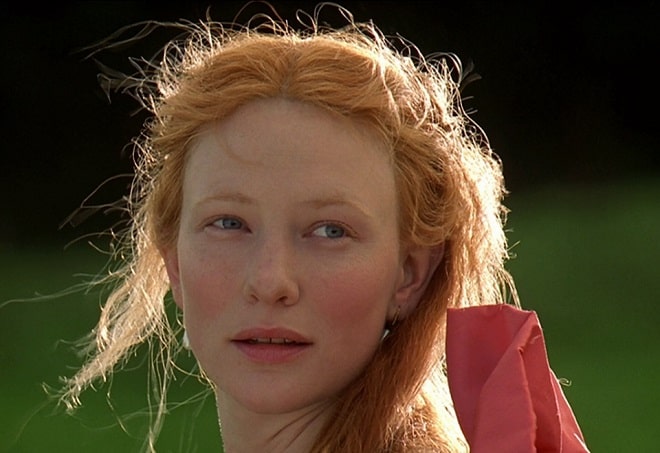 Like most girls in their youth, Cate Blanchett made mistakes in self-care. In an interview, the blonde said that the main beauty blunder of her youth was the discoloration of the hair on her hands with the help of hydrogen peroxide, which led to a terrible condition of the skin.
Now you can't tell from the exquisitely dressed Blanchett that as a student she preferred a bold punk style and men's clothing. The baggy cut and oversize further emphasized the refinement and fragile figure of the girl.
Transforming Cate Blanchett's appearance
Perhaps most of all, Blanchett experimented with hair. The actress always was blonde and dyed her hair brunette solely for the sake of roles, but she played with the length and shape of haircuts. Cate appeared at social events with both long wavy curls and a shortcut.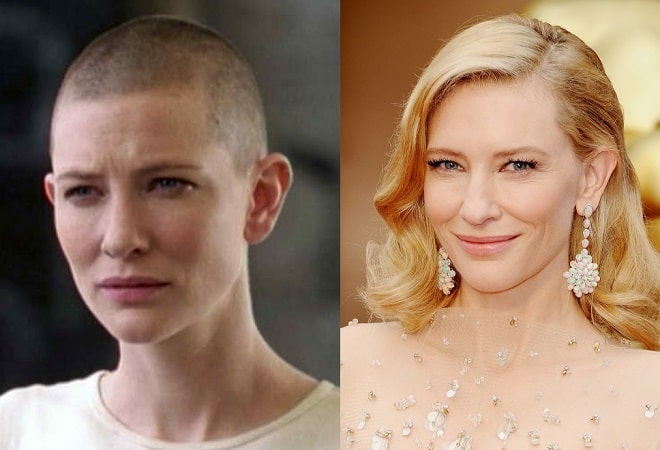 Tastes in clothing have also undergone significant changes. Sets in the tomboy style were replaced by exquisite fitted dresses and elegant suits.
At the Academy Awards for Best Actress in the film "Jasmine" Blanchett, an Armani dress decorated with opals and gold, combined with jewelry from Chopard, was recognized as one of the most beautiful and expensive ― it cost $ 18 million.
Perhaps the marriage led the movie star to more feminine images. In 1997, screenwriter Andrew Upton and Cate Blanchett got married. The couple is still together and has four children-three native sons and an adopted girl.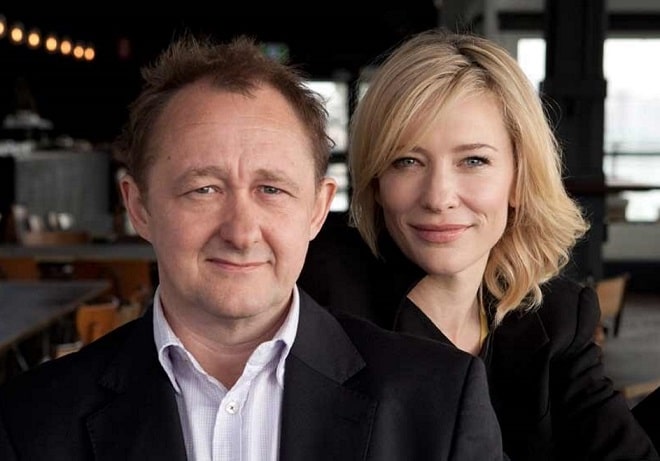 By nature, the actress has a very prominent face with high cheekbones, which, according to fans, practically does not age. She has a few mimic wrinkles.
Fans are wondering what the secret of her youth is: in botox injections or facelifts.
Cate says that she has not yet resorted to such radical measures. Moreover, as she says in an interview, her husband threatened her with divorce if she did a nose job, breast augmentation, or went through any plastic surgery.
After viewing the photos of Cate Blanchett in her youth and now, it is seen that the actress was telling the truth. She looks very natural.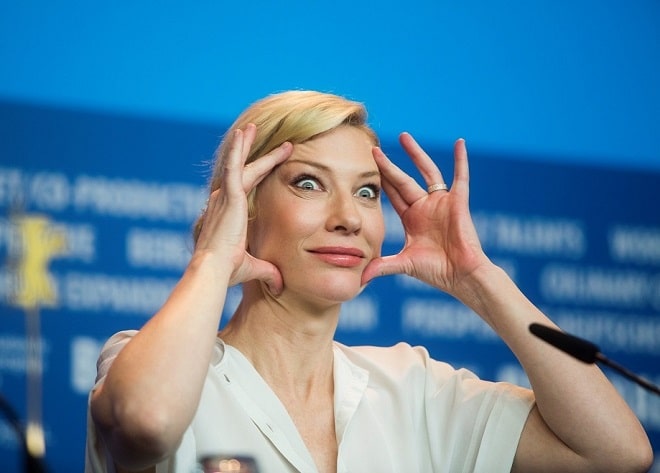 In skincare, Blanchett pays special attention to cleansing and moisturizing the skin and prefers barely noticeable makeup.
The actress continues to act in films, choosing bright and complex roles for herself.
Cate says that she is not afraid to be left without offers from directors. It is important for her to remain calm in any situation and, creating new opportunities, think not only about herself but also about those who will be after. And with such a stunning appearance and a wealth of experience in the film industry, she does it perfectly.
Smile
Cate Blanchett has veneers installed on her teeth, but at the same time her smile looks as natural as possible.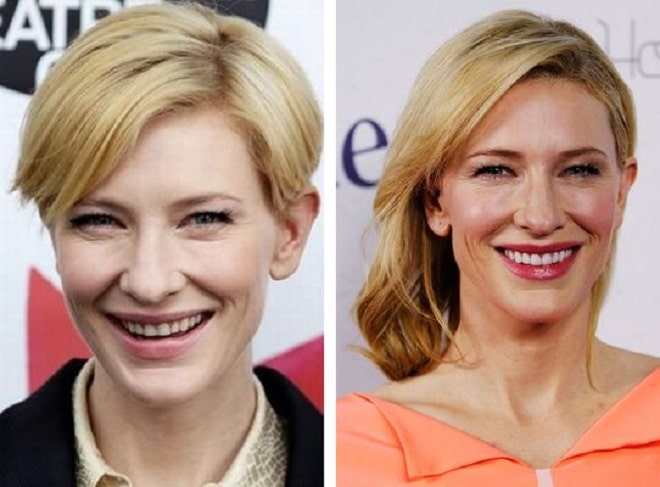 Before:
Dozens of the brightest roles were played by Australian actress Cate Blanchett. Interestingly, in her youth, Cate was shy and modest: she did not even think about an acting career, and for the first time she was on the set almost by accident. Blanchett was not a beauty, so few predicted an outstanding career for her, but great talent and natural charm did their job.
After:
Beauty lies in the details — this saying works great on the example of Blanchett. From an angular teenager with boyish features, she turned into a symbol of femininity and nobility.
Of course, this did not happen by itself. An excellent sense of style, refined manners and a beautiful smile are the perfect recipe for success.
Nature did not reward Blanchett with perfect teeth, so Cate, realizing this, did not smile so often. Fortunately, she managed to fix this small flaw with the help of veneers. Separately, it is necessary to mention the actress's dentist: he gave her a great smile, while preserving her individuality and naturalness. Now few people have any doubts why Cate continues to be one of the most sought-after actresses in world cinema.
Conclusion
In order not to be unfounded, we asked the plastic surgeon to compare the pictures of the actress from different years and make his professional verdict.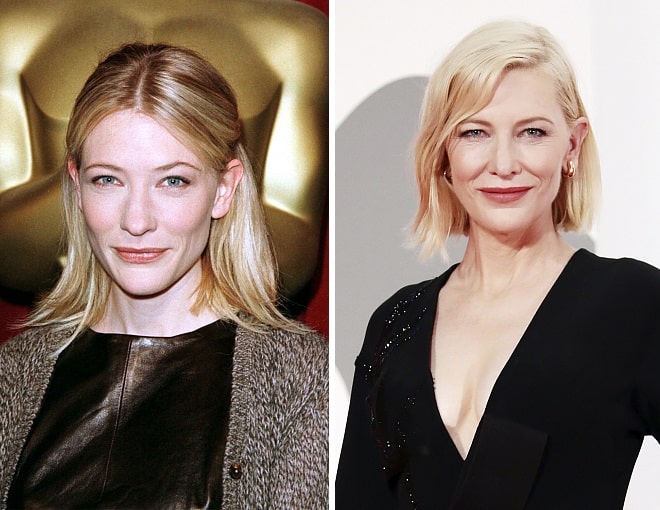 No matter how old Cate is, she always looks fit and fresh. In many respects, this is due to the favorable factors of aging.
Firstly, a stable weight. She is almost always thin, she did not have sharp jumps in the weight category, as, for example, some other actresses who are forced to gain weight for the sake of the role or, conversely, lose weight quickly.
Secondly, her skin type according to Fitzpatrick's classification is light-skinned European, plus light hair that reflects light well, creating the effect of eternal youth.
Thirdly, she has a muscular type of aging — one of the most favorable, since the muscles are always in good shape, subcutaneous fat compartments and the skin is always taut.
A distinctive feature of the muscle type of aging is the active and developed facial muscles of the face. Dense and voluminous muscles allow their owners to express the whole range of emotions without words, just like Cate does.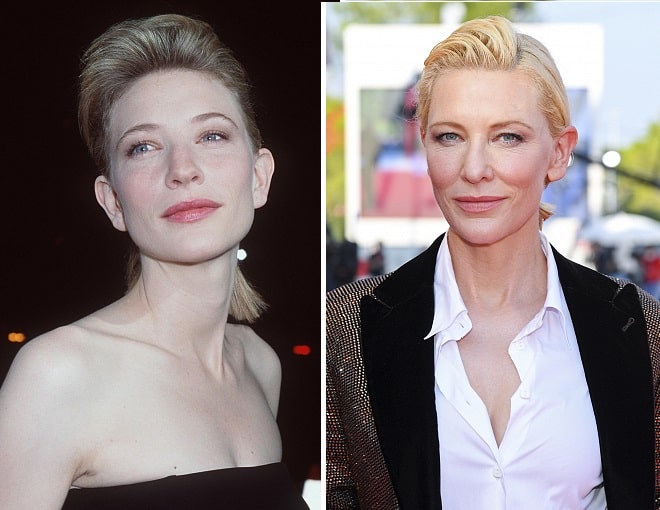 At the same time, it is worth noting that when comparing her current photos with those taken 20 years ago, first of all, I note a more relaxed upper third of the face — this effect can be caused by botox injections. I assume that Cate conducts injections therapy 3-4 times a year-correction of wrinkles around the eyes (the most positive wrinkles due to a smile), forehead, and inter-brow wrinkles.
What she definitely did not do was blepharoplasty (eyelid surgery), thereby preserving the uniqueness of her face.
Contouring with fillers — correction of the zygomatic area and of the nasolacrimal furrow — I suspect that she undergoes these injection procedures annually.
There is no doubt that Cate Blanchett is one of the few actresses whose face has not been subjected to radical modifications, and despite this, after 50 years she looks luxurious.