The actress, comedian and singer, best known for The Carol Burnett Show, has received as many as 5 Golden Globes and 6 Grammys during her long career on television, therefore she is considered a very authoritative lady.
Let's see how Carol Burnett looked in her youth and how her appearance changed after.
Carol Burnett then and now
The future star was born in a small town in Texas, and her childhood was really difficult. Both of Burnett's parents suffered from alcoholism, and the girl was raised by her grandmother. In the late 1930s, her mom and dad divorced, and Carol and her mother moved to Los Angeles. Once in the heart of Hollywood, she decided that one day she would become an actress. And immediately began to fulfill her dream.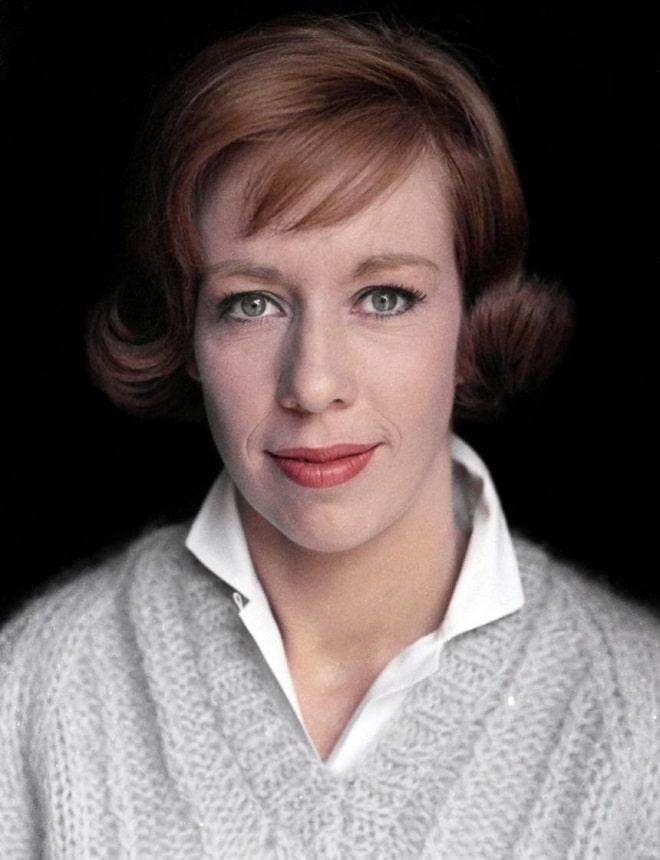 She enrolled in a local theater circle, after graduating from school she went to study at the Faculty of journalism, and at the same time was interested in art. In the early 1950s, she moved to New York and attended several auditions every day until she finally got a role on Broadway.
A few years later, she was entrusted to host her own television program, The Carol Burnett Show, which was released for 11 long years. The show has won an Emmy three times, and Burnett herself has received a Golden Globe six times.
In 2005, the actress received the Presidential Medal of Freedom from the hands of George Bush. In addition, she is the owner of a star on the Hollywood Walk of Fame.
In 2023, the stars congratulated Carol Burnett on her 90th birthday. The winner of six Golden Globe Awards will celebrate her anniversary only in April, but she decided to arrange a party now.
Many believe that celebrating a birthday ahead of time is a bad omen, but not the actress Carol Burnett. She will turn 90 only at the end of April, but the star wanted to receive gifts in advance and gathered star friends at a party on the evening of March 2. However, she did not praise herself on it, but her legendary career, of which Burnett can really be proud.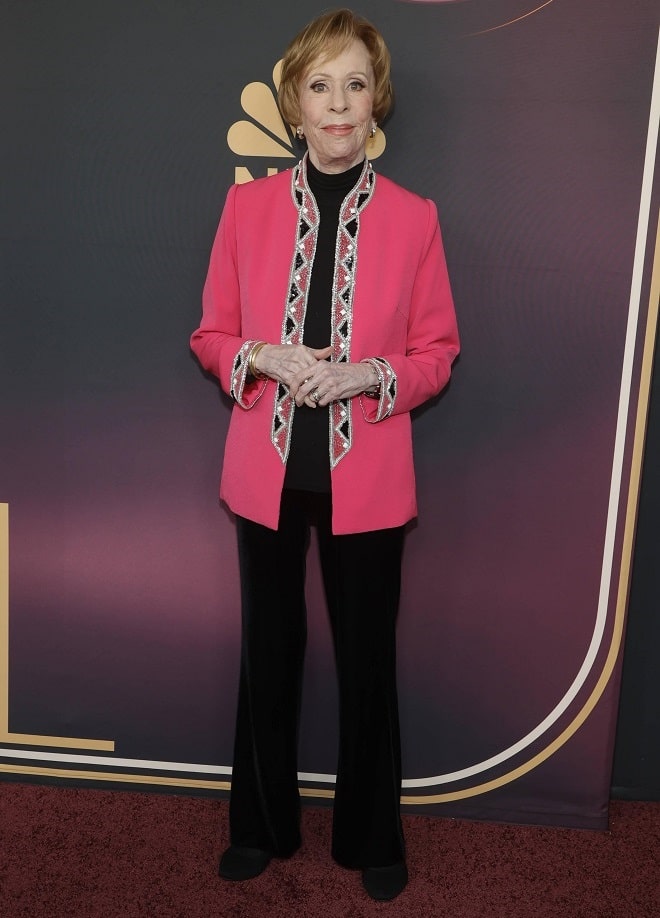 Carol Burnett chose a restrained image for the holiday on the one hand, and on the other — an attention-grabbing image. She put on black classic trousers, a turtleneck and a bright pink jacket and struck everyone with a slender figure.
Looking at the actress, you can't say that she will soon turn 90 years old. It seems that she spends all her free time in the gym, but still manages to work on new projects.
Plastic surgery
In an interview with People, the actress and comedian admitted that she had plastic surgery on her chin. According to Carol, she increased it a little. "And do you know what the most important thing is? Feeling the rain on my chin for the first time," Burnett said.
However, fans, journalists and plastic surgeons suspect that this operation was not the only one.
Plastic surgery and especially facial surgery celebrities still prefer to hide. However, few stars want to age naturally.
Today, directors can hardly find an actress for the role of an old lady. All the stars of the age category after 50 are beautiful and young, because with very few exceptions, all have already had a facelift.
If you ask about plastic surgery on the face of any of the actresses, then everyone as one will answer the same thing: "I have naturally beautiful skin, I lead a healthy lifestyle, I try to get enough sleep …" and further down the list. The reasons for looking good may vary slightly, but they will never include facelift, blepharoplasty (eyelid lift), botox injections and fillers.