Cara Delevingne is one of the brightest, most beautiful, and highly paid models of our time. A girl with shocking behavior and an unusual appearance instantly conquered the modeling world. She has become the muse of the best and most famous designers and the favorite of the younger generation.
Childhood and youth
Cara Delevingne was born into a wealthy family. The model's mother, Pandora, is the founder of the famous Selfridges chain of stores, and her father, Charles, worked as an architect.
Here are the most interesting facts of her biography.
As a child, Cara, who lived in a prestigious neighborhood and studied at a private school, had to face the fact that her mother Pandora is a heroin addict: "You grow up faster because you become the parents of your parents." Cara was glad that she had two sisters, Chloe and Poppy, with whom she could share responsibility.
Cara Delevingne first appeared on stage in a school production in 2006, when she was 14 years old. At the end of the play, when she came out to bow, a fake bomb was thrown from the audience, which hit Cara in the shoulder. "When my shoulder hurt, I thought it was the power of art," Delevingne recalled.
At the same time, she began to experience serious depression: "I wanted to dematerialize from this world and disappear somewhere." She was prescribed medications, but they didn't help much. Cara recalls that she got into a terrible cycle out of guilt for mental health and deterioration of the condition due to this guilt. However, the model does not deny that it was an experience that greatly influenced her growing up.
As a result, the girl dropped out of school and decided to become a model, because "this world was completely different."
In the first year, she was often refused, but she did not despair: "I remember I came to Burberry, and they told me, 'Turn around and leave.'" And then she met the brand's designer Christopher Bailey — and Cara's first serious job was participating in the spring Burberry show in 2011 when she was 18. It was a great start to her career!
After that, she worked with many brands.
In 2013, there was a big scandal. Delevingne became the face of the H&M brand, and sometime later a bag of white powder fell out of her purse. The incident was hushed up, but the company immediately stopped cooperating with her and denied any possibility of long-term work. At the same time, it is known that Cara has never been treated for addiction and has always denied that she has experience with drugs.
In 2014, Cara again became the model of the year according to the British Fashion Awards. She moved to Los Angeles, refused medication, began writing poetry and auditioning for film roles. She realized that she had stopped enjoying working as a model, but it was still hard for her on a new path.
She recalled how at the first auditions the directors told her: "Cara, you're working as a model again, stop trying to look like a model." Delevingne believes that to work in the cinema, you need to stop thinking about being in front of the camera.
Over time, acting helped her overcome depression and anxiety disorder, and roles in films brought her fame as an actress.
Cara Delevingne admits that life has become harmonious, she has achieved balance in all areas and hopes that mental problems will not return to her anymore.
Did Cara Delevingne have plastic surgeries?
Cara Delevingne shared that she considered going under the knife of a plastic surgeon Cara was dissatisfied with her breasts and wanted to correct the shape of her nose, but she never decided on plastic surgery.
"Since childhood, I thought I wanted to do a breast augmentation because boobs are not symmetrical," the model admitted and added that she had also thought about rhinoplasty.
But Cara was afraid that after the operation she would not be able to talk about it publicly, because for many the topic of plastic surgery is taboo. The star said that her personal mission is to inspire fans to be completely honest. Therefore, I did not want to hide the operation, nor face a negative reaction.
In addition, the model was afraid that someone would perceive her frankness as promoting unattainable standards of beauty.
"I just think that young girls or even boys should know that some things can't be obtained naturally, you know, and that's okay," Cara Delevingne said.
She stressed that she is sad because people are not yet ready to talk openly about plastic surgery.
Beauty Secrets of Cara Delevingne
"She knows how to breathe energy into a room with the most boring people, so much so that people want to ask: "What kind of girl is this?", — the scout Sarah Dukas, says about Cara.
Cara Delevingne has charm and charisma.
In real life, she is "her own girl" in jeans and hoodies, in the Pepe Jeans campaign she is a lover of crazy grunge style, in Burberry advertising, she is the embodiment of refined British aesthetics, in Mulberry advertising she becomes a cute princess at an English tea party, and then easily hits everyone on the spot with her sexuality in a shoot for La Perla or on Victoria's Secret runway show. She succeeds in any reincarnation.
No matter how the model grimaces at a selfie for her Instagram, going out on the red carpet, she shines brighter than many other stars. For ceremonial outings, Cara chooses elegant Hollywood-style outfits, does makeup with an expressive accent on her eyes "smoky eyes", and sometimes instead highlights her lips with seductive red lipstick. In all cases, her images are stunning.
Cara was constantly asked about how to get the same eyebrows. She has an answer: "Just don't pluck your eyebrows. It's very simple. I mean, of course, I adjust them, just a little but you need to leave them natural and fluffy."
Flawless skin is a feature of Cara Delevingne's makeup. According to the model, she tries to try different skin products so that she does not get used to this or that remedy. The main criterion is organic cosmetics. Cara always tries to wash off her makeup ("But it doesn't always work out!" she immediately adds).
How does the model keep fit?
Cara doesn't go to the gym so often because of her very busy schedule. She practices yoga, but she considers sleep to be the main and most important activity.
The beauty evolution of Cara Delevingne
2010
This year Cara signs her first contract and starts shooting for different brands and online stores. At that time, the girl was only 18 years old and she looked very young and modest. Cara preferred to wear her hair long and loose and focus only on the makeup of her eyes in the form of black smoky eyes. And, of course, her magnificent eyebrows, which immediately noticed everything.
2011
But in just a year, the style of the model and even the look turned from modest to sexy. Slightly tousled hair, grey eye shadow, and red lipstick made Cara visually older.
2012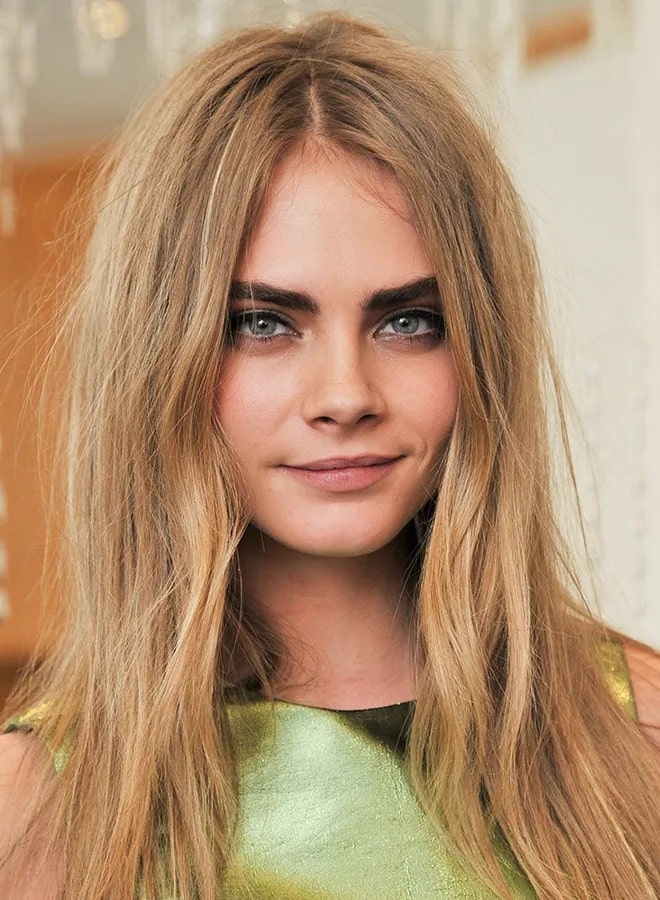 Every year the image of Cara became more and more daring and a little defiant. Smoky eyes remain the model's favorite makeup, but the hairstyle has become even more careless. It feels like the star simply forgot to comb her hair in the morning.
2013
In just 3 years, the model has managed to achieve huge heights. During this time, Cara took part in Victoria's Secret shows, received the title of "Model of the Year 2012" and even managed to star in the film "Anna Karenina". Such successes in this short time can only be envied! But the most important thing is that the image of the star is becoming more and more luxurious. Red lips, eyebrows laid with colorless gel, and gray smokey eyes become almost the everyday makeup of the star.
2014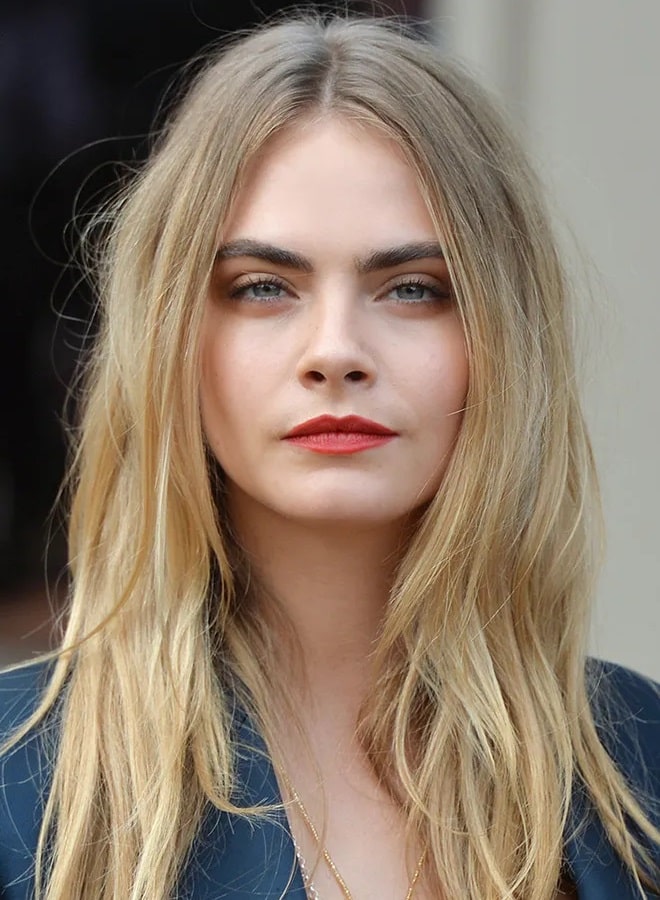 In 2014, a model's kiss with a girl attracted even more attention to her, or rather, to her personal life. At the same time, the star decided to confess to everyone and announced her bisexuality. Such news did not greatly affect the image of the model, but apparently, Cara Delevingne was a little tired of the Smokey Eye technique and now the only accent on her face was red lips. And the hair, as always, looks careless.
2015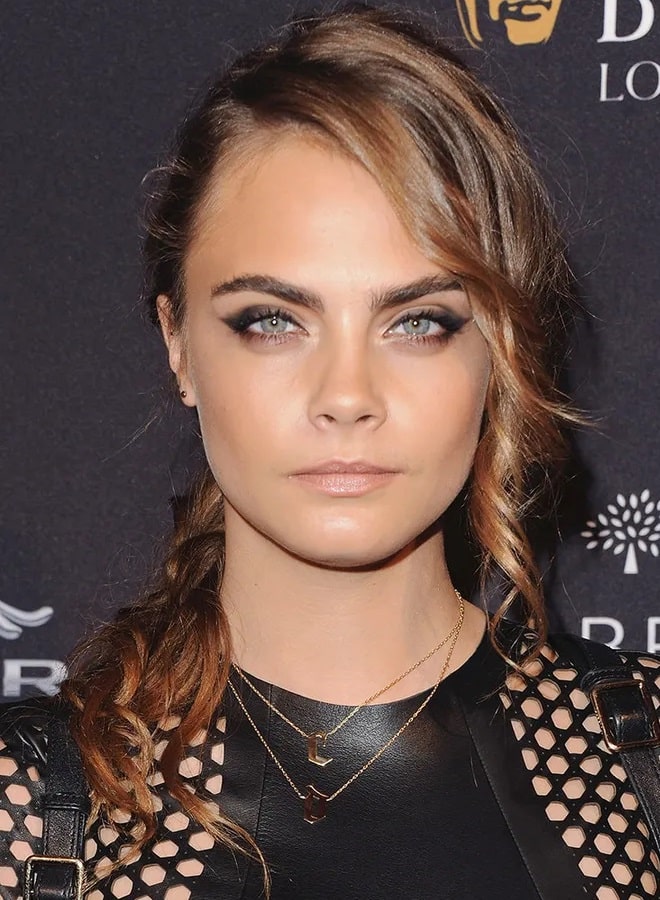 In 2015, the image of the star again became calm and gentle. Nude lipstick, and on the eyes were shaded arrows. And finally, Cara combed her hair, even dyed its copper color, and did her hair – a low ponytail.
2016
The model started the year with experiments. And these changes concerned the hair: the girl decided to cut her beautiful shoulder-length hair, and it suited her! As for makeup, we have not seen this on the girl yet: shining gray-silver smokies and red lipstick – it looks luxurious.
2017
The image of a good girl this year was replaced by a rebellious one. The star now wears a lip piercing. In general, we like the image, and it suits the star.
2018
In our opinion, this is the most beautiful image of the model! A light brown hair and gentle makeup!
2019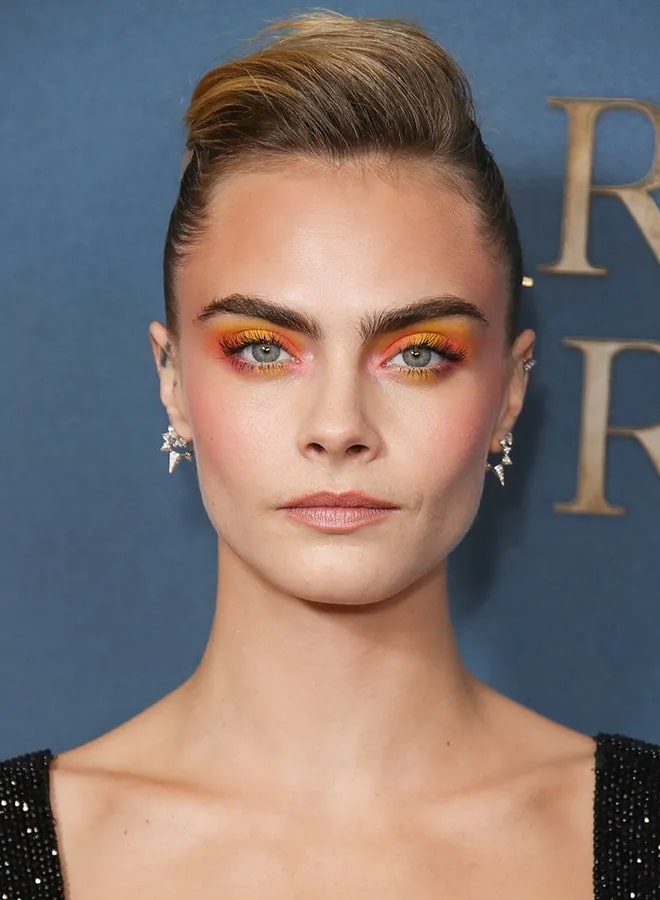 After numerous short-term relationships, Cara still found love in the face of actress Ashley Benson. This had a positive effect on the image of Cara Delevingne. The girl began to grow her hair again, which she collected in a tight tail from behind, but at the same time leaving the volume on the top of her head. The star wore beautiful makeup.
2020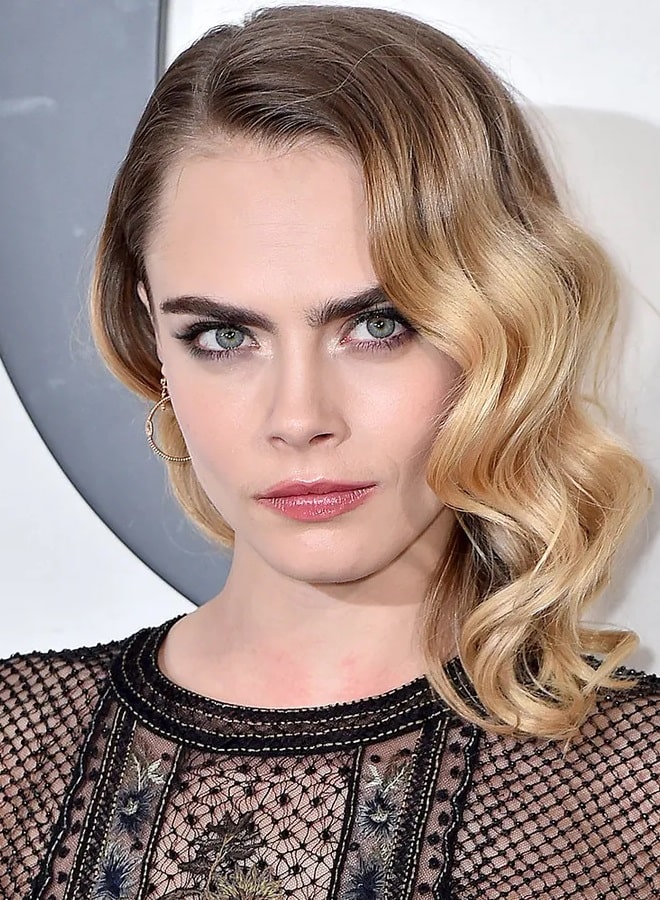 After two years of relationship, Cara and Ashley broke up. But Cara Delevingne, as we can see, did not grieve for long and has already provoked rumors about her new romance with Margaret Qualley. In any case, love makes the model more feminine and sexy, and her image becomes light and discreet.