Cameron Diaz is a model, a famous film actress. The directors have accurately identified the role most suitable for a Hollywood star. She has a light, playful character, and feels very organically in the comedy genre.
Cameron Diaz in her youth
The future actress was born in San Diego (California) in August 1972. The girl's parents raised three children – a son, Michael, two daughters, Shimen and Cameron. Her father, Emilio Diaz held the position of master of an oil refining station. Mom, Billie Joan, was a broker.
Equality and love were put at the forefront in the family. Children raised in love and respect grew up happy. In adolescence, they learned how to properly use the freedom provided, it was only good for them. The sisters, who were fond of heavy music, went to nightclubs. Sometimes they even had to fight with classmates. The Diaz girls were crazy about Ozzy Osbourne, Ve Halen, and Metallica." Sometimes mom herself accompanied her daughters to concerts of rock bands.
As a teenager, Cameron seriously dreamed of becoming a zoologist. She managed to assemble a small zoo at home. In addition to cats and dogs, mice, birds, and two snakes lived here. Her passion for zoology did not give her time to think about another profession. None of the households even imagined that a future Hollywood celebrity was growing up in their family. Diaz spent her childhood years in Long Beach, where she studied at the Polytechnic School. However, even then the girl believed that her parents had made a mistake with the choice of an educational institution.
Modeling career
The girl was 16 years old when she was seen by photographer Jeff Ducasse. The laughing beauty was so attractive that Ducasse immediately invited her to work at the modeling agency «Elite». She did not refuse such an opportunity, and immediately signed a contract. The young girl was not mistaken, it was her chance and she used it one hundred percent.
Her lovely face has become an ornament for many fashion publications, appearing in commercials. In just one shooting day, she began to earn up to two thousand dollars. After a while, she began to cooperate with the most popular brands — Coca-Cola, Levi's, and Calvin Klein. The young model had to travel a lot at that time, she visited Japan, Mexico, Algeria, Australia, and France.
Two years later, a successful fashion model decided to leave this business. At that time, the world of cinema suddenly and unexpectedly opened up for her, and it seemed so attractive that the girl decided not to refuse a generous gift from Fate.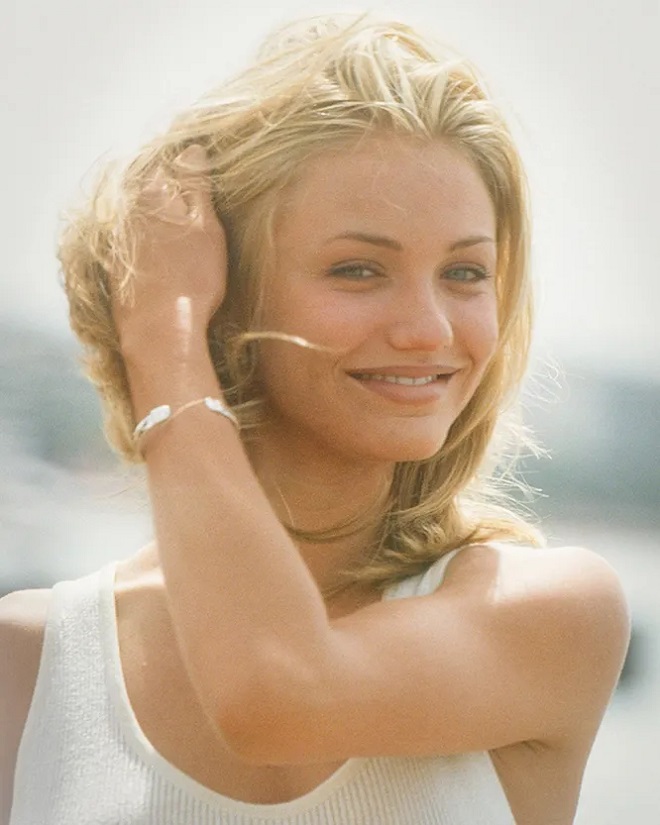 Film career
The rise of Diaz's cinematic career began in 1994 in the movie "The Mask".
The popularity of the film exceeded all expectations, it immediately and unconditionally won the love of the audience. Critics and moviegoers called the aspiring actress a young talent, they predicted a great future for her, they considered her the best actress of the year. Skeptics also assumed that Cameron Diaz would become an actress in one role, she would not have enough fuse, skill, and abilities for more. The actress herself understood perfectly well that one should not count on natural talent, and reinforced it with the help of professional education.
The girl studied acting courses, gave all her strength and free time to training. Soon they started talking about her as a serious actress with high potential. Over the next two years, she managed to appear in many films. The audience enjoyed watching her work in the films "My Best Friend's Wedding", "The Last Supper", "Fear and Loathing in Las Vegas" and other films.
In the film "Feeling Minnesota" (1996), a young actress was entrusted with a dramatic role. After the release of the film, the producers and the audience were convinced that this actress can do anything. Her skill level is so high that she should not be limited to a certain role.
But Cameron was still far from the peak of her popularity. She earned real fame after the release of "Charlie's Angels". After this work, Diaz was called the sexiest Hollywood actress.
The next film "Vanilla Sky" was an equally important stage in Cameron's career. Together with Diaz, Tom Cruise, Penelope Cruz starred in the film.
This actress had a lot of successful works, one of them was a role in the film "The Holiday". Cameron Diaz and Jude Law a year after the release of the film were nominated for the award "Best Kiss" from the television channel MTV.
Two more films with Cameron's participation became successful – "My Sister's Keeper" (2009), "What Happens in Vegas" (2008). The actress has never refused new chances.
In the summer of 2009, a new star was lit on the Hollywood Walk of Fame under the number 2386, under the name Cameron Diaz.
Two years later, a new film called "Bad Teacher" was released. The film was liked by the moviegoers, but many critics did not approve of it. After that, another work appeared in Cameron's filmography. It was the comedy film "The Other Woman".
The film "Sex Tape" (2014) was warmly received by the audience.
Experts believe that the peak of Cameron's popularity has long passed. But the actress herself is happy with her career. There were times when she earned more than $40 million a year. Charming Cameron has repeatedly become a nominee and winner of the Golden Globe, Saturn, BAFTA.
Personal life
The bright and attractive actress has never lacked for fans. Producer Carlos De La Torre, actors Matt Dillon and Jared Leto, singer Justin Timberlake, athlete Alex Rodriguez, rapper Puff Daddy, actor Jude Law – all these famous people were very passionate about their relationship with Cameron.
In early 2015, she became the wife of Benji Madden, a member of the musical group Good Charlotte. A happily married couple settled in a mansion located in Beverly Hills.
On December 30, 2019, the couple had a daughter.
Did Cameron Diaz have plastic surgery?
Cameron is a conscious opponent of plastic surgery. But such views were not always inherent in her. In one of her interviews, the actress honestly said that she herself had to go to a plastic surgeon. She did a nose job four times. All this happened because of surfing, a dangerous sport.
The actress decided on rhinoplasty only after three fractures of the nose. The woman is actively engaged in surfing, where she received such serious injuries. Cameron admits that she was very afraid to go under the knife of the plastic surgeon and pull until the last, but the third fracture severely deformed the bridge of her nose and her face began to look unsightly.
Cameron Diaz in an interview said: "I've been struggling with acne since I was a teenager and I have to admit that acne has won." The photos show how serious the problem is in the moments of exacerbation of the rash. During such periods, all the cheeks, forehead, and chin of the actress are covered with bright red bumps.
Cameron Diaz was saved by a huge amount of cosmetics and cosmetic procedures in between filming. However, now the skin of the actress began to look much better. According to Cameron, she finally realized what is the cause of rashes – smoking and poor nutrition. After giving up cigarettes and fast food, relapses became less frequent and serious.
In her book devoted to aspects of appearance care and self-acceptance, Cameron Diaz admitted that she had tried Botox injections. She was disappointed in the result and decided that it would be better to observe an aging face with facial wrinkles from smiles than one that does not belong to her.
Perhaps the actress was injected with too strong a dose of botox, and the muscles of the face were immobilized more than necessary. Nevertheless, Cameron does not see anything wrong with injections of Botox and fillers if they give someone self-confidence. The actress solved her own problems with self-esteem and made a choice in favor of natural aging.
Cameron Diaz has discovered a talent for writing. She gave the world two interesting books about women's health and beauty. The main message to women from Cameron is to treat their own age correctly, to love and respect themselves. The books "The Body Book", "The Longevity Book" are real hymns to a woman who feels very harmoniously at any age and gets joy from life. Diaz's bestsellers have long occupied the top positions in the rating of popular publications.
Cameron Diaz carefully monitors the preservation of the figure, but every year it becomes more difficult to do this. In her youth, she did not limit herself to food – she ate fast food, preferred fried food. Currently, the actress has completely abandoned pasta, white bread, and uses diets. A balanced approach to her health and small restrictions allow her to keep her weight normal.
When Cameron put on public display her photo without makeup, reproaches fell on her. Subscribers could not resist making comments about Diaz's appearance. They did not like the wrinkles on the actress's face, some fans were surprised by her "haggard" appearance. Some readers did not like the photo of Diaz on the cover of the book, they considered it excessively corrected. But the actress remains true to herself and her principles – she does not pay attention to the poisonous criticism.
Cameron, as before, is cheerful, confident. She continues to post photos on her blog, while not using makeup at all.