Hollywood actress and ex-wife of Sylvester Stallone, a brave Danish woman had breast augmentation surgery live on German TV. But that was before. In June 2018, the 54-year-old actress gave birth to her fifth child, baby Frida. Just three months after giving birth, Nielsen appeared at a social event in a tight black shiny outfit that emphasized the slender figure of the actress. The stunning cleavage completed the image. Attention was drawn to the actress's breasts, it became obvious that she had done breast surgery by inserting implants. But during a boob job, something clearly went wrong.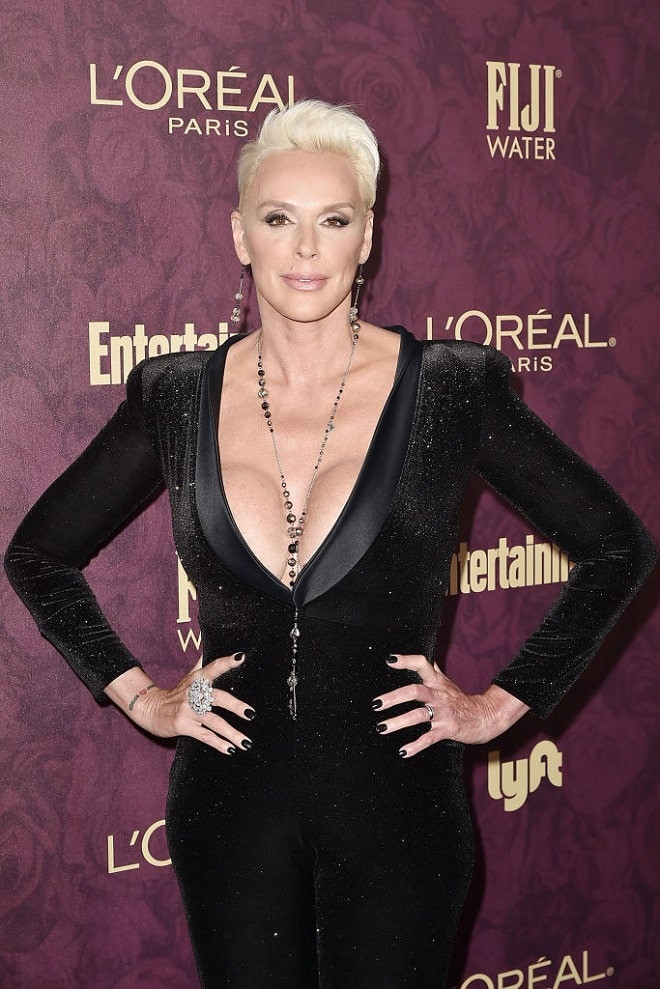 Plastic surgery
Recall that in 2008, Brigitte decided to make herself a gift for her 45th birthday and underwent a whole course of plastic surgery. Including inserting breast implants. After that, she was even filmed again for Playboy magazine. But 10 years later, Nielsen's breasts do not look so attractive. Although in general, the figure of the actress and ex-model can only be envied.
In mid-July 2008, an exciting show "Turning the Old into the New" with the participation of Nielsen was launched on the German TV channel RTL. For several weeks on the air, the actress underwent a number of rejuvenating procedures, in particular: facelift, liposuction, breast lift and breast augmentation, as well as lip shape correction and several botox injections to consolidate the results. Thousands of spectators gathered to watch the wonderful transformations. But the spectacular appearance of the actress at the party exceeded all the wildest expectations. Smooth skin, shiny, carefully styled platinum-colored hair, beautiful makeup. The experiment definitely benefited the star.
"I know that I am the first celebrity to be operated on at the theater. I know I'm breaking a certain taboo. But it's time to change something. Besides, it will be my message to all Hollywood beauties who hide the secrets of their youth. We can see perfectly well that they do not age naturally. This is very unfair to their fans. It turns out that idols don't get older, unlike their fans." Nielsen said shortly before the start of the project.
The stormy and incredible personal story of Brigitte Nielsen
Until recently, the Danish actress Brigitte Nielsen was known only thanks to a short marriage with Sylvester Stallone. However, having given birth to her fifth child from her fifth husband, she forced the media to talk about herself not only as the ex-wife of the legendary "Rocky", but also as a woman who managed to overcome a serious illness, go through many difficult life trials and finally find well-deserved happiness.
Brigitte Nielsen was born on July 15, 1963 in the small Danish town of Redovre in the family of an engineer and a librarian. The family did not live well, so the children (the girl had a brother, Jan) worked since childhood. So, at the age of ten, Brigitte began helping a saleswoman in a bakery.
Unskilled labor did not suit the young Dane, so closer to graduation, she thought about what she should do next. Her parents insisted that her daughter go to university in Copenhagen, but she did not want to hear about devoting a few more years to her studies.
At some point, Brigitte caught herself thinking that she dreams of becoming a model. She was considered one of the prettiest girls in Redover and had been swimming since childhood, so she had a sporty, toned figure. Nielsen managed to convince her parents that she should become a model, and went to Paris.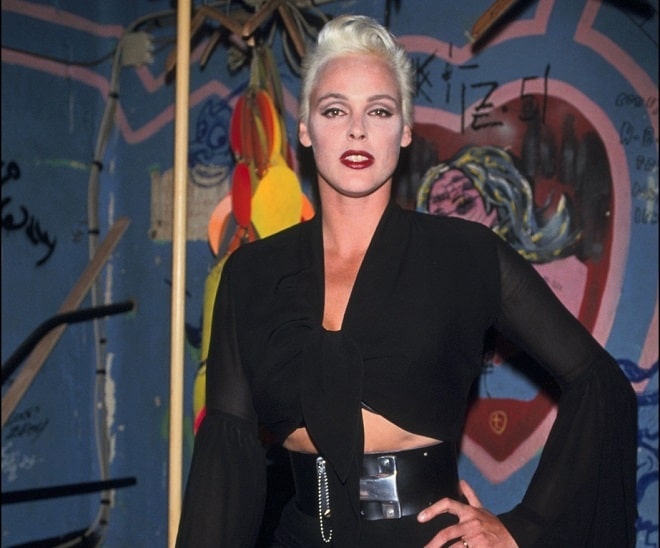 Brigitte's modeling career was developing rapidly. After moving to the French capital in 1979, she began to attend auditions almost daily. A few months later, she was noticed by people from Marvel Comics and offered to participate in a photo shoot in the image of one of the heroines of the Marvel universe. Thanks to her spectacular Nordic appearance and slender figure, Nielsen attracted the scout of one of the modeling agencies. Over the years, she has managed to work with the most famous photographers, including Helmut Newton and Greg Gorman, and shooted for several Playboy covers. Brigitte has also collaborated with Giorgio Armani, Gianni Versace and Gianfranco Ferre and participated in shows in New York, Paris, Milan and Berlin.
Brigitte Nielsen and Kasper Winding
At one of the parties, Brigitte met the Danish musician Kasper Winding and started dating him. In 1983, they legitimized their relationship, and a year later they became parents of the boy Julian. Apparently, Nielsen herself was not ready for such a rapid development of events, because soon after the birth of her son, she said: she prefers to focus on her career, and therefore leaves for Los Angeles.
By the way, she left Julian with her father in Europe. In the USA, a young mother decided to move because producer Dino De Laurentiis saw her on the cover of one of the magazines and, deciding that she was exactly the type he needed, invited her to play the main role in the action movie "Red Sonja". Arnold Schwarzenegger became the model's partner.
Casper, of course, did not like this arrangement of things at all, so he filed for divorce, but continued to raise his son. Brigitte, meanwhile, was immediately credited with an affair with a partner on the set, but both of them denied this fact. A few years later, Arnold admits that there was an affair with the model after all.
Sylvester Stallone and Brigitte Nielsen
Immediately after the filming of "Red Sonja" in 1985, Nielsen was approved for a role in the drama "Rocky IV". Brigitte's partner was Sylvester Stallone, with whom she fell in love at first sight. The actor himself also could not resist the dazzling blonde. Their romance developed so quickly that within a few months after meeting the celebrities decided to get married.
They came together like ice and fire… the marriage of the irascible son of a Sicilian and a wayward Danish woman was oh how turbulent!
Just a year after the wedding, Sylvester was suspected of raping a minor, and his wife was forced to justify herself to journalists almost daily. The charges against Stallone were eventually dropped.
The model was disliked by the actor's friends and family from the very beginning. Firstly, many were confused by the fact that Brigitte actually abandoned her son from her first husband. Secondly, Sylvester's relatives were sure that she married him, as they would say now, "for the sake of hype." So, by the way, it turned out — if earlier her name was familiar only to some Americans, now everyone has recognized her. At the peak of her popularity, she was approved for a role in the films "Cobra" and "Beverly Hills Cop II". At the same time, her marriage began to rapidly collapse.
Rumors began to spread in the acting environment that Brigitte was cheating on her husband with the director Tony Scott. At the same time, the journalists of the tabloid The Sun got information that she was having an affair with … her own assistant. Allegedly, Stallone's mom caught the couple in bed. Sylvester made an official statement in which he shamed his detractors and assured the public that his wife was one of the most respectable women he had ever met. Stallone was so much in love that he fulfilled every whim of Brigitte: he bought expensive clothes, diamonds and cars.
Apparently, at some point Stallone partially regained his sight, listened to his loved ones and reconsidered his relationship with his wife.
As a result, irreconcilable contradictions suddenly arose and a divorce a year and a half after the wedding. Later in an interview, the actor admitted that at that time he had a "temporary insanity" and he simply did not realize what he was doing when he married the model.
Marriage with Sylvester made Brigitte popular, and now she was constantly disappearing on the set of various films and TV series. In addition, she was engaged in advertising, music videos of famous musicians — including Michael Jackson (video for the song Liberal Girl). In 1987, Nielsen was offered to work in Italy on a major TV show "Festival". She also began her career as a singer, released the album "Every Body Tells A Story" and the single "Body Next To Body" in a duet with the then famous Austrian musician Falco.
Brigitte Nielsen and Mark Gastineau
In 1988, at a Los Angeles gym, Nielsen met a professional American football player, Mark Gastineau. An affair began between them, despite the fact that the athlete was married and raised a young daughter. In 1989, Brigitte and Mark had a son, Killian, but the model had already stopped her relationship with Gastino by that time. By the way, then his relationship with his wife, who found out about the betrayal of his beloved, also stopped.
Brigitte Nielsen and Sebastian Copland
Immediately after breaking up with Gastino, Nielsen began dating British photographer Sebastian Copland, Orlando Bloom's cousin. A year later, in 1990, she married him, and a year later divorced.
All this time, the ex-model has been actively working and returned to filming. However, the quality of the films was much lower than the quality of her works of the 1980s. In 1992, Brigitte released her second album, but it was not a success.
Brigitte Nielsen and Raoul Mayer
In 1993, Nielsen married once again, this time to Swiss racing driver Raoul Mayer. In the same year, her third son Douglas was born, and two years later, her fourth, Raoul. After a while, the couple broke up – Brigitte accused Raoul of domestic violence. The divorce was officially registered only in 2005.
After breaking up with Mayer, Nielsen was devastated. She began to act less, profitable contracts were no longer offered to her. Brigitte, who had never been able to save money, spent all her money on shopping, eventually ended up broke and in debt.
The actress fell into depression, which worsened when her youngest son was diagnosed with a brain tumor.
Nielsen began to drink more and more often, in ten years she turned into an ordinary alcoholic and even tried to commit suicide. In 2005, she gave an interview in which she spoke about her addiction: "Alcohol turned me into a terrible mother, a terrible and useless woman, a complete loser. I looked at myself in the mirror and realized that I had reached the bottom." The actress also said that then her mother got sick, and she began to drink even more. At some point, her legs themselves led her to Alcoholics Anonymous.
Brigitte Nielsen and Mattia Dessi
In 2004, 42-year-old Brigitte met her future fifth husband, Italian Mattia Dessi. Later in an interview, Nielsen said that she met him at a restaurant — Dessi was a waiter and served her table. However, according to insiders of the British portal Daily Mail, everything was wrong – allegedly the actress, once again drunk, "picked up" Mattia in some bar. The guy was 26 years old, and he was trying to start a modeling career. Brigitte was not confused, but rather amused. The novel, as was customary with Nielsen, flared up rapidly.
In 2006, the lovers got married and immediately began planning a child. However, the actress's attempts to get pregnant, including with the help of IVF, failed one after another. Doctors claimed that there was almost no chance, because at Brigitte's age only 5% of women get pregnant. Nevertheless, Nielsen and Dessie did not lose hope and eleven years later, the 54-year-old actress finally found out that she was expecting a child. This is the version that the ex-model shared with the journalists of the British HELLO!. However, in fact, for most of these long years she tried to recover from alcoholism. The media is reliably aware that in 2007 Brigitte underwent rehabilitation in one of the clinics, but it did not help.
In 2012, Internet users were shocked by photos of a drunk Nielsen, who was lying with a bottle in her hands on the grass in the park…
Fortunately, Brigitte still managed to recover. In 2018, she became a mother for the fifth time, giving birth to a girl Frida. The mother of many children did not hide the baby from the eyes of fans and a few weeks after leaving the hospital took part with her in a photo shoot of People magazine.
According to the actress, this is the best chapter in her life and she is incredibly happy that she gave her beloved a child. Nielsen admits that she is very comfortable with her young husband, who now works as a producer on TV. Something tells me that after going through so many life trials, Brigitte will not stop there and, who knows, maybe she will also become a mother for the sixth time. We personally will not be surprised!