Ashley Tisdale is an American singer, actress, producer. She is the founder of the Illuminate cosmetics brand. She has been on the screen since childhood. She starred in hundreds of commercials, then TV series, movies… An American girl with an ordinary appearance becomes a star. Will she pass by the plastic surgery clinic?
Childhood and youth
Ashley Michelle Tisdale was born on July 2, 1985, in New Jersey, USA. The girl's father, contractor Michael Tisdale, is a Christian (has English, Irish, Scottish and German roots), mother Lisa Morris is Jewish.
Ashley Tisdale as a child, Ashley met her future agent at the age of 3 while shopping with her mother at the mall. Thanks to her manager, little Ashley starred in more than 100 commercials and began acting in theater at the Monmouth County Jewish Community Center.
Career
At the age of 8, Tisdale got the role in the musical. At the age of 12, Ashley was lucky enough to sing for then-President Bill Clinton during an event at the White House. After that, the Tisdale family decided to move to Los Angeles so that their daughter would have more career opportunities.
In 2005, 20-year-old Tisdale got a role in the popular comedy series "The Suite Life of Zack & Cody", in which she starred for three years. And the musical youth film with the participation of Ashley "High School Musical" became the most successful film on the network in 2006.
In 2007, Tisdale realized her debut studio album "Headstrong" and also starred in the movie "High School Musical 2", which became the most popular film presented on cable television. For this role and the soundtrack to the film, the girl received several prestigious awards and a lot of positive reviews from critics.
Now Ashley Tisdale has a fairly large filmography. In addition, she founded her own production studio, launched her own clothing line, and her own cosmetic brand "Illuminate".
Personal life
In 2013, Ashley got engaged to musician and singer Christopher French, with whom she began dating in December 2012. The wedding ceremony took place on September 8, 2014, in Santa Barbara. On March 23, 2021, the couple had a daughter.
Plastic surgery
Noses in Hollywood are a sore subject. Ashley Tisdale also could not resist and went under the knife of a plastic surgeon to fix her nose.
Ashley had a nose job. This happened in 2007 when Tisdale was only 22. The actress claims that her septum was 80% curved.
The girl does not hide from the environment that she has done rhinoplasty. However, not everyone believes that the operation was done to get rid of difficulty breathing after a broken nose. Because after the procedure, fans noticed a thinner and more elegant nose of the actress.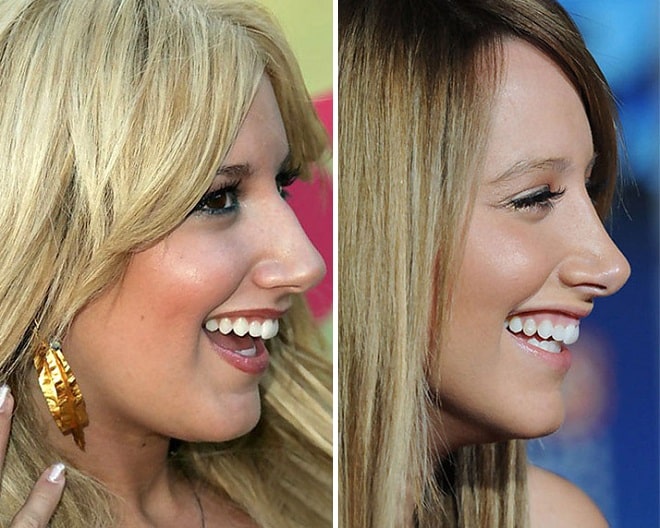 There are surprisingly a huge number of women in Hollywood who, having become famous, suddenly remember the need to fix the nasal septum. After the operation, they get much nicer noses.
Ashley says that she is not a supporter of plastic surgery, however, it seems that Tisdale did a lip augmentation with filler injections.
Tisdale admitted that she had a breast augmentation a few years ago, hoping to gain self-confidence. But breast implants had a negative impact on health, and Ashley decided to remove them. "Now I'm finally happy to be completely myself," the star summed up.