All about Arnold Schwarzenegger. How did he look in his youth and how has his appearance changed now? Did Schwarzenegger have plastic surgery?
Childhood and youth
Arnold Alois Schwarzenegger was born into a Catholic family on July 30, 1947, near the city of Graz (village of Tal), Austria.
The Schwarzenegger family lived very modestly. The children were brought up in rather strict rules. From early childhood, their parents taught them to peasant labor — they learned how to milk cows, chop firewood, carry water. In addition, the strict father used rods for disobedience. There were rumors that Arnold's mother gave birth to him from another man, so Gustav Schwarzenegger did not like his younger son, and gave his rare caresses to the elder — Meinhard.
At school, teachers described Arnold as a boy with a "kind disposition, cheerful character and ebullient energy." The father made sure that his sons did a lot of sports. Arnold started training in various sports, but he was best at playing football.
At the age of fourteen, a football coach brought Arnold to a gym in Graz. And after lifting the barbell for the first time, Arnold immediately traded football for bodybuilding. Bodybuilding became his passion. He often visited the local cinema, where films were shown with his idols – bodybuilders Reg Park and Steve Reeves.
In his biography, The New Encyclopedia of Modern Bodybuilding, Arnold wrote that he learned a lot from his idol, Olympic weightlifting champion Yuri Vlasov, whom he met in 1961 at the World Championships in Vienna.
The young man became so seriously interested in this sport that he even, in some way, summed up the philosophical basis for his studies. He was interested in whether it was possible to increase the effect of training if the mind was properly adjusted. In this regard, the young Schwarzenegger at the age of fifteen began to study psychology. Apparently, this helped, already at the age of 17, Arnie first became a participant in a bodybuilding contest in Graz and took second place.
In 1965, Schwarzenegger was drafted into the Austrian army. He was sent to the tank troops. Arnold has always been attracted to these big and powerful machines.
By the way, many years later, the famous "Terminator" collected a collection of military equipment for himself. Schwarzenegger once took a seriously ill boy for a ride on his tank. The ex-governor of California, thus, took part in the charity project "Make a wish", it was reported in the news.
While serving in the army, Arnold first became a participant in an international bodybuilding competition. The contest was called "Mr. Europe". Schwarzenegger took first place among juniors at this competition.
Arnold's relationship with his family left much to be desired. When his brother Meinhar crashed to his death while driving drunk, Arnold was not at his funeral. Nor did he attend the funeral of his father, who died of a stroke in 1972. But later Arnold Schwarzenegger paid for his nephew Patrick's education and helped him get a job in the USA.
Arnold himself was educated in the USA. In 1979, Schwarzenegger received a bachelor's degree in economics from the University of Wisconsin.
Bodybuilding career
In 1966, Arnold returned from the army. But he did not return home. Schwarzenegger went to Munich, where he continued to do bodybuilding, and earned a living working as a trainer in a fitness club.
Schwarzenegger's career began to progress. In 1967, Arnold won the title of "Mr. Universe" for the first time, at the age of 20, becoming the youngest winner in the history of the competition.
In 1968, the young man moved to the USA, where he began to live in California. Arnold continued to engage in sports with passion and concentration, and entered the professional circle of bodybuilders and weightlifters. Schwarzenegger watched his colleagues, learned all the subtleties and secrets from them. After each competition, Schwarzenegger approached the judges and asked what he had done wrong and what could be improved.
1970 brought him the title of "Mr. Olympia", Arnold at the age of 23 became the youngest winner in the history of the competition. Schwarzenegger's victories followed one after another. He won the title of "Mr. Olympia" six years in a row, was "Mr. Universe" four times. In 1980, Schwarzenegger won the Mr. Olympia contest for the last, seventh time in his career.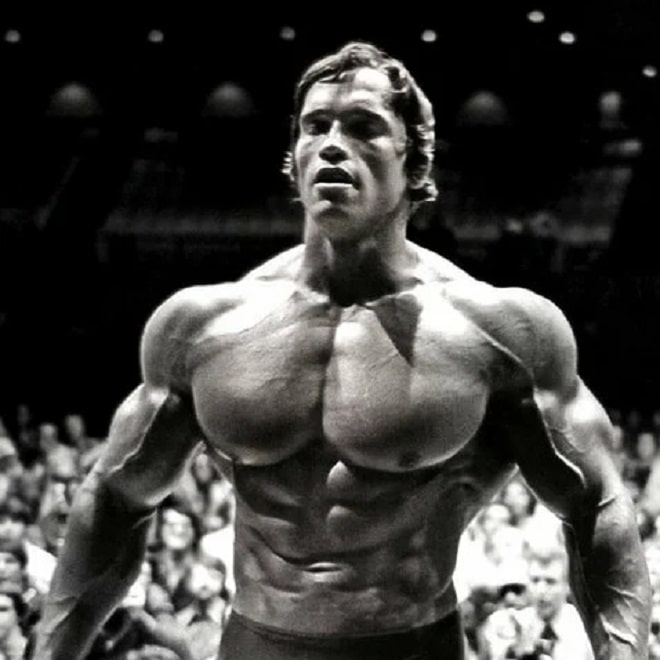 Answering questions about the role of banned substances in his career, Arnold later admitted that in those years he took anabolic steroids, but as soon as he learned about their harm to health, he immediately stopped.
Film career
Arnold began acting in films since 1970, but success in his career as an actor did not come to him immediately. He had a strong accent, and the muscles, as the directors believed, were "too inflated."
Arnold's film debut was the main role in the film "Hercules in New York" (1970). Schwarzenegger began to actively work on his shortcomings: he took acting lessons and stage speech, diligently got rid of the accent.
In 1982, Arnold made a long-awaited breakthrough in his career, starring in the film "Conan the Barbarian".
In 1984, the sequel "Conan the Destroyer" was released, Schwarzenegger was overtaken by a flurry of fame and popularity, Arnold finally began to be perceived as a superstar.
After the release of the fantastic action movie "The Terminator" (1984), Arnold Schwarzenegger firmly established the role of a lone hero. This James Cameron film became probably the most famous in Schwarzenegger's career, he himself became a Terminator for news headlines, and the phrase "I'll be back" entered the top of the most famous movie quotes.
Schwarzenegger's career in cinema was successfully continued. In the golden age of American action movies, Arnold Schwarzenegger fit in perfectly, the accent became a distinctive feature, and the manner of the game perfectly suited his heroes. At the same time, Arnold has greatly improved his acting skills during these years.
Political career
Arnold became a member of the Republican Party of the USA. In 2003, Schwarzenegger was elected governor of the state of California.
After becoming governor, Arnold began fighting for spending cuts and, in particular, refused his own governor's salary of 175 thousand dollars a year.
Schwarzenegger left the governor's post in 2011, as the Constitution of the state of California prohibits running for the third time in a row.
Personal life
In 1969, when he met his first love — teacher Barbara Outland Baker. Love ended in 1974.
Then Arnold had affairs with hairdresser Sue Moray, TV journalist Maria Shriver. There were other women in Schwarzenegger's personal life, including from the world of cinema. It was reported in show business news that Arnold was dating actress Brigitte Nielsen.
Nevertheless, Arnold entered into his first marriage with Maria Shriver only on April 25, 1986. Four children were born in the marriage.
And yet the couple broke up. Schwarzenegger, as it turned out, cheated on his wife. It became known that the actor has an illegitimate son, Joseph Baena (1997), born by Mildred Baena's housekeeper. She served in the house of Schwarzenegger and Shriver for 20 years, and at least 14 years of them were his mistress. Schwarzenegger supported Joseph and his mother financially, bought a house for them, regularly communicates with his son and even teaches him bodybuilding.
Since July 2015, Schwarzenegger has been dating sports doctor Heather Milligan, who is 27 years younger than him.
Plastic surgery
It seems that Arnold Schwarzenegger has always been there. Several generations of boys grew up watching films with his participation, desperately dreaming of being like their favorite idol. Posters with Schwarzenegger's inflated torso were in every boys's room. But time goes by, and Arnold is replaced by new idols, and his strength and fit form, alas, is no longer the same. However, the celebrity's image is no longer the same.
Rumor has it that Arnold periodically resorts to the help of plastic surgeons. Whether this is true or not, only the actor himself knows. But still, some changes in his appearance, as they say, on his face.
Schwarzenegger made himself a genioplasty – surgery on the jaw. Previously, his jaw was slightly pushed forward. Now everything is perfect and proportional. In addition, it is rumored that Arnold did a facelift and protected himself from facial wrinkles with botox injections. The condition of his skin suggests that he resorted to other anti-aging procedures.
Arnold Schwarzenegger began his career as a successful governor by adopting a number of local laws that strictly regulate the activities of plastic surgeons. These measures were aimed at improving the quality of their services. It's not for nothing that "iron Arnie" started with plastic surgeons, because they say that he himself has repeatedly become a patient of plastic surgeons. He is credited with facelift, neck lift, cheekbone augmentation and blepharoplasty.
Hollywood Smile
Arnold Schwarzenegger conquered the world with his smile, but with the beginning of his acting career he decided to make changes.
Before:
Of all the stories of Hollywood stars of our time, Arnold Schwarzenegger's path to the top of fame can be considered the most impressive. Judge for yourself: born in a remote Austrian village, by the age of 20 he had won the prestigious title of "Mr. Universe" at a bodybuilding contest. There he was remembered not only for his perfect body proportions, but also for a wide smile with a small gap between his front teeth, which looked so colorful against the background of huge muscles.
After:
Having completed a brilliant sports career, Schwarzenegger set himself an equally ambitious goal – to become a movie star. It is clear that with such physical data, the acting role for Arnold was a foregone conclusion from the very beginning. In order to become the perfect action hero, Schwarzenegger not only diligently attended acting courses, but also worked on his appearance. A child's smile was not always combined with the image of a brutal warrior, so Schwarzenegger visited a dentist who brought his smile to Hollywood standards.