AnnaSophia Robb is an American actress, best known for her roles in the films "Bridge to Terabithia", "Charlie and the Chocolate Factory", "Because of Winn-Dixie" and "Soul Surfer".
The path to fame
AnnaSophia Robb was born on December 8, 1993, she is the only child of architect Dave and his wife Janet, an interior designer. The girl spent the first years of her life in Denver, from the age of four she was engaged in gymnastics.
The creative abilities of the little actress also manifested very early: at the age of 5, she was already singing in the choir at the local church, whose parishioners were Dave and Janet.
Another hobby of the girl was reading, as soon as she learned to read, she plunged headlong into the world of fairy tales and fantasy. According to the actress, it was reading that made her think about her career as an actress.
Abandoned professional sports, AnnaSophia began studying in an acting studio, where she was seen by a young talent search agent. At the age of 9, the girl starred in two commercials at once.
She made her acting debut at the age of 11 in the Nickelodeon series "Drake & Josh". 2004 is considered the beginning of a great career for little Miss Robb – this year she starred in the main role in the movie "Samantha: An American Girl Holiday".
Her first fame came from the role of the capricious Violetta in the magical story "Charlie and the Chocolate Factory".
Then Robb won the hearts of the audience in the image of Leslie from the parable "Bridge to Terabithia".
One of Robb's strongest works is considered to be the painting "Soul Surfer", released in 2011.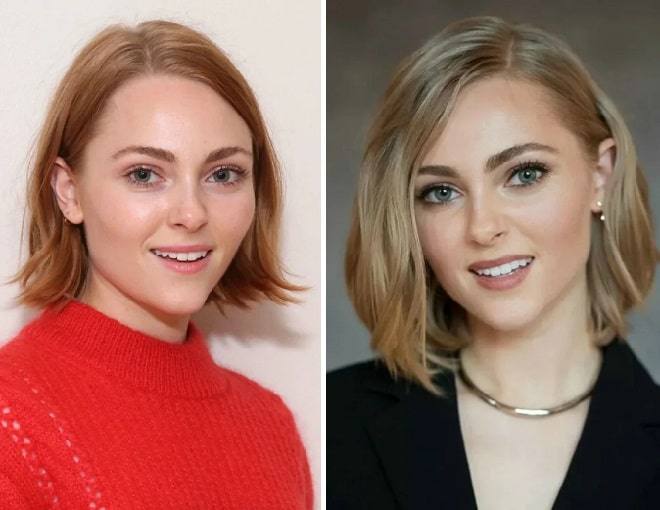 The characters in which AnnaSophia Robb was reincarnated were the most diverse.
Plastic surgery
Fans of the star are always interested in questions:
Did AnnaSophia Robb have plastic surgery on her face and body? How did she look in her youth and how has her appearance changed now?
Before:
The beginning of little Miss Robb's great career was not prevented even by obvious dental problems. The gap between the front incisors and the imperfect shape of the teeth is noticeable in AnnaSophia's children's photos, their line could not be called even.
After:
As an adult, the girl became famous for her passion for experimenting with appearance. For example, she is happy to change hairstyles and hair color. Of course, the changes also affected the teeth. In later pictures, the actress shows perfectly white and even teeth of a beautiful shape. It seems that all the shortcomings of the smile were solved with the help of veneers.