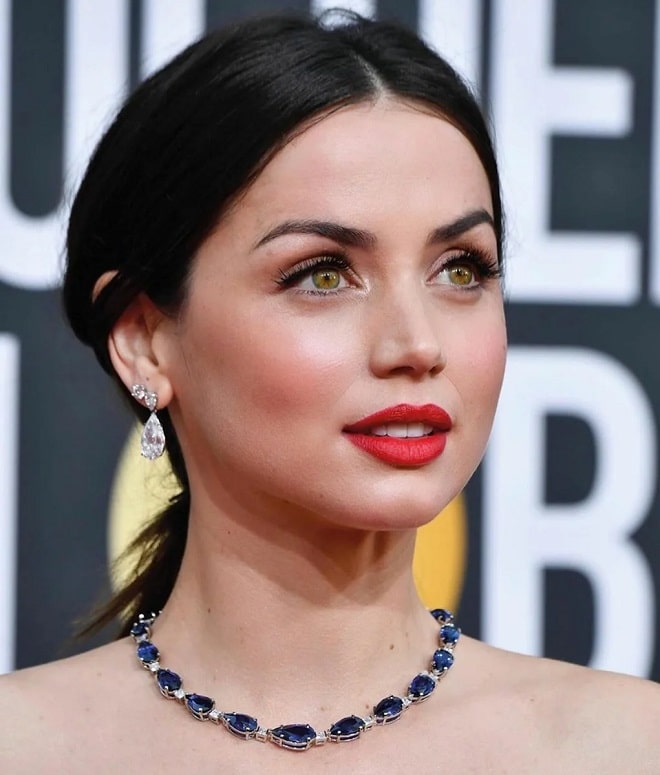 In just 6 years, Ana de Armas has gone from an emigrant who does not know English to a Golden Globe nomination. She has already done quite a lot in the film industry, but the actress herself says that she feels only at the beginning of the journey.
The path to fame
Ana de Armas was born in Cuba and grew up in the small town of Santa Cruz del Norte. In her teenage years, she did not have access to the Internet, she learned monologues by heart, practiced in front of a mirror, and at the age of 12 decided to become an actress. In order to study the craft professionally, at the age of 14, she entered the "National Theater School of Cuba", but left a few months before graduation in order to avoid the mandatory three-year service to the state for all graduates.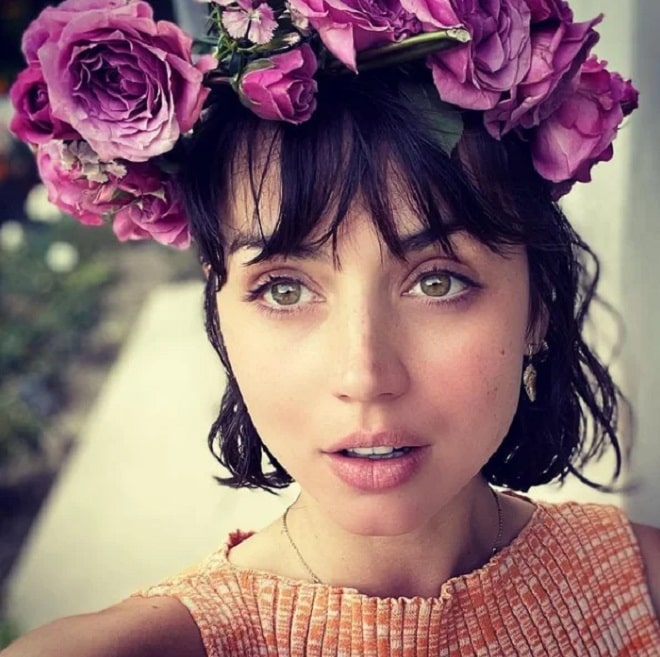 Due to the fact that her maternal grandparents are Spaniards, Ana de Armas received Spanish citizenship and moved to Madrid at the age of 18. Her film debut was the film "Una rosa de Franciа" and after it, she quickly got a role in the Spanish TV series "El Internado", where she starred for three years. The series made Ana de Armas famous — she began to be recognized on the Spanish streets.
After starring in several more Spanish films and TV series, Ana de Armas moved to the USA in 2014, where her Hollywood fairy tale begins. The actress was driving to the airport, where she was noticed by the producer of the film "Knock Knock" and insisted on meeting with the film's director Eli Roth. By the time she received the role, Ana de Armas did not know English and had to take it by storm. She attended classes seven hours a day for four months. And Keanu Reeves, who was her partner in this film, invited the actress to shoot the film "Exposed".
The next step in Ana de Armas's Hollywood career was the release of the biographical drama "Hands of Stone". The film opened Ana de Armas at the international level.
About the movie "War Dogs" Ana de Armas said that initially an actress without an accent was planned for her role. But after her approval, the script was rewritten for her.
The role of Joey, in Denis Villeneuve's film "Blade Runner 2049" strengthened the star status of the actress. And Ryan Johnson's film "Knives Out" brought the actress recognition at the international level — she received a Golden Globe nomination for Best Actress.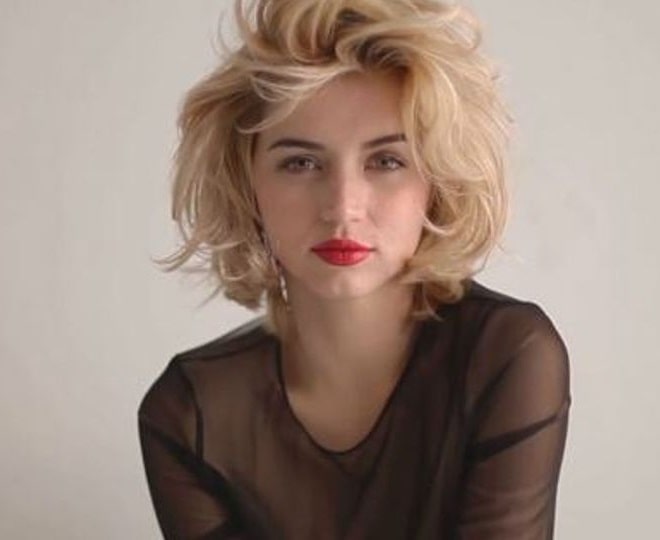 In 2022, Ana de Armas plays the role of Marilyn Monroe in the movie "Blonde" about the life of Norma Jean, who is known as Marilyn Monroe.
Plastic surgery
How did she look in her youth and how has her appearance changed now?
Before:
As Ana de Armas herself later admitted, Hollywood not only had a serious impact on her life but also changed her tastes. It was in America that she became seriously interested in fashion and began to visit a stylist with pleasure. Of course, the changes also affected the smile. In the early photos, the actress preferred to cover her teeth with her lips – so that their imperfection, when she smiles, remained barely noticeable.
After:
Having started acting in films with such famous personalities as Keanu Reeves, Robert De Niro, and Ryan Gosling, She just couldn't help but think about transforming her smile. Obviously, the girl resorted to the help of veneers, which aligned the line of the actress's teeth and gave them a beautiful shape. Hollywood was smitten by the new smile of Ana de Armas, interesting offers went one after another.
Beauty Secrets
"Wet" skin, red lips, careless haircut, and other beauty secrets of Ana de Armas.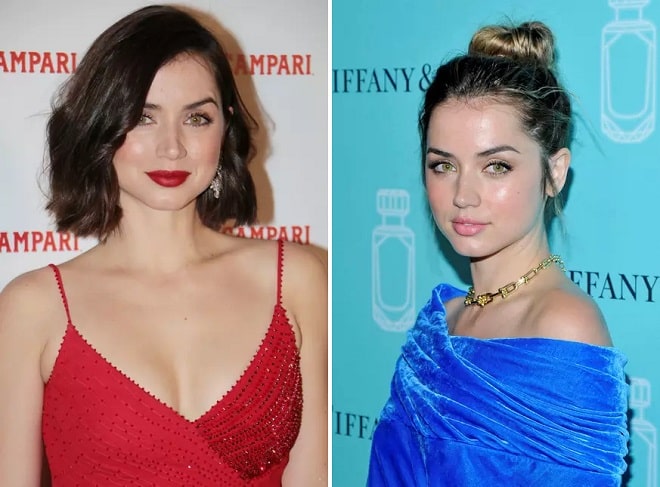 Radiant skin. Ana is a big fan of tonal foundations. She likes it when her skin shines, bursts with health and freshness, and we understand her perfectly.
Fresh blush. Ana's second cosmetic favorite is pink-peach blush. The actress puts them exactly on the apples of her cheeks, which makes her image even cuter. She has naturally rounded facial features, and this only plays into her hands, because thanks to them she looks much younger than her years. The beauty practically does not use contouring tools, except with a bronzer. Of course, because she was born in sunny Cuba and got used to a light tan!
Focus on the eyes. It is impossible not to fall in love with the eyes of Ana de Armas. Large, expressive, and light green, they attract the attention of others like a magnet. In addition, the actress skillfully emphasizes their beauty with makeup. She draws up the mucous membrane of the lower eyelid with a brown pencil, slightly shaded it with a brush, and paints both upper and lower eyelashes with mascara. The beauty also likes to draw cat arrows with eyeliner or shadows. It would seem nothing complicated, but what an effect!
Sensual lips. On the one hand, Ana de Armas loves nude glosses because they visually enlarge the lips, do not overload the makeup, and look as natural as possible, and on the other hand, she is crazy about classic red lipsticks.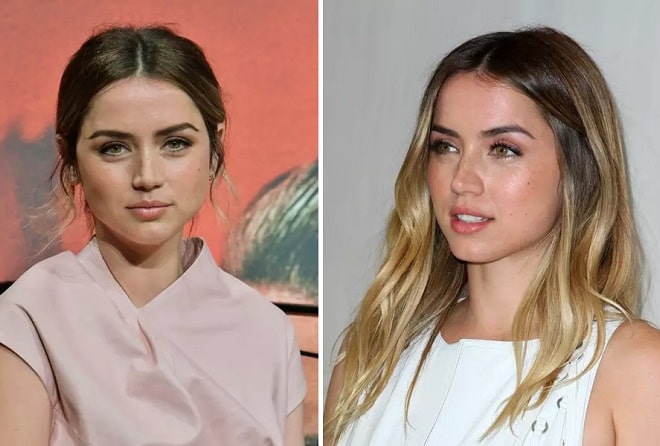 Hair. Ana de Armas has experimented with hair more than once and by trial and error still found her perfect haircut. You can hardly see an actress with smooth styling. In most cases, she appears with loose curls, curled on a large curling iron, or with a lush mop of hair. Sometimes a beauty collects her hair in bunches, does it deliberately carelessly, and releases several strands near her face.